Overwatch Sombra Voice Actor Cosplays As Mercy For New Film
The VA becomes Mercy in a new film about cosplayers in quarantine.
It's not just the fans of Overwatch that like to cosplay as its characters, but the voice actors too.
Sombra voice actor Carolina Ravassa has debuted her incredible Sugarplum Mercy cosplay that is to be used in a film titled Morgan's Mask. The film, which was originally backed on Kickstarter with 507 backets pledging over $40,000, is about a cosplayer who is stuck in quarantine during the COVID-19 pandemic and is feeling her world falling apart around her.
The film's concept is an all-too-real feeling for cosplayers around the world as many try to continue cosplaying during a pandemic. The sudden cancellation of hundreds of cons across the globe, places where cosplayers are usually seen debuting their new creations, has been a struggle for many. The writer and director, Trevor Rigby, wrote in the Kickstarter that he wanted to write the story to "show that you are not alone, and that you can be the hero of your own story."
The fabulous @mjasmine_design did this #sugarplumb #Mercy cosplay for our film #MorgansMask. It's been a whirlwind of a journey and can't wait to share more with you. Thank you @KarlaSolarte for these pictures:) It takes a village and you have all proven that. pic.twitter.com/HEM85sqqRk

— Carolina Ravassa (@carolinaravassa) November 20, 2020
The cosplay was created by cosplayer Melanie Jasmine, who said on her social that it was her quickest build she's ever done. She was also involved in the entire filmmaking process as well and helped give cosplay advice while on set.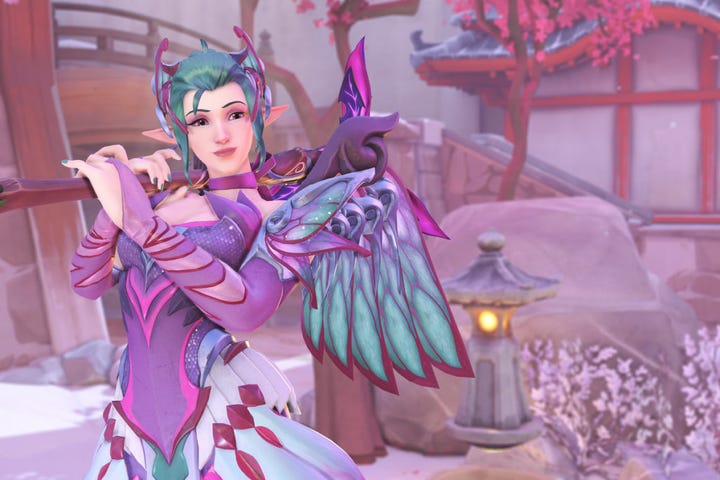 The Mercy cosplay is also stunningly beautiful, having been crafted based on the Sugarplum Mercy skin in Overwatch. The staff looks straight out of the game with the impressive paint job and fine details with the gem at the top and wrapping vines at the base. The wings also look almost transluscent in the light, and even painted to make them shine in wonderful colors as seen in this photo of the wings as a shadow.
Final day filming #MorgansMask with @carolinaravassa pic.twitter.com/9zCyI5OJ02

— MJasmine@MaskUp! (@mjasmine_design) November 14, 2020
Morgan's Mask has been fully filmed in November and is now in the post-production stage. Be sure to follow Carolina Ravassa on Twitter for updates on the film and be on the lookout for a future article on Cosplay Central when the film is released.