Father Crafts Adorable Baby Yoda And Jawa Cosplays For His Daughters
This guy wins "Dad of the Year" for creating these Star Wars cosplays for his kids.
With Halloween around the corner and the new Mandalorian season coming out on October 30th, it's no surprise that many families will be dressing up from the hit Star Wars show. One dad, however, went to the next level and made both a Jawa and Baby Yoda (The Child) costume for his daughters.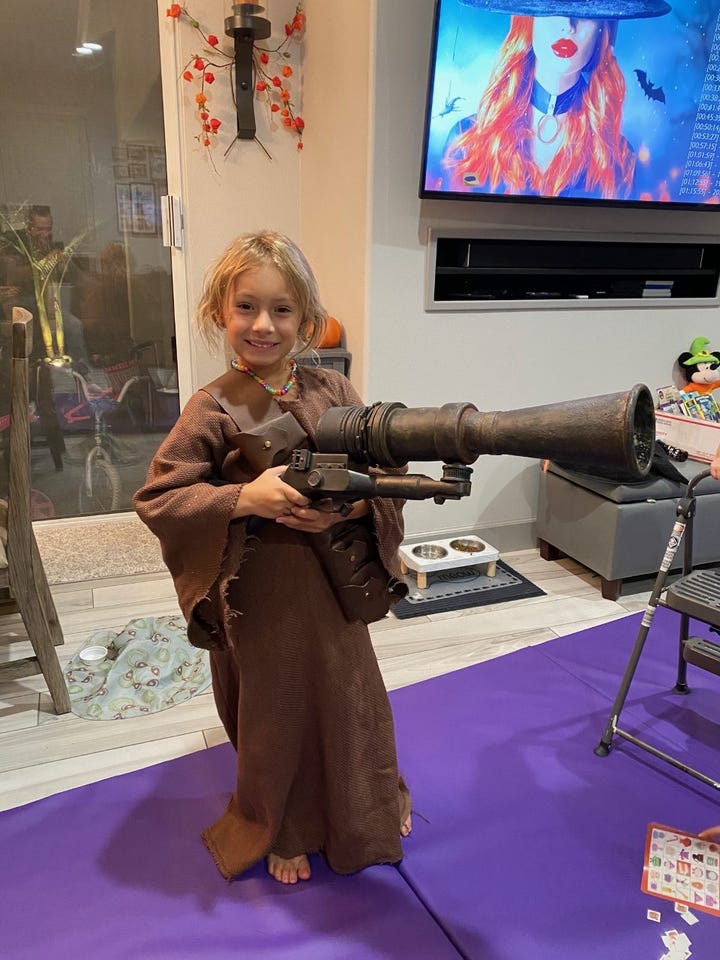 Geoff Curtis, a member of the Replica Prop Forum and owner of Etsy store GEC Props, posted photos of his daughters' completed Jawa and Baby Yoda costumes. When he asked his daughters what they wanted to be for Halloween, they had both said they wanted to be Star Wars characters.
"I'm always looking for a new challenge. I knew the Jawa would be an easier one because it's been done so much and there would be plenty of YouTube guidance to help out," Geoff told Cosplay Central. "I even tried to convince [my] other daughter to be a Jawa too, [but] she insisted on Baby Yoda."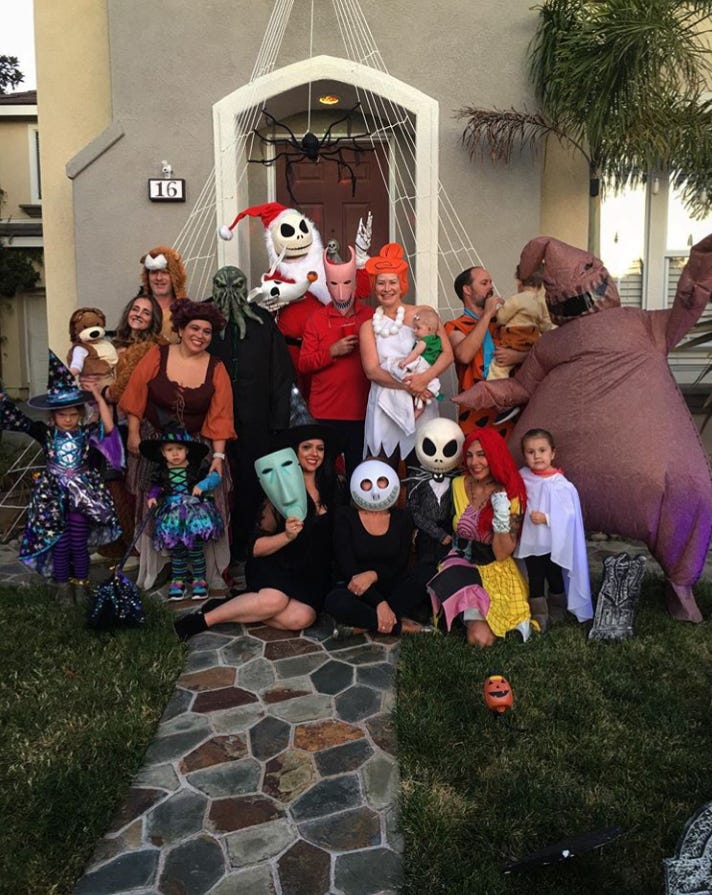 Geoff and his family has always gone above and beyond with their Halloween costumes. Last year they went all out as Nightmare Before Christmas, which definitely must have been the talk of the neighborhood that year.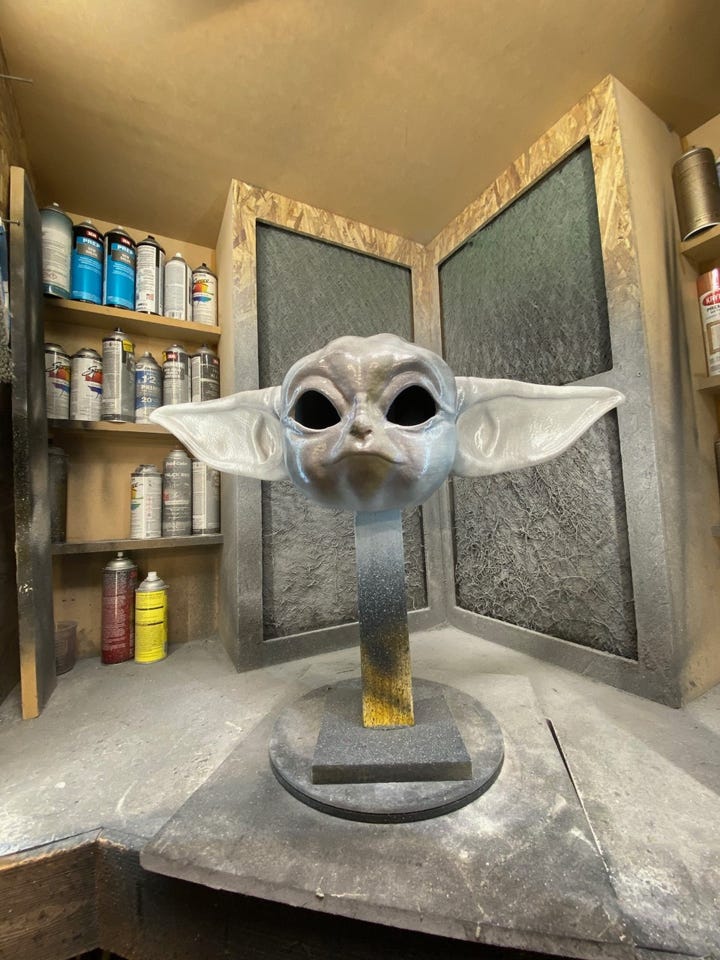 The Jawa costume didn't take long for Geoff due to all the YouTube videos to help, but the Baby Yoda costume was a whole different ballgame. "I printed the head at about 150% from Sean Fields' files from Project 842. Then I printed and painted the helmet in a couple of hours," Geoff explained. "I have a background in automotive prototype and concepts, so this helped me carry over my skills to the prop side."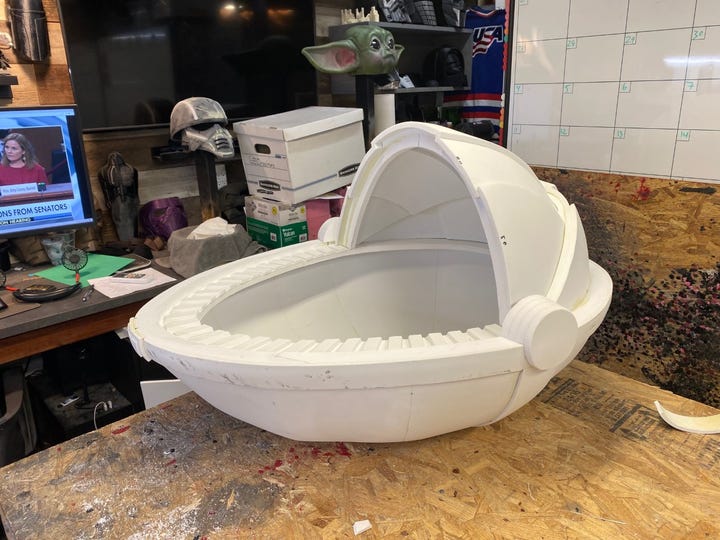 The pod for Baby Yoda took about a day by printing a small version of the pod and then taking the templates to enlarge them. He fabricated the pod out of 10mm of EVA foam and a little bit of 1/2" of foam core to stiffen the arches. He isn't fully finished with the whole costume as he needs to finish the weathering for the pod and the Baby Yoda hands, but it certainly looks amazing where it stands so far.
"The hardest part of the entire projecct was to find the spare time to work on it," Geoff said. "The robe was also kind of a challenge too because of my lack of sewing experience. 50% of the time I wanted to throw the sewing machine out the window and the other 50% we could get along."
Despite the hardships in creating the entire costume, his daughter was really excited to try it all on. "The first time she put on the helmet her response was 'take this off right now!'. I don't think she was ready for it!" Geoff laughed. "But now she's really excited. I think she'll take [the helmet] off, but I have backup options where she could still wear the robe."
To see more of Geoff's work (such as his incredible Kylo Ren helmets), be sure to check out his Etsy store at GEC Props.
Who knows what Geoff and his family will put together for Halloween next year!