Grant Imahara: Remembering Our Favorite Cosplays From The Beloved MythBuster
The fan-favorite television personality left behind a series of memorable characters.
The pop culture world was rocked by the sudden passing of Grant Imahara, who died Tuesday at 49 as the result of a brain aneurysm. Imahara, an electrical engineer by trade who enjoyed a lengthy stint at Industrial Light and Magic, was most familiar in geek circles as the former host of MythBusters. His specialty on the series was robots, and he would often build them alongside teammates like Adam Savage to deconstruct popular myths.
The news hit his former colleagues hard. Savage tweeted, "I'm at a loss. No words. I've been part of two big families with Grant Imahara over the last 22 years. Grant was a truly brilliant engineer, artist and performer, but also just such a generous, easygoing, and gentle PERSON. Working with Grant was so much fun. I'll miss my friend."
With his credentials, it's no surprise that Imahara was also heavily involved in the cosplay scene, both as an admirer and a cosplayer himself. Here are some of our favorites.
1. Glenn Rhee from The Walking Dead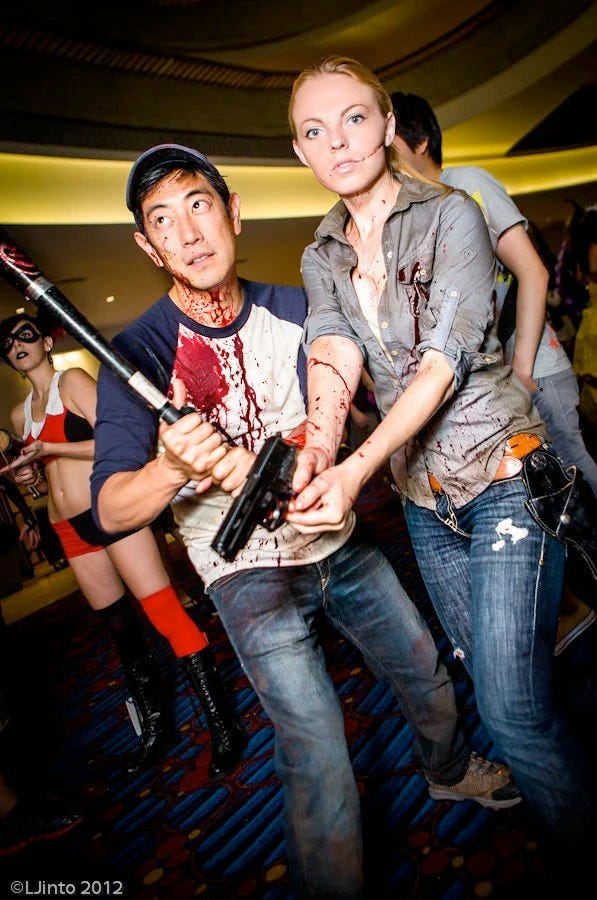 Back in 2012, at the height of Walking Dead mania, Imahara broke out the softball tee and together with his fiancee Jenny Newman, suited up as Glenn and Andrea. Complete with full blood splatters, the duo wholeheartedly embraced the characters, standing out from an ever-burgeoning crowd of Walker Stalkers.
2. The 10th Doctor From Doctor Who Imahara was nothing if not eclectic, with interests spanning multiple fan-franchises. In this cosplay, Imahara picked up the sonic screwdriver as the 10th Doctor from Doctor Who, complete with trench coat (and pictured in front of the iconic TARDIS). Channeling David Tennant, Imahara manages to get the look and feel of the BBC series perfectly.
3. Ghostbusters Imahara went full Ghostheads for this next one, suiting up as one of the Ghostbusters complete with a perfect proton pack replica. His brick background conjures up the group's fire house headquarters, while his stance shouts, he's not afraid of no ghosts.
4. Apollo from Battlestar Galactica Never one to fear a robot, Imahara cosplayed as Apollo from Battlestar Galactica, posing next to a viper pilot (possibly Starbuck?). He captured the look of the last humans battling the Cylons, with his determined gaze and classy dress uniform.
5. Command Uniform from Star Trek Imahara cleaned up for his cosplay as a command officer from Star Trek (the outfit kicked off in Star Trek: The Wrath of Khan. Imahara was a long-time Trekker, having appeared as a recurring character in the acclaimed Star Trek fan-film, Star Trek: Renegades.
It's clear our world has lost an icon. Our thought go out to Grant's family and friends.