Zack Snyder Wowed By Female Justice League Batman Cosplayer
Cosplayer Lis.Wonder wore a Batman suit and it caught the attention of the Justice League director.
News of Zack Snyder's Justice League hit the media this week as they released a new trailer for the movie that will be on HBO Max next year. With many eager to see the Zack Snyder version, it's no wonder that cosplayers are already cosplaying from the movie.
One such cosplayer, Lis.Wonder, recently posted photos and videos of her female Batman suit that caught the attention of Zack Snyder. They were so impressive that Zack Snyder himself commented on Vero, a social media platform that the Justice League director commonly uses.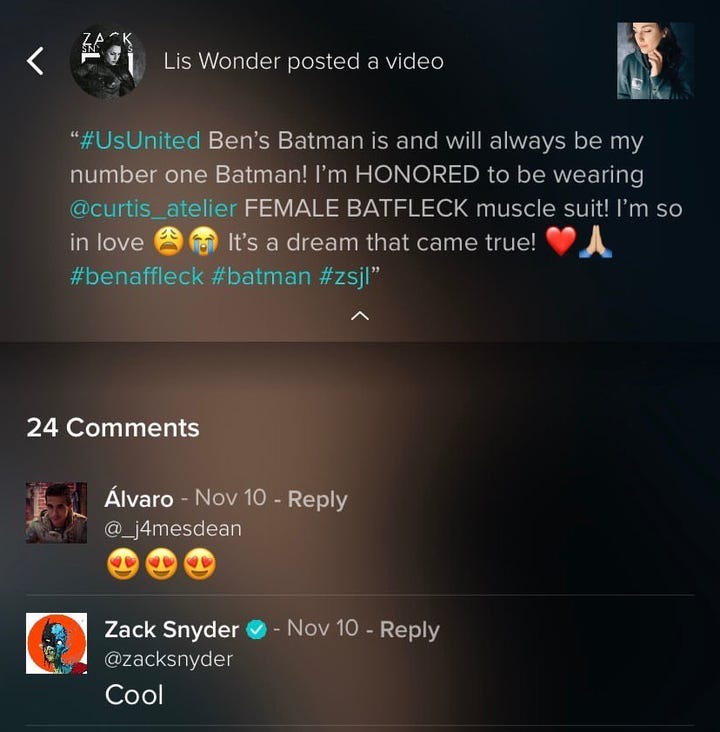 Zack Snyder wrote how cool her suit was on a video of her revealing the suit. Over on Instagram, the suit has garnered over 12,000 likes, with many fans applauding the new look. The suit was designed by fellow cosplayer Curtis Atelier, who had originally crafted it for his wife. Lis.Wonder borrowed the suit to test out the fit for him, and the look quickly went viral on her social media platforms.
Lis.Wonder is usually known for her Wonder Woman cosplays, and her look is spot on to that of Gal Gadot. Her wearing the Batfleck suit looks almost like Gal Gadot herself decided to wear the iconic Caped Crusader's costume.
We honestly wouldn't mind seeing something like Barbara Gordon becoming a part of the DCEU. Having a Batgirl with a suit like this would certainly be a cosplayer's dream. Who knows what the DCEU will have in store in the future. In the meantime, we can applaud these cosplayers for collaborating together and bringing us a Barbara Gordon-like Batman look.