Ask Ani-Mia: Star Wars, Budget Cosplays, and WIPs
This week's column dives into how to make a Star Wars cosplay and more!
Hey there cosplayers and cosplay enthusiasts. Welcome to Ask Ani-Mia, a running advice column where you can ask questions on any topic that may be cosplay related and get an answer. Hopefully my years of cosplay experience can help shed some light on questions you may have been dying to ask but for some reason or another haven't. So let's get started.
Hi Ani-Mia, How would you go about making this shoulder/chest piece? – Anthony K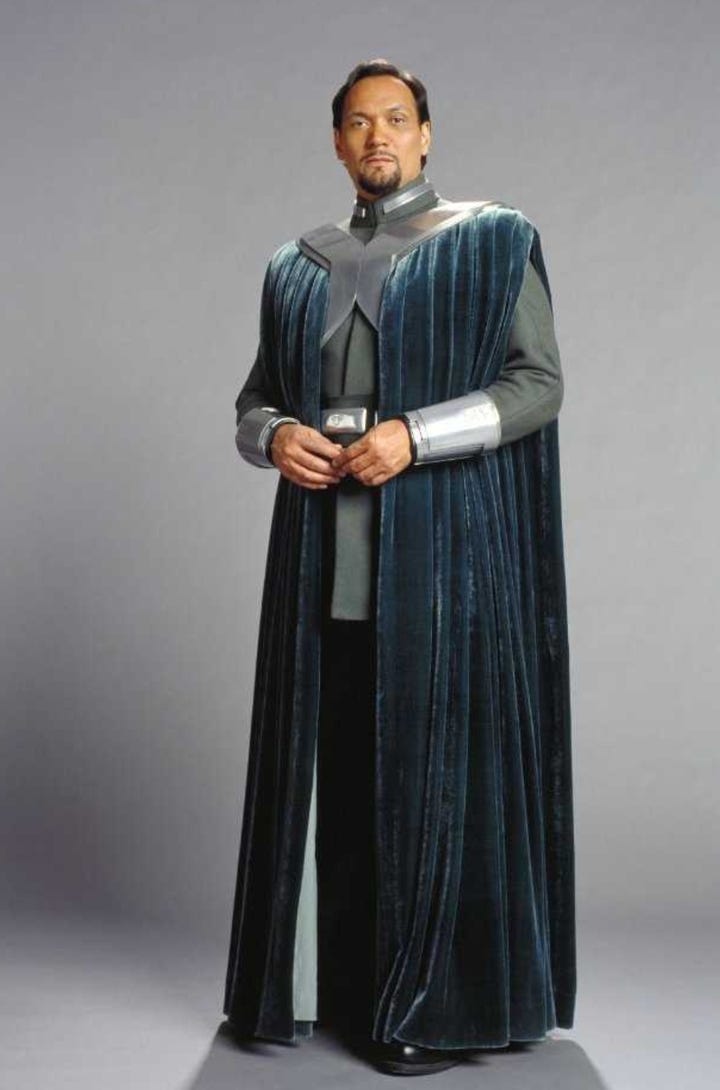 This is an impressive blend of fabric and hard materials. The chest piece seems to be formed as an X with the fabric laid underneath the top and over the bottom of it. There also seems to be something supporting the fabric from underneath where the shoulders are. For the metal chest piece, I would recommend worbla. Though you could use just foam, I think you might need something sturdier, especially for the part that supports the fabric from underneath.
I would create two X's, one smaller than the other and layer those since it looks as though it's tiered on top. (Mind you, I can't quite see what the back looks like and how it's connected so I'm just going off the front appearance.)
Then I would make two sturdy rectangular pieces measuring from the neck to slightly over the shoulder and then a few inches down the front and back of the shoulder for the width. These rectangular pieces would be molded to go over my shoulder to support the layer of fabric. Then drape the lengths of fabric over it and finally the X you created before would sit on top of that. Just pull the fabric out so that it drapes over the bottom of the X and then add some attachments or Velcro to keep everything sandwiched together and removable.
Hi Ani-Mia, As a costumer I want to be accurate to the design but it's just not feasible for my budget. What are your thoughts on deviating from the original design with a cosplay? – Kelly Y.
There is absolutely no rule that a character's costume can't be changed. Designs often have to be modified due to sheer physics but factors like budget, comfort and uniqueness can come into play as well.
Budget concerns are something all cosplayers face and honestly, I find some of the most inventive cosplay materials are utilized when people are forced to think outside the box. As a cosplay judge at competitions, I am routinely amazed when someone is able to make something that may not be 100% accurate in design but accomplishes the same look using a material no one has ever thought of. Cosplays can also be modified for comfort both in wearing the cosplay throughout the day and also in what a cosplayer is comfortable wearing in general. Modesty panels can be added to cosplays to keep a similar design to the original costume but gives the cosplayer the option of showing as much or as little skin as they would like. No reason to wear a cosplay if you aren't going to be comfortable and having fun in it.
My biggest reason for changing a cosplay is often to make it more unique. Sometimes when I cosplay a character I've seen a lot or who may have a very simple costume, I try to give it my own spin. I'll add a little something to spruce up the design and make it feel a little more like me, if I truly was that character.
So feel free to change a cosplay for whatever reason you need. As long as you keep the essence of the character alive in the costume, that's all you need.
Hi Ani-Mia, Do you have tips for taking work in progress photos? – Josh R.
Work in progress photos are a great way of showing off how you created your cosplay for those that may follow your cosplay work and are often necessary for major cosplay competitions.
If you are taking photos for a competition you will want to document every prominent step of the construction process. Sometimes, you will have limited time to explain how you created your cosplay when in front of judges but you can leave copies of your progress photos for them to get a quicker and clearer idea of what skills you utilized.
Use good lighting for your photos and try to take up close photographs of smaller details that you want to highlight and might be easily missed. I like to include a few photographs of myself working on the cosplay or showing off a detail. This helps judges know that the photos are yours and it was indeed you working on the cosplay.
Now if you are taking progress photos more documentary style for yourself or your followers, you may want to make it into an opportunity to create an ongoing construction journal that you can look back on later. For example, keep a piece of paper with a fabric sample from each of the fabrics used on the cosplay. Include the name of the fabric and where it was purchased in case you need to order more for another project later.
You can also use your progress photos to document new stitches you may have utilized or new crafting materials you hadn't tried before. Perhaps you used resin for the first time for a project. By keeping notes on how you used the resin, along with photos of the process, you can refer to these later for future projects.
If you have a question that you'd like to have answered, feel free to send it to askanimia@gmail.com. Make sure to include your first name and last initial or let us know if you'd like to mark the question as "From Anonymous"