Meet the Crown Championships 2022 Finalists - Amazonian Cosplay
Find out more about the Finalist selected at MCM London Comic Con
Selected at MCM London Comic Con in May, Amazonian Cosplay triumphed with her impressive cosplay of Sansa Stark from Game of Thrones. Read on to find out more!
Welcome to the competition! Can you tell us a little about yourself as a cosplayer?
I'm Beth aka Amazonian Cosplay! I've been cosplaying for 10 years now, and I began as a teenager at local conventions with very badly made Doctor Who costumes with still wet pva glue on them! As I made cosplayer friends, it very quickly spiralled into elaborate competition costumes that challenge me to improve my skills. I have a penchant for warrior ladies, evil queens, and costumes with lots of embroidery!
What inspired you to make your qualifying costume?
Throughout my entire cosplay life I've made costumes from Game of Thrones, and they're always a kinda stepping stone with where my crafting skills are at! The second this incredible costume was shown on screen in the final episode, I knew I had to make it. It was the ultimate challenge for my skills and abilities, and pushed everything to the limit, and that's why I wanted to make it! It was a sort of homage to the journey I've taken with this hobby in the past decade.
How did you create this costume?
Almost 3 years of work is hard to sum up in a few sentences! This costume contains practically every technique under the sun. I spent a whole year purely hand embroidering the red leaves. Each single one was individually embroidered on organza, which I cut out and hand sewed onto the sleeve (just this task took weeks!). All the fabrics used are the same ones used in the show, and most of the construction was hand sewn. There's 25 metres of sewn feathers, a 3d embroidered wolf head, teeny stumpwork wolves on the dress cuffs, and hundreds of thousands of beads and swarovski crystals across the whole costume! And that's just the fabric parts. I sculpted the crown and cast in resin, and also completely made the steel breastplate from scratch, designing the pieces, laser cutting the steel, and welding it all together. And somehow there are still multiple things I want to make before I'm 100% finished!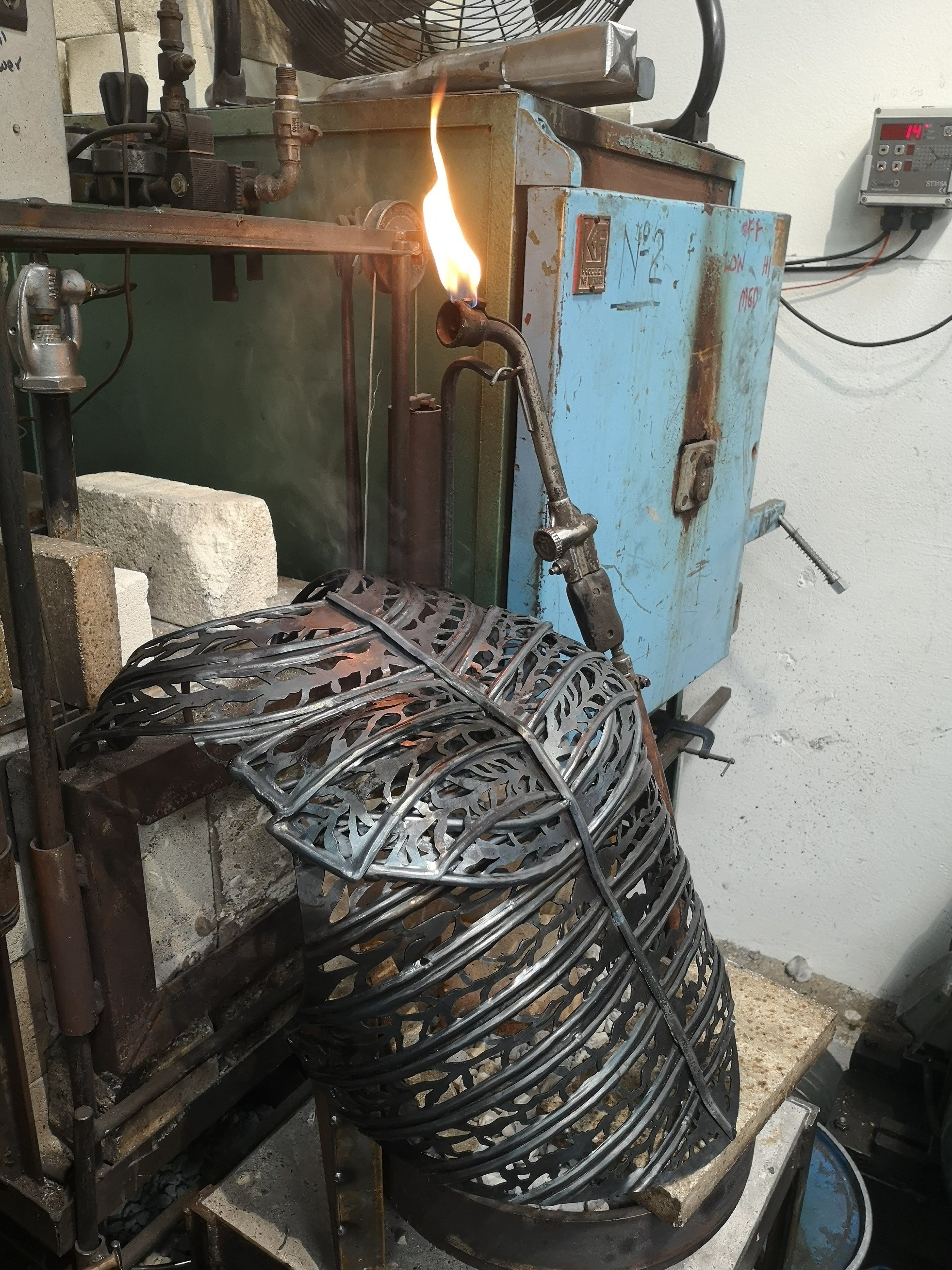 Did you learn anything while making this costume?
I learned I had more patience and determination than I ever thought, considering I kept pushing through across multiple years! Most of the techniques used were ones I've used before, but this costume uses them to a much higher level than I've ever experienced! I've done a fair bit of blacksmithing work in my costumes before, but I've never done laser cutting on this scale so that was a real challenge! (Lots of tears while battling with the digital files…) But I've also enjoyed learning new skills I've never even attempted, like shoemaking and historical corsetry, and it's really interesting to see the transferable skills across the various crafts.
What is your favourite part of the costume? And Why?
It has to be the embroidered sleeve. How can it possibly be anything else?! That one sleeve lining has over a year of my life stitched into it!
Are there any other details or features you would like to highlight?
The scaled panel on the back of the shawl. It's layers and layers of detail, and is entirely covered by the hair! Steamed shaped velvet, velvet scales, metal mesh ribbon, goldwork embroidery, beads and more stitching. And all hidden.
What are you most looking forward to about the final in London?
While I'm a little sad I don't get an international trip this year, it'll be great to be taking part in a competition at my home convention! Usually when you compete abroad you don't get to celebrate the excitement with your friends, but this time I'll be surrounded by everyone I know which will be nice!
You can follow Amazonian Cosplay on Instagram and make sure to check out their cosplay in the final!