Meet the Crown Championships 2022 Finalists - Kikyo
Find out more about the Finalist selected at Romics, Italy
Before the EuroCosplay 2019 final had taken place the next Italian representative had been selected at Romics! Sadly the original winner is unable to take part after all this time, so the runner up Kikyo is stepping in for the Crown Championships in London this year.
Kikyo's qualifying costume was Elsa from Olaf's Frozen Adventure. Read on to find out more about their plans for the final!
Hi Kikyo! Tell us a little about yourself as a cosplayer?
Hi everyone! I'm a Cosplayer since 2009. I studied voice acting and I'm trying to become an Italian Voice Actress. One of my biggest passions is Ice (and quad) skating, I've been skating since I was little.
I just love Art and when I discovered the Cosplay World... it blew my mind! I love sewing and adding decorations to my cosplays, styling the wig, and doing my make up trying my best to bring the character to life; I'm a big Disney fan so I like cosplaying my favourite princesses and my childhood heroines. Moreover, my favourite animes are Inuyasha and One Piece. I'm addicted to cats, mermaiding and W.I.T.C.H. comics book!
What inspired you to make your new costume for the final?
I was planning to make the cosplays of my favourite Inner Senshi (S Sailor Venus and S Sailor Mars) for a while, then a friend of mine asked me to make S Sailor Moon too, He was going to make Tuxedo Mask..and I thought..why not?! I've always LOVED her fuku, she has the best colours!!
I hope to touch all the big fans of 90s anime with my costume and my performance!
How did you create this costume?
First, I start thinking about the best way to recreate the costume in real life, then I start searching for the best fabrics and the techniques I should use (and I love when I learn something new!). I always do mockups and fix every single time the shape of everything until I'm truly satisfied. I spend so much time looking for the right materials, I could never make a cosplay quickly!
Did you learn anything while making this costume?
Of course! It was the first time I ever made a Sailor fuku so I made all the patterns, the body, the collar, the tricky sailor skirt! It was amazing to create my first cover for my everyday boots, which is totally removable, and since I like resin art, I learned so much making the pins and all the accessories. Plus, I'm really into wigmaking so I love when I learn new techniques for wigs!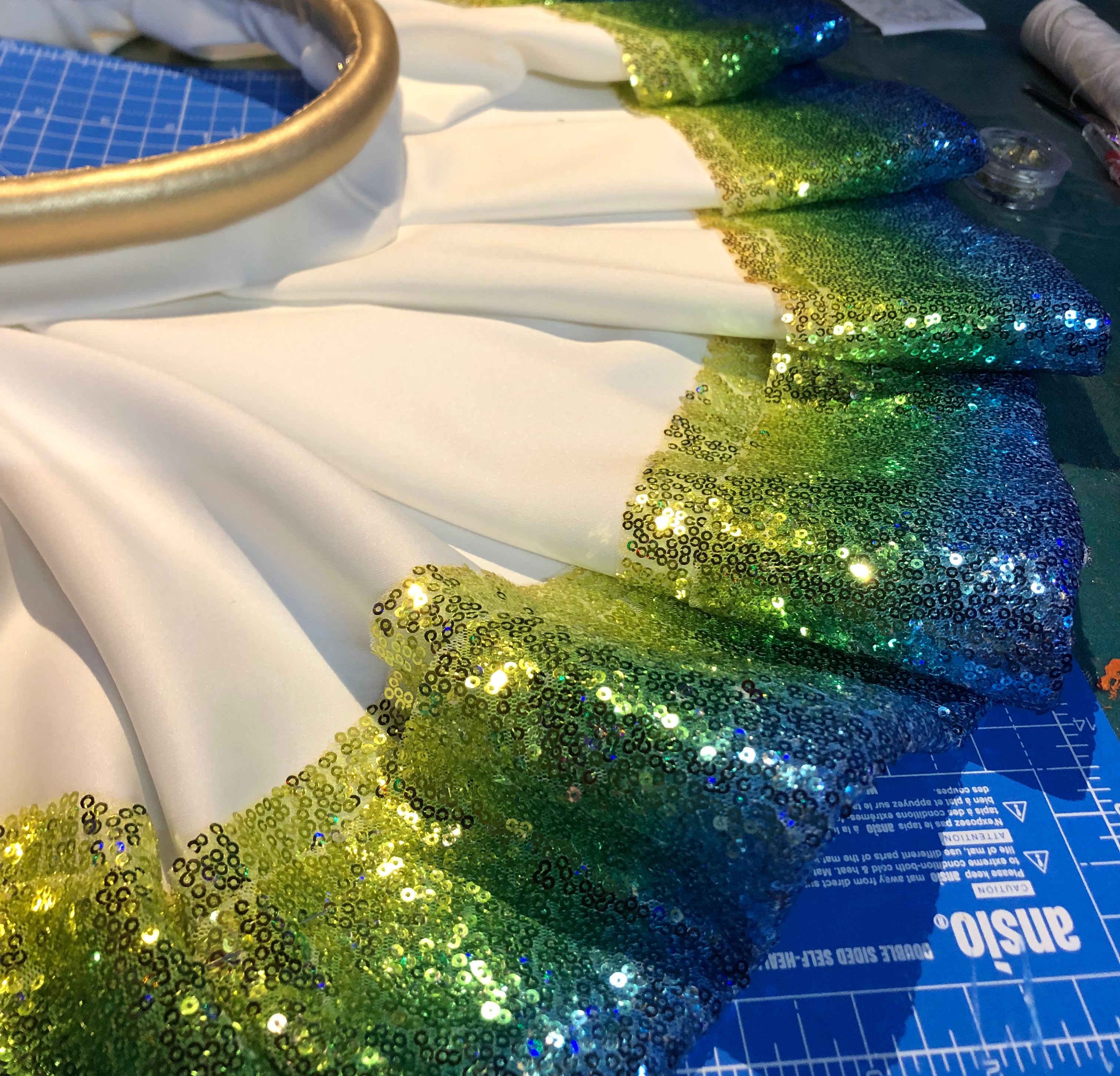 What is your favorite part of the costume? And Why?
Well…. It's hard to choose only one thing, I like the little "wing" sleeves, the skirt, the accessories, and the back bow, omg I love that shape so much!!
Are there any other details or features you would like to highlight?
I love so much the rainbow effect of the sequin fabric for the skirt and I'm obsessed with the gold and the glitters of the accessories!
What are you most looking forward to about the final in London?
I'm looking forward to being able to meet all the other representatives and admire their works, then obviously have the chance to be on an international stage and performing!
You can follow Kikyo on Instagram and Facebook. Make sure to check out the final to see their brand new costume!