Meet the Crown Championships 2022 Finalists - Korawui
Find out more about the Finalist selected at Japan Impact, Switzerland, in early 2020
Korawui was the last cosplayer selected to take part in the 2020 EuroCosplay Championships before the world stopped! As those selected finalists weren't able to compete, we are thrilled to include those talented cosplayers in the Crown Championships in London this year.
Kora was selected at Japan Imapct in Switzerland as Newt Scamander from Fantastic Beasts and Where to Find Them. Read on to find out more!
Hi Kora! Tell us a little about yourself as a cosplayer?
Hi! I started to make my cosplay by myself since 2018. I'm more into cosplay based on sewing, but I'm trying to expand my knowledge of different techniques, my only knowledge was the sewing lessons I had in school, then I learned by trying and missing a lot of times. Cosplay is learning a lot of techniques and embodying characters that I love and that fascinates me makes me happy and proud.
What inspired you to make your qualifying costume?
The character! I find myself very much in his temper and this magical universe made me have a lot of imagination for the stage.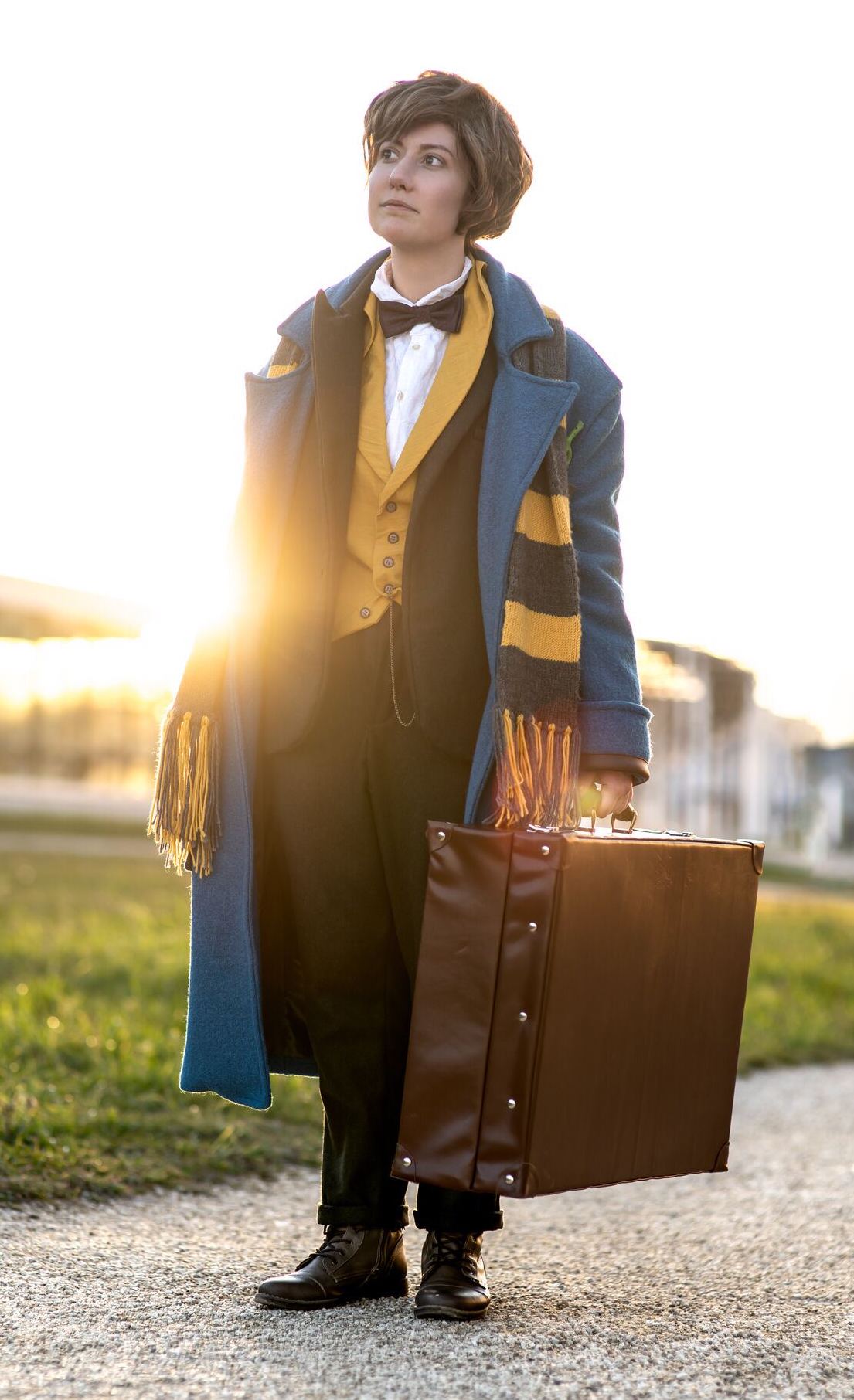 How did you create this costume?
I started to learn how to knit a scarf, it was a big challenge for me, luckily my mother was my teacher for this part. I researched the fabrics used in 1940s British outfits, so I used boiled wool for the coat and suit. I machine-embroidered 3 meters of fabric for the shirt and made a leather bottomless suitcase.
I think I spend almost 8 month on this cosplay! The scarf and the coat are my favourite parts, they are two iconic symbols of Newt Scamander for me.
Did you learn anything while making this costume?
Knitting! And… It was maybe one of my first big cosplay project, so I learn many techniques of sewing (a looooot of pockets on this costume), making the little beasts with foamclay was new for me too.
It's been a long time since you qualified, and a lot has changed! Will you be competing in your qualifying costume or will you bring something new to the final this year?
Yes! I tried to improve myself as much as possible during the pandemic, and I decided to challenge myself with something new for me and totally different from my selection costume, I learned new things again and this costume will have taken me a lot longer with even more fabrics and sparkles (I have developed an obsession with sparkles). I'm proud of this new costume and I hope you'll like it!
What are you most looking forward to about the final in London?
A lot of fun! I always wanted to go to London so I'm really happy to come and meeting others, sharing and having good times together!
You can follow Kora on Instagram and make sure to check out the final to see their new costume!