Meet the Crown Championships 2022 Finalists - Jack-of-all-Trades Vega
Find out more about the Finalist selected at Unicon, Latvia
At Unicon, Latvia participants took to the stage from Latvia, Lithuania and Estonia for the chance to reach for the Crown in London. Jack-of-all-Trades Vega triumphed to represent the Baltic States as a Human Ranger from Guild Wars 2. Read on to find out more!
Welcome to the competition! Can you tell us a little about yourself as a cosplayer?
I'm Galina or Vega and I've been cosplaying for about 10 years. In comparison to others, I started rather late when I was 23 years old and already had a day job with a stable income. It was actually my job (I work as a museum educator) that got me into cosplaying and performing on stage.
I love doing cosplay because I love putting my brain to use when creating things and figuring out how they should be constructed. Most of the time, the making process excites me more than the finished product. I usually make cosplay costumes of characters I like a lot and have a deep connection with. A lot of my cosplays are based on games, because you have all the time in the world to get to know the character you're cosplaying on a personal level.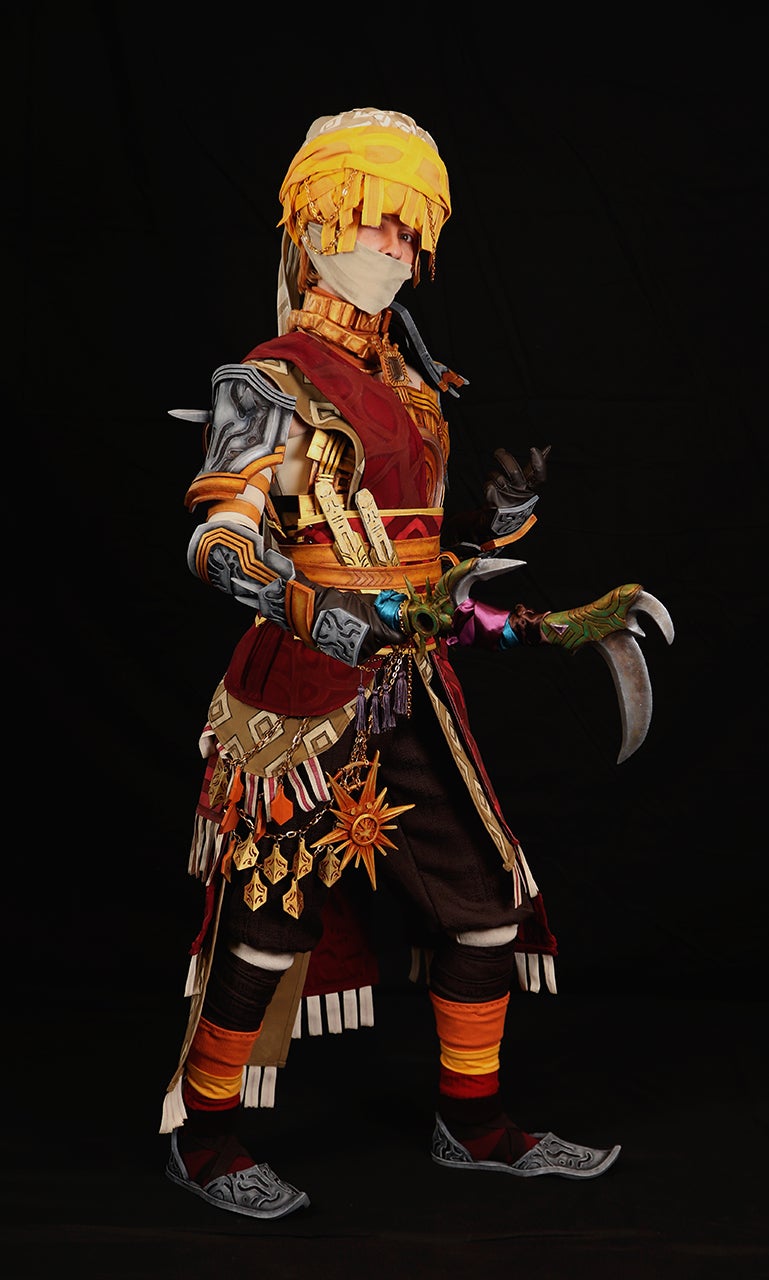 What inspired you to make your qualifying costume?
I really love Guild Wars 2 and at some point I had a tradition of making one new GW2 cosplay per year. This is my 3rd GW2 cosplay and by far my most complicated and detailed one.
How did you create this costume?
I started in 2018 and wore it in 2019 for the first time. In 2022 I decided to wear it again and updated some details here and there. The costume is based on a mix of Middle East and African cultures, so I did a lot of research looking at various photos and illustrations. I always do mockups to see if the build works, so one could say that I create 3 versions of the same costume all the time. Once I'm satisfied with everything, I start working with the good materials. My go-to fabric store for cosplay projects is actually an outlet that sells slightly damaged, but quite cheap fabrics. I tend to spend a lot of my time browsing through various fabrics looking for the best texture and color.
Did you learn anything while making this costume?
Every time I make a new cosplay costume, I usually learn something new or try new techniques. For this cosplay I made shoes from scratch (no base used) for the very first time. I was really anxious about their durability, but they ended up being one of the sturdiest parts of the costume. In 2022 I decided to remake some old details (two daggers on my belt) and tried moulding and casting for the first time. It was a fun and interesting experience and I would definitely do it again in the future.
What is your favourite part of the costume? And Why?
It's really hard to tell, as there is a lot of interesting details and parts. I really like how the weapons turned out, especially the war axe. The design is really unconventional (who would put a hole in the middle of a weapon?) and intricate. I really like the golden and greenish colour it has (makes it look really old and worn out) and all the fabric strips that are wrapped around it.
What are you most looking forward to about the final in London?
I've never been selected for a competition like this, so it's the first time for me representing not only my country, Estonia, but all the Baltic States. So I'm looking forward to the new experience and probably new friendships and connections.
You can follow Vega on Instagram and Facebook. Make sure to check out their cosplay in the final!