Michaels Stores to Carry Cosplay Supplies
Start gathering your coupons now.
As of February 2020, Michaels will start carrying essential cosplay supplies at their stores. This includes materials such as worbla, different sized foam, and dremels. In the past, cosplayers have been able to buy crafting supplies (paint, fabric dye, scissors, etc.) from Michaels, but this is a big step into new business for the retail craft store. After Joanns started carrying Yaya Han's fabric line in 2016 followed by her foam collection last year, it seems that Michaels is stepping up their game in trying to convince cosplayers to come to their stores for supplies.
Michaels is the first major retail store to start carrying worbla, since previously it was only available in online stores such as cosplaysupplies.com. Worbla.com has also come out with a map showcasing exactly which Michaels stores carry the thermoplastic material. In addition to this, Michaels is also carrying various sized foam sheets, when in the past they only carried 2mm rolls and small, 6mm sheets. Now, they are providing rolls between the sizes of 2-12mm foam, which is perfect for all kinds of projects, from prop swords to small details on shoulder pauldrons.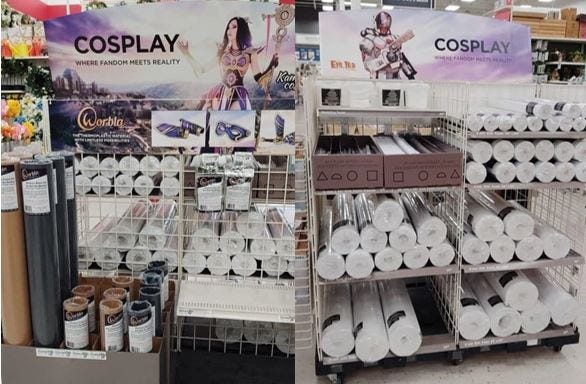 In addition to the worbla line, Michaels will also begin carrying many cosplay utensils. This includes varous types of dremels which will now be available in their stores along with kits that contain different tools to attach to the end of the machine. Fiskars X-Acto Knives will also be in their stores, and contain a complete set for different sized blades and a sharpening tool. If it's a heat gun you're looking for, they will also carry an ArtMinds Heat Gun with a high temperature of up to 1022°F (550°C). This tool will be perfect for shaping and heating worbla and foam.
Michaels line of cosplay products can be purchased at locations nationwide, and online.