10 Cosplayers Who Are Also Fabulous Historical Costumers
From the colonial period to Edwardian times, these 10 cosplayers create beautiful historical garb.
There have been many historically inspired shows and movies to suddenly appear over the years. From hits like Bridgerton to Outlander, many cosplayers have taken the task of attempting to recreate many of the looks from the shows.
The love for these types of shows and movies has also inspired many cosplayers to look into more accurate historical costuming. Some have found their love with colonial-era fashion, while others enjoy more vintage and early-20th century fashion. Here are 10 cosplayers who have found their love with both historical fashion and cosplaying.
Neophyte Costumer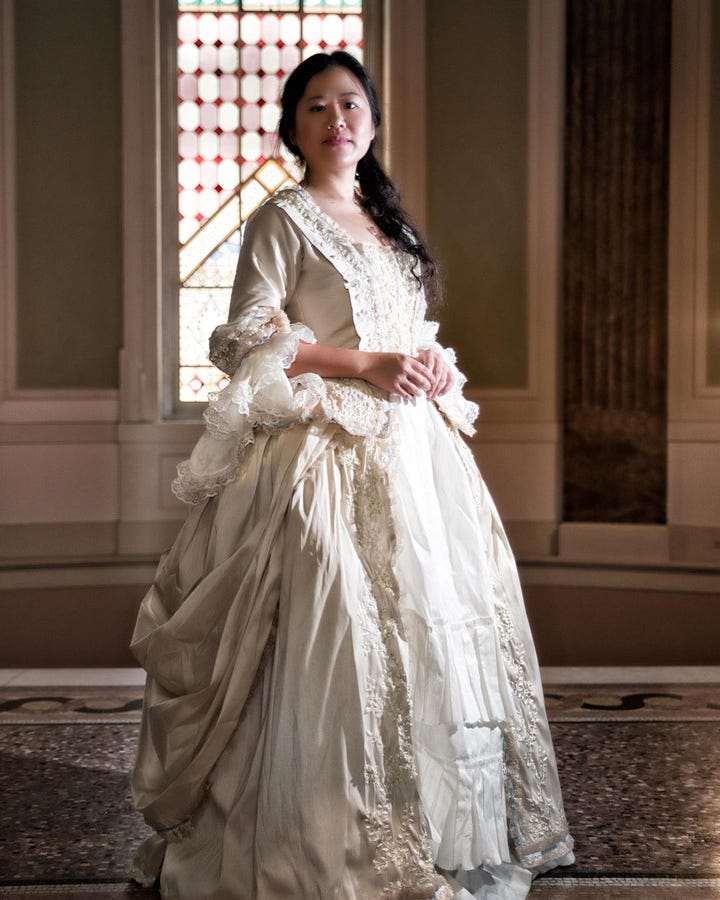 Cosplayer and embroidery enthusiast Neophyte Costumer has made some truly magnificent cosplays and historical gowns. She has made incredible looks from Outlander, Pirates of the Caribbean, and even Game of Thrones (her Sansa coronation gown is to die for). She uses lots of historical techniques to create her gowns, and does some absolutely stunning embroidery work that would even make Marie Antoinette jealous.
Wax Sealed Costumes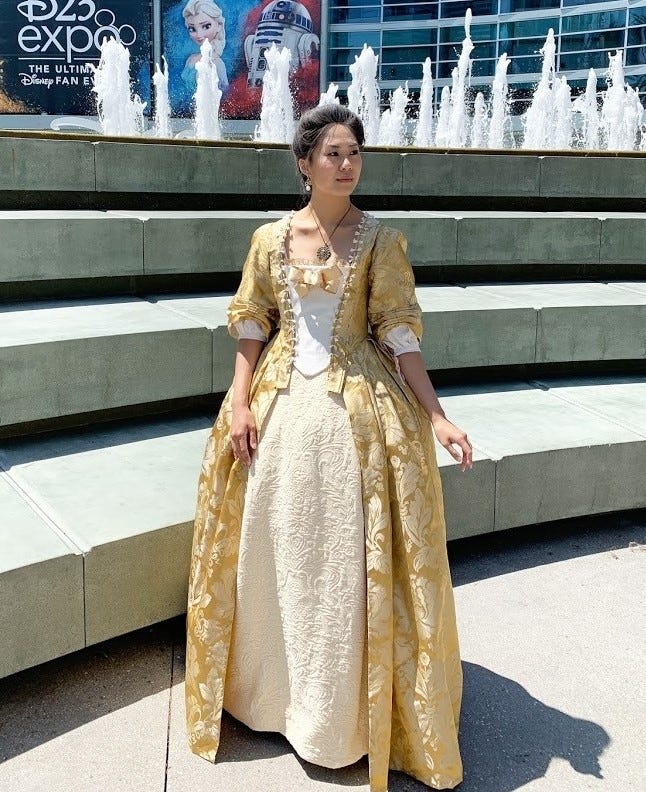 Wax Sealed Costumes is no stranger to the historical costuming community. She has sewn beautiful garments from the Regency era, Mid-Victorian, and even the Tudor period. She is currently working on a Tudor smock with embroidered cuffs. She is also an amazing Elizabeth Swann cosplayer, as this dress truly looks like a 1740s replica from the one used in The Curse of the Black Pearl.
Fresh Frippery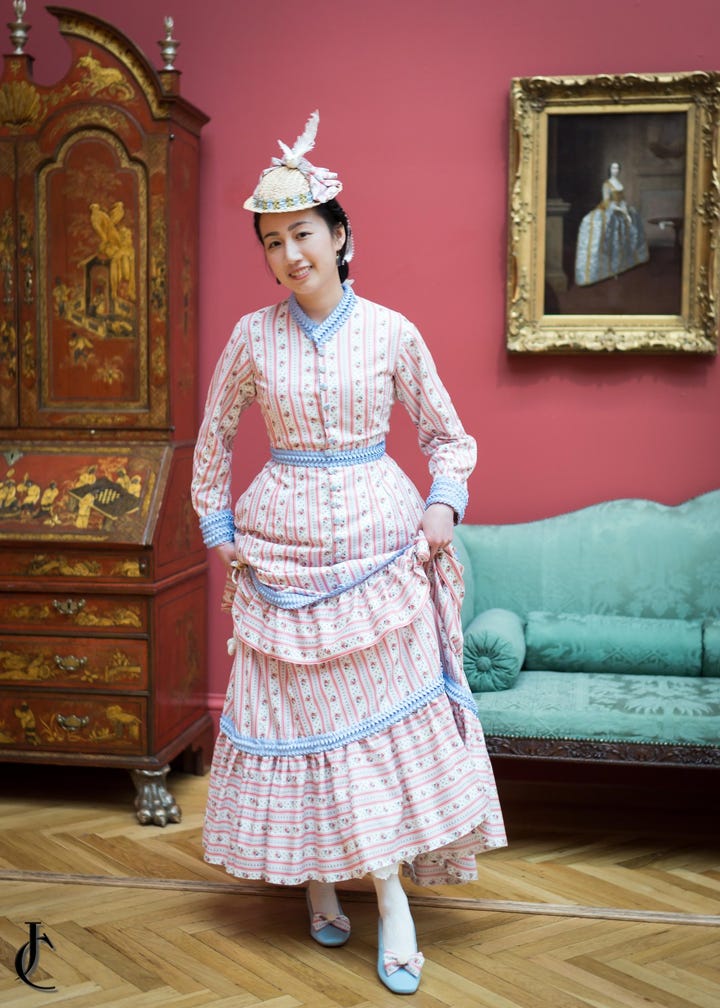 We are absolutely in love with everything Fresh Frippery has created. She has showcased many of her historical fashion pieces on Instagram, with time periods stretching from the medieval era to early 20th century. One of our favorites is her 18th century inspired Belle gown that includes dozens of roses and quilted yellow cotton. She is also a finalist in this year's Her Universe Fashion Show, so be sure to cheer her on when she competes in the virtual show!
The Cosplay Historian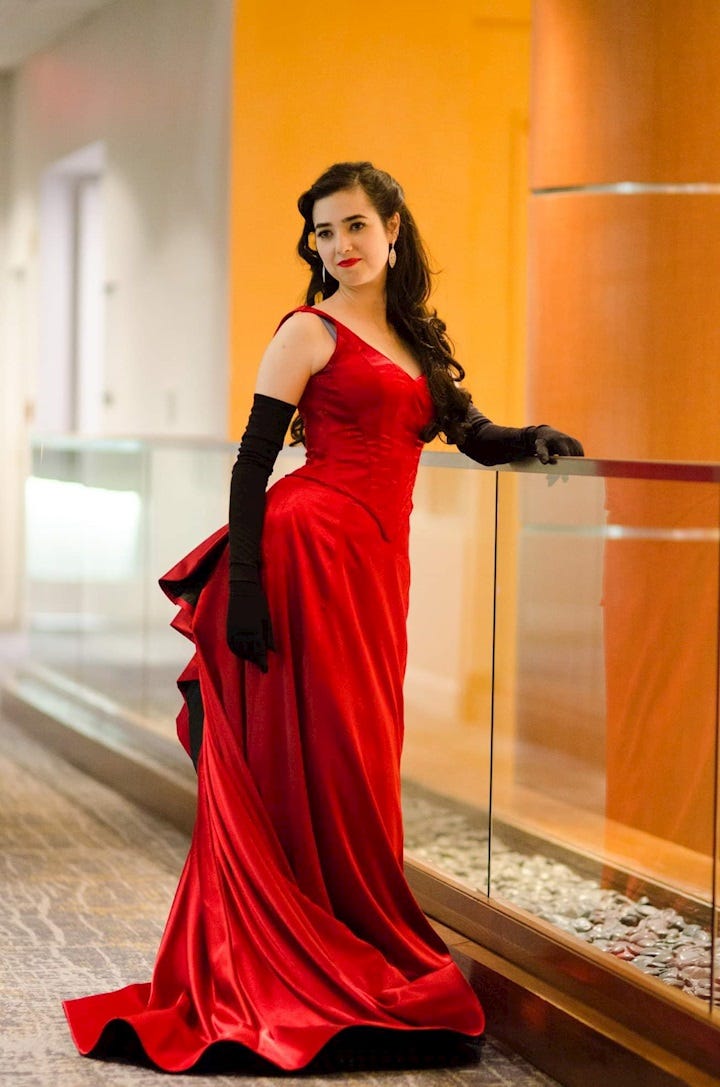 Do you want to cry again over Moulin Rouge? Because we do. The Cosplay Historian has been both a cosplayer and historical costumer for years, and has done a fabulous job cosplaying both historically-based characters and even her own looks. She has cosplayed characters such as Peggy Carter (who has some beautiful costumes inspired by the 1940s), as well as our favorite Satine from Moulin Rouge.
Trine Ericzon
Trine Ericzon truly looks like she stepped out of the Edwardian period in this photo. Trine has cosplayed from famous shows and video games such as The Witcher and Game of Thrones (can we say Natalie Dormer lookalike?), but she is also a huge fan of vintage fashion as well! The corset she is wearing in the photo is an 1890s summer corset she made herself. The best part is that her wife also embroidered the front of the corset with little flowers. So perfect!
C0C0 Cosplay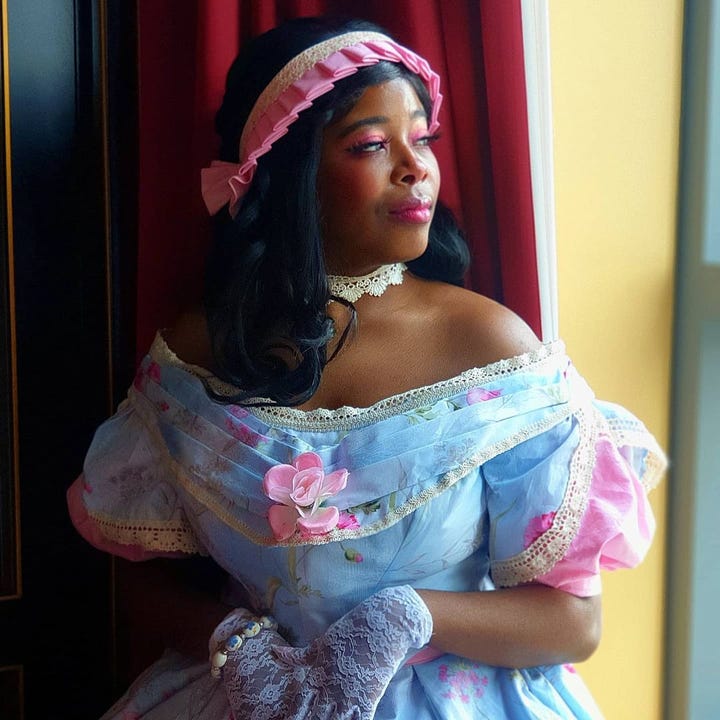 If you're not following C0C0 Cosplay, then you are now. This cosplayer has been cosplaying from many fandoms such as Disney, Sailor Moon, and Lord of Rings. Both her Tiana and Sleeping Beauty gowns are so beautiful it looks like she stepped right out of a fairytale. She has also recently entered the historical costuming community when her friend wanted to make mid-19th century gowns. Her dress is the perfect combination of blue and pink, and we can only wonder if it was also inspired by Sleeping Beauty.
In The Long Run Designs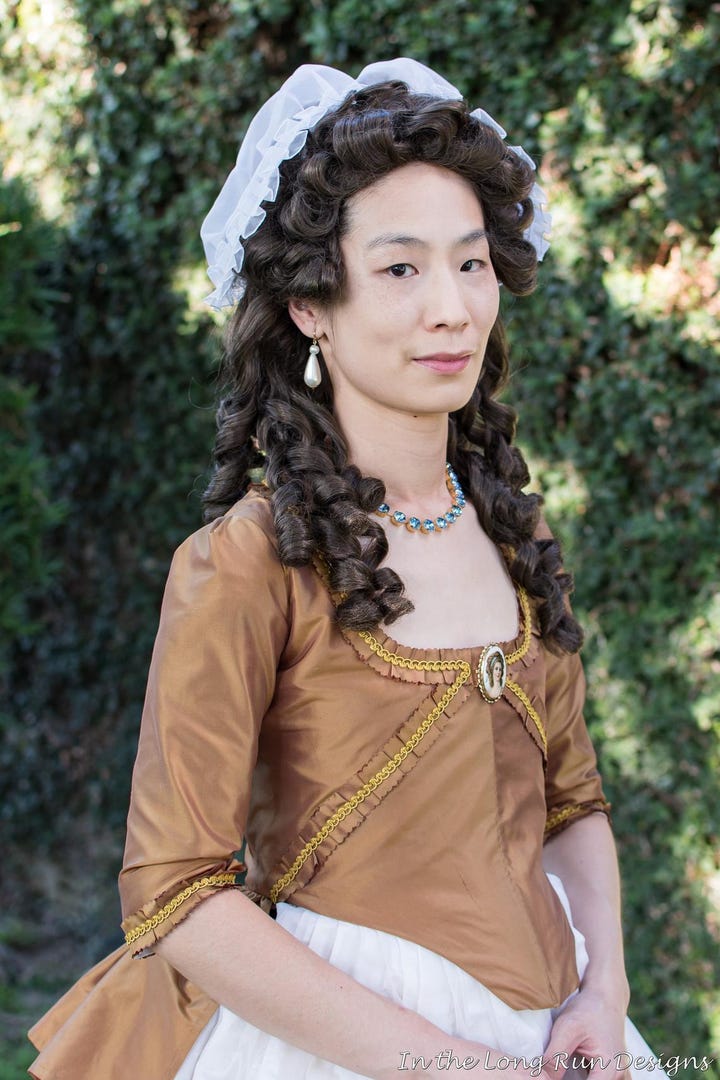 What happens when you take a fan of DC Comics and mix her with a historical costumer? You get the incredible In The Long Run Designs! Gloria is both a huge fan of historical fashion as well as DC Comics. She has cosplayed characters such as Catwoman, Nightwing, and Batgirl, while also making some beautiful historic looks as well. Many of her garbs range from the 18th to early 19th centuries and the photographs make her look like an actual portrait. She also has an Etsy shop for jewelry based on the 18th Century and Regency period.
Cation Designs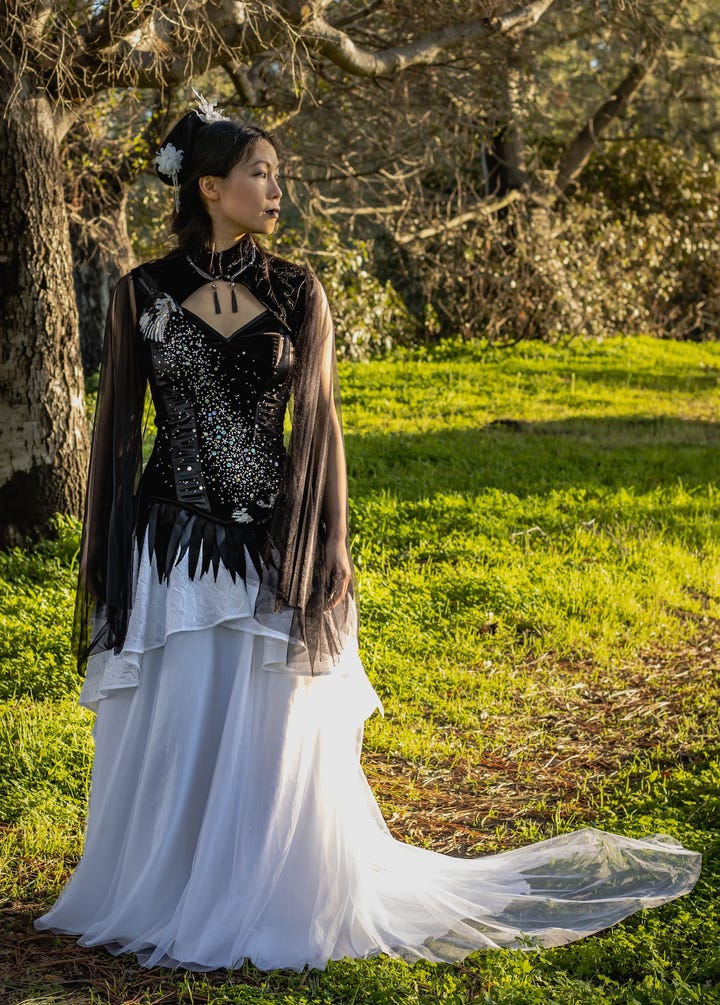 Cation Designs is both the Shieldmaiden of Rohan and overall badass with all of her beautifully designed clothing. Cation has made cosplays from popular fandoms such as Disney, Lord of the Rings, and Marvel.
Science teacher by day, this cosplayer also dabbles in historical fashion and blends it with modern elements. This dress is inspired by the Chinese folktale, The Cowherd and the Weaver Girl, and we cannot get enough of how gorgeous it looks. She also has a blog where she documents all of her sewing projects from start to finish!
Sewcialist Revolution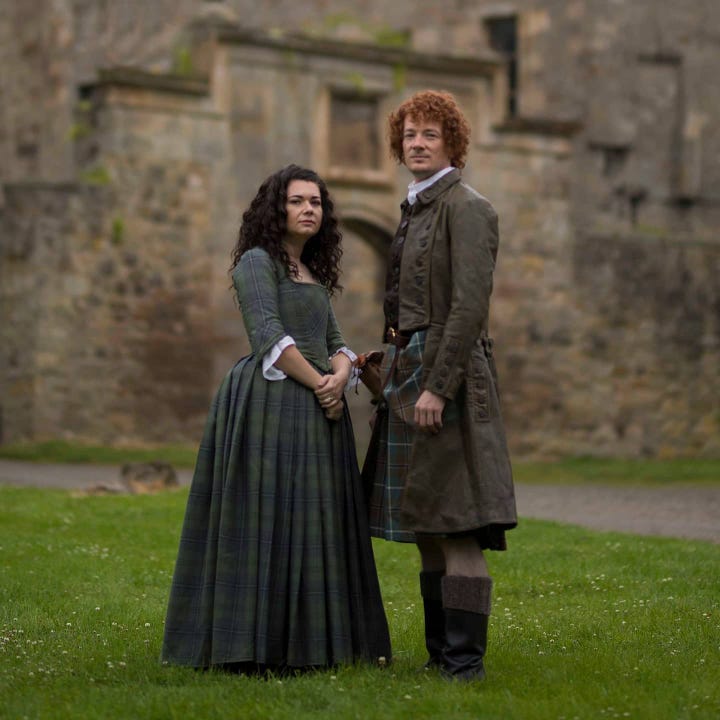 The hills of Scotland are definitely calling for cosplayer Sewcialist Revolution. Seen here with her partner Evil B Costumes, these two make such fabulous Claire and Jamie cosplayers. Natasha has made many different period outfits from an 18th century riding gown to Queen Elizabeth II's gown from the 1950s. We also cannot get over the amazing 18th century look Natasha and her partner Heidi created for characters Lucius and Narcissa Malfoy from Harry Potter.
Our Shield Maiden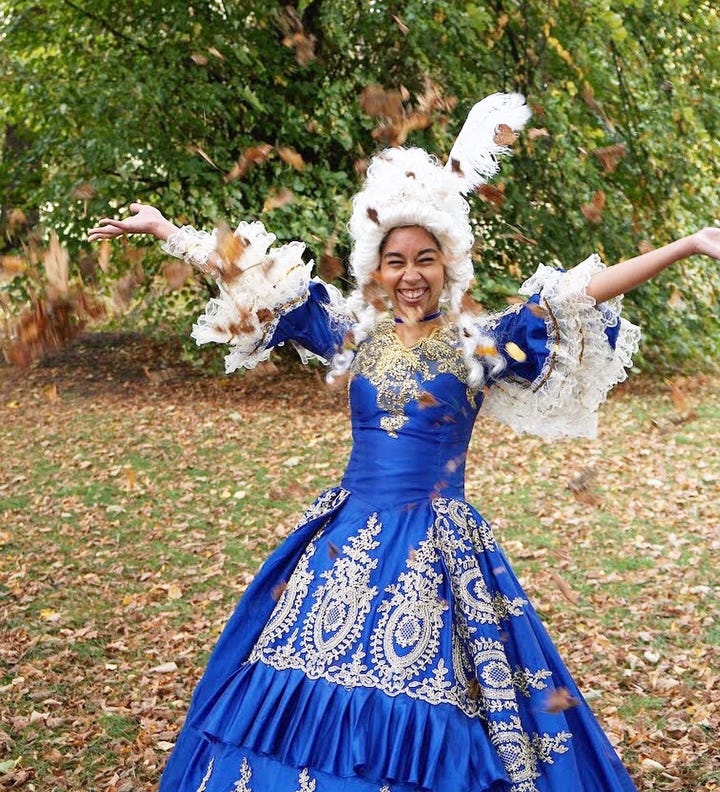 History has its eyes on Our Shield Maiden for being an incredible cosplayer and historical costumer. Emilee has cosplayed characters such as Allison Hargreeves from The Umbrella Academy, Angelica Schuyler from Hamilton, and Esmeralda from The Hunchback of Notre Dame.
She has become a prominent figure in the historical costuming community and even created an event in April called the Spring Sew-Along for those wanting to learn how to sew a corset pattern. She had almost 100 people participate from around the world and all of these commended her for bringing the community together for a special project. She will also be holding another Sew-Along month in June so be sure to follow her for updates!
Want to be part of our next cosplay feature? Submit your cosplays by tagging us on Cosplay Central's Instagram, Twitter, or Facebook.