10 Dragon Prince Cosplays That Transport You To The Land of Xadia
These Dragon Prince cosplays are spitting images of the show's characters.
The Dragon Prince is an animated series on Netflix, set in a fantasy world filled with fascinating and diverse humans, elves, and dragons. The story is set around the premise of the human and elven kingdoms being at war, due to the death of the dragon king years before. But when the three main characters, Rayla, Ezran, and Callum, discover that the dragon prince is still alive, they must put aside their differences, and work together to bring their kingdoms to peace.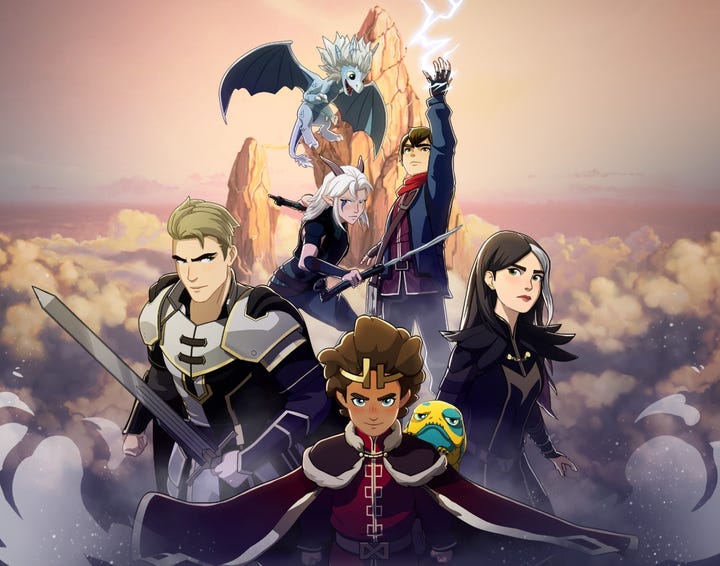 With amazing characters and designs, and a great plot with believable character growth, The Dragon Prince is an awesome series to go and watch. It also has an incredible, thriving fan-base, which has led to countless cosplays. Here, we are featuring 10 amazing The Dragon Prince cosplayers, who have all worked long and hard to bring their favorite characters to life!
Ghai Cosplay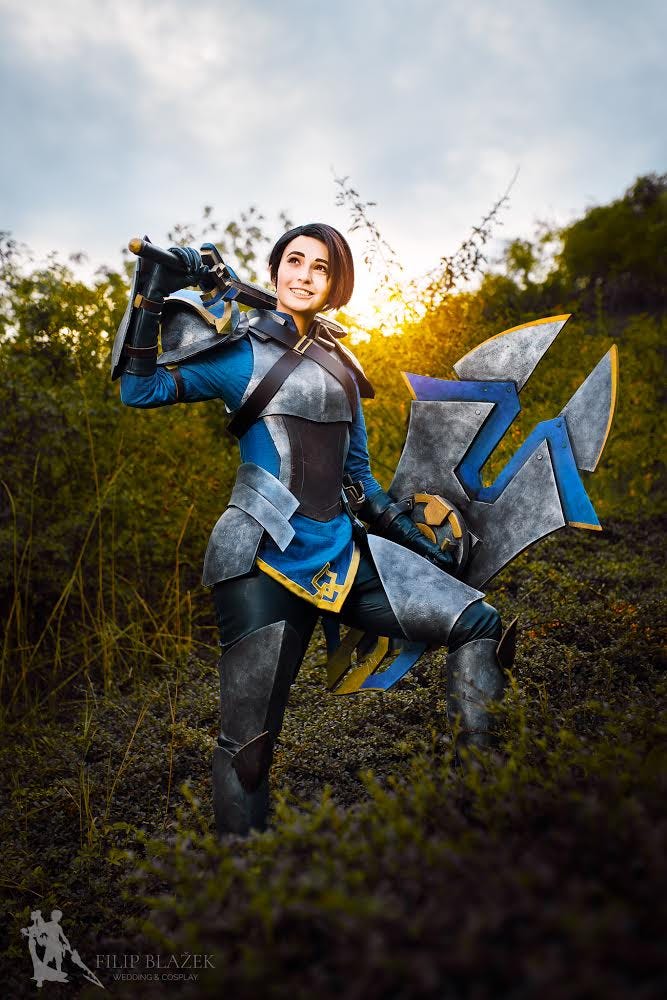 First off is this amazing cosplay of General Amaya, created by Ghai Cosplay. This was only her second cosplay EVER, and she says "pretty much everything was new and challenging."
Her favorite part of the cosplay is the shield, which she says "may look easy at first glance," but when you look closer, you can see all the layers and mechanics of it, which makes it an incredibly challenging build. Overall, she says that figuring it all out, and then building it, was a thrill.
In addition to actually making the cosplay, as General Amaya is deaf and mute in the show, Ghai Cosplay also learned sign language, in order to do basic role-play at cons. What an incredible level of dedication to the character! Ghai Cosplay did an amazing job, and her costume looks like she just stepped right out of the show.
Hooting Cat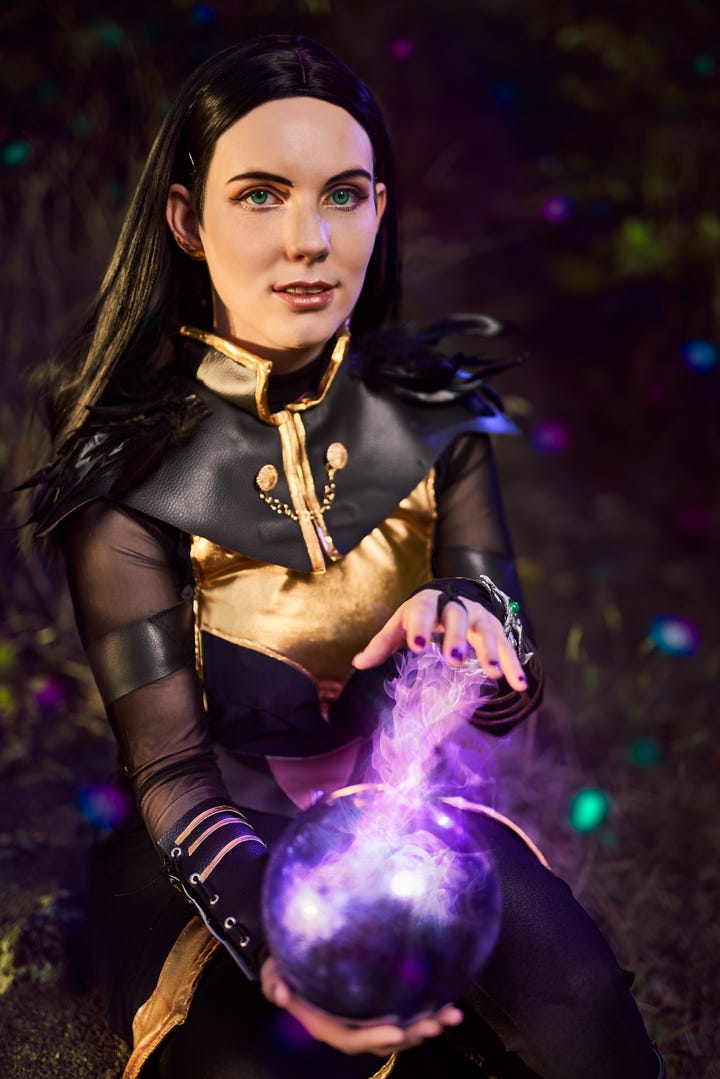 Next up is this cosplay of Claudia, another of the main side characters, created by Hooting Cat. After the character was introduced, Hooting Cat immediately knew she had to cosplay her. "Personality-wise, we are very similar people, but I also love her character design," she says. "Her using black magic sealed the deal — after this revelation, I had to cosplay her."
As this was only Hooting Cat's second self-sewn cosplay, she says the process was a lot of "trial and error." She has to experiment with a lot of new techniques and materials for this cosplay, including using Worbla for the first time, to make all the jewelry portions.
After completing the cosplay, Hooting Cat organized a Dragon Prince cosplayer meetup at a con, and she says she loved the experience of being able to meet so many amazing cosplayers. "I hope that we can repeat that once the pandemic is over!" she adds. So do we! Cosplayer meetups are a great chance to meet some amazing cosplayers, like Hooting Cat did with her Claudia cosplay.
Chewybread Cosplay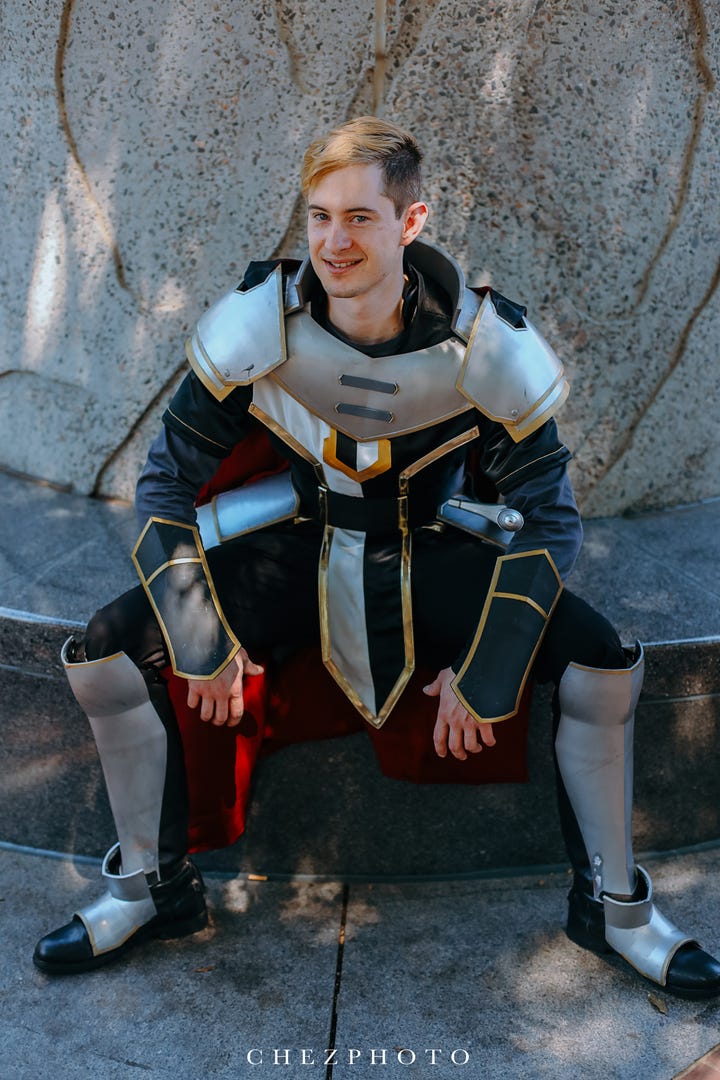 He may be Claudia's sibling, but Soren and his sister are vastly different in the show, though they still manage to get along very well, and remain close through most of the series. Soren is energetic and rambunctious, and is cosplayed very well here by Chewybread Cosplay!
Chewybread says that he cosplays a lot with his cosplay friend group, and when they were all watching The Dragon Prince, "It was kind of obvious that I was the one who would be Soren." He created the cosplay over a period of four months, and to keep himself from burning out, he bounced back and forth between lots of different aspects of the cosplay, so he wouldn't be working too long on just one thing. Definitely a helpful strategy!
Chewybread's favorite part of the cosplay was how comfortable it was. "It was my first armored cosplay that was truly comfortable," he says. "I wore this costume to four cons, and a couple of times I ended up wearing it for 8+ hours." What a feat! Armored cosplays are notoriously uncomfortable, and we think it's awesome how Chewybread Cosplay managed to make his comfortable, while still maintaining an awesome look!
Silmaril Cosplay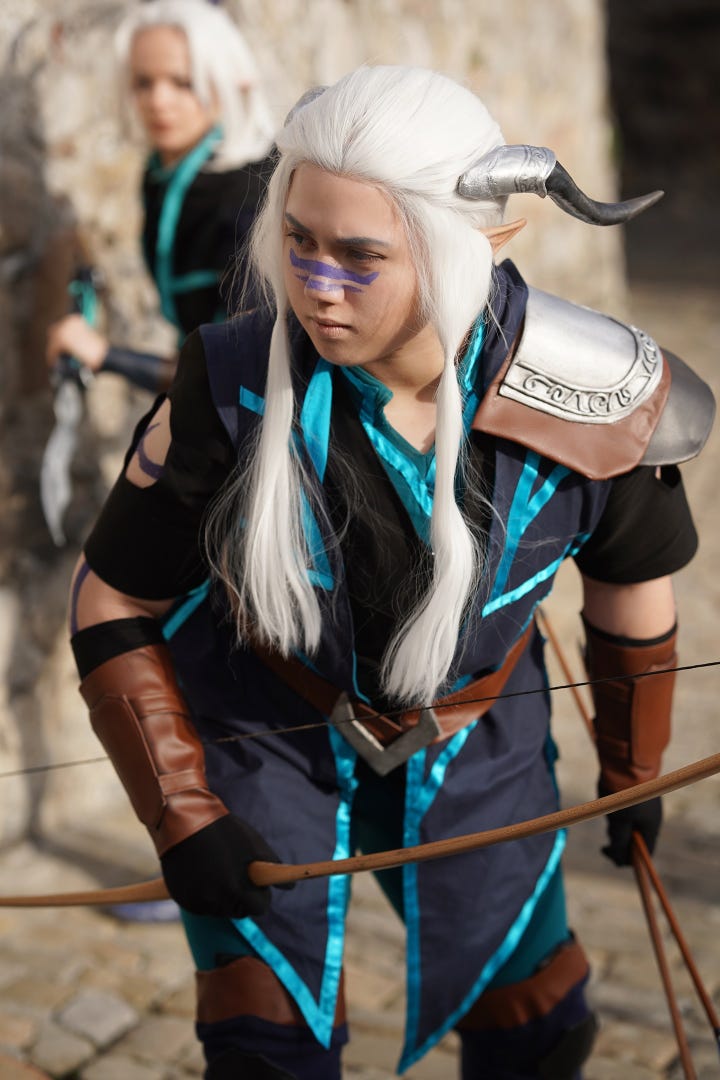 In the world of The Dragon Prince, there are many different races of elves, one of those being the Moonshadow elves. And one of the most prominent Moonshadow elf characters is Runaan, cosplayed here by Silmaril Cosplay.
For actually creating the cosplay, Silmaril started out by making the horns, which are insulation foam covered in plaster bandages, wood glue, and acrylic paints. The horns were then attached to the wig using magnets, and they ended up being one of the parts of the cosplay that stands out the most.
The most difficult part of the cosplay, Silmaril says, was the coat, "due to all the lines he has on it." But despite the challenge, he still created an amazing cosplay!
Sweetfox Cosplay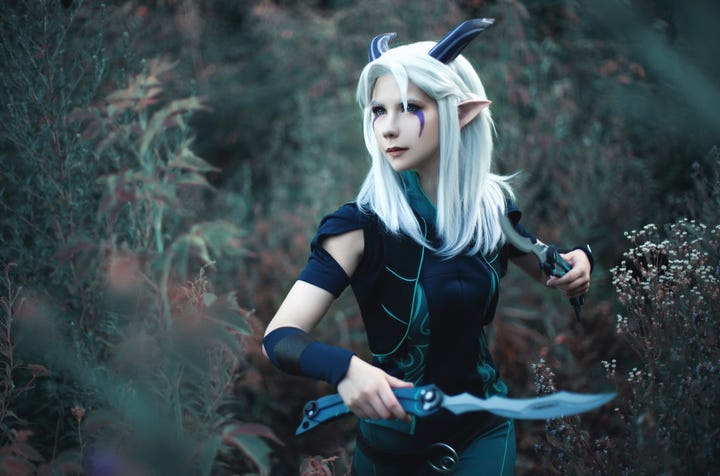 Another of the Moonshadow elves, and one of the main characters, is Rayla, cosplayed here by Sweetfox Cosplay! "When I saw her, I immediately realized that I would definitely do a cosplay," she says, adding that ideas for making different elements began to appear in her head on their own.
One of her favorite parts about the cosplay is all the sewn and fabric bits, especially the painting on the fabric that she did. The whole creation of the cosplay took her several months, as it was a complex process, and she paid a lot of attention to details. It really shows in the final result! So many intricate layers and cool details.
Aurochino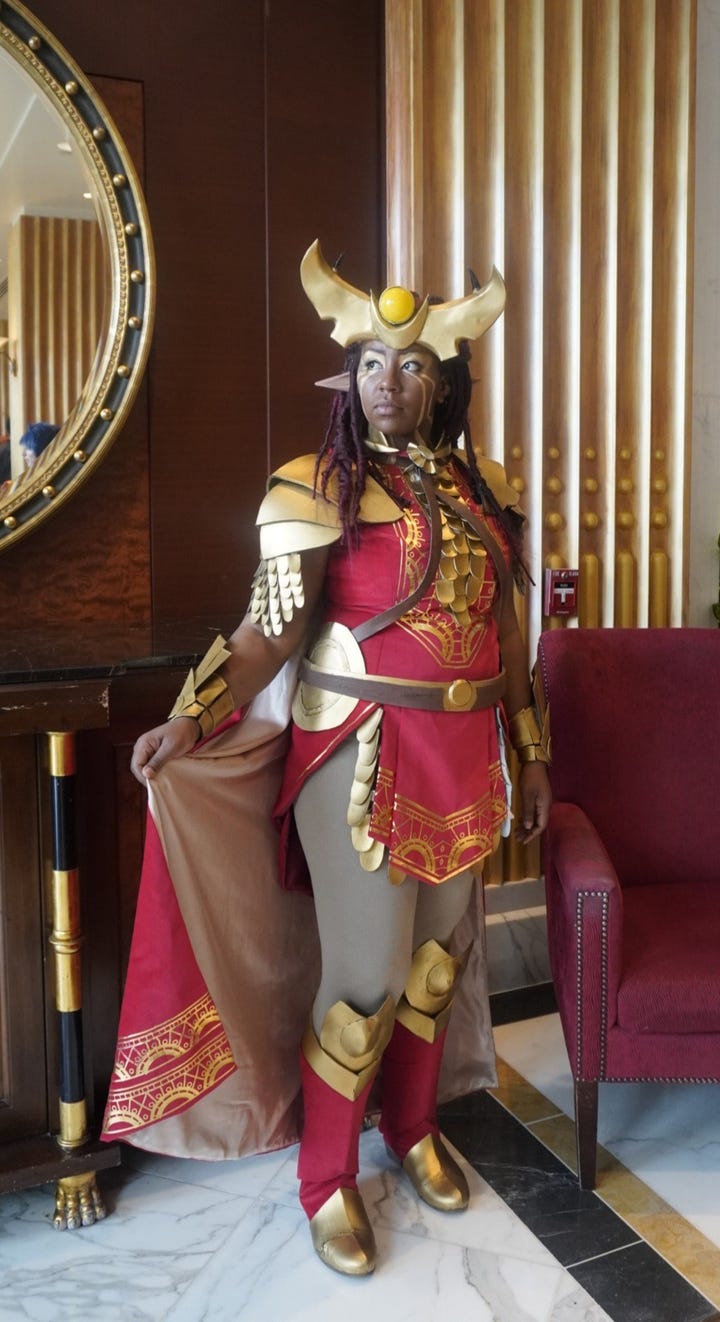 Introduced in Season 2 of The Dragon Prince, Janai is a fierce, fiery Sunfire elf, cosplayed here by Aurochino. This cosplay had been on her cosplan list for a while, but she had never found the time to do it before.
"Suddenly, 2 weeks before Katsucon, I realized that I had not made a new cosplay in so long, and really wanted to make one!" she says, adding that, though it was complex, she felt she could complete in time. Which she did! One of Aurochino's favorite parts of cosplay is showing off the finished product, especially, for this cosplay, the cape! "It just looks so cool, the flow is insane."
To anyone wanting to cosplay from The Dragon Prince, Aurochino says to make sure you have a deep love for the character and their design. "My best work always comes from projects I love from the very beginning. It helps me get through the hard parts." Definitely some great advice, from a great cosplayer.
Kizuki Cosplay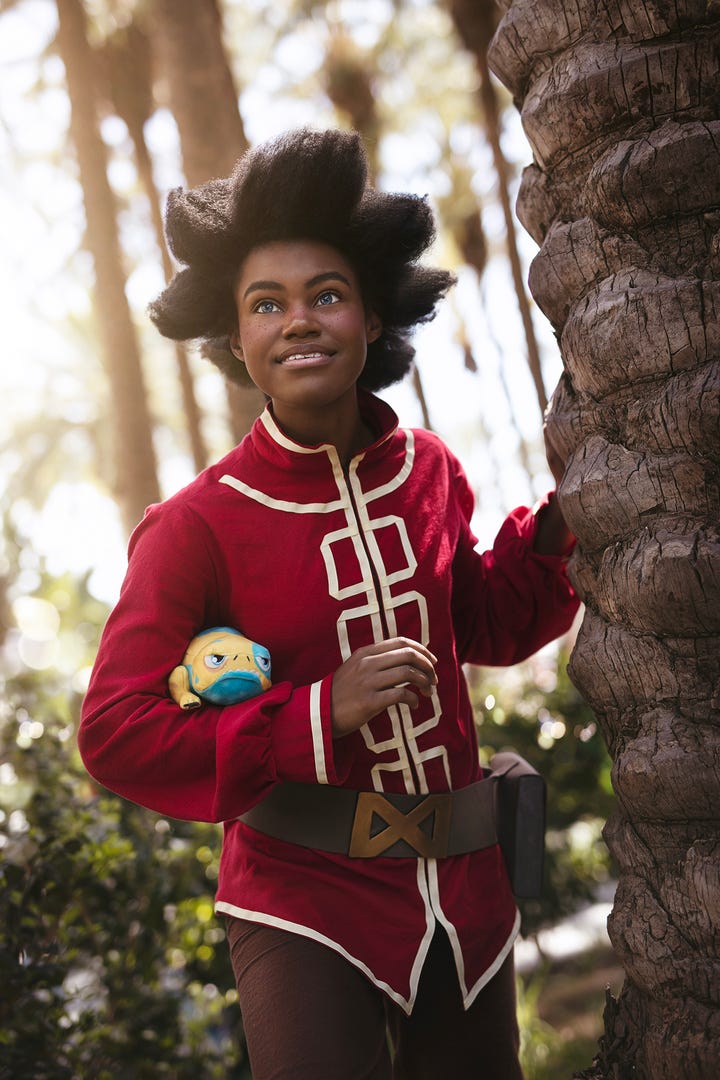 Another of the main characters, Prince Ezran has a fondness for all creatures, a feature showcased very well here in this cosplay by Kizuki Cosplay! We love how she included the small Bait stuffed animal with the costume.
Kizuki Cosplay decided to cosplay him about a week before a convention, after finding out many other Dragon Prince cosplayers would be there, adding that "His costume was the 'easiest' to put together, because I wouldn't need a wig!" Her favorite part of the cosplay ended up being the tunic, as it was cheap, comfortable, and super easy to put on. "It's the dream cosplay garment!"
Kizuki Cosplay says she loves cosplaying Ezran, and meeting up with so many other Dragon Prince cosplayers. "Everyone I've met has been so amazing and welcoming," she says. "I've made so many friends and memories from cosplaying Ezran, it's unreal." It's so great to find such a great, welcoming cosplaying community, and we love that Kizuki Cosplay has found a place in it! Truly an amazing cosplay, from an awesome cosplayer.
Lucius De'Ahrel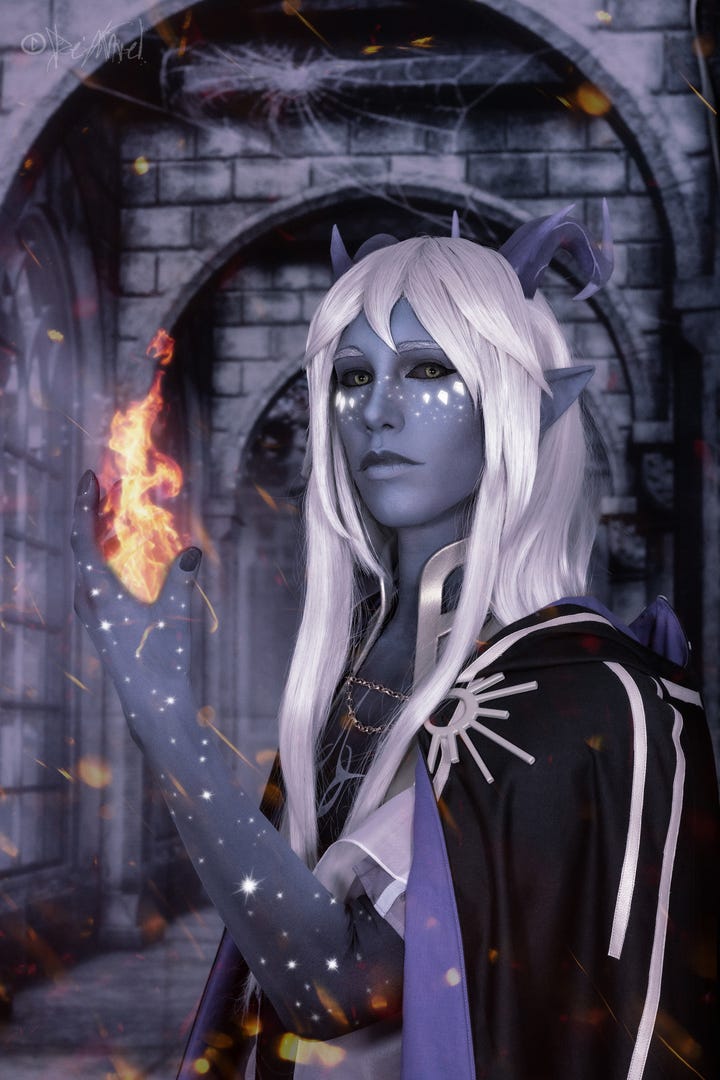 Introduced a bit later in the show, the Startouch elf Aaravos quickly became a fan favorite, with lots of amazing artworks and cosplays springing up because of him. One of these amazing cosplays is from Lucius De'Ahrel, who has cosplayed many other characters from The Dragon Prince as well.
Aaravos's look is fairly complex, and the process "was at times an uphill battle, and there were moments when I felt like I couldn't make it," Lucius says. "I was too focused on trying to 'make everything perfect.'" Because of this, he ended up working on it for a good year, and even after completion was constantly improving and replacing things for it. Such an incredible level of dedication! All that hard work really shows in the final cosplay.
When asked what his favorite thing about cosplay was, Lucius answered, "I love everything about it! Not a joke, I love everything, even though some things drive me crazy. But at the end of the day, it's my favorite thing ever." Cosplay is such an amazing form of art, and it is shown so well with Lucius's incredible Aaravos cosplay.
Ragingstorm Cosplay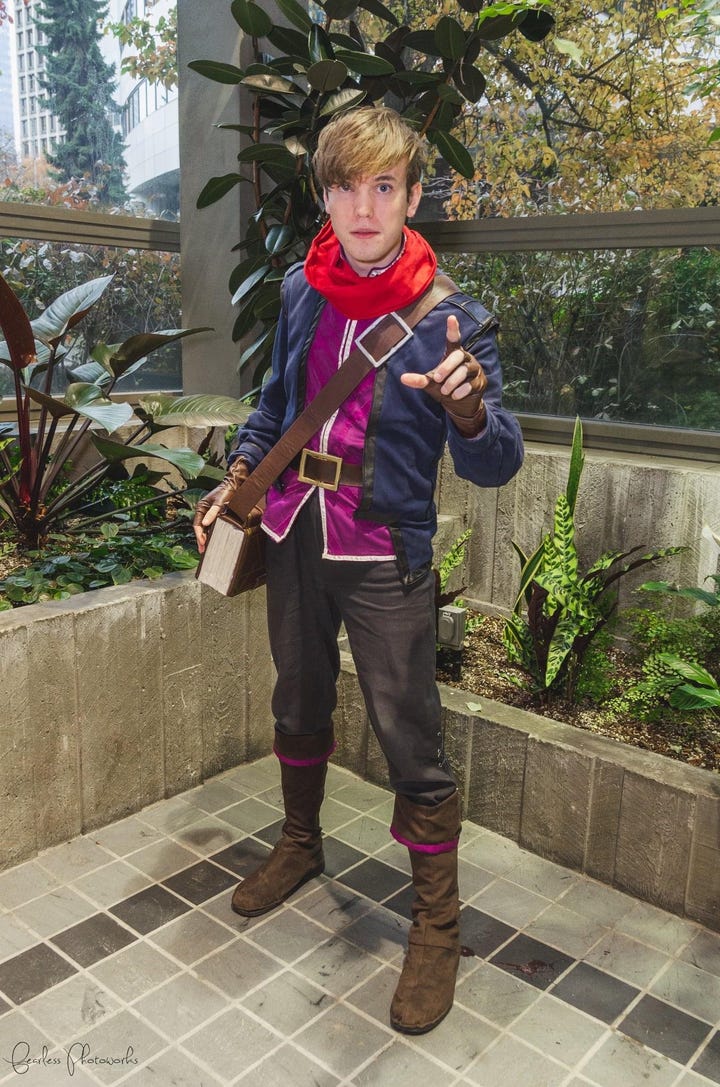 The third and final 'main' character in The Dragon Prince is Callum, the brother of Prince Ezran. Early the series, Callum starts using magic, and eventually becomes proficient in it. That, along with his character design, was a big part of what made Ragingstorm Cosplay decide to cosplay him!
"I've always loved characters with magic, and absolutely adored Callum's journey as a character," Ragingstorm says. Though cosplaying him would end up being no easy task — bringing the cosplay from a 2D animation into a 3D costume was quite a challenge, since "animators don't really have to worry about how difficult it would be to sew certain seams." Too true! As any cosplayer can tell you, translating a fictional character into reality can sometimes cause a huge headache.
Ragingstorm's favorite part about the cosplay was Callum's journal, which he made so that it could function as a small bag to carry things at cons. "I'm really proud of how it turned out!" The whole cosplay is awesome, but that cleverly disguised con-bag is probably one of favorite parts as well!
Kudrel Cosplay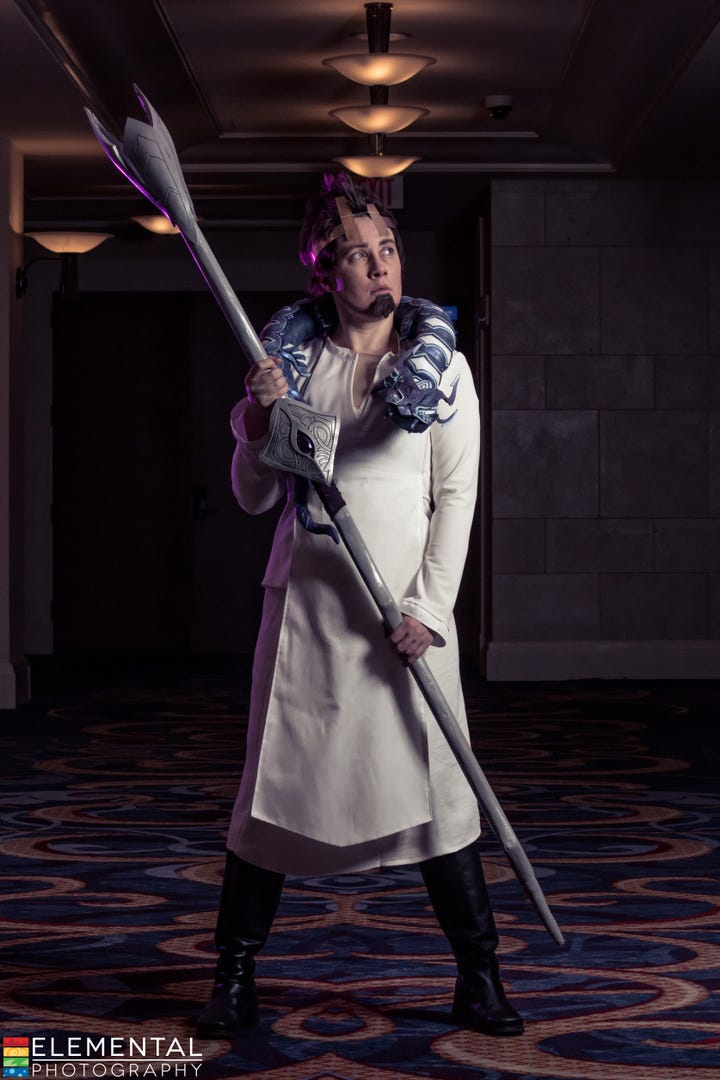 The tenth and final The Dragon Prince cosplay we wanted to feature today was that of Viren, one of the series' main antagonists. This amazing cosplay of him, created and worn by Kudrel Cosplay [insert above link under their name], also features another of the main antagonists, Aaravos, as a giant, magical caterpillar!
This 'prop' started out as a pool noodle and a coat hanger, which Kudrel Cosplay then added foam sheets and LED foam with fairy lights, so it could glow! Overall, it took around 10 hours to make, and it ended up being Kudrel's favorite part of the cosplay! Another thing Kudrel loved about this cosplay was the "transformation into the character. For Viren, it was a really fun makeup challenge that got me there!"
To anyone wanting to cosplay from The Dragon Prince, Kudrel's advice is to look at a lot of screenshots from the show to use as references. "Things may appear inconsistent at times, but I found that looking at all the different angles made the process easier overall," Kudrel says. Definitely some great advice, from a very talented cosplayer!
The Dragon Prince seasons 1-3 are streaming on Netflix.
To possibly be featured in our articles, be sure to tag us on Cosplay Central's Instagram, Twitter, or Facebook.