10 Falcon Cosplayers Who Are Ready For Take Off
These Falcon cosplayers will inspire you to make your own set of wings.
Starring Anthony Mackie and Sebastian Stan, The Falcon and The Winter Soldier Disney+ series begins streaming on March 19th, 2021, and can we say hallelujah. Since Endgame, Captain America's mantle was passed to The Falcon when Steve Rogers handed Sam Wilson his shield. Many movie fans were shocked, as most people thought the shield would have gone to Bucky, Captain America's childhood friend. Maybe Bucky felt a little shocked too and perhaps a bit resentful.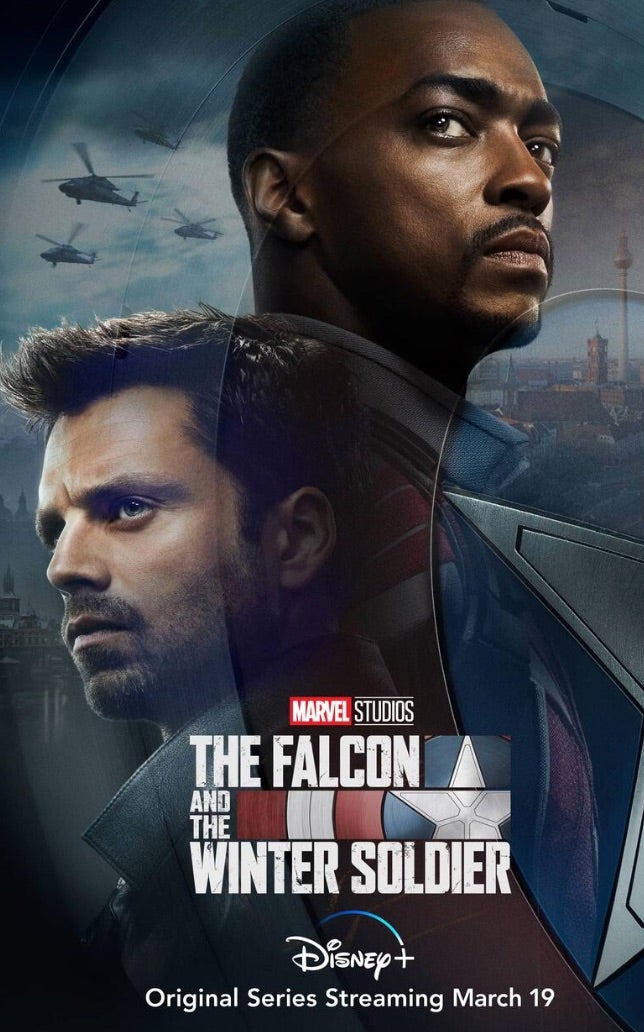 On February 7th of 2021, Disney released the show's trailer, giving fans a hint of the tension between Sam Wilson and Bucky Barnes. We saw a lack of communication, taunting, and a staring contest. Jammed packed with action and couples therapy, fans are eager to learn more backstory on The Falcon.
Here's what we already know. Avian Superhero Sam Wilson's first comic appearance was back in 1969 in Captain America #117, and his first film appearance was in Captain America: The Winter Soldier in 2014.
In the Marvel Cinematic Universe, Sam Wilson, AKA The Falcon, is a former United States Air Force pararescue airman who left active duty when his wing-man Riley died in combat. He instead chooses to help other veterans suffering from post-traumatic stress disorder. Wilson meets Captain America and agrees to assist Cap in tracking down the Winter Soldier. He's then recruited into the Avengers and becomes a trusty ally to both Captain America and the Winter Soldier during Captain America: Civil War.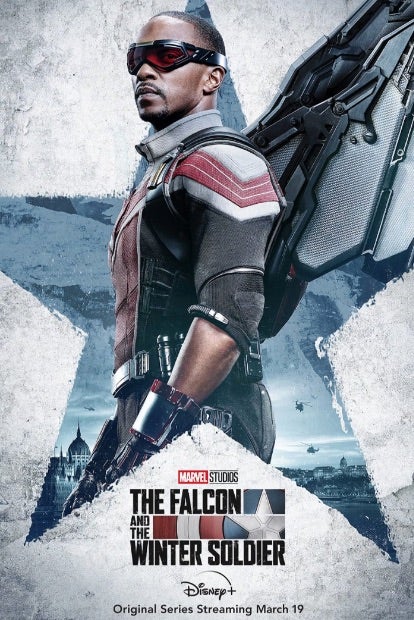 The Falcon's wardrobe is significantly more important to him than the other Avengers since he heavily relies on it to fly as it is his most trusted asset. His mechanical wings are enormous, and cosplayers who dare to recreate them are courageous beyond belief. But the Falcon is more than his wings, he's loyal, brave, and reliable. He may not be a superhero serum soldier like Captain America, but by picking up the mantle, Sam Wilson represents how anyone can become a hero. He changes what it means to be Captain America. Here are ten cosplayers who exhibit what it takes to be The Falcon.
Outlawcosplay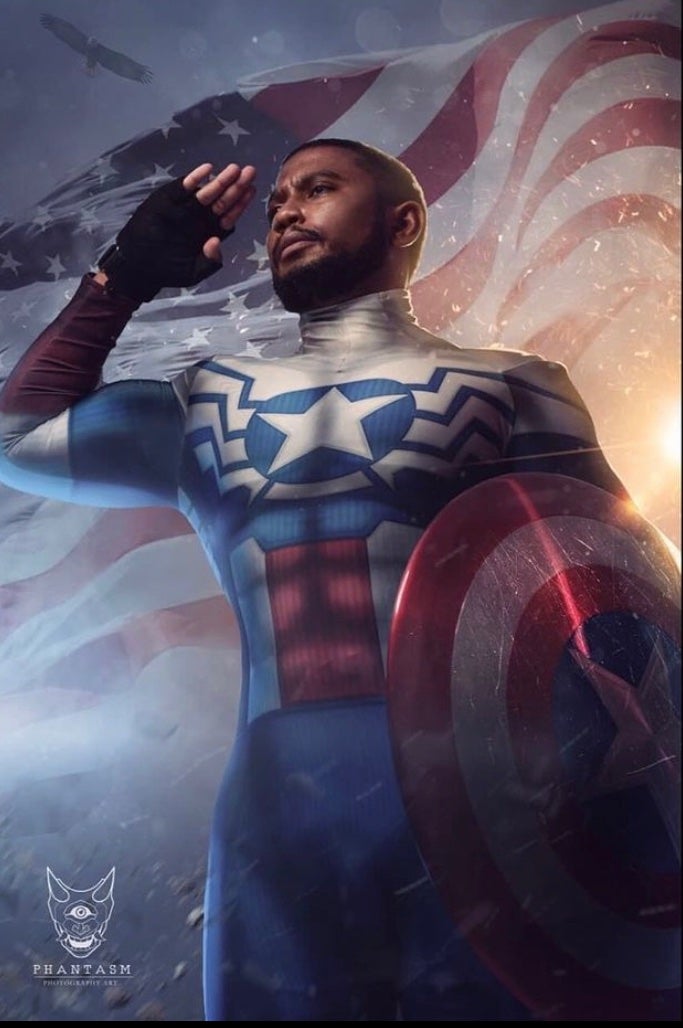 This could be a promo poster for The Falcon and The Winter Soldier, or it could be Outlawcosplay's patriotic Falcon turned Captain America cosplay. Hailing from Dubai, Outlawcosplay is an avid convention goer. He sports several cosplays like Scorpion from Mortal Kombat, Hal Jordan from DC Comics, and our personal favorite, a Darth Maul Mandalorian. This rendition of The Falcon is after Sam Wilson accepts Captain America's role in the comic: All-New Captain America #1. When he initially accepts the mantle in Captain America Volume 7 #25, he raises the shield and shouts "Avengers Assemble"- so epic. Images were recently leaked of a potential action figure wearing this suit, potentially suggesting we may get to see it in action during the series. We can't wait!
Helenananabatman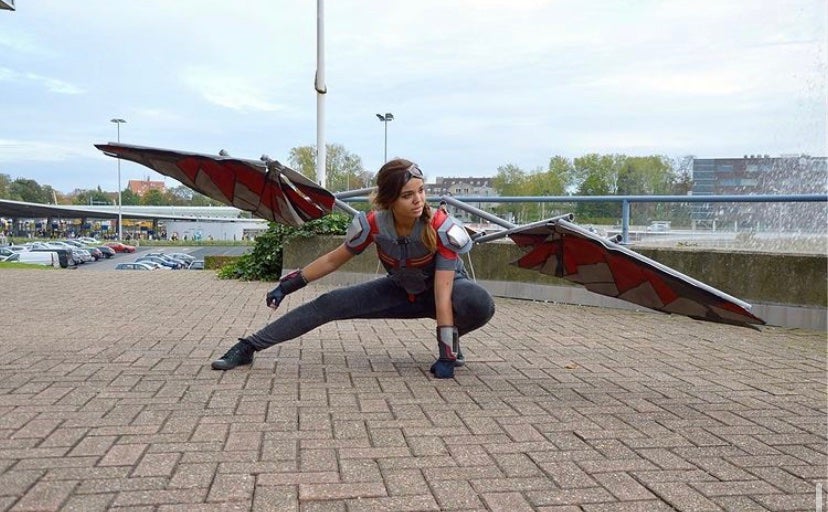 These wings are stunning, and this superhero landing can not be beaten. Impressive and inspiring, the artistry and craftsmanship Helenananabatman puts into each cosplay can be found on her Instagram saved stories. She titles them with the character's name and includes an engineering perspective from the sewing of fabric to the creation of foam armor. Helenananabatmans' most notorious cosplays include Valkyrie from Thor: Ragnarok, Mace Windu from Star Wars, and Zatanna as Dr. Fate from Young Justice. Her cosplay of Falcon includes his gauntlets which in the films contain a wrist-mounted miniature rocket launcher. Falcon utilizes this weapon against Spider-Man during the Clash of the Avengers, AKA Civil War.
Dutchdaywalker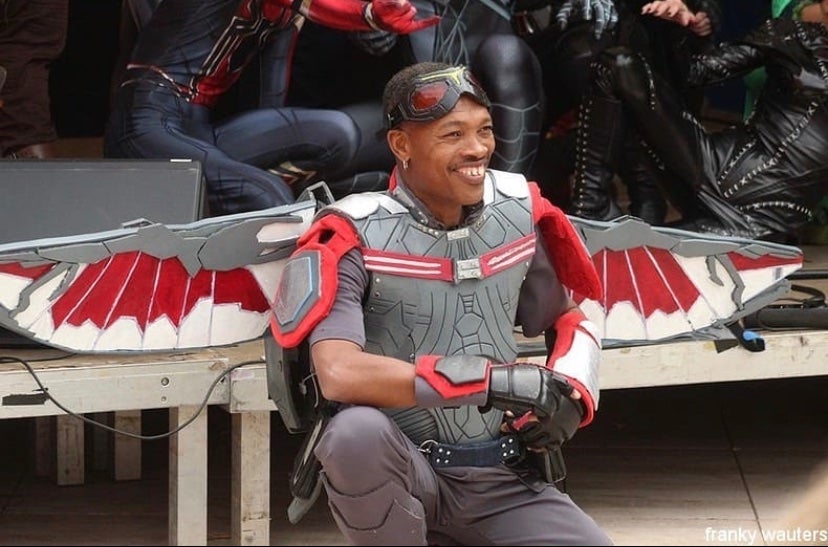 Dutchdaywalker is all smiles in this beautifully crafted chest plate. Just look at the detail of that lining. It's so symmetrical we can't handle such perfection. Dutchdaywalker may also be a doppelganger of Blade as his Blade cosplay is identical to the character from the film and comic. We love the positive energy this image brings and how infectious Dutchdaywalker's smile is. It reminds us of how Anthony Mackie would say "cut the check!" whenever he felt good about a scene or a scene completed during filming. His enthusiasm spread, and soon the whole cast adopted the phrase.
Kristherisk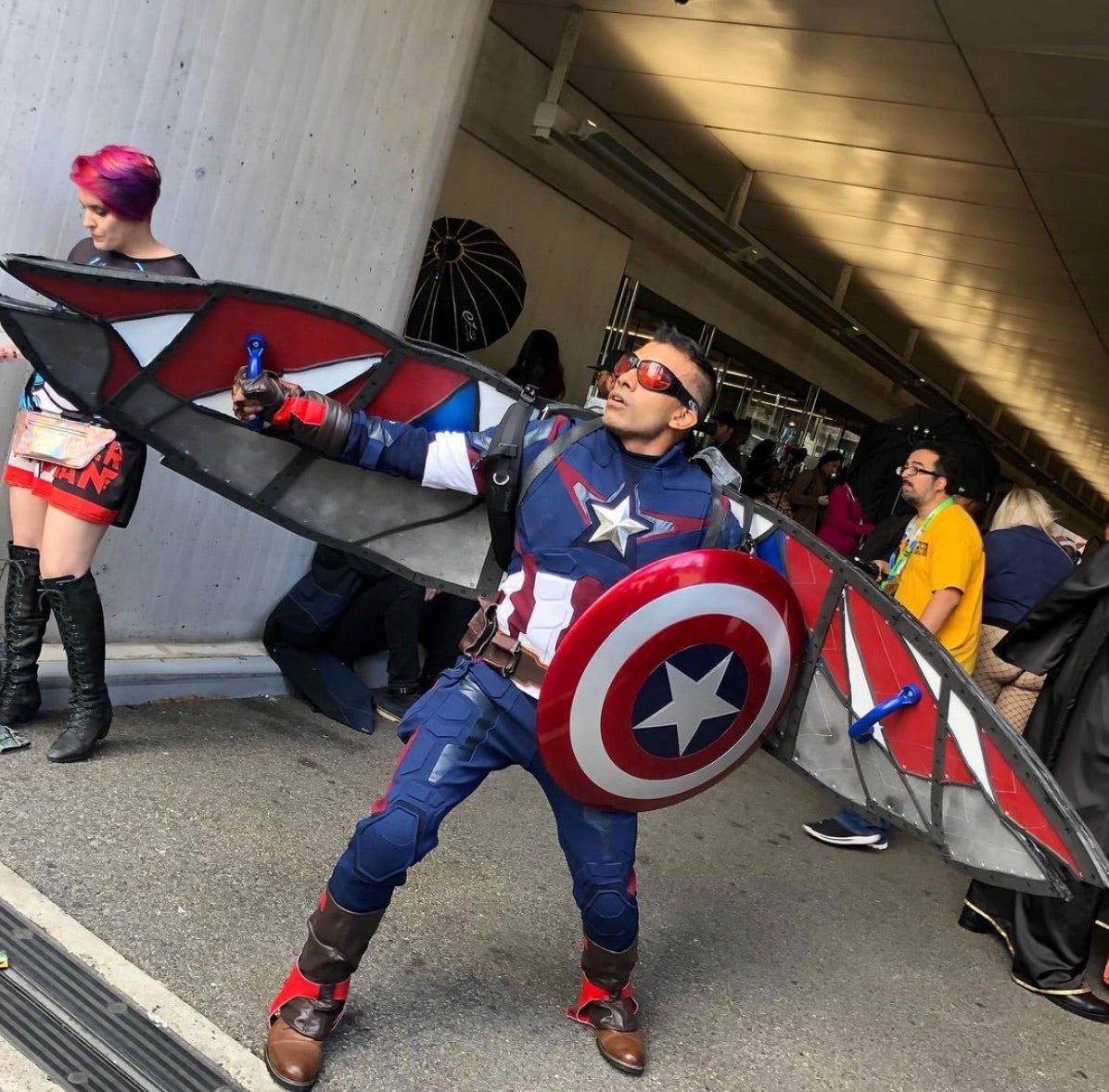 Kristherisk looks ready for takeoff. Wearing Captain America's suit and styling the wings to be red, white, and blue makes this cosplay one for the books. His cosplay builds like Deathstroke and Redhood are skillfully made and character accurate to a T. Because Sam Wilson has been intensely training with Captain America for years, he is incredibly strong and is in Peak Human Condition. That's a term used in comics to define the middle ground between a superhuman and a normal human. Sam Wilson has bent metal with his bare hands, broken chains, and sent super-villain Crossbones flying with a single force kick.
Corey1914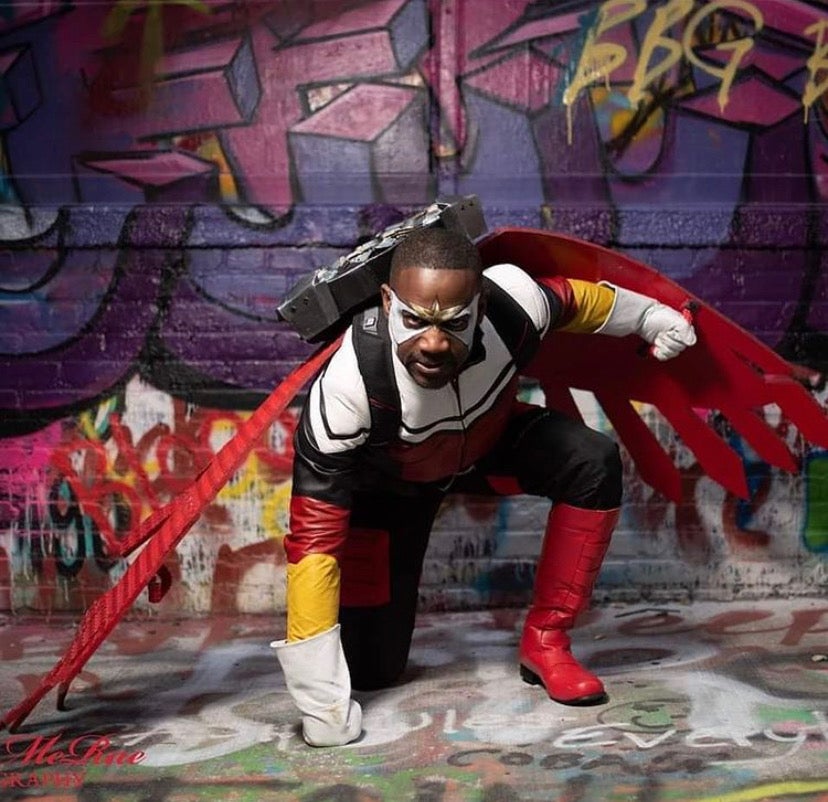 Corey1914 crushes this superhero landing in his modern take on Falcon's classic suit. Instead of the costume purely being spandex like it was in the comics, Corey1914 modernized this look with a leather jacket and cargo pants. He still gives homage to classic colors, but this contemporary twist makes this cosplay unique and stylish. His mask is also not a mask. Surprisingly enough, it's face paint. Corey1914 is a master face and body painter. His painting skills are superb, and he has gained recognition from many artists. If you catch Corey at a con, odds are he's cosplaying with his kids or his wife. These wings are reminiscent of those seen in the television series Superhero Squad where the Falcon can utilize his wings to eject the feathers and throw them at his enemies.
Kdiddy3300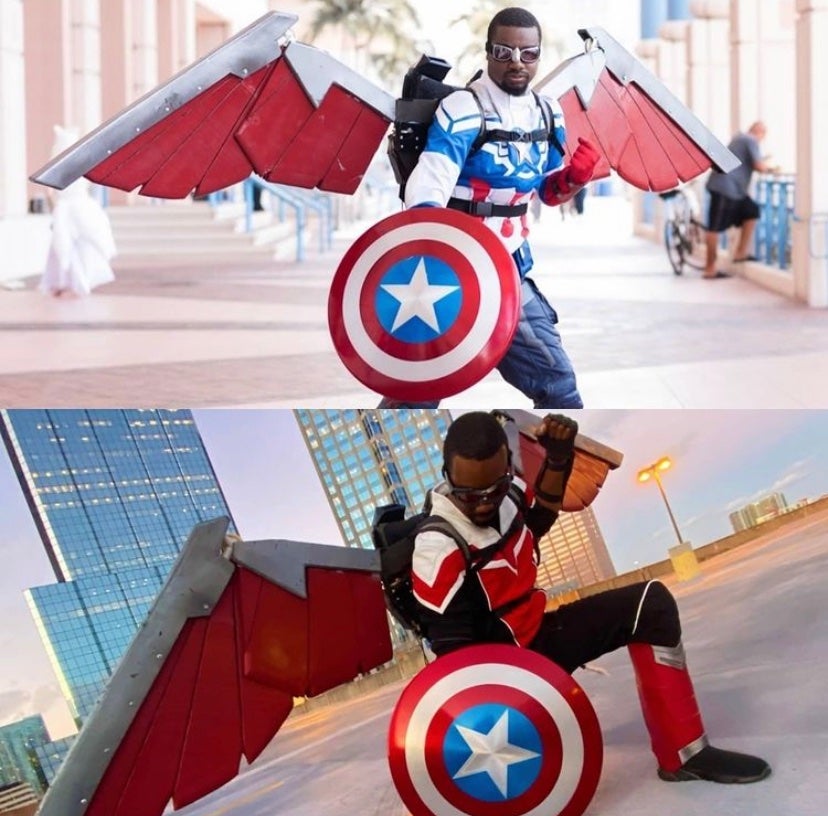 This two-for-one cosplay special by Kdiddy3300 makes us believe we can fly. Speaking of flying, the wings, jet pack, gauntlets, and boots are all made by cosplay builders Kris and Tim (@supermancfl). When Kdiddy3300 cosplays Falcon, he's typically accompanied by his wife, who cosplays the police officer turned hero, Misty Knight. This ride-or-die duo expects to become a trio with their recent announcement of a baby boy on the way. Congratulations are in order for this lovely couple. Did you know Sam Wilson has more than one alias? Besides being called The Falcon, Sam has also been known as Blackbird, Snap, and Brother Super-Hero.
Veloria.solo.cosplay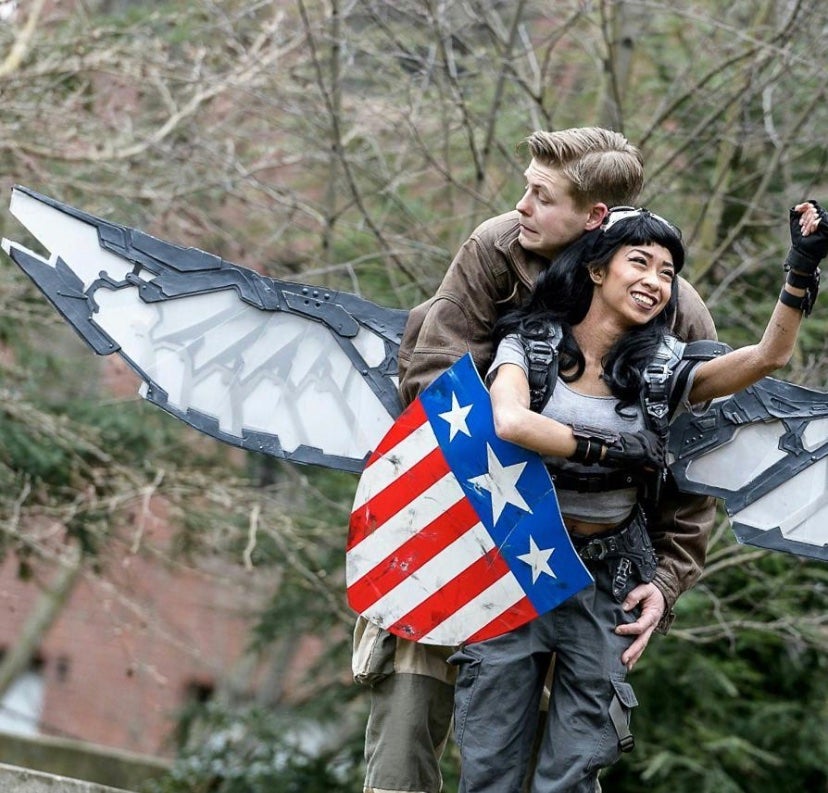 Veloria.solo.cosplay and her Captain America are a classic match with their 1940's inspired cosplays. This Genderbent version of Falcon is top-notch. If you aren't cracking up at Captain America's face, you are probably fascinated with those wings Veloria.solo.cosplay made. They are incredibly intricate and eight feet long. She skillfully crafted those as well as the harness.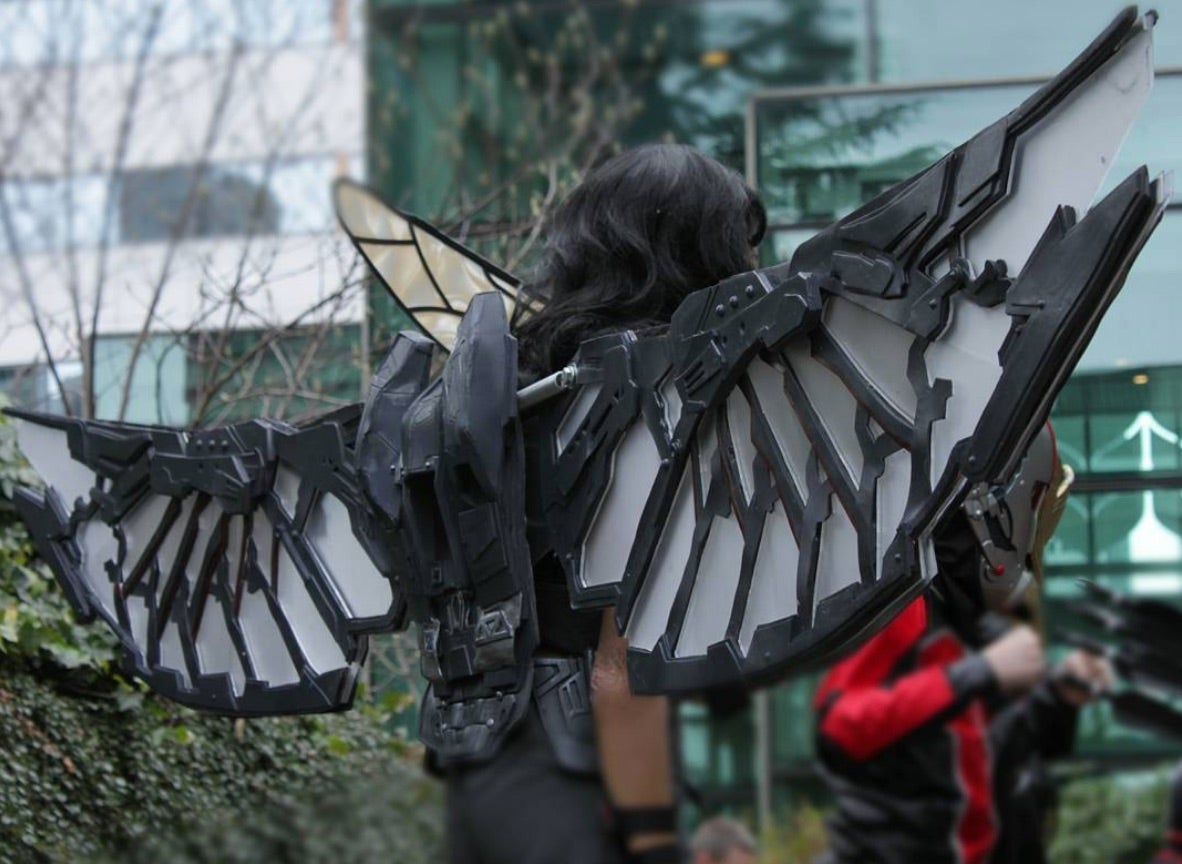 The wings' translucent parts are made out of a clear, super-thin polycarbonate and reinforced with aluminum. The design of Falcon's first super suit for the MCU has a more practical and tactical approach compared to the comics red spandex suit, which Anthony Mackie so wishes he could've worn.
Theblerdvision
Theblerdvision swoops in to steal the show. His cosplay is part spandex and partly modified tactical gear with a sprinkle of crafting foam. Theblerdvision has many talents; besides being an expert craftsman, he's also a filmmaker, podcaster, and digital creator. The doves in this image remind us of Sam Wilson's fascination with birds. Growing up as a kid in Harlem, Sam owned a pigeon coop and has been quoted as saying it's the largest in the whole city. In the comics, Sam Wilson has a real falcon companion named Redwing. The MCU gives a nod to this by calling Sam Wilson's drone Redwing. The drone is stored in Sam Wilson's Falcon flight harness's central body and has capabilities ranging from tracking targets to firing its onboard machine guns.
Shanamostella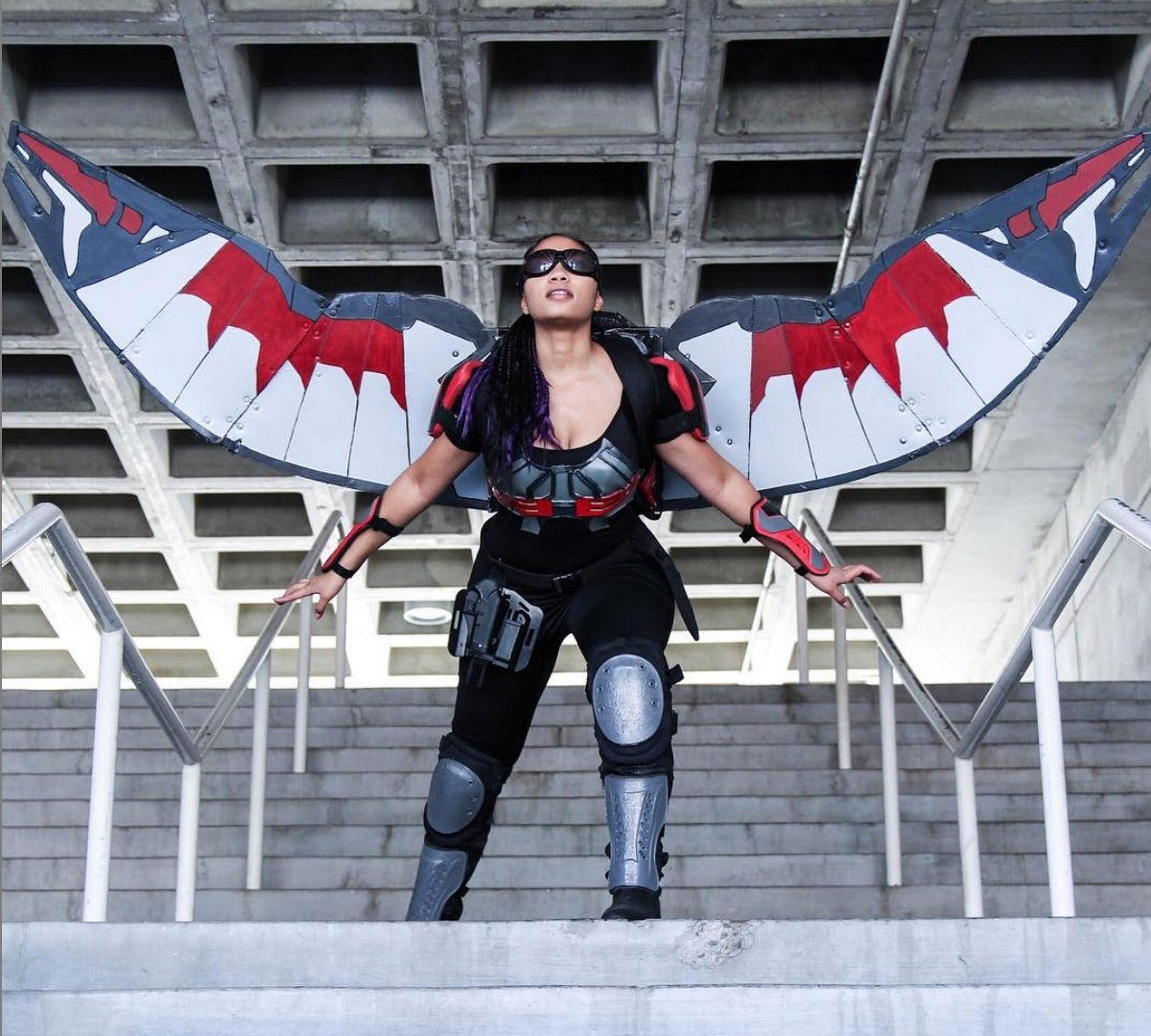 Fashion and cosplay designer Shanamostella prepares to take flight in her stunning rendition of The Falcon. Those wings are absolutely legendary. She expresses the most challenging/fun part of making these wings being the weight distribution and building them to be sturdy. However, the real challenge with these wings is walking around a convention. From the comics and films, Tony Stark and Black Panther have both modified The Falcon's wings on several occasions. Some modifications allow Falcon to fly at 250 MPH as well as making the wings out of vibranium to be stronger.
Martyokcosplay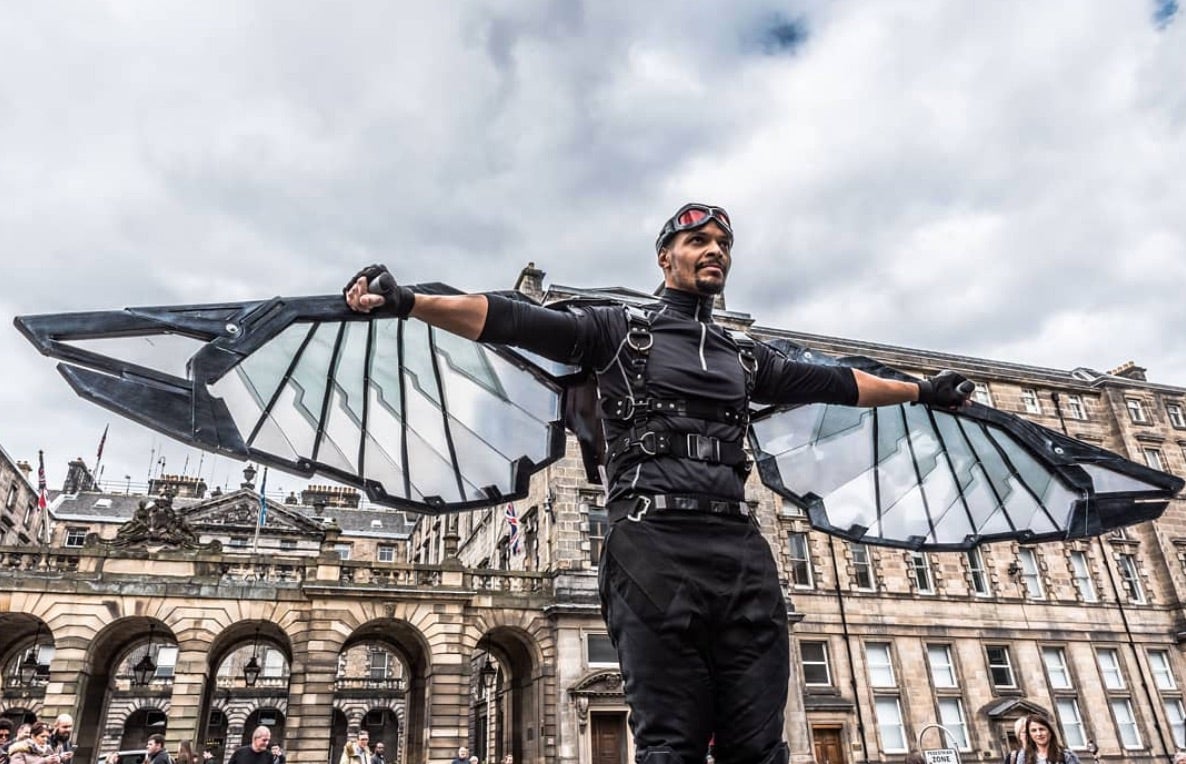 Martyokcosplay is looking like a real aerial master in his Falcon cosplay from Captain America: Winter Soldier. Massive shout out to photographer @shotsbyshinobi for capturing an image that looks straight out of a movie. Martyokcosplay made his entire falcon cosplay, including designing the body armor, jet pack, and wings.
In his creation of the Falcon, there's a cooling fan in the jet back, a removable Redwing drone, and the wings can extend manually. The wings are so legit! The translucent part of the wings are plastic document covers that he had to cut into individual panels to fit. He used grey and clear colored covers to give the multiple color effect as they overlap. There's also a mosquito net between two layers of plastic which gives the wings a mesh/metallic texture. With the right resources, Martyokcosplay could probably make these babies fly. In the meantime, he takes commissions for his crafts and is currently building a Wonder Woman cosplay. He's absolutely incredible, and obviously, we are a huge fan of his work.
We can't wait to see more cosplays of The Falcon. Be sure to tag us on Cosplay Central's Instagram, Twitter, or Facebook for a possible feature!
The Falcon and The Winter Soldier premieres on Disney+ March 19th, 2021.