10 Mortal Kombat Cosplays Who Bring Out The Fatalities
These 10 Mortal Kombat cosplayers take a flawless victory when it comes to crafting iconic cosplays.
Fans around the world are ready for the tournament of the century! The new R-rated movie Mortal Kombat premieres on April 23rd, 2021, and we can't wait to see a flawless victory and some fatalities! If you aren't a gamer or are just too young to remember the 90's craze, the Mortal Kombat reboot is based on the 1992 arcade-style fighting game developed and published by Midway Games.
Since then, the MK series has had massive success with several live-action films (Mortal Kombat in 1995, Mortal Kombat: Annihilation in 1997, and more!), action figures, and countless re-releases and continuations of the game. Plus, when the revival series from NetherRealm Studios took over, fans got further-fleshed out characters and expanded story arcs.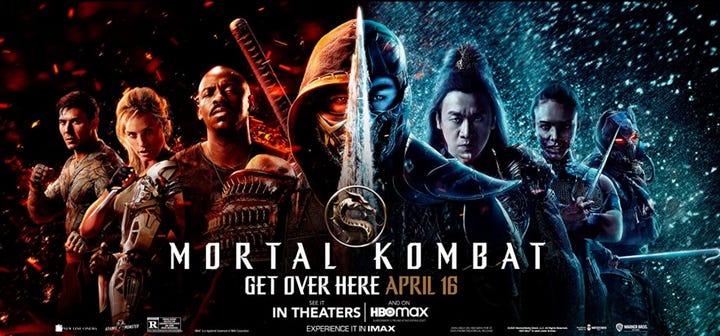 This new film focuses on an original character making their official debut in the movie, Cole Young, portrayed by Louis Tan. Due to his strange birthmark, Cole Young, an MMA fighter, is sought out by Earth's greatest champions to help stand against the enemies of the Outworld in a high-stakes battle for the universe. It's also an origin story for Scorpion and his feud with Sub-Zero. It's all pretty epic and probably pretty shocking for random pedestrian Cole Young. Fans have many theories on who his character will turn out to be from the Mortal Kombat universe. Who do you think he is?
Aside from the new protagonist, many larger-than-life characters from the game will make their appearances in the film. Whether they represent the Outworld or protect the Earthrealm, here are the characters to expect: Sub-Zero, Sonya Blade, Shang Tsung, Scorpion, Raiden, Nitara, Mileena, Liu Kang, Kung Lao, Kano, Kabal, Jax, and Goro. We are sure there are a few more we are missing and some players we don't know about yet who will make cameos, but that's the list we have thus far.
With the amount of love this video game series has and the mass of characters with various skins to choose from, the cosplay community definitely dominates the Mortal Kombat world. Here are some legendary cosplays of the characters you will see in the new movie.
Kennycosplaystuff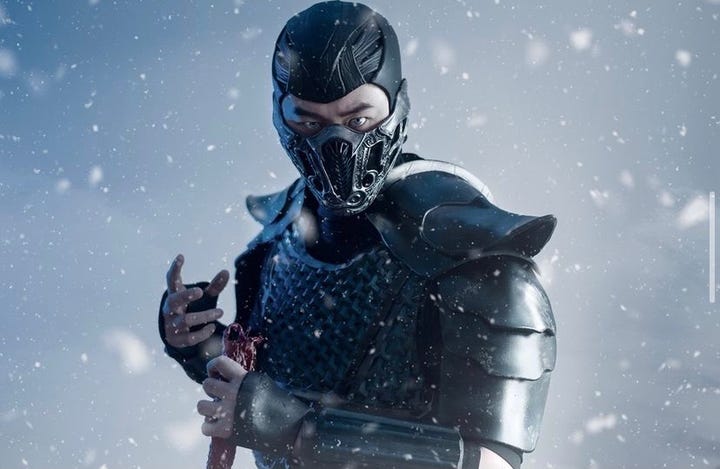 It's "ice" to meet Kennycosplaystuff because this Sub-Zero cosplay is below freezing; it's just that cool. He's a cosplayer and propmaker from the UK and just about an absolute genius. Our favorite element of his cosplay has to be the face mask. It's not only Covid protocol, but it's badass. After 3D printing the mask, he wanted it to shine. To create that illusion, he sanded the hell out of it, added a black gloss, and then a steel alclad2. Once he made that beautiful shine, the weathering began. As for the headpiece, he tapped his head with masking tape, drew the pattern on, cut the shapes out, and transferred it onto the foam. The whole look is a masterpiece, he's totally chill.
For more information on how he made the cosplay, check out his Instagram, where he posted several images throughout his creation of Sub-Zero. At one point in our world, Mortal Kombat and the DC Universe had a crossover. In this crossover, Sub-Zero becomes inspired by Batman and attempts to become a superhero.
Aliciamariebody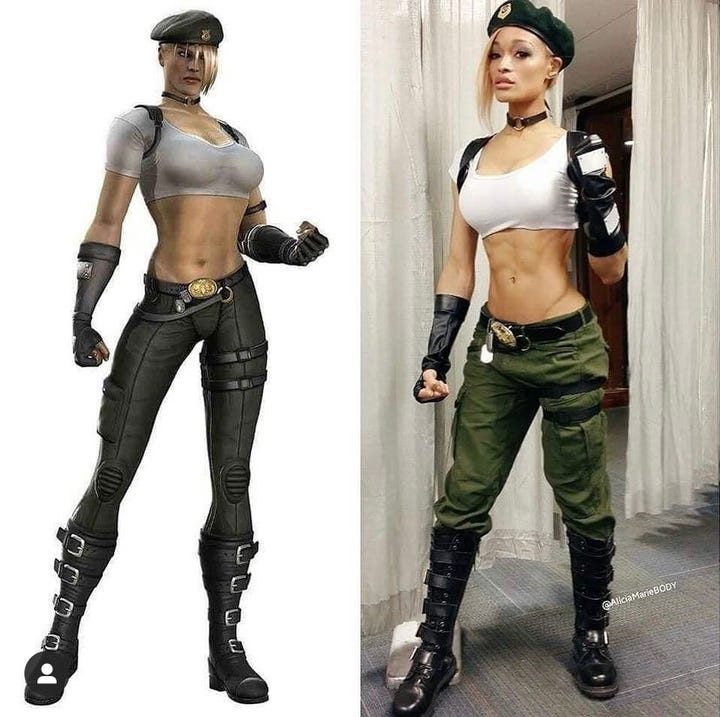 Aliciamariebody looks ready to serve some justice as the commander of special forces, Sonya Blade. As a costume concept artist, fitness "cyborg" with her published book The Booty Bible, and an avid D&D player, Aliciamariebody still finds time to be a panelist at several cosplay conventions and meetups. Known for her side-by-side images of the character and her cosplay, She's a true costuming wizard.
If you want to check out some of her cosplay builds, look at her saved story highlight: Crafting. Whether her cosplays are Final Fantasy, Mortal Kombat, or World of Warcraft, this cosplayer knows how to transform into her favorite players and then some. This Saturday, April 24th, at 6:30 PM PST, Aliciamariebody will be joined by three other cosplayers on @theinitiativeorder to battle it out as Mortal Kombatants in a Dungeons and Dragons campaign.
Due to Sonya Blades Special Forces training, she's super agile and deadly to spar with. In the MK 2011 game, Sonya has the power of fire as an effect of using a high-tech weapon attached to her wrists. Other games give her magical abilities like Kiss of Death and Slice Kiss. It might be a good idea to not kiss Sonya Blade.
Jetscosplay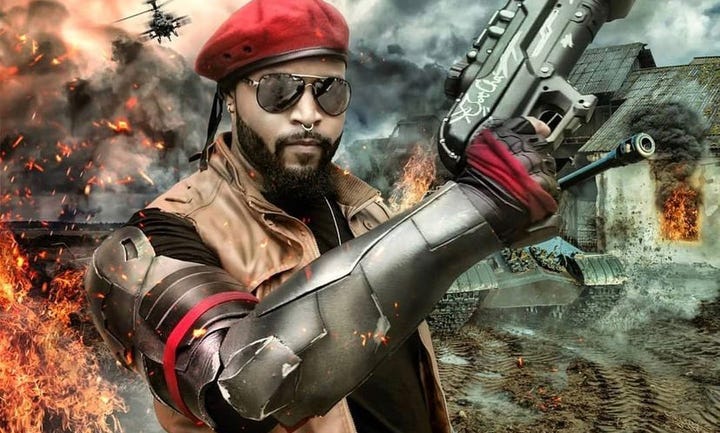 He's shed more than enough blood in many a battle; it's Jax, cosplayed by the magnificently brilliant Jetscosplay. Anime enthusiast Jetscosplay is a cosplay builder, graphic designer, and art director - basically a triple threat. His Jax cosplay is based on a screenshot of a skin where Jax is an African Warlord. Before creating this costume, he has cosplayed other Mortal Kombat characters Dark Raiden and Noob Saibot.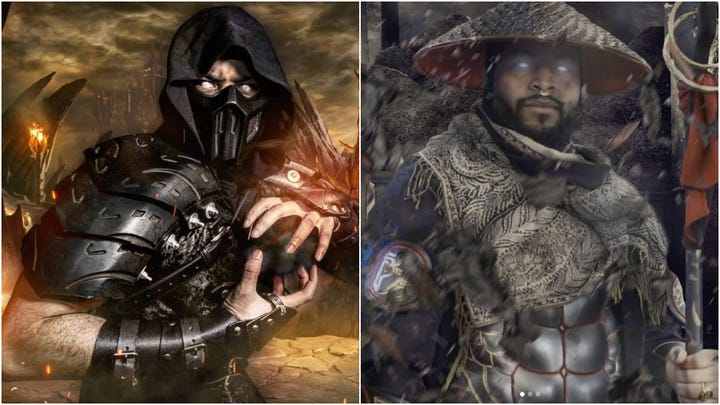 For his Dark Raiden build, you can follow his cosplay crafting journey on his saved Instagram story: Raiden Build. It's a 10/10 recommendation for quality, and for his commentary, you don't want to miss it. SPOILER ALERT: In the trailer for the reboot, Jax loses his arms in a battle where Sub-Zero freezes his gun and then his arms off. Losing your arms sounds horrible, but the cybernetic update makes Jax super strong and much more of an asset in battles.
Haute_cosplay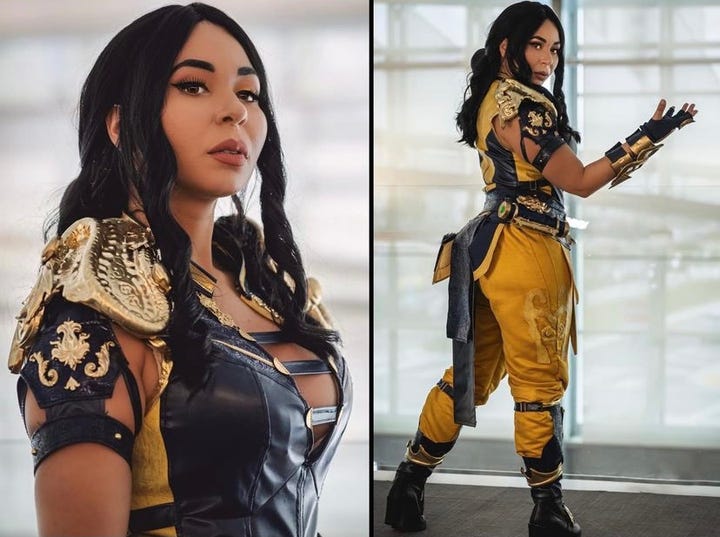 Watch out because Haute_cosplay may take your soul in her gender-bent cosplay of the big baddie Shang Tsung. After watching the trailer for the upcoming film, Haute_cosplay decided she needed to cosplay her favorite character from the video game series. According to her, Shang Tsung's character has an attractive complex design, plus choosing her own gear pieces was like customizing a character but in real life.
The armor is made out of black worbla, and the costume is made entirely out of vinyl and microsuede. Other Mortal Kombat cosplay Haute_cosplay has crafted are Mileena, Jade, Skarlet, and Sindel. Plus, we think a few more? She is a colossal MK fan, and it shows.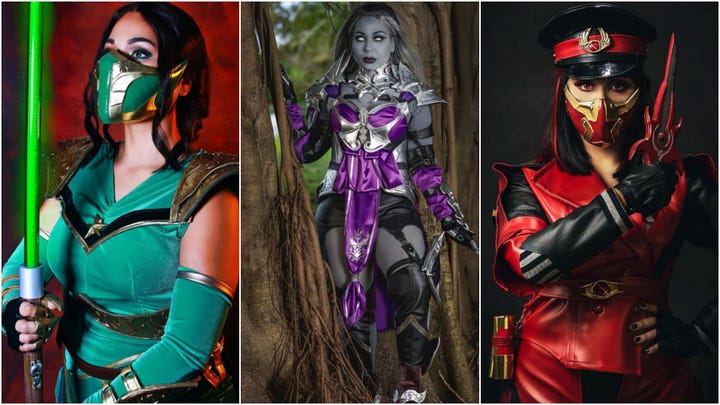 For more on how she crafts each cosplay, follow her costuming account: @Haustecostume. She's currently making Mileena's skull mask, and it looks incredible. In the first Mortal Kombat arcade game, Shan Tsung served as the main antagonist and the unplayable final boss. He didn't become a playable character until Mortal Kombat 2 in 1993.
Nerd_alert_cosplay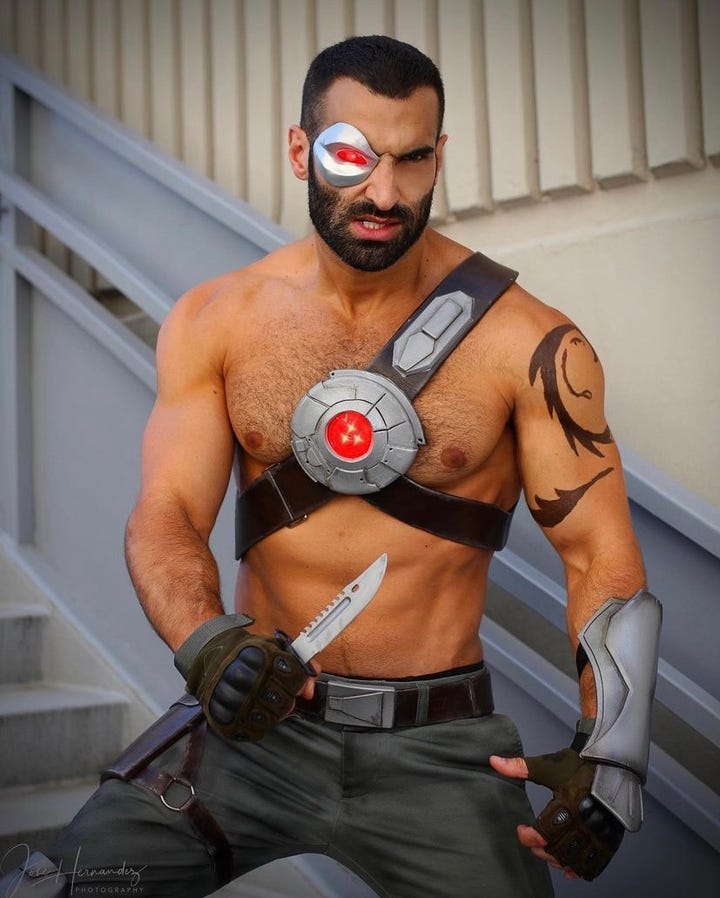 Nerd_alert_cosplay is done with our yabbering and ready to deal some epic cosplay shots with his cosplay of the Black Dragon leader, Kano. Though he cosplays the character lovingly, Nerd_alert_cosplay has captioned some of his Instagram photos by saying, "Kano is literally the worst," and we couldn't agree more. The character is ruthless and vulgar to the point of disgusting, but Nerd_alert_cosplay crushes the design. Don't forget to separate the cosplayer from the character.
He also posted an Instagram video where he recreated a scene from MK11 about friendships where Kano grills meat with his eye laser. He once used a lightsaber to recreate the super move Optic Blast where a beam shoots from Kano's eye for an Instagram post.
For that cybernetic eye, Nerd_alert_cosplay used Spirit Gum to apply the foam clay piece to his face. His fun fact for wearing an "eye patch" is when you have one eye covered, you have "stereo vision," meaning your solo eye will always appear to be looking off to the side in photos. Before the events of the game series, Jax gave Kano his disfiguring injury, which he covers with a metal plate on his eye.
Valeriyadarkelf
As Mileena would say, "Let's Dance" before she extended her Sai (a traditional Okinawan melee weapon) cosplayer Valeriyadarkelf would say "Let's Sew" with her exceptional crafting skills. In all honesty, this Russian cosplayer has a gift. Her cosplays range from princesses to superheroes to supervillains. Plus, she has cosplay tutorials on her Tiktok for all you Russian cosplayers and speakers out there.
If you look up more than her Instagram page and find her Etsy store, she sells wigs, props, and some fascinating headpieces. Combine her creativity with photography by @scarlet_sail_photo, and boom! You get a masterpiece that even the great Van Gogh couldn't create. There's a moment where Raiden summons lightning in the trailer for the new film, and a blue steel fan on a stand can be seen. That blue fan is the personal weapon of Mortal Kombat warrior Kitana, one of Mileena's siblings.
Skate_morales_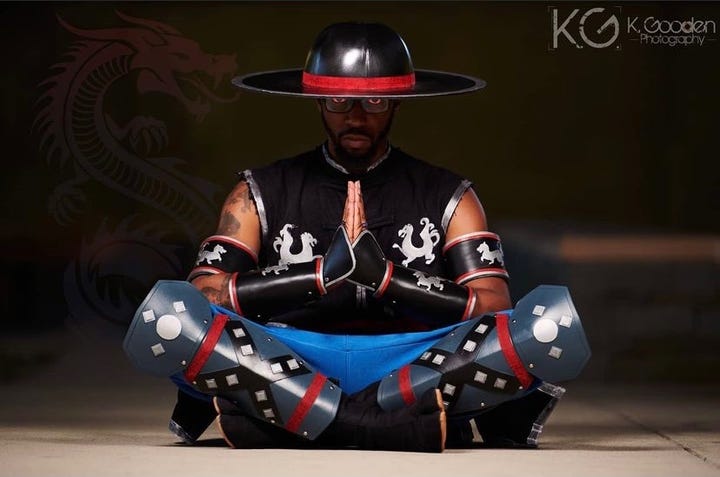 Wearing the family name with pride as a former Shaolin Monk, Kung Lao is expertly cosplayed by Skate_Morales_. These images from this photo series shot by @loonarblaze are positively magnificent and perfectly embody the character's pacifism.
Skate_morales_ is also known for his cosplays of Miles Morales, Dabi, and Ken Kaneki, of whom he has his own cosplay Funko Pop. He's also a significant Pokemon enthusiast and art lover. Many of his cosplay images have breathtaking SFX applied to them to give a more comic or video game feel.
His cosplay of Kung Lao was a group effort. The hat and armor pieces are made by @samapplecummins, and the shirt was a collaboration built with @blk.unicorn_cosplay. The trademark Razor-rimmed hat worn by Kung Lao, typically used for fatalities, was inspired by the James Bond movie Goldfinger where the villain Oddjob throws his unique derby hat as a weapon.
Yusufdaza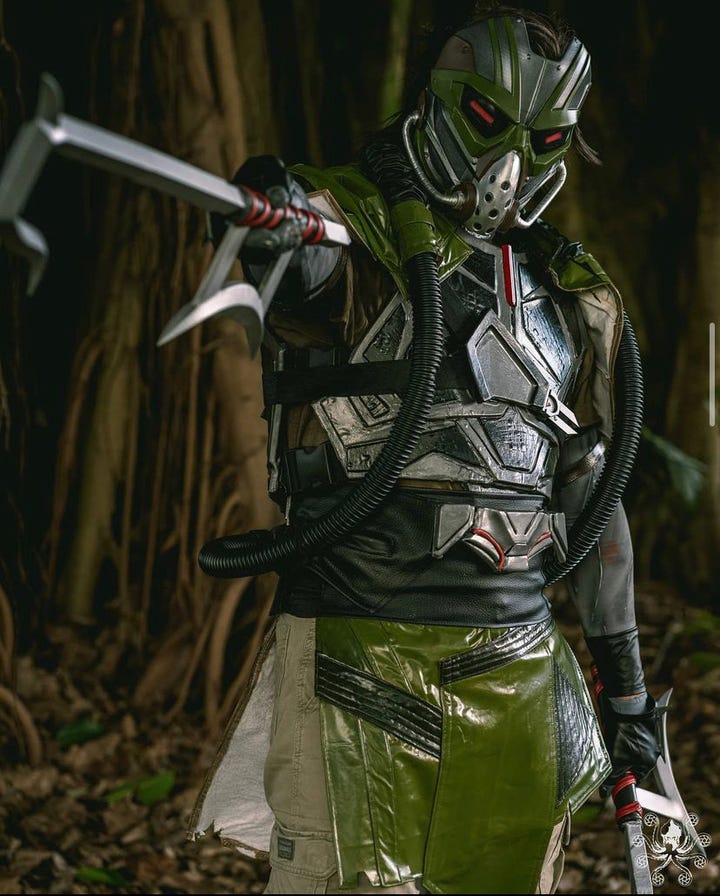 Kabal may be about one thing, "Whatever's best for me," however cosplayer Yusufdaza switched this mantra for whatever's best for everyone with this breathtaking costume! Seriously this is admittedly one of the most excellent cosplays in existence. Just look at those Hooks!
Haute_cosplay and Yusufdaza teamed up to recreate this showpiece through many techniques including 3D printing, Worbla, Eva Foam, and vinyl work. To replicate Kabals textured skin on his neck and chest, Haute_cosplay created a pattern using Saran Wrap and masking tape on yusufdaza and then transferred the template onto upholstery vinyl. She then completed the texture by applying liquid nails, puffy paint, and three coats of Monster Latex. It's a beast of a build that's expertly crafted: kudos to this team.
When Yusufdaza isn't in an MK cosplay, you can catch him in his crossplay of Chun-Li from Street Fighter. During Kabal's time in the Outworld, his body was exposed to the magic-heavy atmosphere of that realm granting him the power of speed. He's so quick that he's been compared to being as fast as DC's Flash.
Deadshotish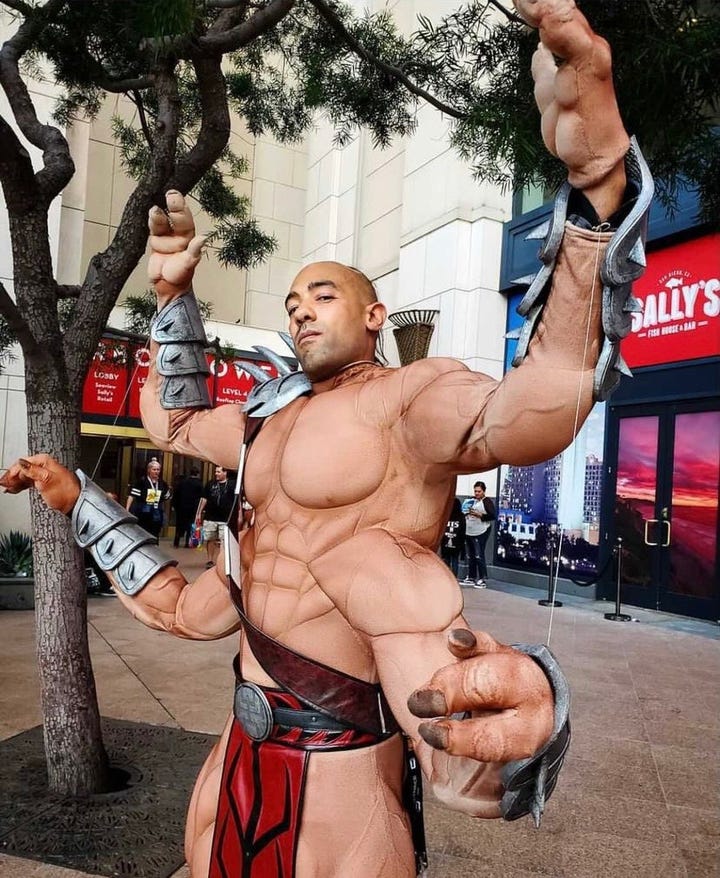 This Goro cosplay by Deadshotish will bring us all a warrior's death with how impressive it is. Each year, Deadshotish and his friends create a cosplay group with a central theme. When they decided it would be Mortal Kombat, he knew he had to portray the one and only half-dragon Goro. The cosplay itself may seem like a monstrous threat, but Deadshotish tackled it perfectly.
He started with two fabric muscle suits sewn together so he could have extra arms, and then he airbrushed it to be closer to his skin tone. A few more touches like the clothing made of faux leather, 3D printed medallions, armor made out of Eva foam, and shoes with fabric attached in the shape of two toes were all masterfully complex additions. The last thing he needed were hair extensions sewn and glued to a breast pastie with the pastie then glued to his head.
What we see here is a genuine commitment, and we applaud it. Because of his dedication to his Goro cosplay, he's been recognized by Mortal Kombat creator Ed Boon when Boon retweeted a viral video of Deadshotish doing pushups as Goro. Here's the link to see it.
Cosplay_armory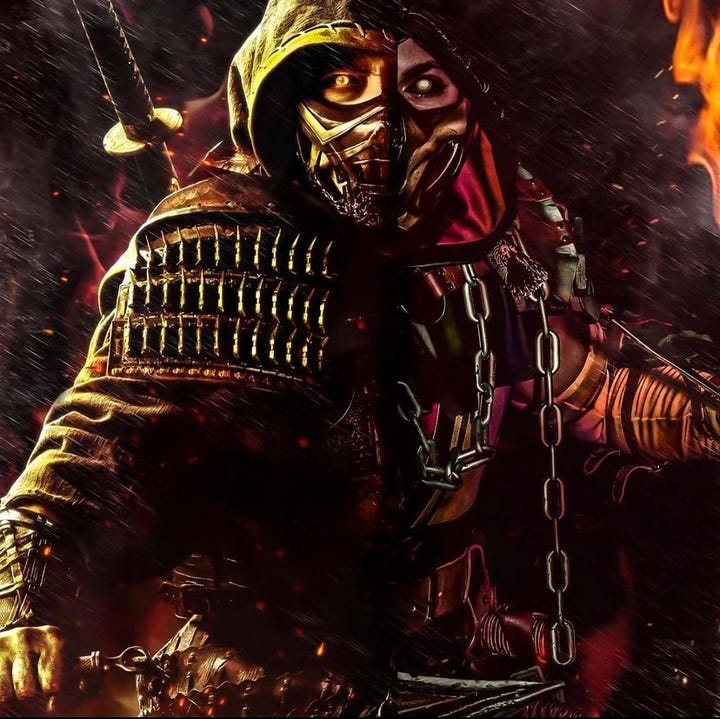 Get over here and check out this Scorpion cosplay by Cosplay_Armory! Scorpion may be a misguided antagonist, but his costume is stunning. We always love a collaborative cosplay build, and this one delivers on time with free shipping. The armbands and leg bands were made by @thewellblack_, and the armor templates were designed by @diego_cosplay.
As for the rest of the cosplay, including the mask, swords, armor, and his weapon, the Kunai, that's all cosplay_armory's work. He's a pro at fabric weathering, and we are obsessed with how incredible his Kunai turned out.
The blade part of his Kunai is made of cardboard. Because, in this case, it provided more stability for the Eva foam to hold its shape because it's thin. To increase the strength of the Kunai, Cosplay_armory used Mod Podge, a spray paint plasti dip, and a coat of Epsilon primer. This Kunai is Scorpion's signature weapon which was first a farming tool until someone realized it worked as a convenient tool of destruction.
Want to be part of our next Mortal Kombat article? Submit your MK cosplays by tagging us on Cosplay Central's Instagram, Twitter, or Facebook.
Mortal Kombat releases on HBO Max and select theatres April 23rd.