10 Winter Soldier Cosplays To Prepare You For The New Marvel Show
These 10 Winter Soldier cosplayers are ready for the premiere of The Falcon and the Winter Soldier.
The Disney+ series: The Falcon and The Winter Soldier, premieres today, and we couldn't be more excited. Anthony Mackie stars as Sam Wilson, aka The Falcon, alongside Sebastian Stan as Bucky Barnes, aka The Winter Soldier. This unlikely duo has come together as a team after the events of Endgame, where Captain America's mantle and shield pass down to The Falcon.
Fans have many questions. Should the shield have gone to Bucky? Is Bucky resentful and now decides to babysit Sam? Does that annoy Sam since he's probably not Bucky's biggest fan after Bucky ripped apart Sam's EXO-7 Falcon? Without their trusty glue, Steve Rogers, it's hard to believe that these two very different heroes will make their way in a world touched by Thanos.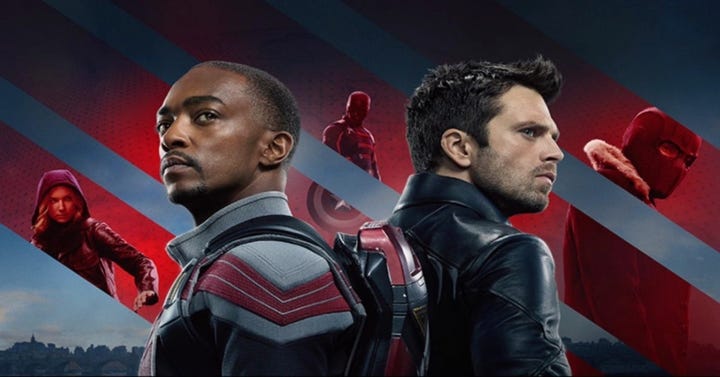 With the first episode released today, both Sam and Bucky have their abilities and patience tested in ways they could never imagine. Marvel's buddy-cop production starts off with a bang! Our characters are launched into an action sequence that lasts for over seven minutes, but the series is more than just action. It's full of witty banter, humorous one-liners, grief, and trauma.
The Falcon and The Winter Soldier establish their differences from WandaVision while keeping Phase Four's recurring theme: destiny vs deviation (and dealing with the emotional damage from Endgame).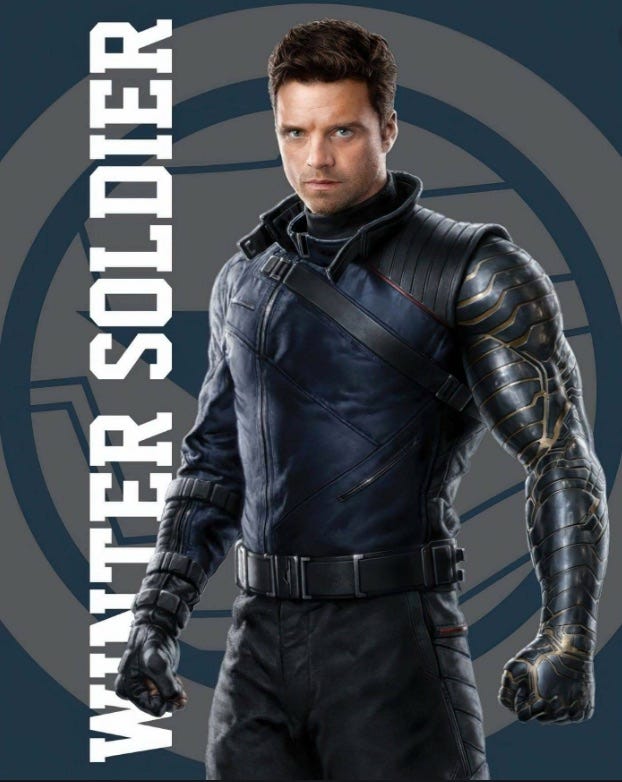 Bucky Barnes is a WWII Veteran, a former officer of the 107th Infantry Regiment, a brainwashed assassin for HYDRA, and Captain America's best friend since childhood. He has many titles, but his alias, The Winter Soldier, takes the cake. HYDRA gave Bucky his most notable hero feature, a prosthetic titanium arm. His cybernetic arm increases his strength to be slightly superior to Captain America and comparable to Iron Man.
HYDRA also experimented on Bucky during his capture and gave him enhanced abilities like super strength, speed, enhanced reflexes and agility. Aside from being a martial artist and master marksman, Bucky just looks really cool. His whole character costume concept makes cosplayers go nuts. The amount of Bucky cosplayers are beautiful and endless. Here are some awesome cosplays.
Raf_bucky_barnes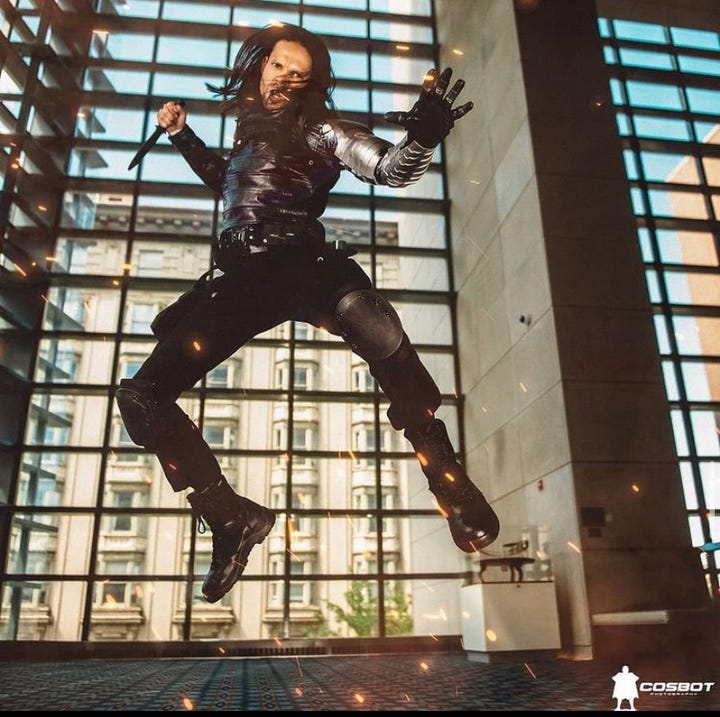 Holy cannoli, do we love images with movement! Raf_Bucky_Barnes always delivers with his Bucky poses and cosplays. This cosplay, in particular, has graced our Instagram feeds plenty of times. His Winter Soldier jacket is made by cosplay designer and creator @whitesheepleather, who also had a hand in creating Rafael's most recent Bucky Barnes cosplay concept.
Absolutely incredible. This is a one-of-a-kind Bucky-Cap suit custom-designed by both Rafael and his friend @call_me_cap_brooklynkid. The leatherwork around the collar and chest are divine, but the wig looks so realistic we thought it was Rafael's actual hair.
Perhaps Bucky Cap will make an appearance in the MCU's first animated show: What If…? Black Widow and Winter Soldier cosplay duos are crazy famous, and here's why: In the comics, Natasha Romanoff, aka Black Widow, trained under Bucky for a while, and the two had a brief relationship during their Soviet days. They even reconnected once they had clean slates.
Lauveya_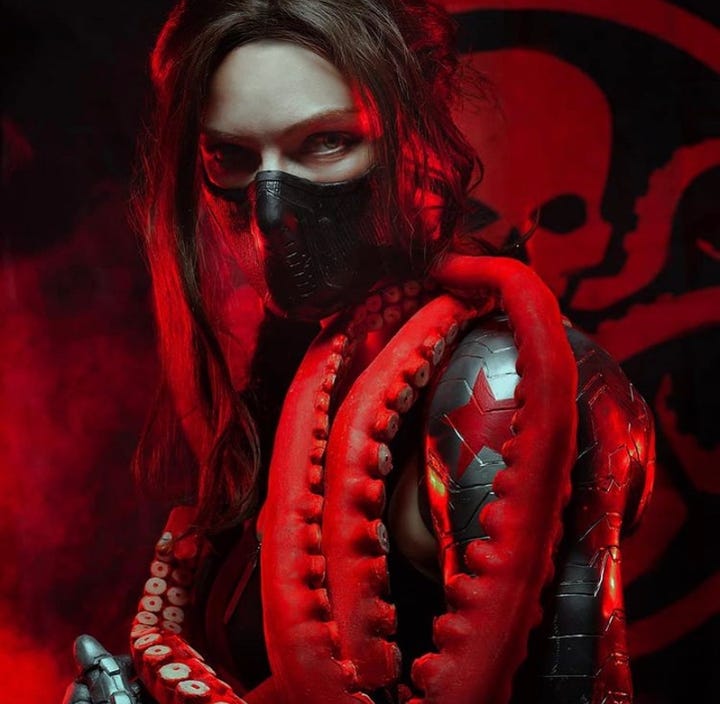 HYDRA is here, and Lauveya_ is embracing it! We love the concept of HYDRA's symbol coming to life with the tentacles entangling The Winter Soldier. Her mask, knives, and scabbards are made from PVC, and the sleeve is based on a pepakura sweep, reinforced with epoxy and bandages. Lauveya_ is a costume creator for the costume production studio @fdcosplaystudio. The store offers Worldwide shipping and sells cosplay accessories, patterns, and fully-built cosplays.
According to the MCU timeline, Bucky is 106 years old. His birthday is March 10th, 1917, and The Falcon and The Winter Soldier takes place six months after Endgame in 2023. Bucky has aged just as well as Cap because HYDRA used a cryogenic chamber to keep the Winter Soldier youthful and agile. The Soviets used Bucky as a weapon and made sure to keep him in perfect condition between assignments by preserving him in cryostasis when he wasn't on missions.
Strongincostume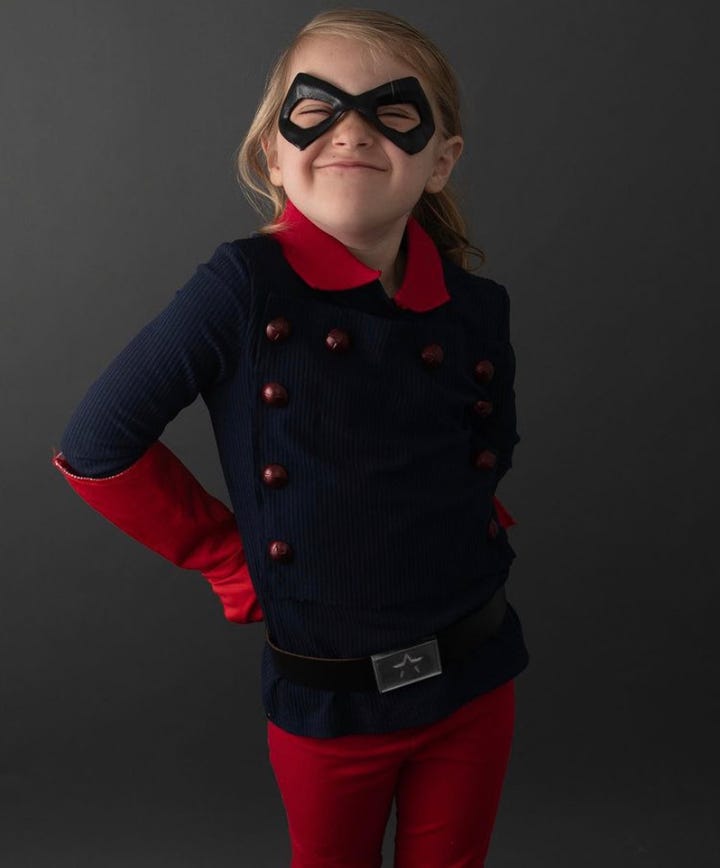 Addie rocks this classic comic Bucky with the most mighty and adorable sass we've ever seen. These buttons were printed in SLA resin and painted with metallic red auto paint. Due to her costuming duo mom and dad, Addie has been a cosplaying queen for most of her life.
Her parents and their friends @scrappercostuming and @gothamgarmentsupply are the leading creators behind this awesome cosplay and many others. They are also prop designers with an Etsy shop featuring several awesome designs like Scarlet Witch's new headpiece. For this cosplay, Addie's dad pairs his 616 Captain America suit to match his sidekick daughter.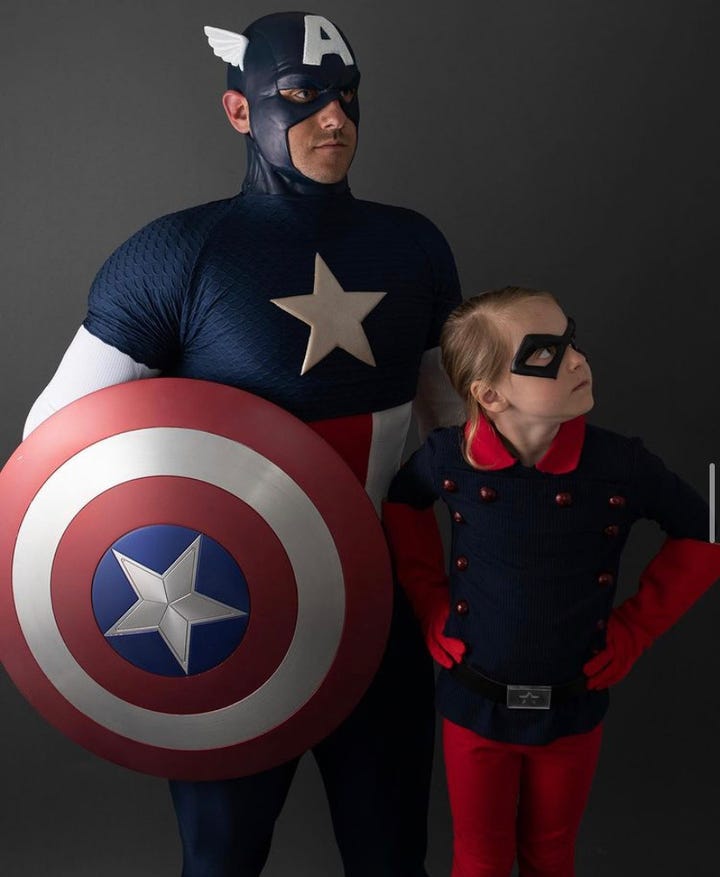 Aside from cosplaying Bucky, Addie has cosplayed Elsa, Black Widow, and Kylo Ren. Superhero genes run in her family. Her great great grandfather, Harry Sahle, worked as a penciler and inker for Timely Comics. Harry drew some iconic characters, including Human Torch, The Invaders, All Winners, and Captain America.
_junbear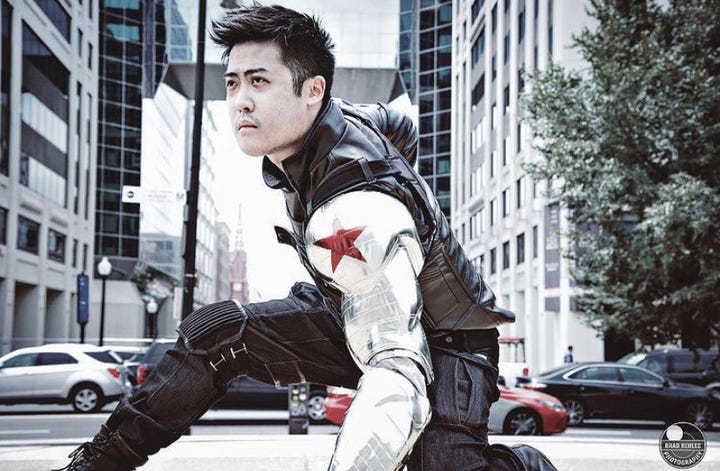 Throwing blue steel looks our way is cosplayer _Junbear. He regularly suits up as Marvel comic hero Spider-Man to spread joy to kids on their birthdays and for hospital visits. _Junbear's also an exceptional artist and specializes in penciling. One of our favorite cosplay images he's posted is his Doctor Strange cosplay wearing a pride cape.
During press tours for the Marvel movies, Sebastian Stan and Anthony Mackie were regularly paired together, thus forming a friendship bond that fans are slightly obsessed with. Fans decided to "ship" the duo and gave them their ship name: Stackie. Though this ship name isn't canon, Anthony Mackie was the first and only Avenger to notice how Sebastian Stan needs Lube in order to put on his Winter Soldier arm. Plus, the two actors have nicknames for each other: Sexy Sea Bass and Mack Attack. #StackieForever
Aaronrivin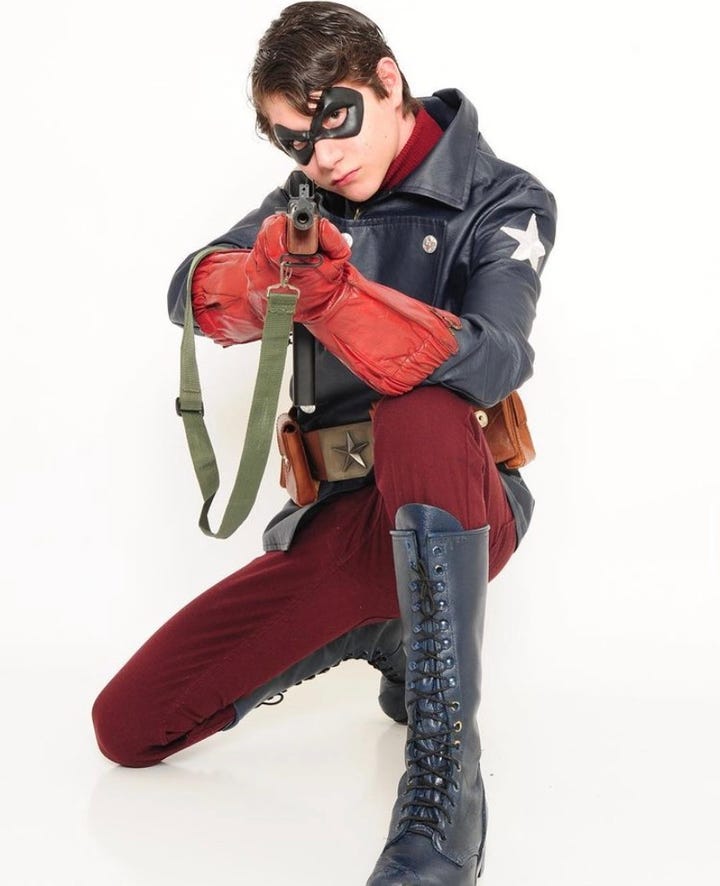 Aaronrivin has been cosplaying Bucky since high school, which is very timely for this version of Bucky, given that the character's portrayed as a teenager. Bucky Barnes had been around since Captain America's creation in Captain America's Comic issue 1 in 1941. He's introduced as Cap's sidekick and eventually becomes a member of The Young Allies and the All-Winners Squad. This image was taken back in 2011, and as of today, Aaron has cosplayed at least three more versions of Bucky Barnes.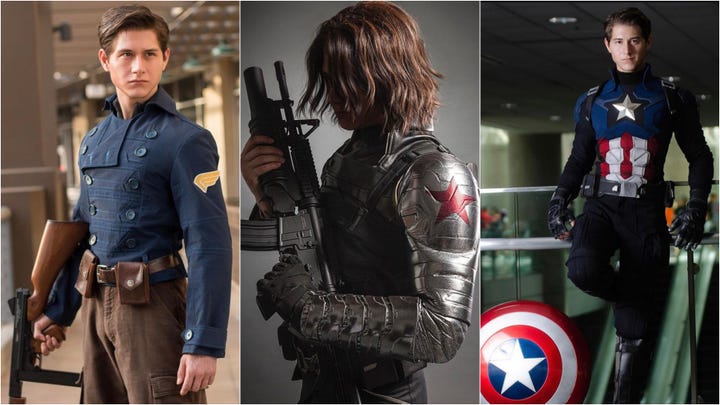 Aaron is an experienced and skillful cosplay creator with an incredible drive to do justice to the characters he cosplays - and his weathering skills are always on point. We can't wait to see what other versions of Bucky, Aaron will do next. Sidenote: His Winter Soldier cosplay, pictured above, is getting a revamp with help from @soloroboto on the bionic arm.
Claudexcosplay
Claudexcosplay looks as if he's ready for action with his iconic Winter Soldier pose. Explosions, helicopters, cityscape, those claw marks - this edit has everything a cosplayer dreams of, and it's all brought to you by Claudexcosplay's beautiful wife, Paradoxcosplay. Her edit is incredible, but the actual image has a different kind of background no one expected.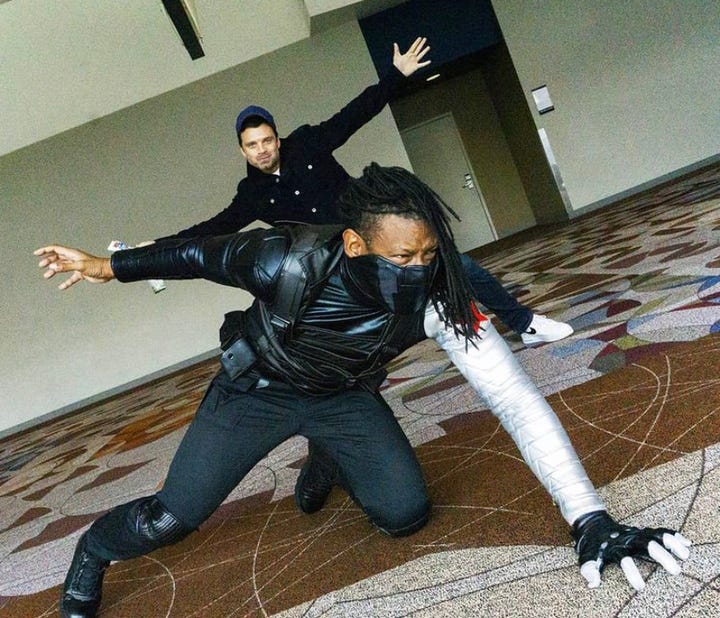 It's Sebastion Stan! Here's the story: This pose is so iconic that Claudexcosplay wanted to recreate it with his wife. There aren't many places at conventions to get a photo with a solid background and no passerbyers. The couple had no idea Sebastion Stan had a panel starting and was on his way to it when he saw the opportunity to make the most epic photobomb ever!
Unfortunately, Claudexcosplay missed meeting his hero because he was in the shot. However, his wife luckily captured the moment. This cosplayer has a new goal of meeting Sebastian Stan and getting him to sign this fantastic image. Let's cross our fingers that this happens.
TheEntchen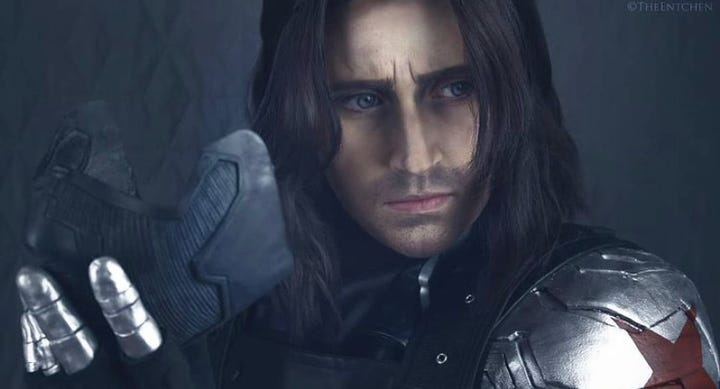 TheEntchen's cosplay journey with Bucky Barnes started after watching the film Captain America: The Winter Soldier. Her make-up inspiration didn't come from the movie but came from a piece of fanart she picked up at a convention. According to TheEntchen, the linework done in fanart can better determine the features of a face for her to replicate in make-up. Her tip for creating a screen-accurate beard is to use a stubble sponge. She adds a ground layer of the paint first and fixes it with a translucent powder after.
TheEntchen has a love-hate relationship with the Winter Soldier's arm and has created three arms in total over the years, and she's currently making her fourth adaptation now. TheEntchen and @ayla.capcake partnered up to cosplay the iconic duo of the Winter Soldier and Captain America back in 2014. Seven years later, the pair still cosplays together and now shares a living space as best friends.
Renegadehart
This action shot is beyond epic! In this image, Renegadehart wears a damaged jacket with the bionic arm peeking out. The reason he did this variant of the cosplay was to fix an odd issue with the arm. What was the issue? His forearm was too big, and popped the arm cast off. Modern problems require modern solutions. We think it's a great cover-up, and since the incident, Renegadehart has updated his arm.
It's a 3D printed sleeve from a file made by @do3d_com. His friend, @do_you_even_cosplay, helped with the 3D printing, and Renegadehart did the final touches. The jacket's a purchase off of Amazon that he painted and weathered to make it more screen accurate. Renegadehart does more than the classic MCU Winter Soldier cosplay; he has several interesting variants.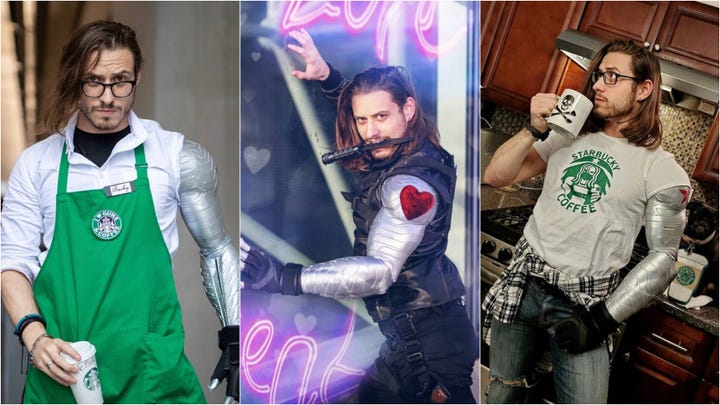 According to his Instagram, Star-Bucky's favorite drinks are an americano or a cappuccino. Renegadehart continues to hilariously interpret Bucky Barnes in several ways that his followers love to be entertained with. We're curious to see what future cosplans this Winter Smolder has up his sleeve.
Radrupee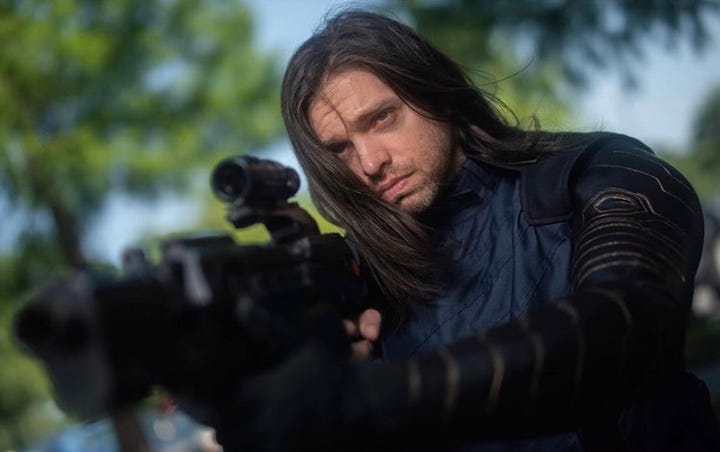 Radrupee may be Sebastian Stan's twin separated at birth. This amazing cosplayer has cosplayed several adaptations of Bucky, with our favorites being his Infinity War cosplay and his Summer Soldier cosplay (an interpretation of Bucky on vacation).
Created out of latex rubber, his Winter Soldier arm went through a repaint with help from @violetvixencosplay, who did the fine linework to resemble the arm's Infinity War rendition. Since Radrupee has worn the arm on and off for three years, it's experiencing some wear and tear, and he requires an upgrade.
Bucky has gone through a few arm upgrades himself. During the final confrontation in Captain America: Civil War, Tony Stark uses his uni-beam (a repulsion blast that comes out of Iron Man's chest) to vaporize Bucky's prosthetic arm. After those events, T'Challa gave Barnes a new bionic arm built by Shuri before the Battle of Wakanda. The new arm was constructed similarly to that of HYDRA's, but came with enhancements stemming from the use of vibranium.
Cat_Cosplay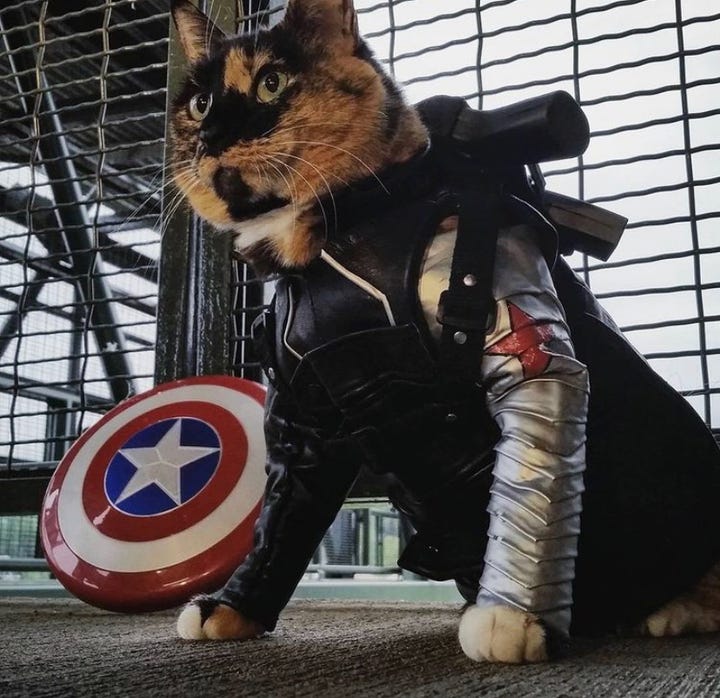 This adorable Whisker Soldier will protect and serve our hearts so long as there aren't any laser pointers. If there are laser pointers… we are on our own. Cosplaying the ex-hissassin of HYDRA, Cat_cosplay is known for its feline variety of characters. Sadly, the account isn't run by cats but by two owners who use crafting techniques to create small-scale costumes for their cat models to enjoy.
In Winter Soldier (Vol. 2) #1, Bucky Barnes has a white cat named Alpine, making the Winter Soldier an official cat-dad. Will we see Alpine in The Falcon and The Winter Soldier? We sure hope so.
To possibly be featured in our articles, be sure to tag us on Cosplay Central's Instagram, Twitter, or Facebook.
The Falcon and The Winter Soldier premieres on Disney+ March 19th, 2021.