20 Shang-Chi Cosplays Worthy To Wield The Ten Rings
These Shang-Chi cosplayers would make Simu Liu proud.
With these masterful Shang-Chi cosplayers, get ready to get hyped for Marvel's most recent superhero film, Shang-Chi and the Legend of the Ten Rings! Fans worldwide began cosplaying as Shang-Chi played by Simu Liu weeks before the film was released. The passion and drive audiences have to advocate how necessary it is to have an Asian-led superhero is beyond beautiful.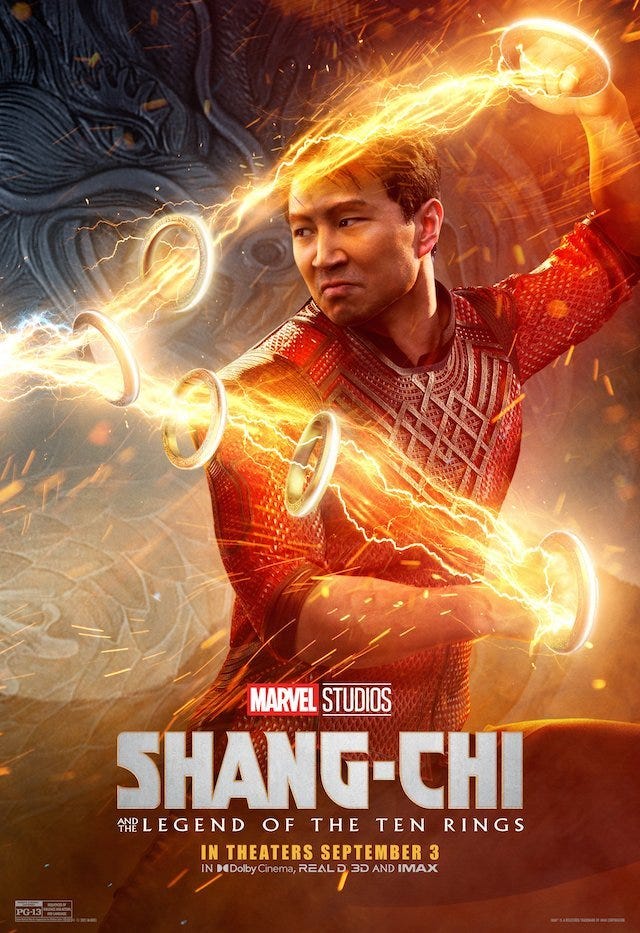 Cosplayer Philipodango gave CosplayCentral insight into who Shang-Chi was in the comics and why this film's release is vital to the world today.
"Shang-Chi, as a character in the comics, is a man who drew strength purely from mastery of his Kung Fu skills. Unlike his super-powered or technology-enhanced peers, Shang-Chi stood out with pure power. Nearly 50 years later, since his debut, we are now in a critical wave of advocacy and appreciation for Asian creators and creativity countering the agenda of violence against Asians."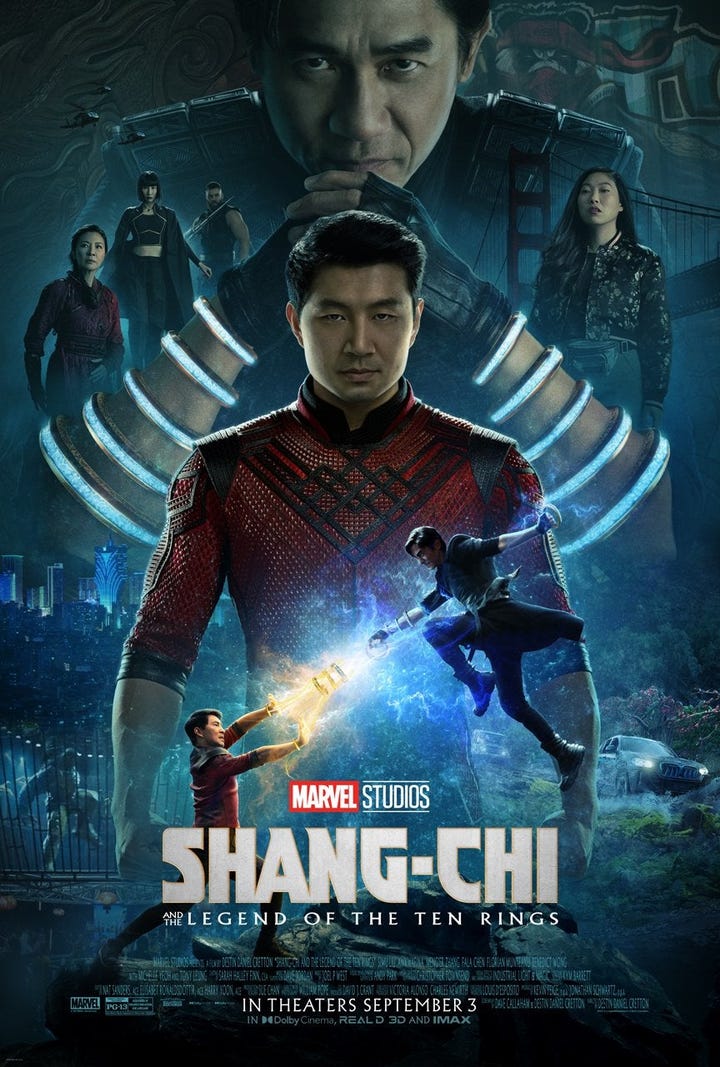 With an actor as compassionate and grounded as Simu Liu behind such a strong character, there is now a hero unlike any other to look up to. And people have! This film has reached such success in ways that Marvel films never have before. For example, Bay area Asian Americans organized theatre buy-outs, the film has a Rotten Tomatoes score of 92% from critics and 98% from audiences, and Shang-Chi broke the Labor Day box office record! It's a must-see film for audiences alike.
We asked twenty cosplayers who cosplayed as Shang-Chi before the film's release why they wanted to cosplay the character, what about the film made them want to continue cosplaying as the character, and what other additions to their cosplay they plan on making. Each cosplayer wrote such compelling and thought-provoking responses we are thrilled to share. So without further ado, here are twenty Shang-Chi cosplayers.
Spiderboy_wondercosplay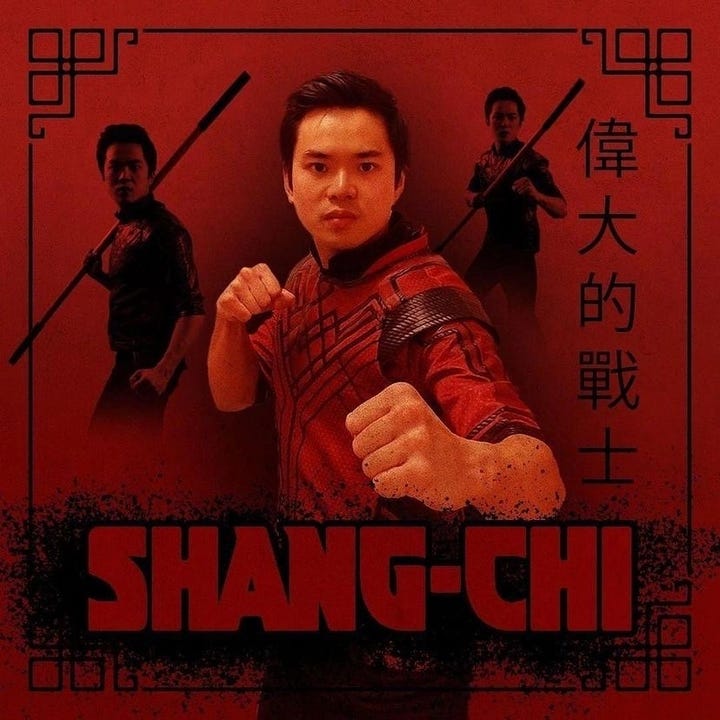 Spiderboy_wondercosplay: "I have wished & dreamed of Marvel Studios to announce an Asian Superhero that can help me boost my cosplay confidence to represent my culture and background. Cosplaying this shows how crucial it is to have diversity in movies, and it's because this character feels very suitable for me. I love the fact he does martial arts, kung fu, and the action is pretty awesome. This movie's a masterpiece; it's like any martial arts movie I have watched. I would love to add additions to my cosplay, like having the 10 Rings and the casual jacket he wears from the film would be pretty cool."
Bryan.s.lee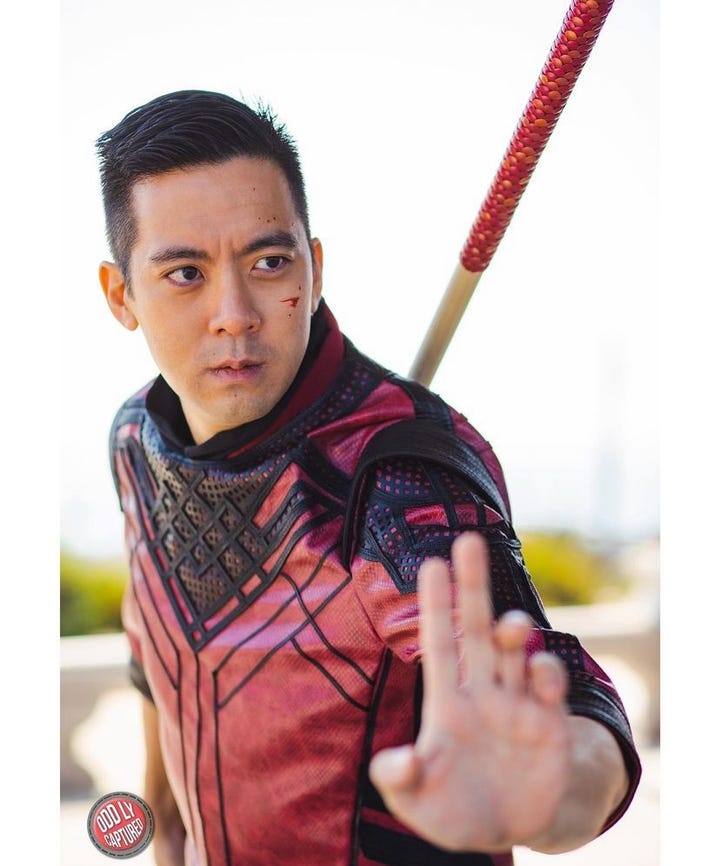 Bryan.s.lee: "Like many, I wasn't very familiar with the comic, just primarily aware of how its origin was seen as progressive at the time but problematic through a modern lens. However, as a massive fan of the MCU, director Destin Daniel Cretton, and star Simu Liu, and while knowing that a full cast AND crew of AAPI talent was adapting and modernizing this character, I knew this would not only be something extraordinary but a significant benchmark for much-needed Asian American representation.
So, as a cosplayer, it was a no-brainer. Ultimately it was just icing on the cake to see the movie and have my suspicions confirmed eventually, and then some! What a masterpiece, and I can't wait to see it again and again.
Well, aside from knowing now that the movie's fantastic, Shang-Chi's journey in the MCU has only JUST begun! Plus, there are so many more cosplay options only now revealed to us; I'm already planning a couple more cosplays based on his more comfy/casual outfits, and perhaps even Wenwu's as well. I am looking very forward to cosplaying Shang-Chi at various cons, charity events, and future MCU releases for years to come!
For starters, I plan to rebuild my bo staff, which I built back when we literally only had one half-decent reference photo and no footage; having seen the movie a few times now, I have a lot of ideas to make it more screen-accurate and practical. His mother's pendant is in the works, and of course, eventually, I want to tackle the ten rings. I like to say that cosplay projects are never done; they're abandoned! But Shang-Chi is only getting started…"
Happidonut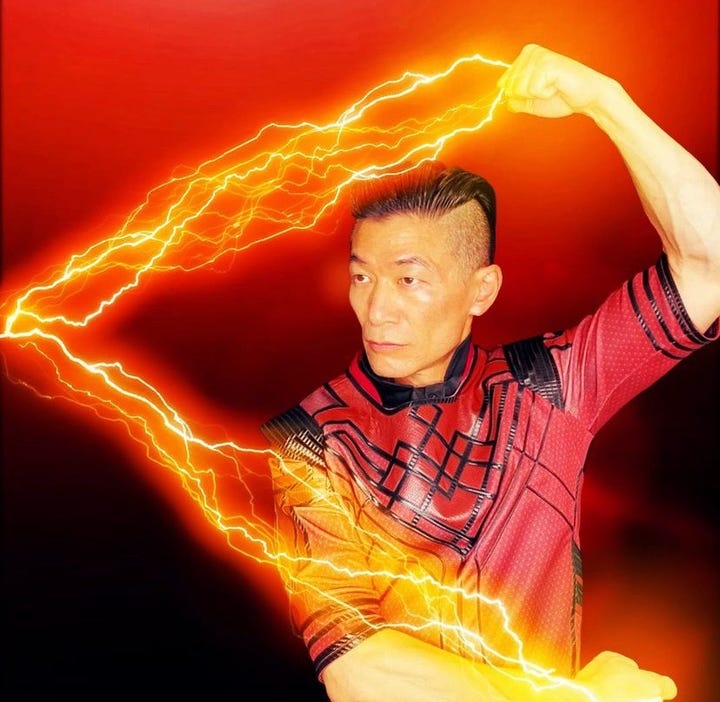 Happidonut: "Representation in media is something I'm very passionate about, for BIPOC in general and Asian/AAPI specifically. If you look farther down my feed, I celebrate AAPI icons, and I cosplay intending to help people imagine Asians/AAPIs as the lead, as the hero, in the spotlight. So, when people see my Submariner, and it seeds the possibility that an Asian actor could play him, that's a win. It's my small way of countering stereotypes and racism. So when Shang-Chi was first announced, and Simu Liu became the first Asian cinematic superhero at this level, I knew I had to support this and represent."
Pyroleon15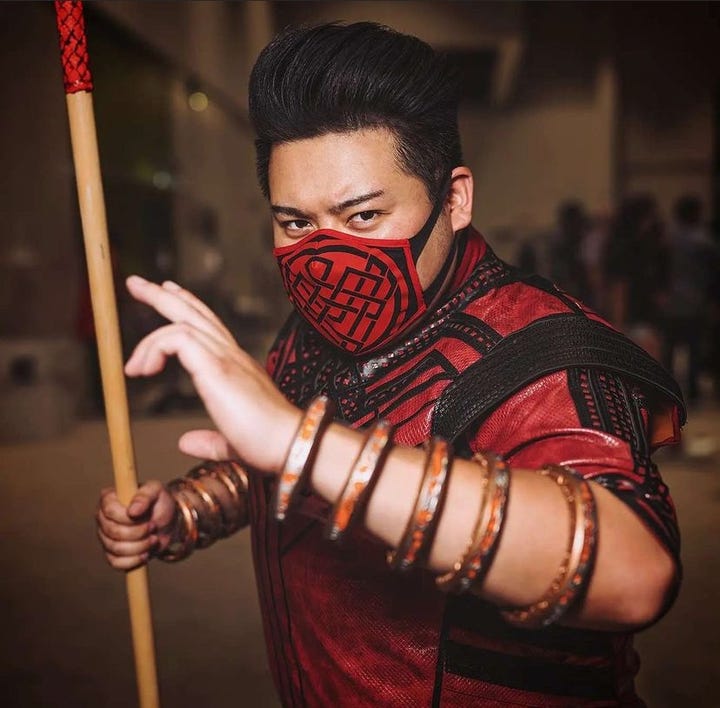 Pyroleon15: "A couple of years ago, before the movie's release, I debuted my cosplay for Shang-Chi on Friday of San Diego Comic-Con 2019. Fast forward a few years, and I'm jumping and screaming for joy when Marvel announced Shang-Chi and the Legend of the Ten Rings being part of Marvel's phase four! Being one of the only ones amongst my friend group to know who he was, I was super excited to tell them all about who he is and why the character was so important to me.
When they first released the first trailer for the film, I already knew I wanted to cosplay as him. So I did whatever it took to do all the research and get as many detailed references as possible to make this new costume. At the Hollywood premiere, I felt so proud and had a strong sense of achievement when Simu Liu, Benedict Wong, and Menger Zhang noticed that I already had the rings; they got so excited when I extended my hand to shake theirs.
All these experiences added more of my love and adoration for the character, hence why I will continue to cosplay this character for a long, long time. Plus, I can't wait to cosplay other costumes and outfits of his.
As far as cosplay additions go, I will continue to improve my Bo Staff and design for the Ten Rings to make a new and more accurate version of them. And, if I can get my hands on the same fabric/material that they used for the actual suit in the movie, I'd love to improve the suit further."
Esther_ytan.cos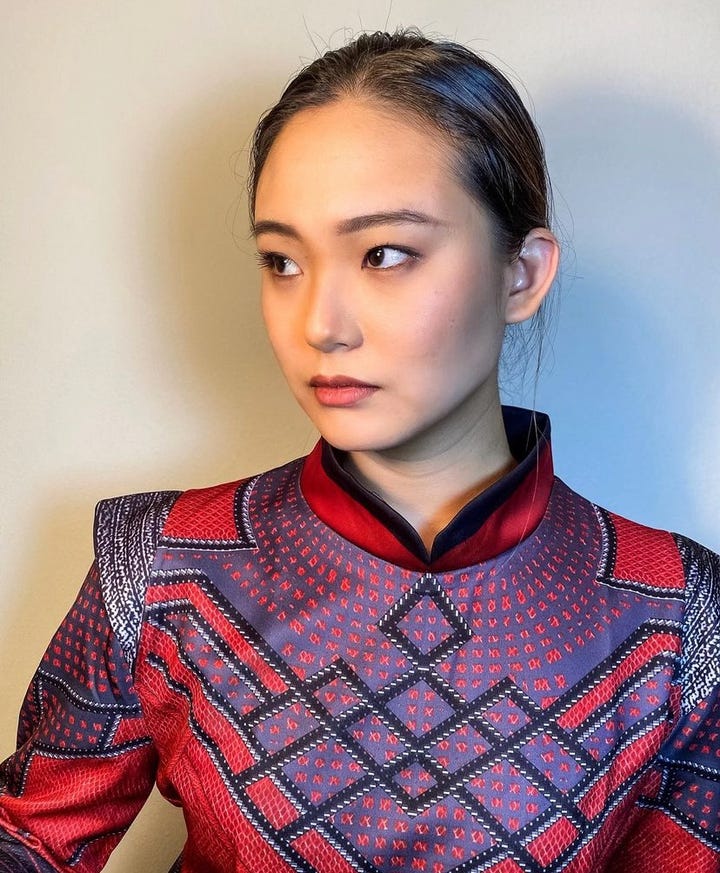 Esther_ytan.cos: "As someone from China myself, I was beyond excited when Marvel announced they were bringing Shang-Chi into the MCU. It's an absolute joy to represent the Asian corner of the Marvel fandom, and now we are given a beautiful stage to showcase our fantastic culture. So I jumped at the chance to do a cosplay, and I definitely plan to keep cosplaying this character. As for future upgrades, let's see where the MCU takes Shang-Chi in the future!"
Jcw.cosplay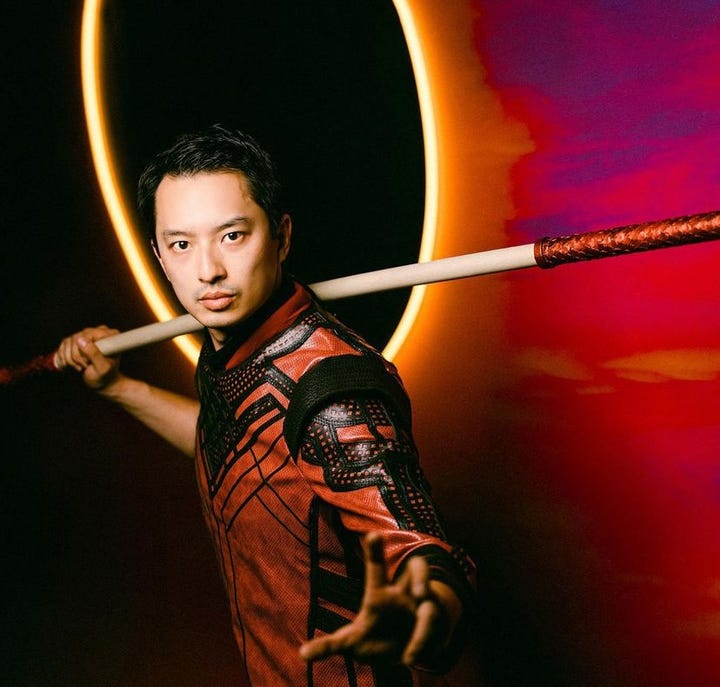 Jcw.cosplay: "I've been cosplaying since 2016 and have always noticed a lack of mainstream Asian pop culture characters to cosplay as. So when I first found out that Shang-Chi was coming to the MCU, I knew I had to make it a goal of mine to portray him. Even though he is a more obscure character in the pantheon of Marvel superheroes, I completely trusted that Marvel Studios would make him a household name just as they did with the Guardians of the Galaxy.
After seeing the movie (the first of many future viewings!) I will most definitely continue to cosplay Shang-Chi. The film was a tremendous step forward in proudly portraying Asians on the big screen with a primarily Asian cast that didn't relegate us to the sidekick role or used us as a comedic punching bag. I will continue to cosplay him because representation matters. Whether going to conventions or volunteering with Capes for Kindness at kids' events, children deserve to see heroes that look like them in this manner.
I plan on adding the Ten Rings to my cosplay. I also intend on getting the Jordan Access shoes Shang-Chi wears in the movie, not just for cosplay but for the sneakerhead in me!"
Lindysam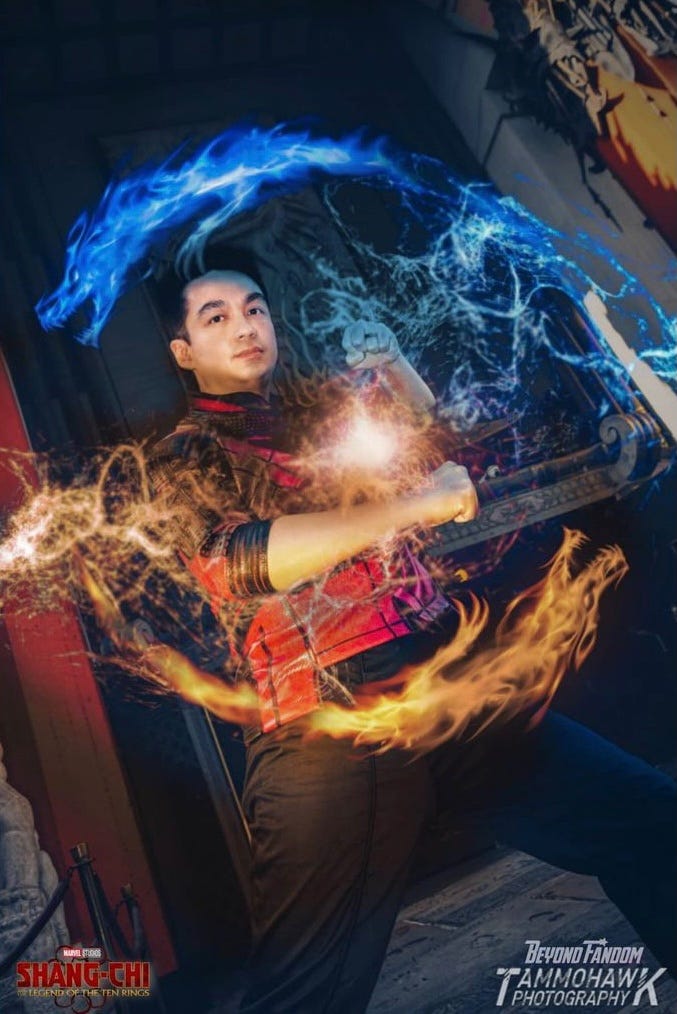 Lindysam: "I love cosplaying, and I've always loved the Marvel movies, but I didn't necessarily relate directly to any of the MCU heroes until now. So when Shang-Chi was announced at Comic-Con, I was beyond elated! My first thought was, "I'm definitely gonna cosplay Shang-Chi, and I won't even have to wear a wig for it!"
I plan on continuing to cosplay Shang-Chi because he's the first Asian superhero in the western movie world, he's a great character, and he kicks a**! There's finally someone representing the much underrepresented Asian community, and that's huge! Next, I plan to make the glowing dragon scale bo staff. The electronics might take a little while, but eventually, I also want to make ten rings themselves!"
Jt_otero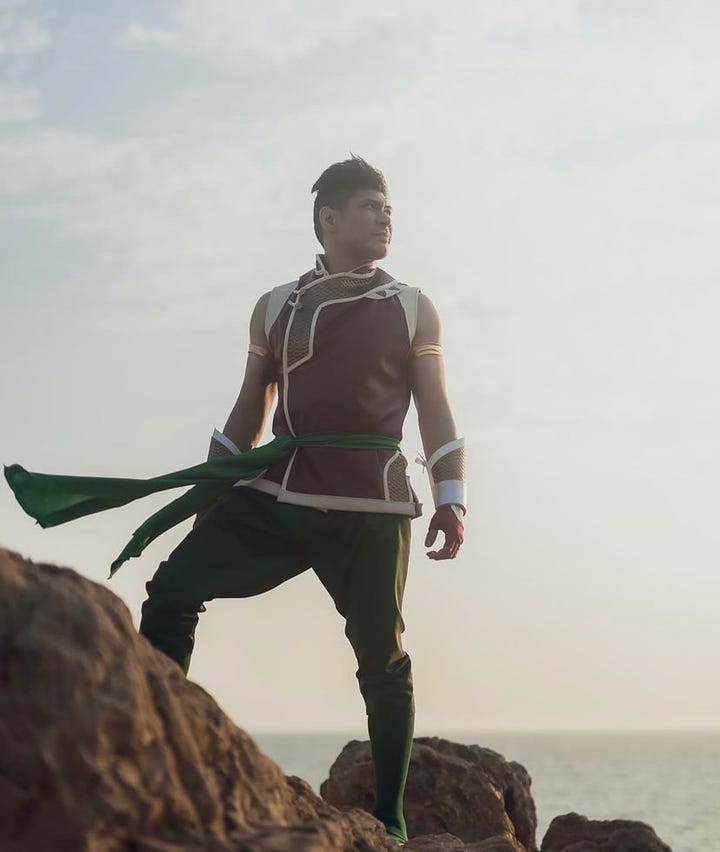 Jt_otero: "I've been reading the new Shang-Chi comics since they came out last year and thought it would be an awesome cosplay to do. When my wife noticed we got invited to the premiere, I was so excited to do a character representing my Chinese heritage.
I only like to cosplay characters I have a connection to or an appreciation for. So I feel an extra close connection with Shang-Chi and this cosplay for everything the movie and character are doing for Asian representation. Maybe I'll add some minor details to my cosplay; I was trying to get as close to comically accurate as possible. I feel like it's almost there."
Shura_izumi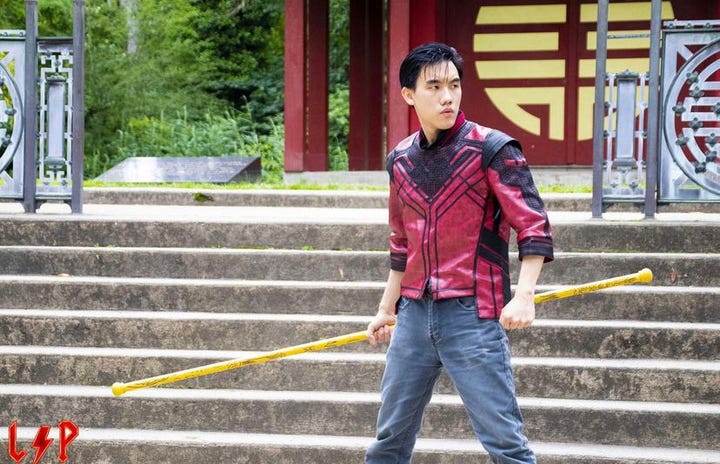 Shura_izumi: "Before cosplaying as Shang-Chi, I saw the list of Marvel's following films after Avengers: Endgame and discovered an Asian character named Shang-Chi. I researched plenty, and being a great fan of Martial Arts myself, especially the Nunchaku like Bruce Lee, I saw that Shang-Chi was based on Bruce Lee. So I started to learn his story, and that's when I made the comics version of the cosplay. Then, a month and a half before the movie debut, I got the film's costume.
I'm going to continue to cosplay this because it's a character that will be rare at conventions, especially the style of fighting with poses; being an Asian character is perfect but cliché! Whether it's cosplay comics or film. I already have the ten rings in the movie for the cosplay that I need to shoot, and I want to add more of the film's other weapons. Sure, if there is a Shang-Chi sequel with a new suit of armor, I think I would do it without hesitation!"
Adonis_jorrell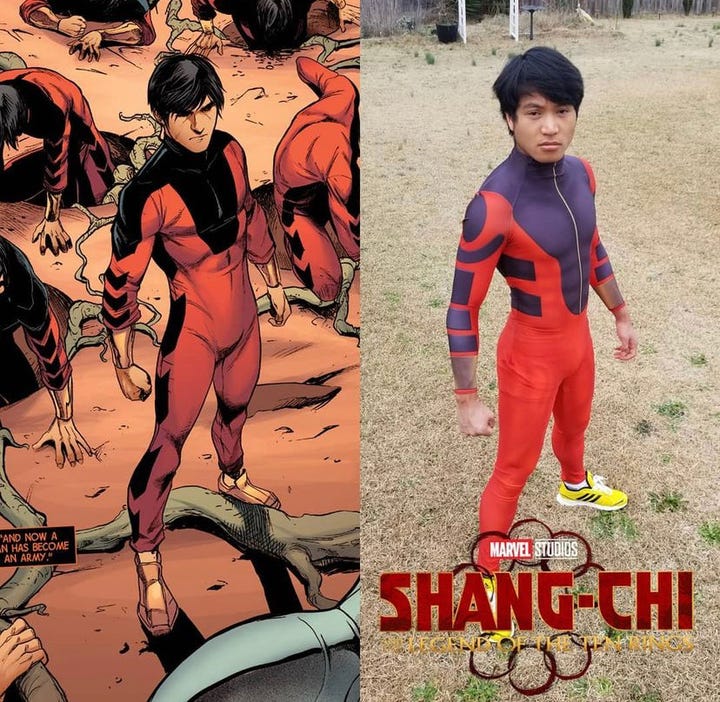 Adonis_jorrell: "The main reason I wanted to cosplay Shang-Chi is because his early comic book designs were based on Bruce Lee, who I also look alike. Shang-Chi was also the only major Asian superhero before the newer generations of Asian marvel characters existed, which influenced me. I haven't seen the movie yet, but I will continue cosplaying the character even though I don't look like Simu Liu. The personality of the Shang-Chi in the comics is very much like mine.
I cosplay characters based on this factor, but it's easier with Shang-Chi since the other characters I like are usually white. For example, Daredevil, Nightwing, Ozymandias, etc. Because unless people read comics, most people don't know any other Asian superheroes. I'll be honest, I'm rarely the type to make a cosplay, but something I do like doing is learning the martial arts or acrobatics of any character I dress as to use in videos or perform at conventions."
Johnny0929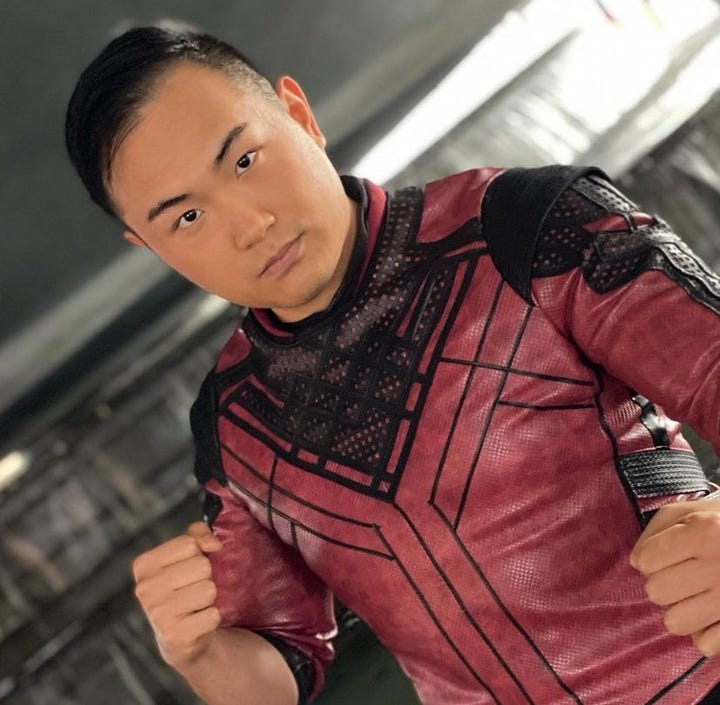 Johnny0929: "My cosplay repertoire has always been Asian superhero cosplays, so it made sense for me to do the first-ever MCU iteration of Shang Chi. I was used to cosplaying more obscure Asian characters like Kong Kenan (New Superman) or Jubilee. I was very excited when they announced the fast-tracking of the movie, so I kept up closely with the release of the costume.
I think Shang-Chi is not only a fantastic MCU movie; it is a beautiful movie on its own for people who don't follow the MCU. If people solely enjoy martial arts, it will be a fantastic time as well! I think I will continue because he definitely will return in the future, and his character resonates with me.
I really think the lesson of his arc about his discovery with himself is something many Asian people can relate to. I was raised traditionally Asian, and being gay, I had a tough time reconciling who I was with who I am. I think this will definitely help me be closer to my family. I also want to add scales to the staff and the new weapons he receives at the movie's end!"
Mydadmademedressup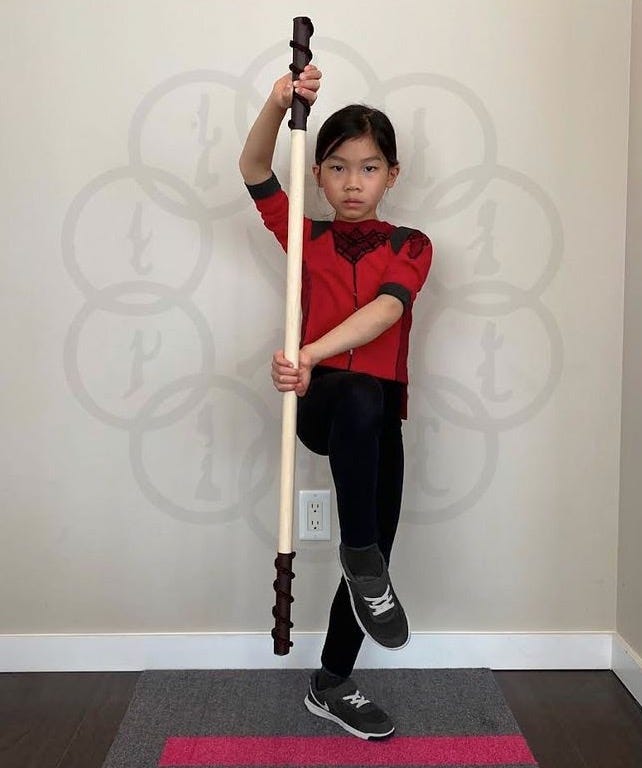 Mydadmademedressup: "Representation matters especially when it comes to children of color; in these formative years, seeing what IS possible for people who look like them is so important, especially living as POC in North America, where we are woefully under-represented in media across all platforms. So when the movie was first announced, I knew that I HAD to make a Shang-Chi costume for my daughter, if only to show her that yes, Asians can be superheroes too.
Seeing Simu Liu, Meng'er Zhang, Fala Chen, Awkwafina, the legend Tony Leung, and the rest of the fantastic cast on the big screen was so uplifting and gratifying for the both of us. And while my daughter loved Shang-Chi, her favorite character was actually Xialing! So that's probably something we'll be working on in the future.
Our cosplay philosophy is slightly different than the norm. Our attention span is relatively short, and we both love variety. We've been making a different costume almost every month for the past seven years with no repeats thus far (#quantityoverquality). So though it's unlikely that we'll be dressing up as Shang-Chi again, be sure to look out for other characters from the movie in future cosplays!"
Perpetualmidnightcosplay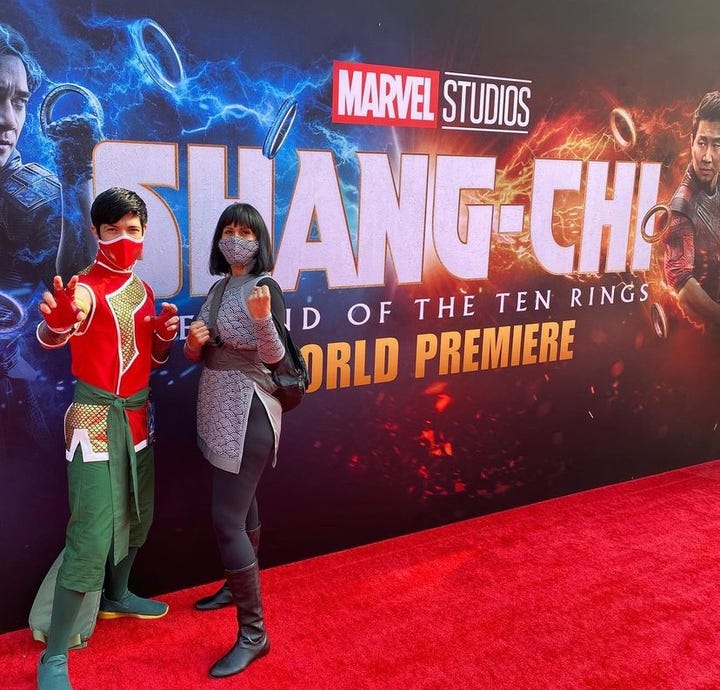 Perpetualmidnightcosplay: "When I heard that Shang-Chi was eventually coming to the MCU, I knew that I would want to cosplay as him. Being that he's a martial arts superhero that his father trained, I immediately connected with him. For a good 13 years of my life, from the ages of 5-18, I practiced a traditional form of Okinawan karate called Shorin-Ryu, under the tutelage of my father. So there was an interesting parallel between myself and Shang-Chi (without all the crazy family drama that Shang-Chi and Wenwu go through).
Of course, the current run of Shang-chi comics by Gene Luen Yang was also a significant influence.His writing, along with Dike Ruan's artwork, made it easy for me to choose this version of Shang-Chi to cosplay as. And although I do love the MCU version of his costume (and I'd like to cosplay this version eventually), I liked the aesthetic and overall look of the comic book version. After watching the movie, I know that I will want to continue cosplaying as Shang-Chi because you get a feeling of honor and pride when you put on that suit.
After seeing the amazing job that Simu Liu did in bringing Shang-Chi to life makes it even more of an honor to represent the character. At the Shang-Chi premiere, I was fortunate enough to get my bracers and one of my cuffs signed by Kevin Feige, Simu Liu, Ben Kingsley, and Benedict Wong. So, I think it's probably a good idea to make a new set of those for my cosplay so I can keep the signed ones free from harm.
Besides the MCU "hero" version, I'd like to do a casual Shang-Chi cosplay inspired by the outfit he wears during the bus fight. That would be awesome because my wife Lety can wear Katy's outfit, and it would be the perfect couples cosplay!"
Philipodango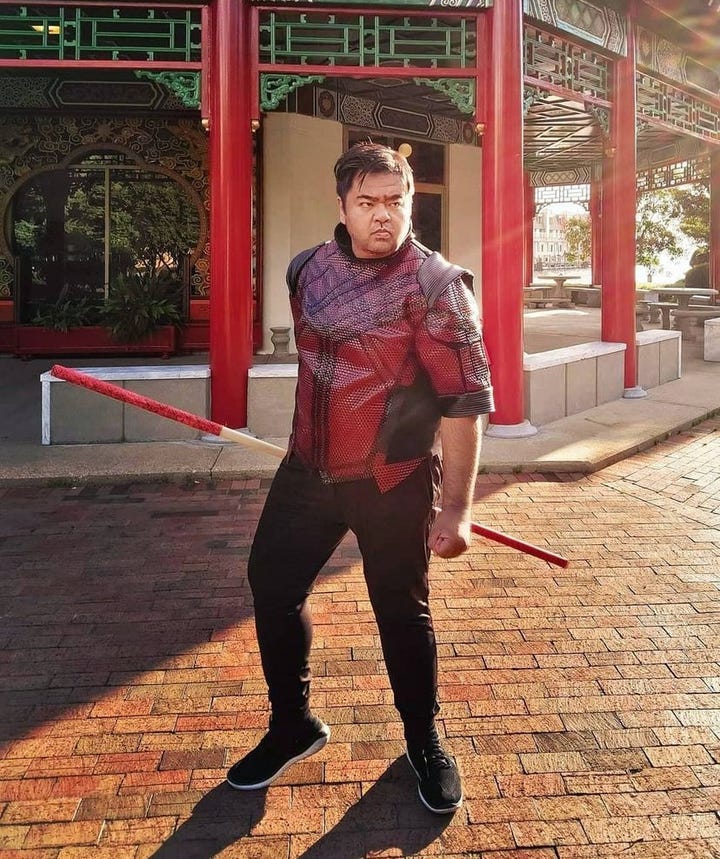 Philipodango: "I chose to cosplay Shang-Chi as a representation of self-advocacy for representation and visibility of Asian creators, and I crafted the cosplay utilizing Cosplay Fabrics from Yaya Han, a pioneering cosplay creative of Asian descent. I see my cosplay platform as a form of protest art against invisibility, so by cosplaying Shang-Chi before the film, I aim to honor those who come before us and those who come after. The power, the vital Chi, is what connects us all within.
I was thrilled to make my Shang-Chi cosplay debut at Fan Expo Boston as an invited cosplay guest on the film release day of September 3. It was thrilling to join the Marvel Multiverse meetup and geek over the astounding cinematic moments of the film and, of course, connect with other Marvel cosplayers. I look forward to bringing Shang-Chi to future cons where I'm booked as a guest!
I have made Shang-Chi's bo staff and am currently designing and crafting the legendary Ten Rings. Although I have Filipino martial arts kali stick fighting experience, I'd like to improve my bo staff technique and shoot at more vibrant locations."
Dannywebstercosplay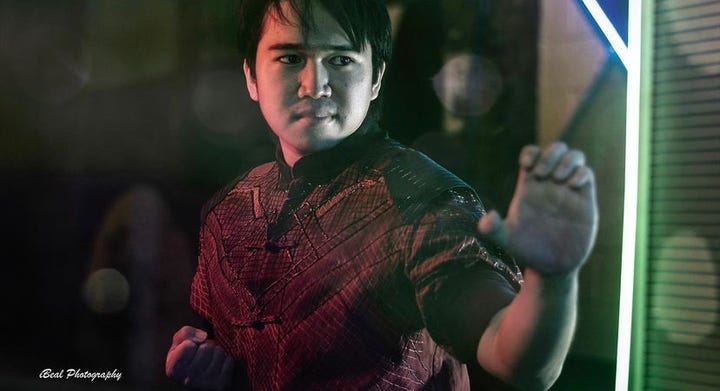 Dannywebstercosplay: "When Marvel first announced back at Comic-Con 2019 that they were planning to make a Shang-Chi movie, I was in shock and, at the same time, very excited that we'd finally be getting our first Asian lead superhero in the MCU. So I told myself as soon as we'd get a trailer or first look at the suit, I would immediately start my plans to craft my Shang-Chi cosplay.
After the movie, I'm happy to continue to cosplay as the character, for I can relate to Shang-Chi the most in this movie in many ways, from being an Asian American who struggled with finding his identity in life growing up. Throughout the film, it took the journey and events for him to finally embrace his family roots from both sides, his mother and father, to reach his full potential as Marvel's next big superhero.
In addition to my Shang-Chi cosplay, I do eventually intend to upgrade it with the Ten Rings that glow and light up like they do in the movie. I also plan to do the outfit he wore during the bus fight scene as my second cosplay variation of the character."
Digichai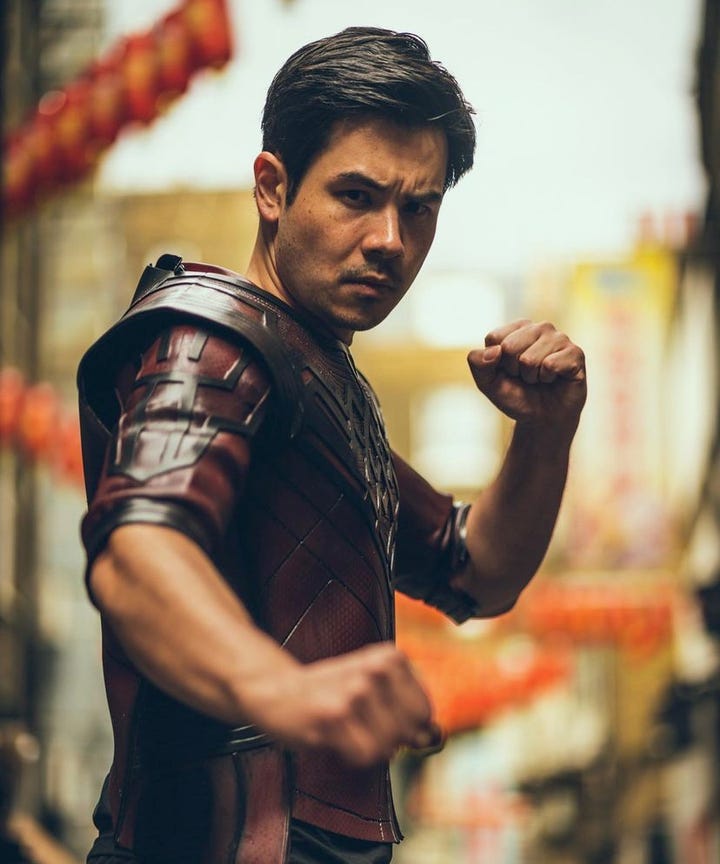 Digichai: "I will admit I had very little knowledge about the character of Shang-Chi before the movie was announced back in 2019. But after the announcement, I did some research and was amazed about the character's story in the past few years and knew this was a character I wanted to cosplay. One of the main reasons, though, is finally, here is an MCU superhero who looks like me!
Being of Asian descent, the amount of joy seeing such a predominantly Asian-led cast, with the leading superhero being Asian as well, was overwhelming! This movie is extremely important to show that superheroes can come from all races and backgrounds, but I'm so proud to see it be represented for my culture. If I can cosplay Shang-Chi to spread that message even further, I will happily do it!
I was fortunate to have seen the movie at the UK Gala screening in London (special shout out to ugoandcosplay for inviting me to attend). At the event, I met Simu Liu, and we chatted for a bit about the cosplay and the character. He called me "beautiful" (assuming he meant the cosplay, but I'll take it) and then advised me on what I should include on it next! Even without seeing the movie, I already knew I would cosplay Shang-Chi again; I can't let Simu down!
The main addition I'll be adding to my cosplay, which will be the most difficult, is sourcing his shoes! Unfortunately, they are a specific type of Nike Jordan that's hard to come by. Also, the Ten Rings are being printed as we speak, along with some planning for the Bo Staff. I have to give a special shout-out to knightly_kreations who made my Shang Chi jacket out of foam (FOAM!). Until dragon scales become a common material, I will be wearing that jacket for as long as possible!"
Pville.pueyo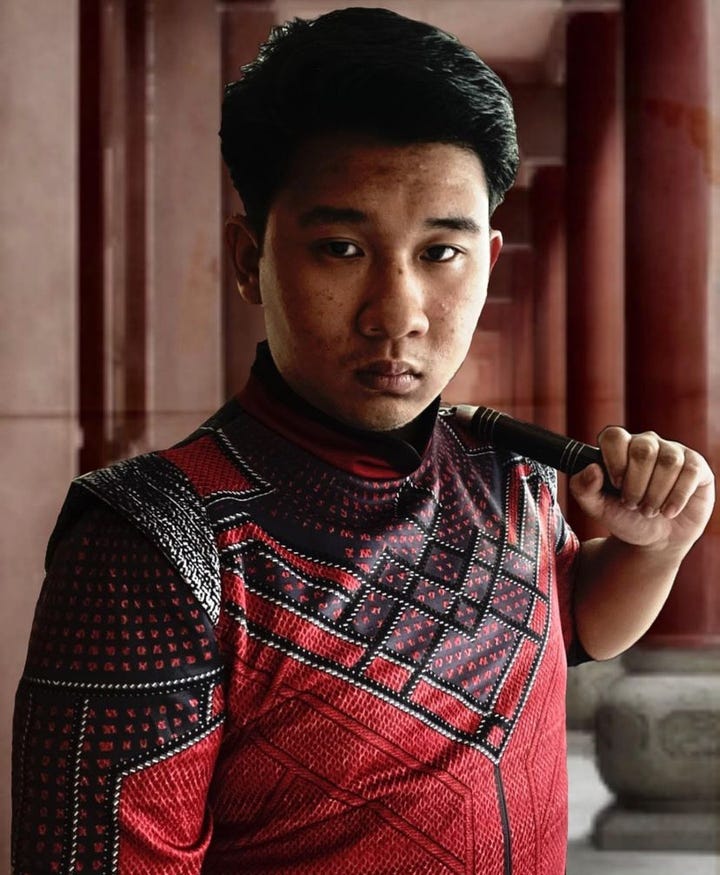 Pville.pueyo: "At first, I wasn't very much in the idea of cosplaying the character since I wasn't very familiar with the character. Still, some of my friends had made some jokes that I looked like Simi Liu, so I thought it might be interesting to buy a cheap costume, take some photos, and possibly show up to the movie. But, as the date to the film came closer, I became more and more ecstatic for the showing since the trailers made the movie incredibly intriguing to me. Still, when the movie came, I knew I had to continue cosplaying as him.
After watching the movie, I had become very emotional since I had felt a deep connection with the film due to having a hero that understood the struggles of being an Asian American and having grown up with many Chinese Kung Fu Movies. I enjoyed the movie heavily, which influenced me to continue to cosplay as the character of Shang-Chi and improve the costume to be more film accurate.
The suit I initially used for photos was a cheap costume I bought from Amazon, but now I plan to get a more professional costume. As well as making some accurate Ten Rings from some EVA foam with some LEDs to simulate the glowing effect the rings give off along with the Bo Staff the character uses."
Aydiostheo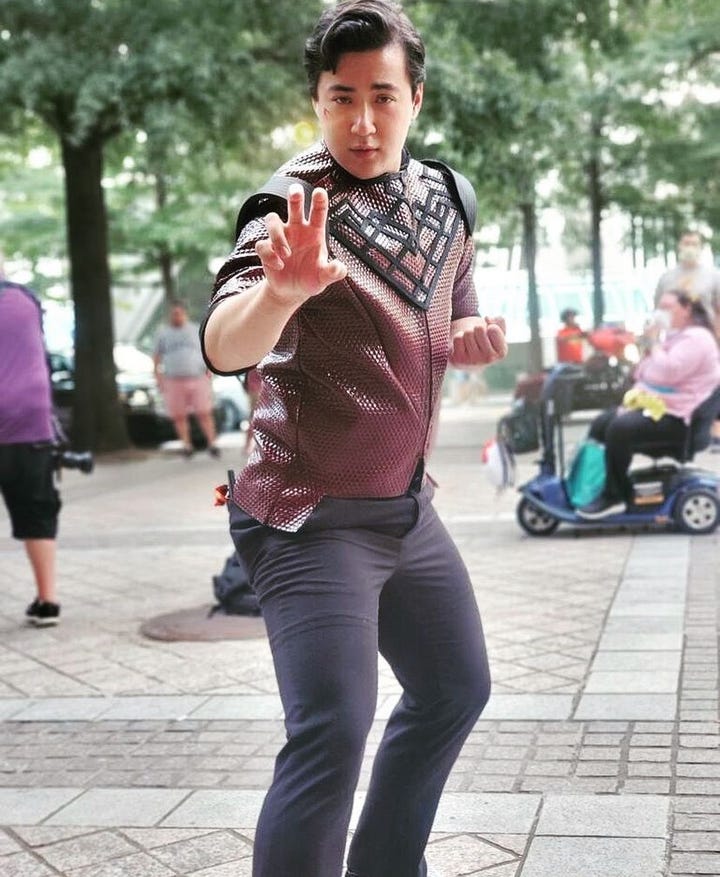 Aydiostheo: "As a big Marvel fan and being Asian, I knew I wanted to cosplay Shang-Chi from the moment it was announced. The fact that an Asian superhero is being introduced into the MCU is such a big moment.
Having a character who looks like me in such a massive franchise, as a superhero, and seeing my culture on the big screen is enormous. Shang-Chi was so well done from top to bottom from the performances, fight choreography, costume design, set design, everything was incredible. I can't wait to see where Shang-Chi's journey goes from here.
The costume I made was a rush job. I started a few days before the premiere in the couple hours after work I had each day. I'm hoping to add a lot more of the beautiful intricate detail on the actual costume when I have the time."
Capriciousrhythm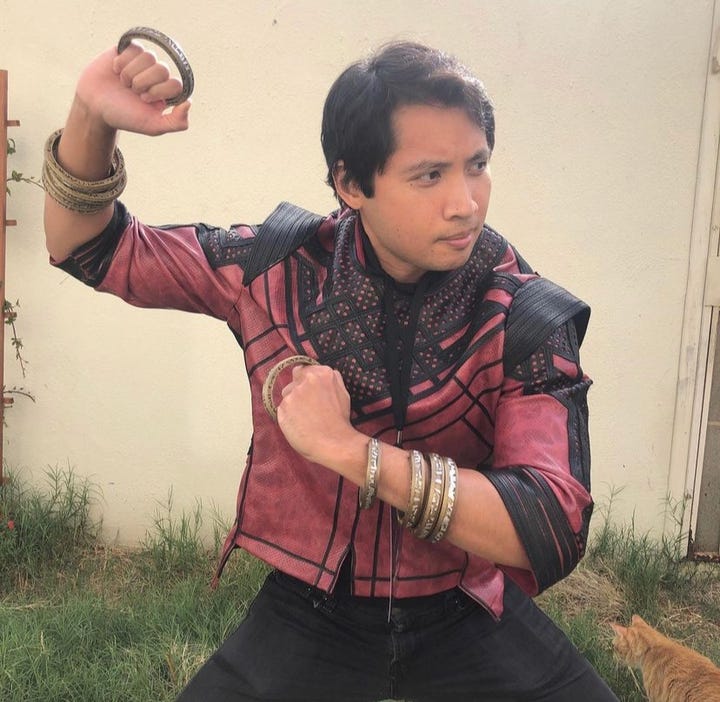 Capriciousrhythm: "I wanted to cosplay as Shang-Chi because he is the first Asian lead comic book character in a major comic book movie represented in a meaningful way. Truthfully I have never cosplayed before (unless you count Halloween), but I wanted to, especially for Shang-Chi, which makes it even more special to me. Also, being Asian American, it was a massive deal to me.
One of my best friends, Koruption_kosplay, a fantastic cosplayer (he made my ten rings!) is why I attended the Shang-Chi red carpet premiere, which is still surreal to me since it's my first cosplay event ever! Getting to cosplay as Shang-Chi has introduced me to other wonderful people and other fellow Shang Chi brothers; a special shout out to jcw.cosplay, Bryan.s.lee, and aydiostheo for being kind individuals.
I will continue to cosplay the character because Shang Chi means immensely to me. Truthfully I've always been self-conscious about myself, but Simu Liu has inspired me in so many ways and reminded me to enjoy life as much as possible. I love the film and can't wait to watch it with other family and friends. I've already watched it three times while wearing the costume, and I feel like a kid again who is excited to dress up as their favorite superhero.
If anything, I want to make some adjustments with the ten rings. The ones I currently wear are prototypes that my incredible friend made for me, so he will most likely help me make a new and improved version."
Stevenfywong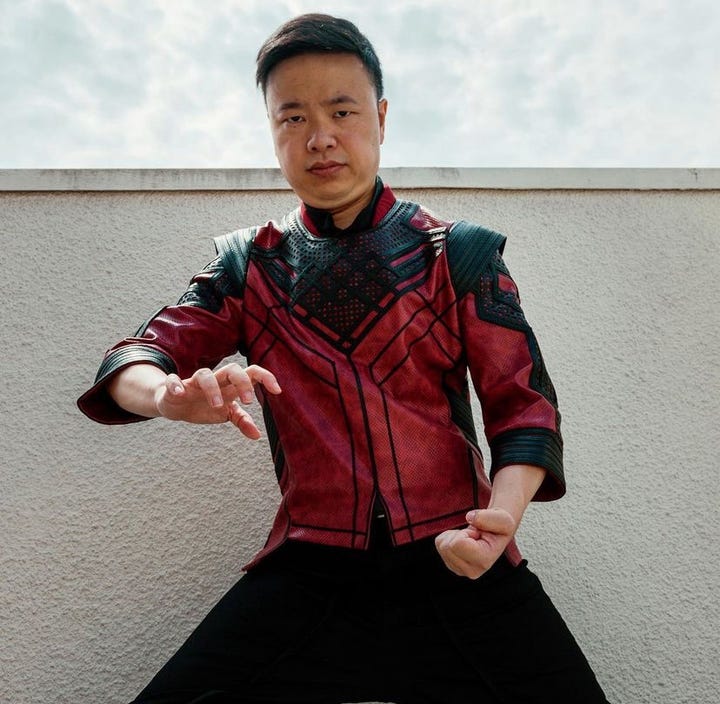 Stevenfywong: "I've always wanted to cosplay as an MCU superhero, but I wanted to cosplay as a character that was the lead protagonist who looked like me that I could identify as. So before we had Shang-Chi, I cosplayed as Agent Jimmy Woo from Ant-Man and the Wasp and WandaVision played by Randall Park.
I watched the movie on opening night at the El Capitan, and it was everything I hoped for and more. I will continue to cosplay as Shang-Chi. I feel Shang-Chi, the character, and Simi Liu, the actor who portrays him onscreen, are excellent representations of Asian and Asian-American communities. If this movie came out during my childhood, I would have been ecstatic and inspired to dress up as Shang-Chi in school.
I hope to incorporate the ten rings into my cosplay eventually. Since we are living through a pandemic, I also have a mask with the Shang-Chi logo that complements the cosplay that I can wear when needed."
Couldbecaden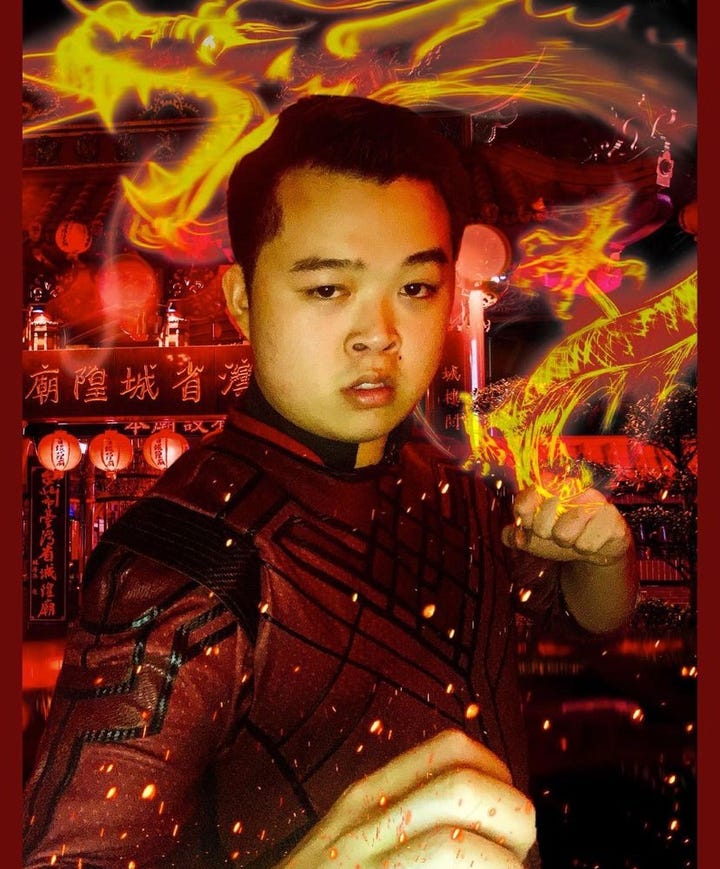 Couldbecaden: "I knew I had to cosplay Shang-Chi as soon as the first trailer came out. It was pretty evident that this movie would change the MCU and the world for the better. I wanted to portray that Asian representation for the cosplay community and inspire other cosplayers to be the change they want to see. I also wanted to help bring Shang-Chi to life for young children like my little cousins, who now get to grow up with a hero that looks like them.
I will continue cosplaying Shang-Chi as long as the world wants. The movie has given us a tremendous new Asian lead in the MCU and a more expanded universe with the promise that one day the master of martial arts will return and have a vital role in it. So when the Avengers come knocking asking about those rings, I'll be there, ready to cosplay him all over again!
I am working on many additions to my cosplay! First, I'm planning on cutting EVA foam for my wooden bo staff and spray painting it metallic red to imitate the mystical weaponry of Ta-Lo. Second, I'm trying to upgrade the ten rings I have, which are wooden rings I spray painted gold and drew on with a sharpie.
Lastly, I will be attempting to make Shang-Chi's red civilian bomber jacket that he wears during the bus fight. I'm a little nervous about doing that one since I'm not as practiced as other cosplayers in altering fabric, but that's what cosplay is all about! Learning and experimenting and having fun with friends!"
Shang-Chi and the Legend of the Ten Rings is now playing in theaters.