6 Suicide Squad Cosplays That Are Villainous And Ruthless
The Suicide Squad cosplayers who will blow your mind… literally.
Whether it's round 2 or its own thing, DC's The Suicide Squad, directed by James Gunn, is an absolute success. With a Rotten Tomatoes score of 91%, critics and audiences alike are dying to see more from these chaotic characters. It's the rebound film we always dreamed and hoped for, full of fast-paced action focused on the source material's violent, anarchic strength. There have been rumors of spinoffs, sequels, and even origin stories for the new characters, with hopes of James Gunn directing each one.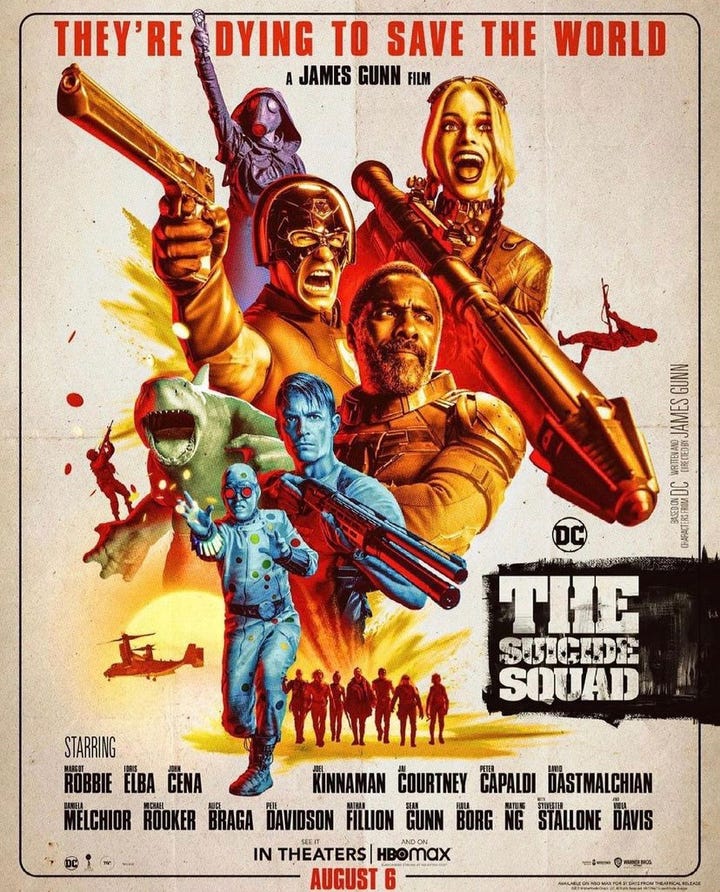 For those of you who have yet to see this glorious gun-blazing tour de farce of a film, here is a brief summary just for you: A collection of Supervillains from Belle Reve prison, including Harley Quinn, Bloodsport, and Peacemaker, join the super-shady Task Force X created by Amanda Waller. As they are dropped off at the remote, enemy-infused island of Corto Maltese for a mission they've barely been briefed on, these anti-heroes embark on a laugh-out-loud hilarious and delightfully gory adventure. Also, a slight warning if you haven't seen the film, don't get too attached to these characters; they're dying to save the world!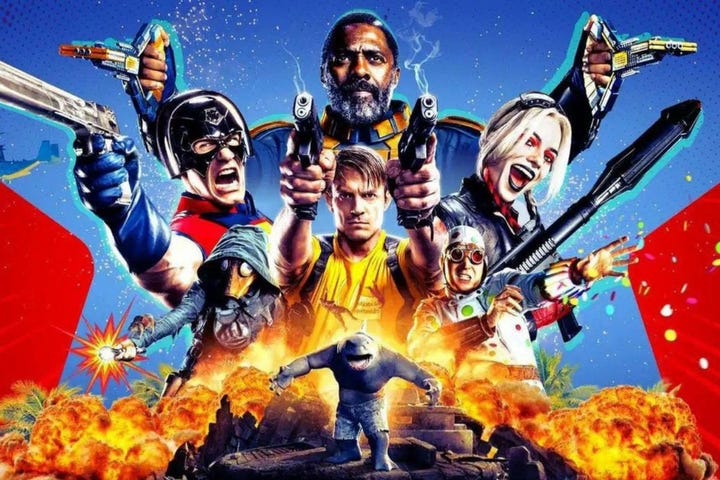 Read at your own risk because the next section may contain SPOILERS and beyond brilliant cosplays. Though the squad in total is made up of seventeen ruthless villains, we've chosen to highlight only a few as the film has just premiered and cosplayers are still in the crafting phases of their creations. We hope to eventually showcase an array of The Suicide Squad cosplayers in a gallery so beautiful you'll shed a tear or a grenade. In the meantime, check out these deadly yet phenomenal cosplayers.
Cosplaydeville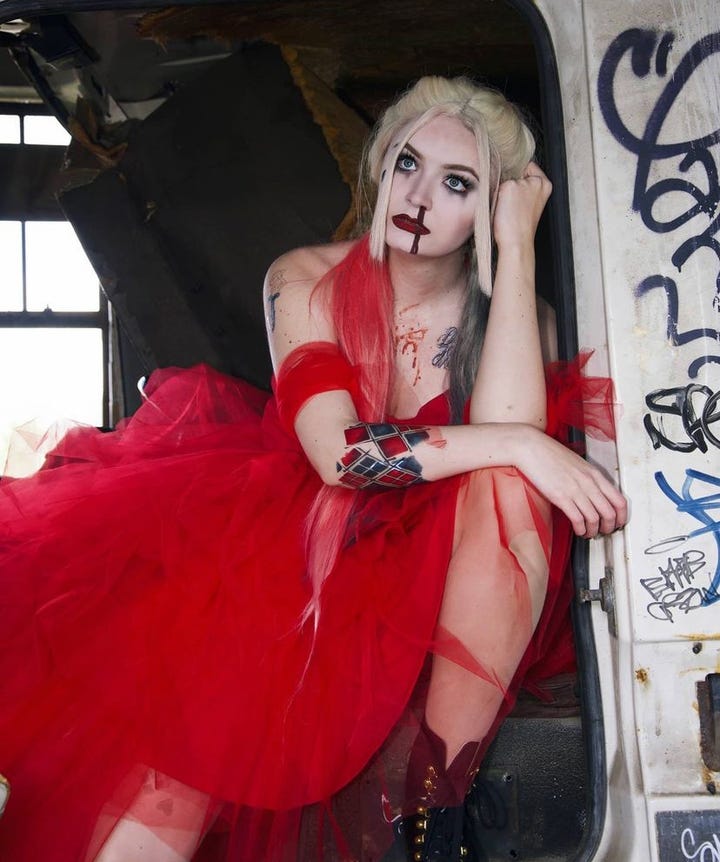 She may not know who Milton is, but we love her anyway; it's the sensational CosplayDeville as Harley Quinn! Having both of the film's new looks under her belt, this cosplayer can create quick yet masterful costumes.
Her red dress cosplay was made before the movie based on a single frame from the trailer. She combined a sweetheart neckline dress and tulle skirt with little to no time for a quick and easy look. Plus a few altercations, strap adjustments, and the making of the armbands, CosplayDeville completed the cosplay with a wig she dyed and cut herself. This cosplay and makeup look was awarded first place at the Rapture Gaming Festival as well, speaking volumes to CosplayDeville's creativity.
When it comes to cosplaying as the character, CosplayDeville said, "I cosplay Harley Quinn because she's a comfort character. I relate to her in a lot of ways. She's unapologetically herself, says and does whatever comes to her mind without any fear of judgment, and she is a powerful lady. She's battled through a lot of mental health issues as well as trauma, and she's survived an abusive relationship. Also, aesthetically, I love her black and red color palette! And I guess, I can absolutely relate with her when she says she has poor taste in men…."
Karrver
Husband and Wife duo Mikey and Shelley are crafting alchemists! It says so in their Instagram bio, and the proof is in their cosplays. Though we aren't sure which part of the couple is under the shark, we know that the two worked together to create the triumph of their King Shark cosplay.
Thanks to their Instagram posts, the couple has documented their process of building King Shark publicly, telling us the detailed steps it took to get this final product. Some fun accents to this mold include the scarring on both the front and the back of the headpiece. The scars are a bit cartoonish on the front, and on the back, they are more realistic. The cartoony effect, in our opinion, brings out a bit more emotion, and we love how they highlighted those chompers.
If looking at this cosplay encourages you to get into molds, check out the duo's YouTube channel, where they have plenty of tutorials and how-to videos (plus their King Shark build is on there too). Whether they cosplay as Totoro or as Man-Spider, a power couple that creates "the weird and unusual" together, stays together.
Dressesanddragons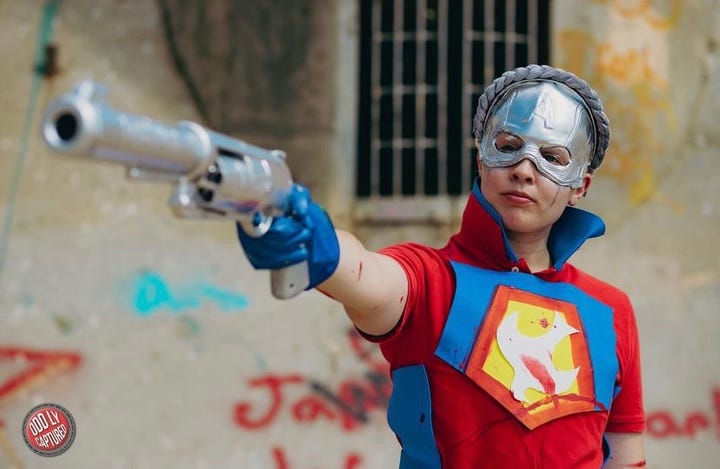 We almost didn't see Dressesanddragons in this photo, but we definitely know she's there! Cosplaying as John Cenas Peacemaker, Dressesanddragons has made a significant impact on The Suicide Squad community.
By gathering other Suicide Squad cosplayers, she created a group for what they called a "low budget cosplay for a high budget film" photoshoot. What they call low budget, we call brilliant, and so does James Gunn! The group gained recognition for their masterpieces and went viral on Twitter! Dressesanddragons cosplay, in particular, may quite literally be held together with hot glue, silver spray paint, and sweat. Which is what many great cosplays are made out of.
With the approval of James Gunn himself calling these cosplayers' photoshoot a "behind the scenes photo leak," all we need now is John Cena's blessings. Regardless of what anyone says, we cherish Dressesanddragons cosplay with all of our hearts.
Medievalmadlovecosplay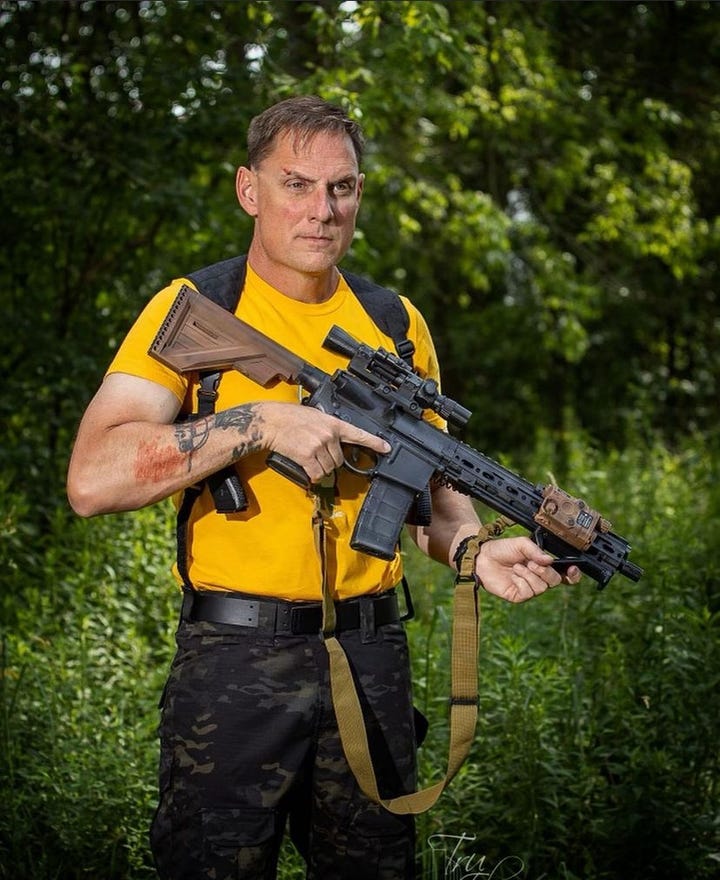 We all have that one friend who is the dad of the friend group who makes sure no one is left behind and that we all have our ID's and that essentially summarizes Rick Flag. Maybe, it summarizes Medievalmadlovecosplay too!
Medievalmadlovecosplay is an Instagram page shared by cosplay couple Becky and Mike London. In preparation for the film, they got a group together to be photographed in their Suicide Squad cosplays, or so it seems. They did include Cosplinds as Ratcatcher 2, but the King Shark cosplayer also happens to be Mike! He had himself photoshopped in next to his Rick Flag cosplay.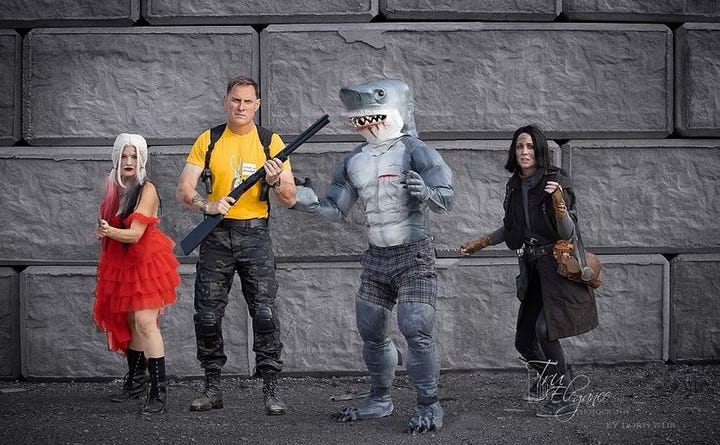 Mike debuted his King Shark cosplay in 2019 for Niagara Falls Comic-Con with his wife Becky as Harley Quinn in her New 52 costume. Between having Harley with King Shark or Rick Flag, there is no better team up than the one they already have, love. We laid the cheese on that one real thick. We look forward to more cosplays from this creative duo.
Cosplinds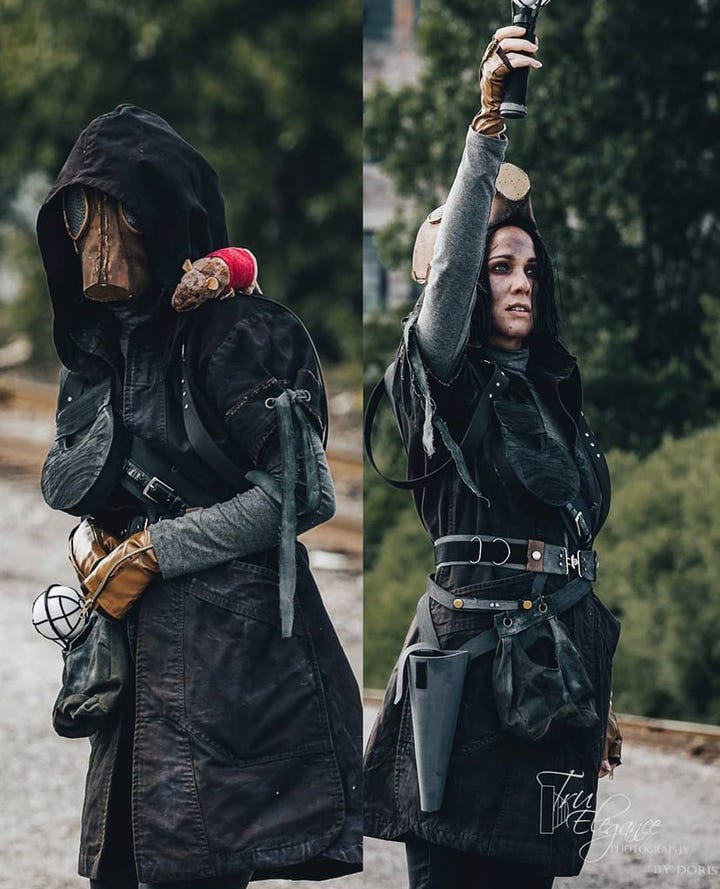 Surprise! These are not stills of actress Daniela Melchoir as Ratcatcher but glorious images of Cosplinds cosplaying as her! We know it can be confusing when a cosplay is this spot on. So much so that the cosplayer has received recognition from James Gunn and Daniela Melchior on her Instagram posts.
Cosplinds coat was a custom order made by highcybergypsy. The cosplayer sent in screenshots and requested a specific style that the store delivered. Once in the hands of Cosplinds, the cosplayer made everything else. She dyed the coat a few more times and painted it to resemble a more weathered look. Cosplinds dremeled the edges of the coat too. We love a collaborative project and especially so when it turns out so uncanny.
After seeing the film, Cosplinds decided to adopt two rat brothers named Ratatouille and Sebastion! This cosplayer is now a real-life rat mom. Cue the audible "awe" from the audience because that is just too cute.
Dastmalchian's Cat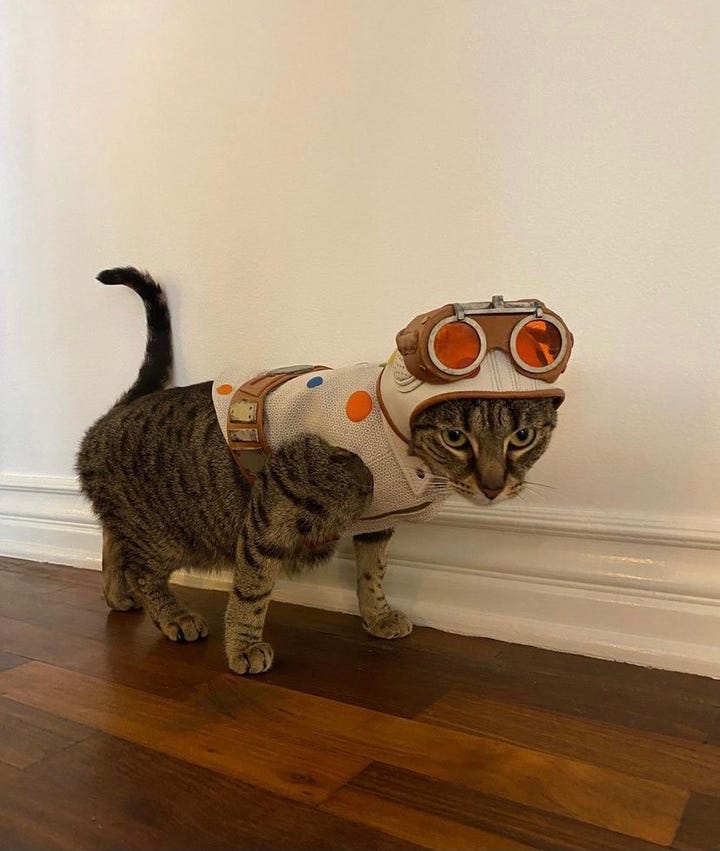 Did David Dastmalchian, the actor behind Polka Dot Man, dress his cat as his character? OF COURSE, HE DID! And it is a magnificent sight to behold. According to his Instagram post, the actor had help from The Suicide Squad family and some more than generous animal lovers in Panama to rescue this cat. Her name is Abner Bubblegum Polka Dot Cat, but she goes by Bubblegum for short. Bubblegum's costume was made by none other than Judianna Makovsky, the costume designer of The Suicide Squad.
David Dastmalchian ended his Instagram caption saying, "Please adopt, don't shop, and spay/neuter your pets."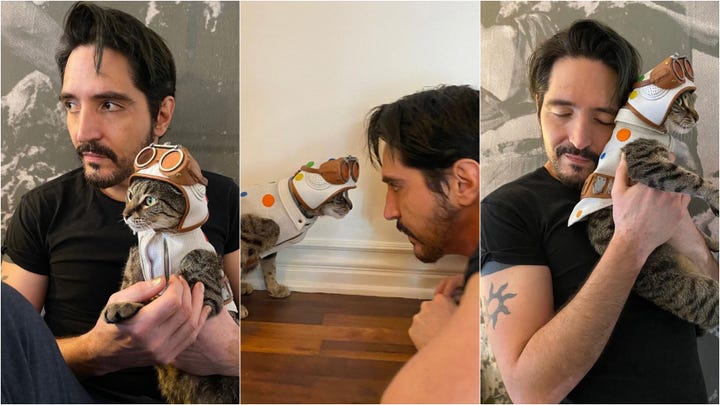 We know what you're thinking… where is the BloodSport cosplay?!?! We know! We have yet to find one after what feels like an eternity of searching. So if you happen to find a cosplayer, send them our way! What we did find was crafting legend Do3d_com's 3D printed files. They are currently in the process of creating both the helmet and armor files for the character. We know it's an ambitious cosplay, and we can't wait to see who creates this masterpiece!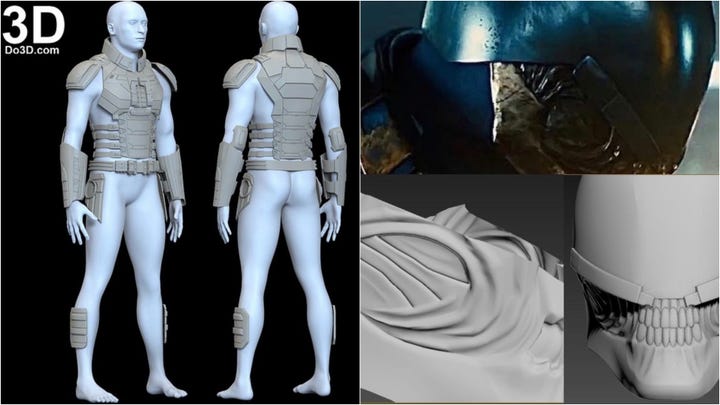 To possibly be featured in our articles, be sure to tag us on Cosplay Central's Instagram, Twitter, or Facebook.
The Suicide Squad released in theaters and on HBO Max on August 6, 2021.