Ludus Cosplay: From Costume Designer To Full Time Cosplayer
Ani-Mia interview South African cosplayer Ludus Cosplay about his cosplay journey.
Last year I had the opportunity to attend a convention in Cape Town, South Africa which allowed me to meet some incredibly talented cosplayers. One of which was Ludus Cosplay, who drew the attention of all the cosplay judges during the cosplay competition. For that reason, I wanted to speak to him a bit more about his cosplays as well as some advice for others wanting to compete.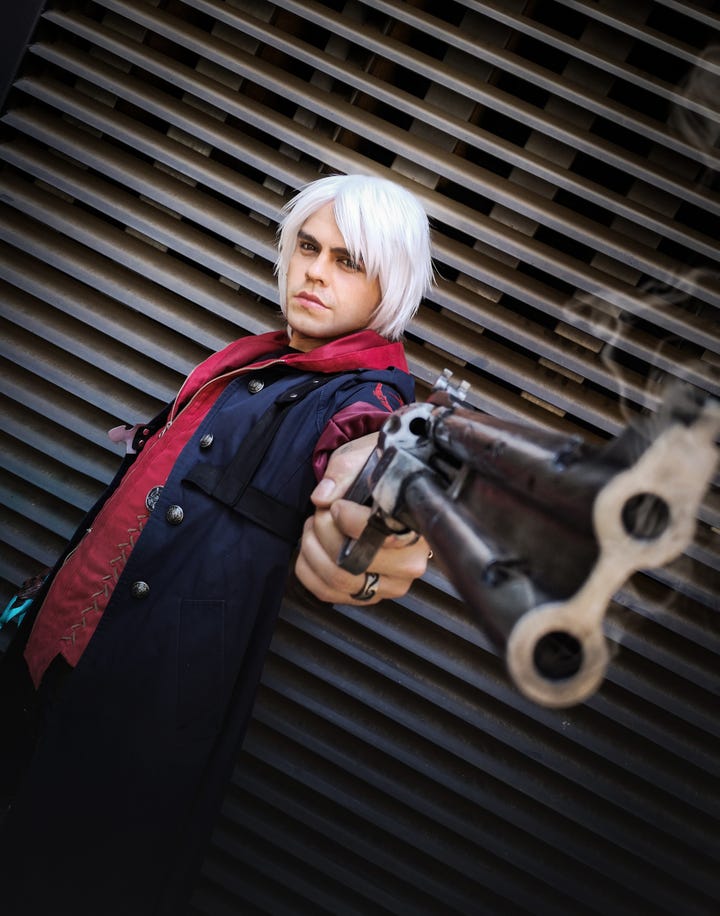 Ani-Mia: Thanks for speaking with me, Ludus. When did you start cosplaying and what was it that made you want to cosplay for the first time?
Ludus Cosplay: I started cosplaying full time in 2017. Although it has only been 3 years, I have been working in the costume industry for the last 9 years. I started sewing and crafting when I was 11 years old and through that I found a passion for costume making. During my time working for a costume manufacturer, I was always behind the scenes creating or designing garments for clients and customers and one year my sister and I thought we should treat ourselves and dress up for fun for a local convention here in Cape Town. We had so much fun that we immediately started planning what we would be wearing the following year and since then we have been hooked on the art of cosplay!
AM: And since then, you have created a multitude of cosplays. If you had to pick a favorite cosplay that you've done, which would it be?
LC: That's a tricky one! But I would say Jiraiya from Naruto. He was a goal cosplay of mine for a while and working on his costume has been one of the most exciting projects for me! Although, Puss in Boots is not far behind so it's very close between those two cosplays.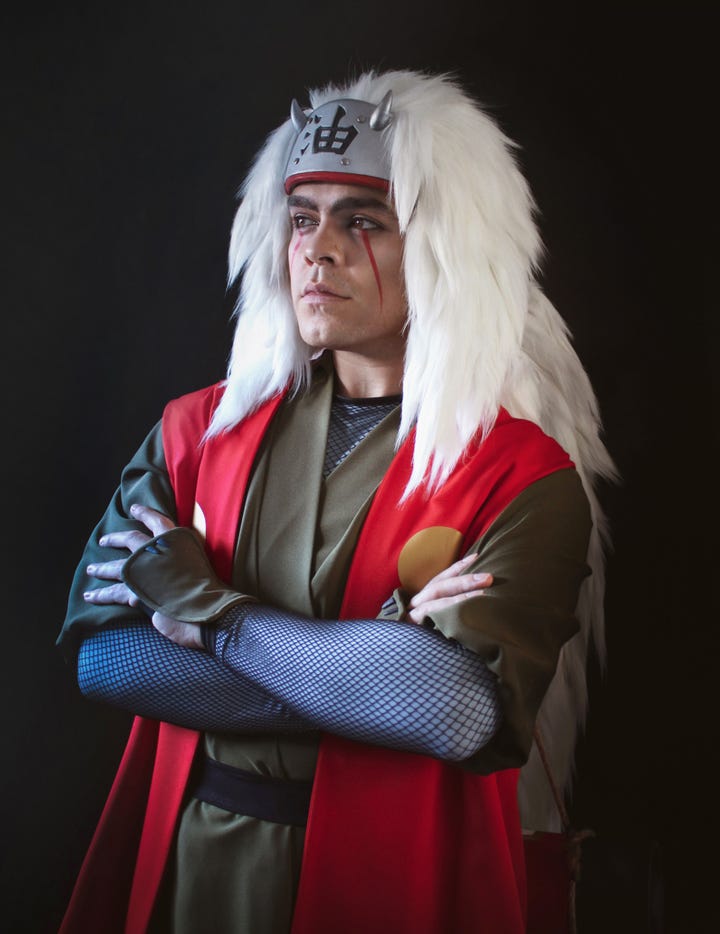 AM: Oh, your Jiraiya is incredible and the cosplay I first saw you wear. You really captured the character completely. So what is it that makes you want to cosplay a particular character?
LC: My taste in characters is kind of like my taste in music, all over the place! But I am naturally drawn to characters who are somewhat quirky or comical but can also be heroic and serious at times. I do also love to cosplay villains, there's something really fun about playing the bad guy at times!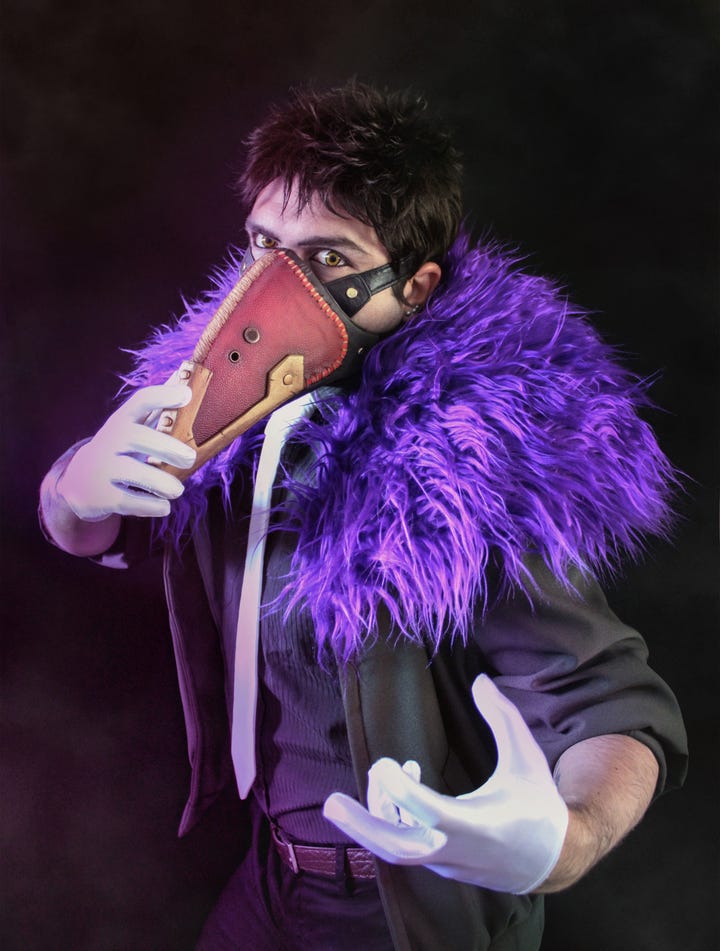 AM: Now, I saw your Jiraiya during the cosplay competition at FanCon South Africa and you did incredibly well during the one on one time with the judges. What's some advice you can give to those that are planning on entering a competition?
LC: I had SO MUCH FUN that day of pre-judging! If someone is entering a competition, use whatever opportunity you have and sell it! You don't have to only be in character on stage or on the con floor, walk into the judging room in character to capture the judges' attention immediately. Don't be shy to let loose, you are a fictional character at a convention, being judged by people in costumes...no one is going to think you're weird! A costume can be well put together but by adding extra personality and having fun in the costume really helps to show the judges how much you enjoy the character. Confidence is so important! When you are on stage, utilize the whole stage and don't be shy about using big movements, imagine you are performing for the people in the back row. One of my go to thoughts before entering the judging room is "I put all this effort into my costume, now I must show them the character."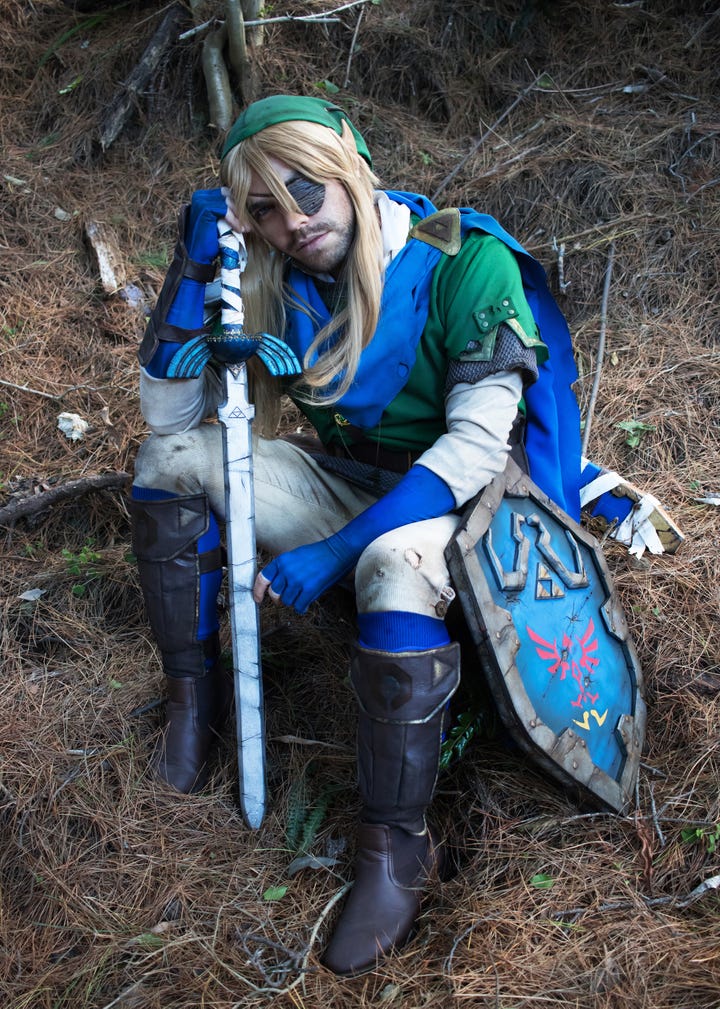 AM: Being from South Africa, how would you say cosplay there is the same or even different from cosplay elsewhere?
LC: To be honest I haven't had the opportunity to travel overseas yet, hopefully one day I will be able to attend an international convention and get to meet some of the amazing cosplayers I've seen on social media in person!
That being said, I definitely feel that something all cosplayers have in common around the world is not only the passion for the art, but also a shared love for fandoms. Just by cosplaying a character you love, you meet other artists who are fans of the same fandom and it can really bring people together no matter where in the world you are.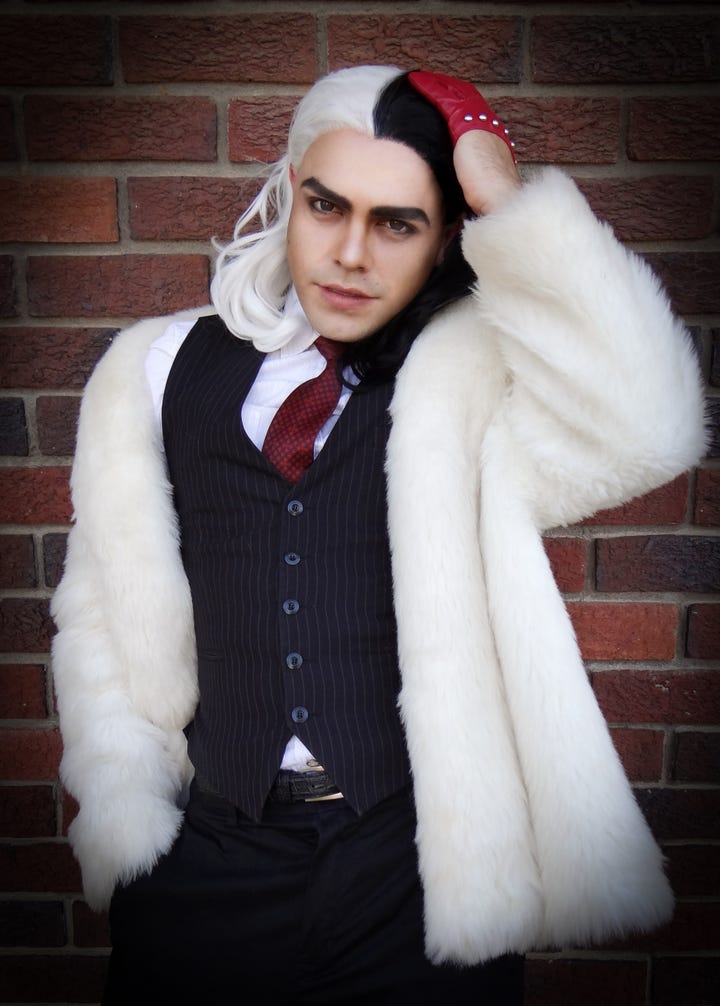 The cosplay community in South Africa is growing very fast and even though it may not be as big as some communities in other countries, there are more and more opportunities rising for cosplayers with every convention or event. More products and materials are becoming easier to acquire so more people are crafting, entering competitions and even starting businesses. I am very excited for what's still to come for South Africa in terms of cosplay.
AM: You've started to make some incredibly detailed and unique cosplay tutorials on your IG. What made you want to start creating tutorials and do you find them more fun or challenging?
LC: Originally I started putting together mini tutorials as I was working on my own projects. The idea was to share progress and some tips or methods that might help someone with a project they are working on. I got some wonderful and supportive feedback on these and decided to keep creating them for Instagram. I enjoy creating tutorials so much, I even started a YouTube channel for them and I am very excited to share some new and fun videos. So I would say it's definitely more fun than challenging!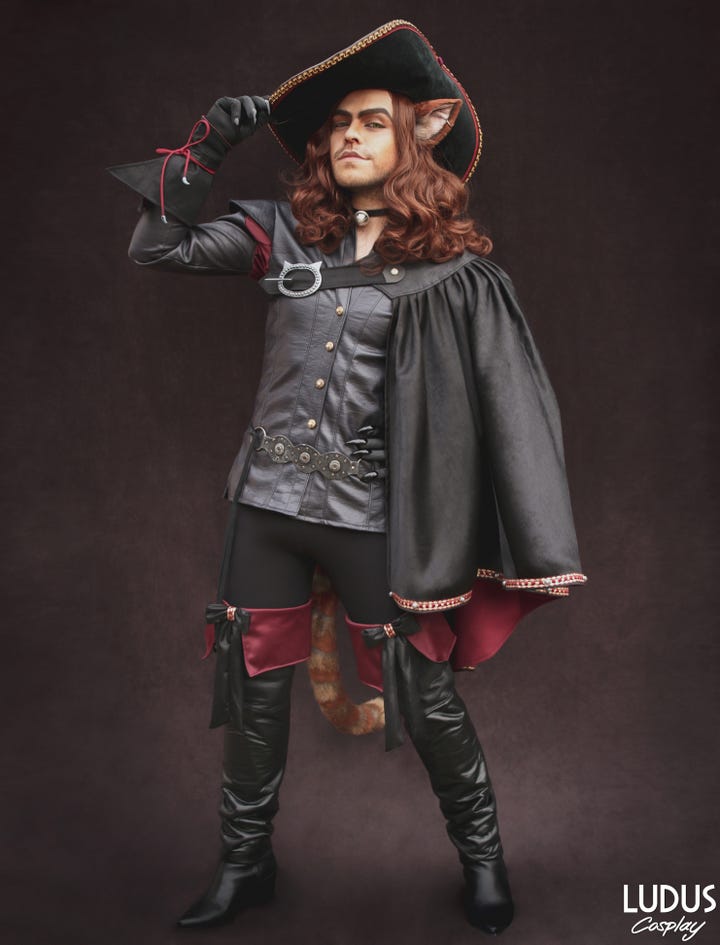 AM: Making tutorials means you have probably worked with a lot of different materials. What is an unconventional material that you have used in the past in making a cosplay?
LC: I once made a belt for Daenerys Targaryen from gold rubber placemats and it worked like a charm! I ended up buying like 6 of them and only used 2, so the Christmas dinner table looked lovely that year.
AM: What advice would you give to someone wanting to cosplay for the first time but they may be feeling a little intimidated to start?
LC: I would say DO IT! Cosplay is first and foremost a hobby and even though some cosplayers have made careers out of it, it's supposed to be fun! Cosplay the characters you want to cosplay and do it in your own way, there is no right or wrong. There will always be conventions and opportunities to cosplay at, so pace yourself and be realistic with your budget, time and what skills you are confident in and start with what you are comfortable with! If you want to start crafting, do research and see how other cosplayers have portrayed characters for inspiration. Always go with a friend or family member, so that you have someone to help you with your costume or for moral support. Always be the best version of yourself, even if you are dressed as another character!
A huge thank you to Ludus Cosplay for talking with us and make sure to give him and his work a follow on his website, Facebook, Instagram, and YouTube.