Cara Dune Cosplayers React To Gina Carano's Firing From The Mandalorian
Cosplayers speak out about their disappointment with Gina Carano.
Last week, Lucasfilm fired The Mandalorian actress Gina Carano after she posted an antisemitic post on Instagram. In a statement, the studio condemned her posts, saying that "her social media posts denigrating people based on their cultural and religious identities are abhorrent and unacceptable," and that she was "not currently employed by Lucasfilm and there are no plans for her to be in the future."
The move brings to a close Carano's run as Cara Dune, a Rebel soldier-turned-mercenary in the aftermath of the Galactic Civil War. She appeared in roughly half of the show's two seasons, coming to the aid of Mandalorian Din Djarin and his tiny ward, Grogru.
Since taking over the franchise, Disney has used its new films, games and TV shows to introduce a number of new female characters, like Jyn Erso (Rogue One), Rey (The Force Awakens/Last Jedi/Rise of Skywalker), Iden Versio (Battlefront II), Qi'ra (Solo), and others, providing new inspirations for cosplayers. Since her debut during The Mandalorian's first season, Cara Dune has been a popular choice: a tough, fearless soldier who didn't quite fit the mold set by her predecessors.
But while those cosplayers found a character they could readily identify with and admire, they now have to contend with a character portrayed by an actress who's experienced a very public downfall, and the complications that that can lead to, especially when a character is closely associated with the behavior of the person portraying them.
For cosplayers, there's a common throughline when it comes to the character: she carries with her a sense of physicality. That's on display when we first meet her in the series in the show's first season when she goes toe-to-toe with the heavily armored Din Djarin, and holds her own. That physicality comes is what made Carano well-suited for the role: she was part of the MMA circuit for years, and eventually segued into film and television by starring in projects such as Steven Soderbergh's thriller Haywire, Fast & Furious 6, and Deadpool before being cast in The Mandalorian.
It was that physicality that was immediately attractive to a number of cosplayers. Kimi Hughes explained that for her, "it was amazing to see a woman on screen who was dynamic and physically imposing."
"I was a competitive swimmer for over a decade and in the last five years I started serious weight lifting multiple times a week. I love feeling strong, but will always have a more muscular, athletic build than most of my favorite TV or movie heroines. Seeing such a great character with a body that was more like mine meant the world."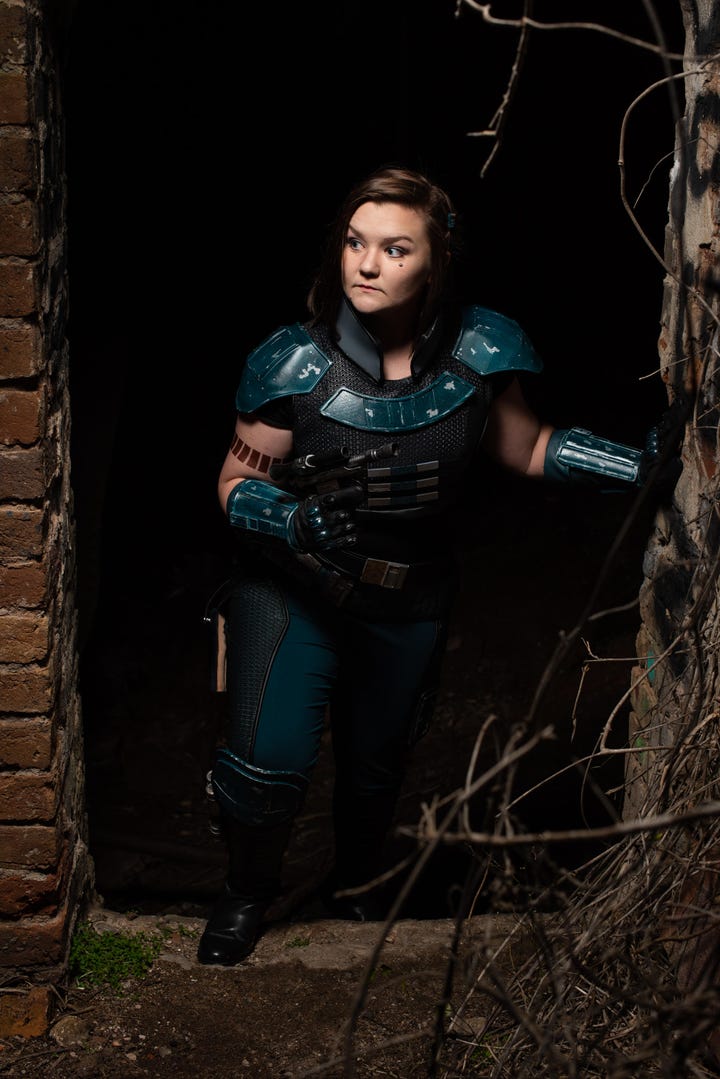 Others echoed that sentiment: Hannah Marney described herself as "a mid-sized woman with muscles. I'm also a weightlifter [and] seeing a woman my size in a role was a breath of fresh air. Then she was a badass on top? Couldn't resist." Actress and cosplayer Maggie Lovitt explained that she always joked that she was well-represented with dark-haired white women in Star Wars, "it wasn't until Cara Dune that I finally saw a character that was physically built like me as well." Crystal Candelario said that what attracted her to Cara Dune was "simply how much of a badass she is," and that "she's strong, beautiful, smart, and is physically a wonderful representation of body positivity. It was a breath of fresh air to finally have a well rounded heroine portrayed in a popular franchise, [and] I felt like I could finally cosplay a female character that I shared a similar build to."
Dani Phillips noted she had always been attracted to the franchise's main female leads, but noted that historically, "the leading ladies of the Star Wars films have tended towards a smaller body type, so I never truly felt accurate or in-character when cosplaying them." That changed with Cara Dune. When she was introduced, "I was immediately drawn to seeing myself in the character--a fierce woman with curves and a no-nonsense attitude. This was finally a character that looked and felt like me, and I couldn't wait to build her!"
All used a variety of methods to put together their costumes: Phillips says that she was the first in the Rebel Legion to have the costume officially approved, and sourced a lot of screen-accurate fabric for the soft parts, and 3D printed the armor. Lovitt noted that she found a ready resource with a popular Cara Dune costuming group on Facebook and taught herself to finish 3D printed parts. Hughes explains that she relied on foam for her costume. Many completed their costumes in anticipation of the 2020 convention season, and weren't able to wear them outside of a couple of photoshoots because of the COVID-19 pandemic.
Last summer, Carano's posts on social media began to concern fans of the series: the actress added mocking pronouns to her Twitter profile (she removed them after speaking with her costar, Pedro Pascal), and accused people who criticized her for their "bullying" behavior. Later, she began to agitate for states to allow for businesses and churches to reopen, and shared anti-mask memes and misinformation about voter fraud.
"When I first finished my cosplay, I was so excited that Gina had seen it and was impressed," Phillips explained in an email. "The first negative situation I became aware of on her social media was the transphobia and pronoun-mocking in September of last year; at the time, I was disappointed in her, but I truly hoped it was simply ignorance and a learning opportunity." As Carano continued to post about COVID, masks, and election fraud, "I became more and more disappointed that someone could discount the thousands of lives who had been lost in the pandemic. I packed my Cara Dune cosplay in a box and moved it to storage."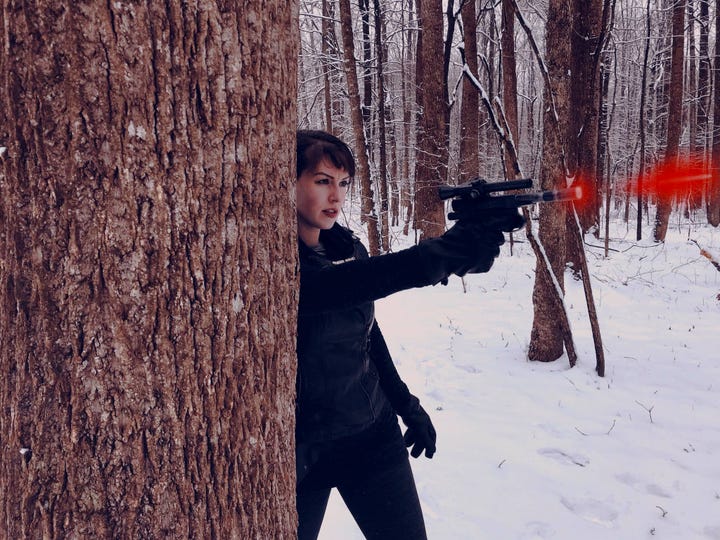 Catalano was also disappointed. "I tried to separate the actress from the character because I loved the character so much," she said, and noted that Carano's stance on masks was something that directly affected her: she's a frontline worker. "Her anti-masking campaigning was hurtful, reckless and irresponsible."
Candelario explained that she tried to make the best of the situation: reading up on the controversies, she was heartened to see that Carano had issued apologies for some of the posts that she's put out. "I did find myself sad to find out the things she had posted, but I was content to hear that she had tried to make it right, it seemed like she was owning up to her mistakes." She explained that "Carano's behavior didn't necessarily drive a wedge between myself and my admiration for Cara Dune, because they aren't the same person: the only trait they share is the face."
Others were less forgiving.
"When I saw her tweets encouraging people to ignore covid safety," Hughes wrote, "and got really angry. I gave birth during the pandemic and was trying to safely raise a vulnerable newborn, which meant a lot of isolation and a lot of missed memories. I took people spreading misinformation, anti-mask propaganda and "just let the weak die" messaging very personally." It made it easy for her to decide to stop wearing the costume:
"I felt that making a Cara Dune cosplay was supporting her by contributing to the popularity of the character. To me, continued fan support and popularity would lead to more money in Gina's pocket. I was really disappointed to cancel that cosplay because it is so rare to find a character that I match so closely physically, but I think it's important to stick to one's principles."
After Tweeting that she wouldn't wear the costume any longer, she discovered that Carano had blocked her on Twitter.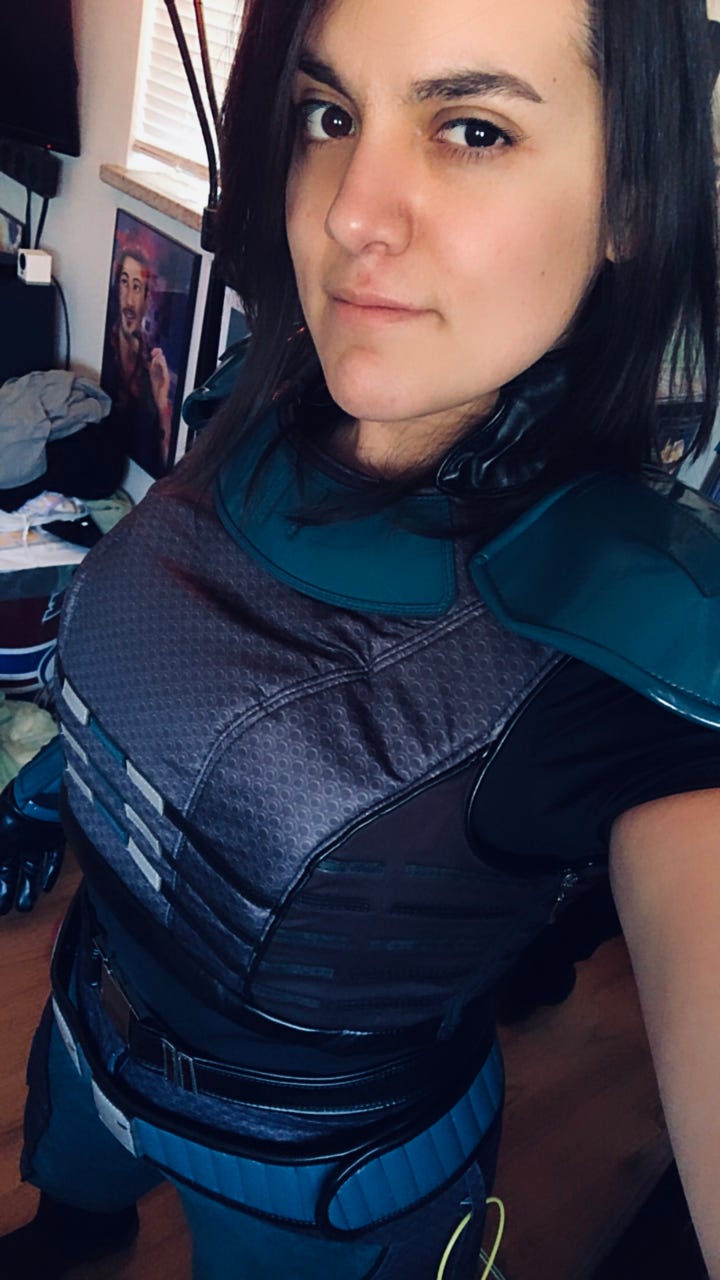 Marney noted that she was wary at first, but "when the transphobic things came up, I got mad." She had bought all the materials for the costume, but as soon as she began seeing Carano's tweets, she stopped building completely. "My exposure to the trans community came directly from people I met in the cosplay world. Many of my trans friends explored their gender safely through cosplay before transitioning. It felt like a punch to the gut. She only got worse from there.
Lovitt echoed those sentiments: "I saw the fallout and the people who were hurt by her ignorance. I was angry, but I was motivated. I have a philosophy that one can only be an ally if they put their advocacy into action." She took the moment to organize, collaborating with Candace Kaw and Eric Eilersen to launch the "Trans Rights are Human Rights: This is the Way" fundraiser "in direct response to her behavior." The fundraiser has been a success, garnering mentions in Variety and crossed the $20,000 mark last week. "My reaction could have been anger, which it was, but I also wanted to do something to help those being hurt by her actions."
Carano also blocked her on Twitter.
She also noted that dropping the costume "was the easiest decision. I'm not going to dress up as a character whose actress has posted harmful material that have had a direct impact on those I care about, or anyone really."
With Carano now forced out from the series, each of the cosplayers have begun to try and figure out where to go from here with the costumes that they've put together. Candelario noted that she was "devastated and horrified" to hear that she'd been let go: the costume was a huge investment — and one that she'd just received. She's hopeful that the character will continue to appear in the franchise to some extent, and does plan to suit up as the character down the road. "It seems there is a huge demand from fans of The Mandalorian to keep Cara Dune in the series so, between that and the positive support and assurance that I have personally received about continuing with my plans to cosplay Dune I do intend to keep and use her."
Phillips noted that following the news, she pulled her costume out of storage. "I am still SO proud of the work I put into this costume," she said. "I still love the character and all of the details of the character's costume style/design. I'm excited to feel like cosplayers and fans get to sort of reclaim this awesome female character with a badass backstory."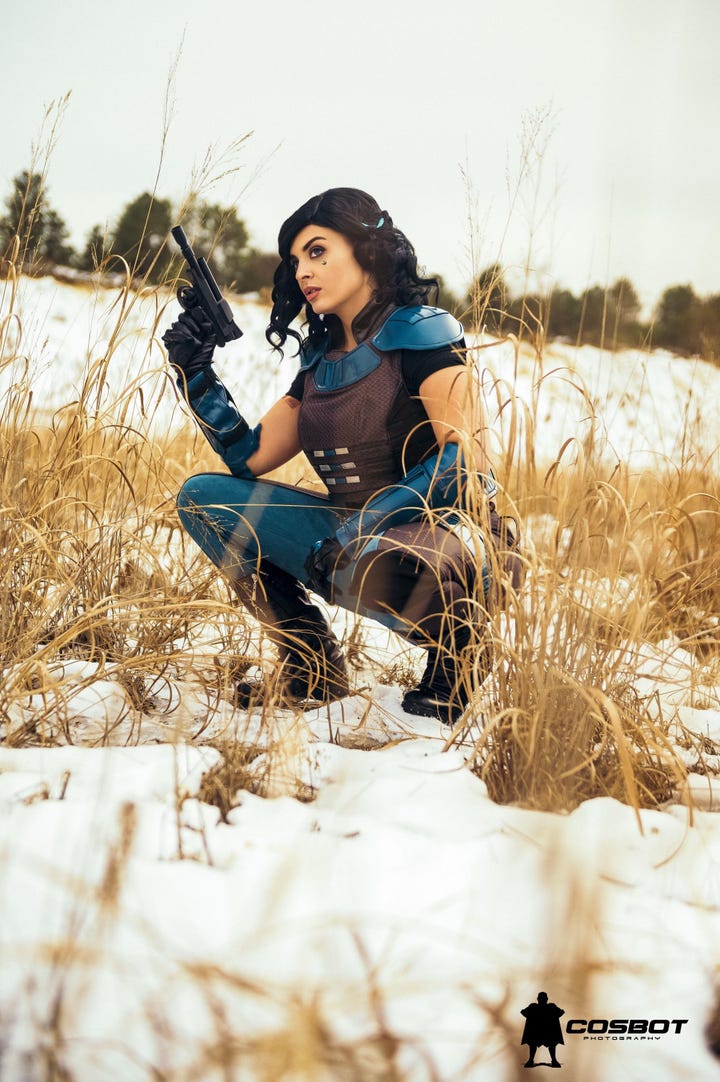 Others also noted that they'll likely don the armor again. Catalano explained that she hoped that Lucasfilm will keep the character with a new actress. "I would hate to see her character disappear, but I have full faith in Disney and Lucasfilm that they will do right by the fans," she said. "I may still wear Cara with hopes that they recast her with someone who's definitely more of a role model."
Marney explained that while she hasn't put the costume behind her yet, and plans to finish her costume at some point, but "my motivation went right out the window. I had hoped season 2 would spark it back but she really has messed up that vision I had. I plan on doing the cosplay anyway because I bought all the fabrics and materials. I'm excited to work on armour pieces for the first time. But most of all I'm collecting pins and buttons I will put on that say things like "trans rights" to counter her energy. I don't want her to win and I do want to reclaim that love of it again."
Lovitt noted that for her, there's no going back to the costume. Carano "went well beyond my personal threshold," she explained, "I also have no desire to hurt people who have been personally hurt by her behavior, by forcing them to see the cosplay. There's no joy in that." She boxed up the costume and plans to repurpose it for others, noting that she just used the blaster in a recent photoshoot.
Most of the cosplayers noted that they hoped that they'd see Cara Dune, portrayed by a new actress, again at some point, pointing to the character's popularity, and their affinity for what she represented: someone who looked like them and represented a powerful female presence on screen. But even if the character doesn't appear, Lovitt noted, there's still plenty of room for other badass female characters on screen, one that cosplayers will likely flock to when revealed.