Cosplay Couples Explain What It's Like Dating A Cosplayer
These cosplayers discuss their lives as dynamic, cosplay couple duos.
Being in a successful relationship takes just as much work as pulling off the perfect cosplay look in many cases. Attention to detail, dedicating time, and having fun are some of the basic components that go into each and that's not just something I came up with. With Couple Appreciation Month having just passed, we're talking to four cosplay couples and they all pretty much said variations of that as we explored what they've each learned and respected about one another in regards to cosplaying as a pair.
We've got quite the variety of cosplay couples too. Laura (@badpanda_lg) and Ryan (@beaniecosplays), as well as Chandler (@never5get) and Dylan (@warpath_dylan), are still getting into the swing of things as they're newlyweds of sorts when it comes to being cosplay couples. Others like Christine and Mike (@destinycitycosplay) have been at it for some time and have a ways to go before catching up with Lucy and Miguel (@capuchinocosplay). They are major veterans of the game who have been putting looks together since they started dating back when Ferris Bueller took a much-needed day off.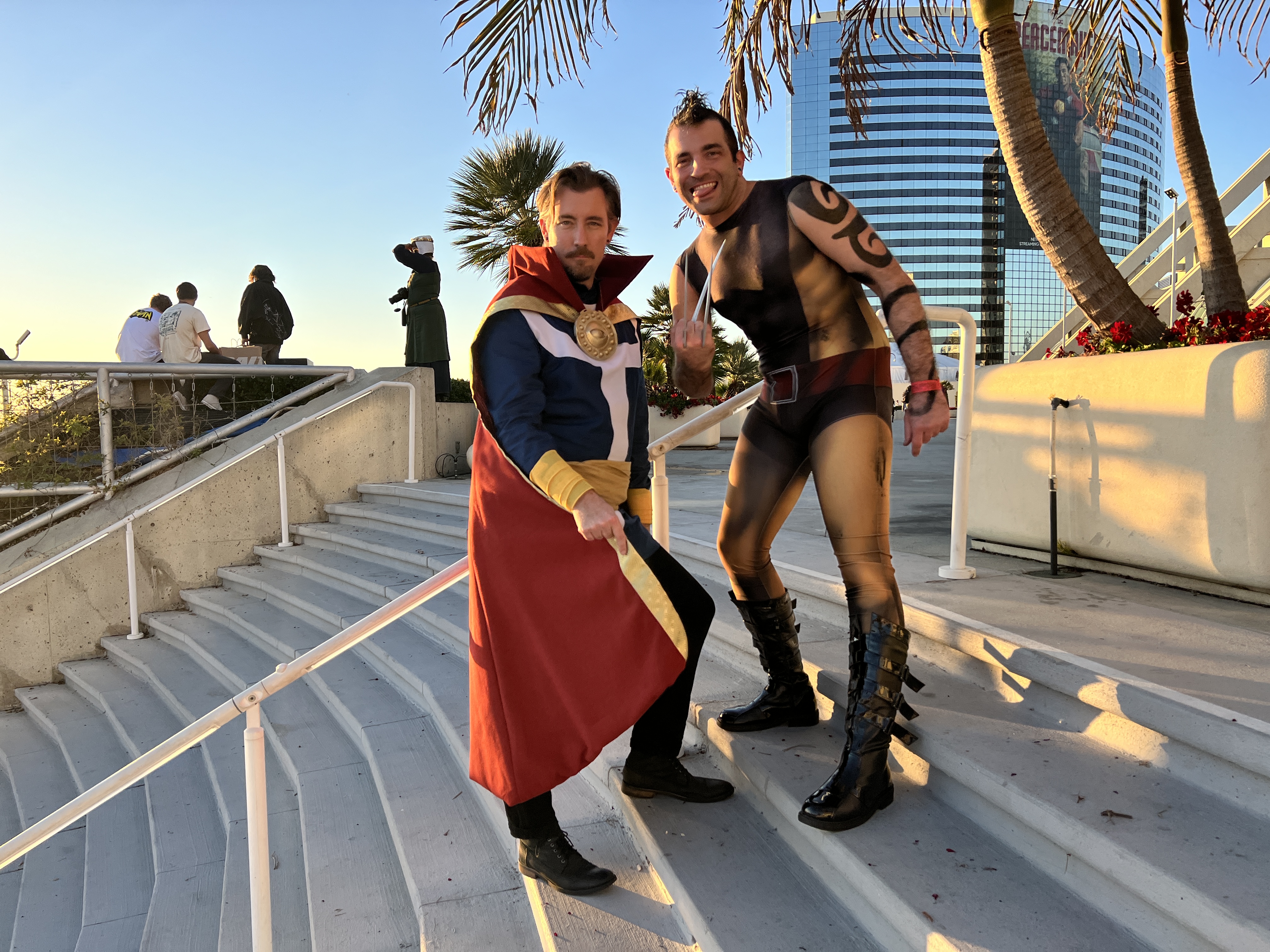 Whether they've been at it for a year or many, many more - the love and respect they have for one another and their creative craft is apparent. Christine and Mike have found a nice balance between them. Mike admits that without Christine's ability to focus, he'd be left with more ideas that results but while she's the one with the power of concentration, he's been able to loosen her up, "Mike always has fun in cosplay," adding, "I have learned from him to not take making the perfect costume so seriously. This is all about having fun, and if it causes stress, that's no fun, is it?"
Dylan and Chandler, again, new to cosplaying together, are also learning side by side as they go along. Chandler is better at this as he's already gotten his San Diego Comic Con looks for 2022 ready to go, but he's realized that Dylan can linger a bit and noted "con crunch time" where things can get down to the wire, "Con crunch and that stress with it is exhausting and expensive," added Dylan.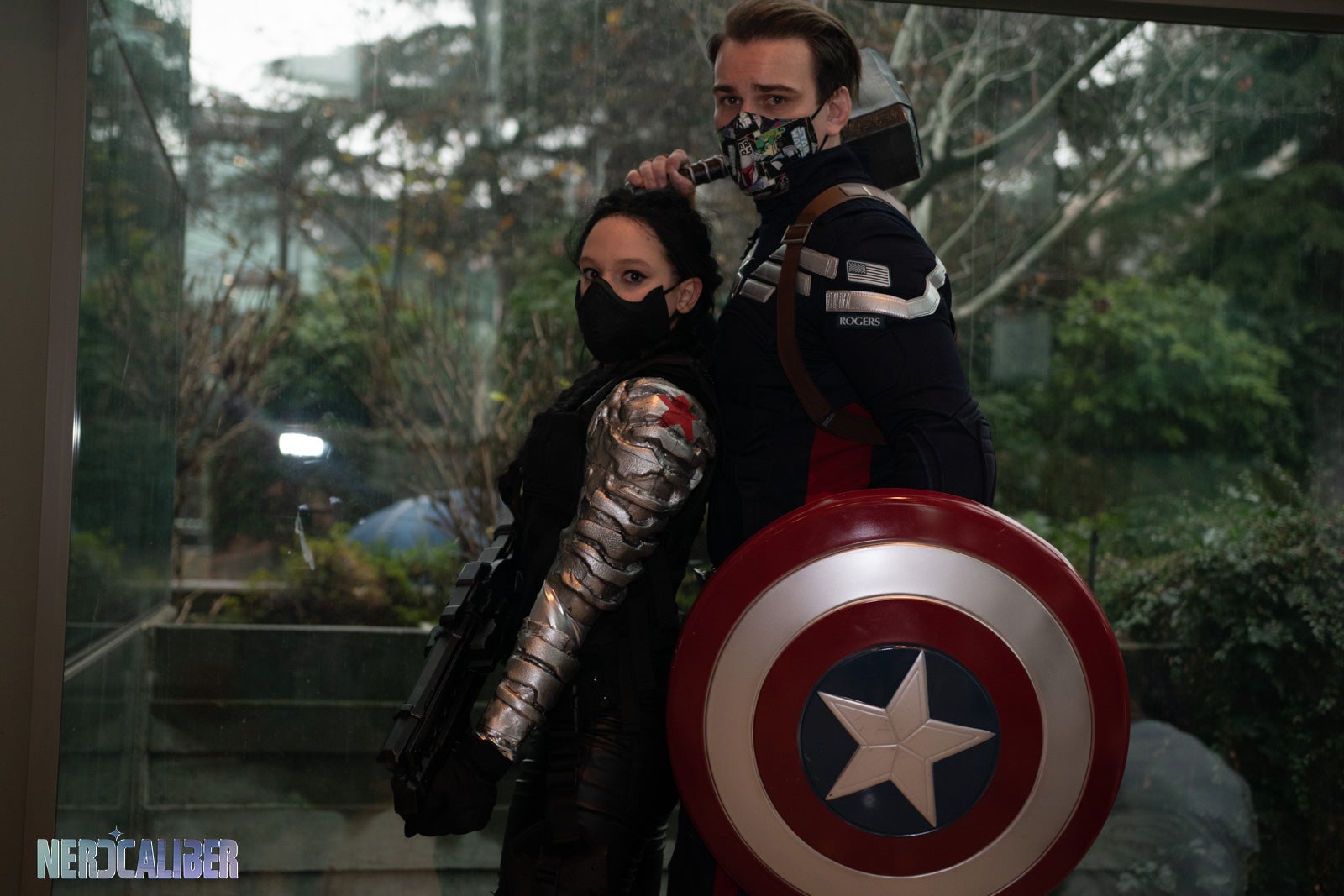 What I found interesting though out of what these pairs may've learned or respected most about their partners was a sense of confidence. Lucy and Miguel said, "Since Cosplaying together, we feel more confident creating Cosplays because of our individual talents," as Lucy handles the sewing and Miguel is a self-taught prop builder. They weren't the only ones though as Christina and Mike noted that it did take them some time to build up enough confidence to be comfortable with posing for pictures at conventions, but they got there and now quite enjoy it. As for Laura, she's been a convention attendee since her teens but wasn't sure of herself enough to cosplay until her 20s and Ryan has helped a lot in that regard.
"Ryan makes me feel so confident and comfortable in my cosplays, which I think is the key to really pulling off your cosplay! I have a feeling that as our journey continues as a cosplay couple, Ryan is going to help me make my cosplays more detailed and impressive than I could ever manage on my own," said Laura. A cosplayer with some years ahead of Ryan, who just got into it when they started dating. So far they love to focus on cartoon couples like those from 'Adventure Time' but have dreams of pulling off the Mother of Dragons and Jon Snow from that little HBO series…you know the one, right?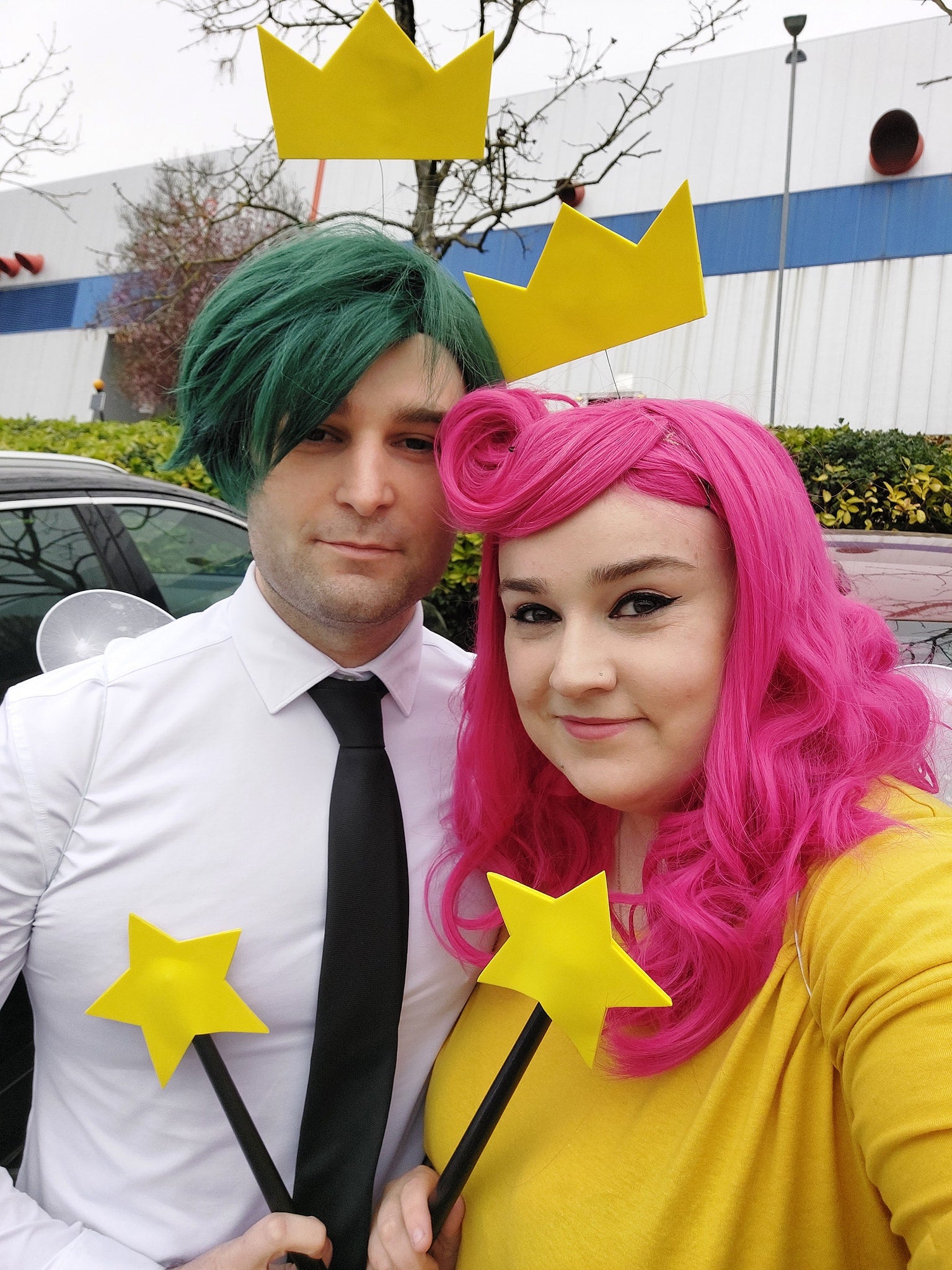 Speaking of dream looks, Dylan and Chandler are eyeing making X-Men's Shatterstar and Rictor to life as they don't just cosplay together, but are both avid readers of 'X-Men' comics and each has a podcast in which they indulge in their love of the mutant-based series; 'House of X' and 'X-Reads: An X-Men Experience." For Lucy and Miguel, it's not always about the connection they have with particular characters but more so the looks as they cosplay for charity, "Since we participate in several charity events, we want the child to really think that our cosplay is really that character that is visiting and spending time with them."
From confidence boosts to making the world a better place, two absolute "dos" of cosplay if you ask me, but what are some other dos and definite don'ts of cosplay when it comes to going at it as a duo? I personally thought a don't was to not ask one person in the pair for a picture instead of both of them, but all four couples I spoke to disagreed with that sentiment. Chandler noted that if you want a picture with one of the two, just take it with both and then maybe take a second with just the one - and he doesn't mind handling the phone if you want just a picture with Dylan!
Miguel and Lucy noted that oftentimes when they're dressed as a famous pair, people tend to want a picture with the both of them, and, "Just because they don't ask for both of our pictures, that does not mean that they don't appreciate the Cosplay." Christine, who's known to rock her own version of Harley Quinn alongside Mike's unique Deadpool agreed, "If someone loves Deadpool but has no interest in Harley Quinn, I want Mike to be able to interact with them, take a picture, and talk with someone who likes the character as much as he does, and vice versa. You won't always be someone's cup of tea but support the attention your partner is getting and help them feel good about themselves too, you will get it in return."
That falls in line with a lot of the "dos" these couples noted. It was a lot about supporting your partner in what they want to do, not forcing cosplay on them because sometimes you're going to date someone who just isn't into it and Miguel and Lucy even suggested if they're not into cosplaying then perhaps just have them take part in fabric shopping, and do respect what they do and do not want to do. Just because you think it might be a cute look - doesn't mean they're always going to want to wear it for photos or at conventions.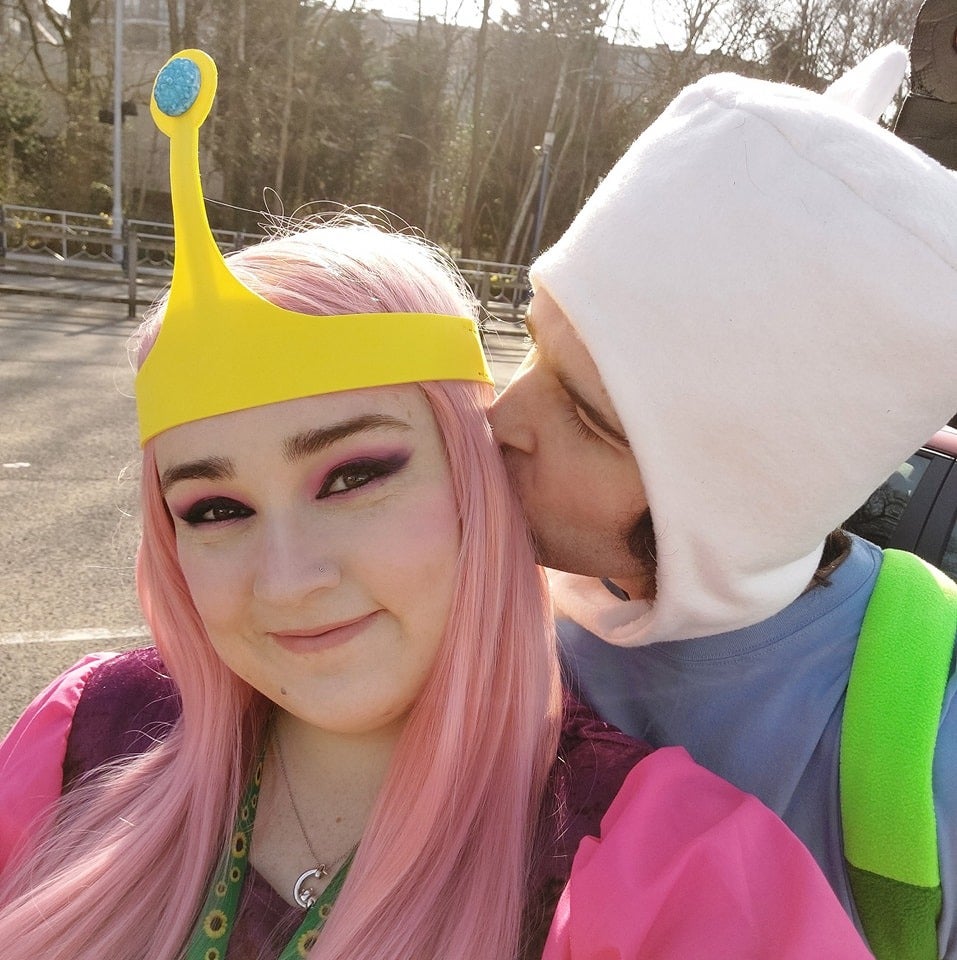 I also wondered what these couples thought of cosplayers who take things to the altar and wed all dressed up as their favorite characters. All agreed they probably wouldn't walk down the aisle as their favorite Disney character or Darth Maul - although Lucy hopes one day Miguel can pull that look off - no one had an issue with others doing it. Lucy and Miguel also said of this, "We believe that one of the problems in today's marriages is that couples become comfortable in their relationship and stop making an effort in keeping it exciting. What better way to begin a life of togetherness than to share their passion for Cosplaying with their family and friends at the altar."
It's important to note that cosplaying is a great thing for couples to be able to share and every couple admitted it's been a great way to bond but they don't let cosplay run their life, except if they're in that dreaded "con crunch time" Chandler and Dylan spoke of. They each pointed out that it's important to have other aspects of their relationship on top of creating striking cosplays. Laura and Ryan are gamers who also collect Pokemon cards and have dates at their local zoo, Christine and Mike also share of love of video games as well as a good book, Dylan and Chandler fan out over X-Men and podcasting, and Miguel and Lucy are adventure-seeking travelers who love a good day at an amusement park.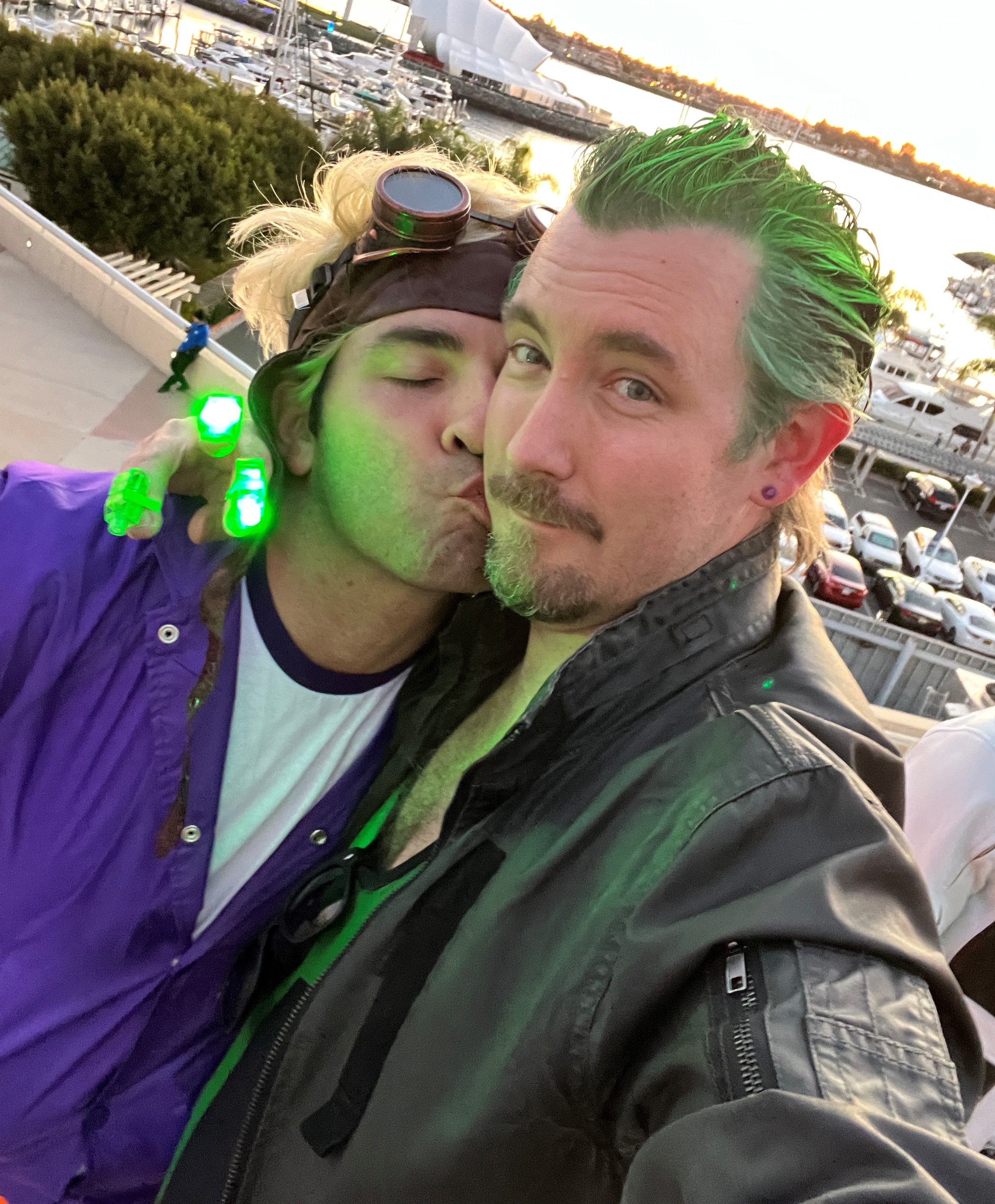 On top of the dos and don'ts as well as balancing cosplay and other aspects of life, we wanted to end with some advice. Ryan said if they're wary, have them try dressing as a character they favor while Laura noted, "Reassure them that they don't need some big elaborate costume to cosplay, it's just about having fun and joining in with your fellow nerds." Christine and Mike shared similar advice of starting small with characters you both love and perhaps approaching cosplay from a Disneybound perspective. Chandler agreed in saying that closet cosplay is a great place to start if you aren't sure where the starting line is, "Something that uses regular clothes and less costume pieces so you can just try it out and see if you enjoy it. Then find things you are passionate about - cosplay can be anything, it doesn't need to be superheroes and comic characters. You can cosplay as anything you want!"
In the end, though, we turn to the couple that's been creating cosplay looks since the late '80s, Miguel and Lucy, "You should never force someone to do something they don't feel comfortable in doing but with that said, we believe that a healthy marriage or relationship is one that complements each other."
So just know that cosplaying as a couple can bring a pair closer together but if it's not in the cards for you two - don't try and make it work, but always be respectful of one another, and most importantly - have fun with it.