Cosplayer Recreates Hocus Pocus Cosplay For Halloween
Cosplayer Dressesanddragons runs amok as Dani from Hocus Pocus.
Haunts and ghouls of every age are ready for the spooky season, and we are too! As people worldwide rejoice for the one day a year they dress up, cosplayers prepare for a month-long celebration to cosplay as their favorite strange and unusual characters!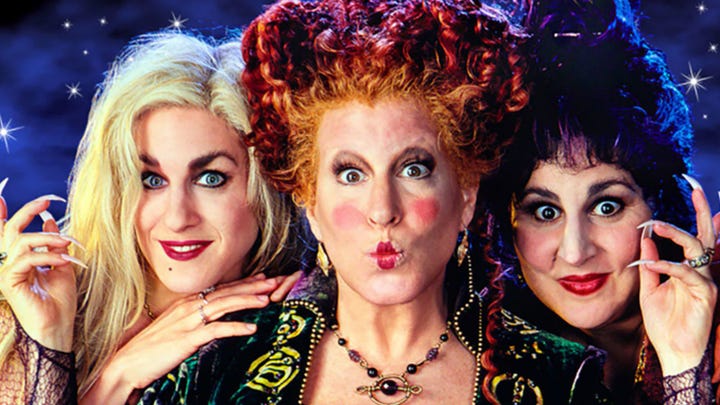 A fan-favorite film that cosplayers gravitate towards is Disney's hilariously wicked Hocus Pocus. In Salem, Massachusetts, All Hallow's Eve is the one night a year where spirits of the dead can return to Earth and invoke trouble! Even if you believe the holiday to be a conspiracy built on candy corporations, the Sanderson Sisters will still create a bunch of hocus pocus in their stead.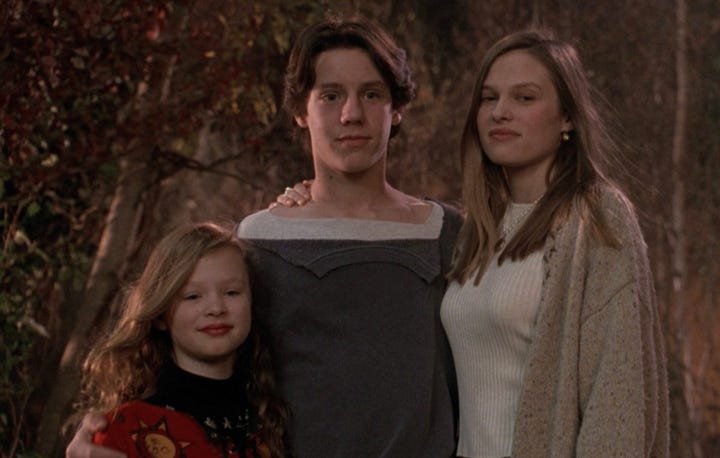 Trying to defeat these black-hearted witches are three young heroes. One of these heroes is little sister Dani Dennison who is a headstrong kid with a big heart. Her sassy and savage one-liners may get her into trouble, but cosplayer Dressesanddragons admires the kid's spunk enough to cosplay her brilliantly!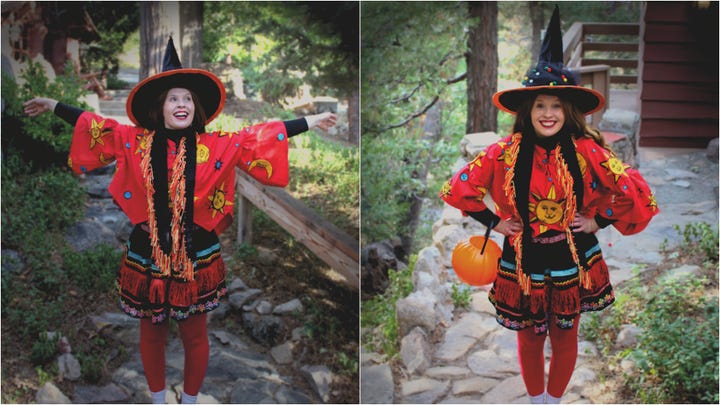 Dressesanddragons started cosplaying in 2015 for the D23 Expo with her cousin. They joined a Disney Hercules group where the cosplayer dressed as Panic. After just moving to LA, cosplay provided an incredible community of life-long friends and a creative outlet from Dressesanddragons's daily life.
Years later, she's become a crafting queen who loves giving tips and tricks on making cosplays. We interviewed the cosplayer, and she's told us all her progress and secrets on how to make this Hocus Pocus masterpiece. Her main tips are to avoid lighting black candles and to run amok! Kidding! Her real tricks are down below.
CC: Can you provide any details on how you made your cosplay?
Dressesanddragons: The shirt was the most fun and challenging thing to make. I sewed it the weekend before my wisdom tooth appointment. I wanted that part done so I could focus on everything else afterward.
So, after countless screencaps and watching the movie a million times while pausing and taking pictures for reference, I counted the number of suns and moons I needed. My roommate and I used her Cricut to cut felt into the shapes we needed. It worked like a stencil, and then I cut the rest out by hand.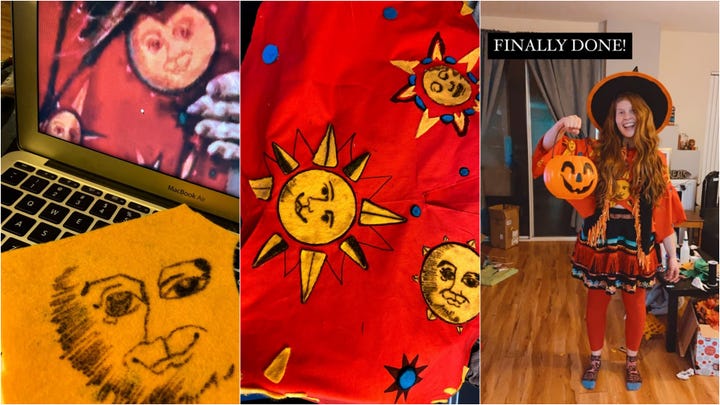 At this point, I was a day or two post-dental surgery. So my process (and memory) is a little fuzzy, and it probably wasn't the most efficient. But I went one by one in each sun and moon.
I picked one to work on, then used a black fabric marker, drew the face directly on the felt, and then hot glued it on the shirt. It took a few nights to do each one this way, but at the time, I felt like it was the only way to do it. I'm not the best artist, so I spent some time practicing the faces before drawing directly on the felt. Honestly, it's the best I've ever drawn anything in my life, and I'm not sure where that came from at the moment hah.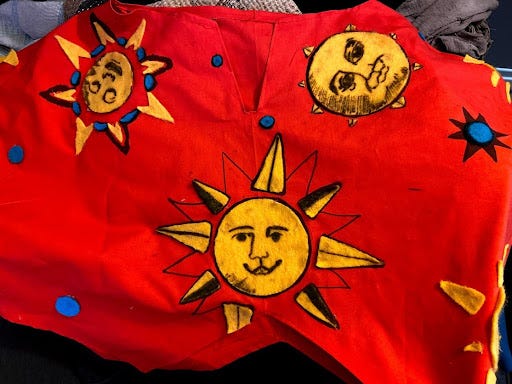 After I did each one, I rewatched the movie again and realized I forgot one on the under sleeve and had to get more yellow felt. Pretty sure I watched Hocus Pocus every day for that entire week to make sure I didn't miss anything. There are so many little details to the shirt, like parts directly drawn on with a fabric marker, which adds to the authenticity of being a homemade kids Halloween costume. It honestly felt like a fever dream making the shirt; I dialed all my recovery energy into it.
Another part I had fun with was the skirt. There are so many trims!! I swear I have an image of Dani Dennison in my mind going to a fabric store with her mom and her mom asking her, "do you want anything on the skirt?" in the trims section, and she just pointed at all these different trims, and her mom threw them all in the cart.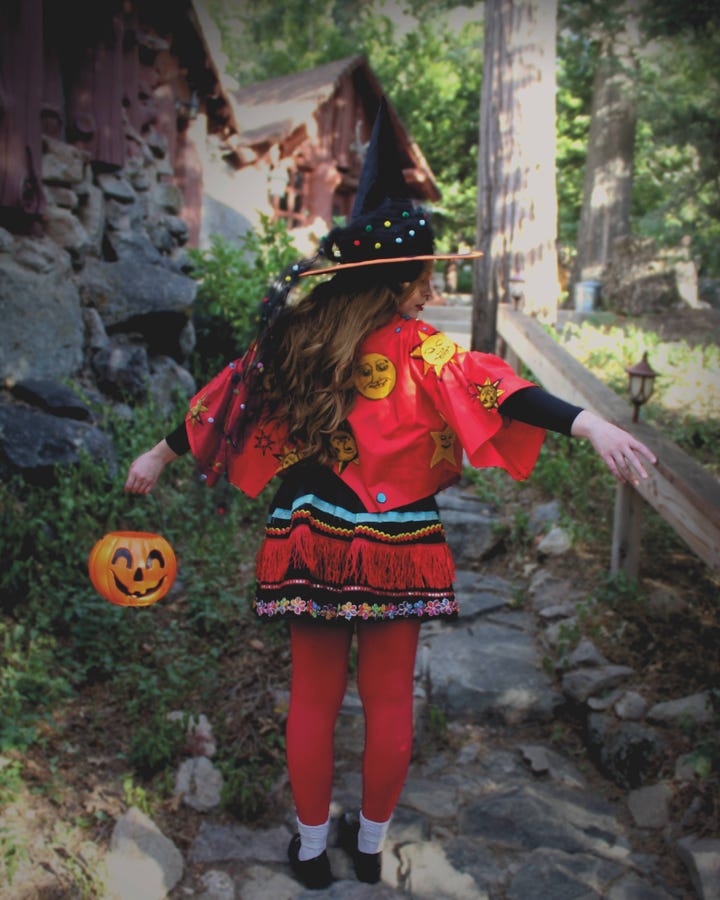 On one rewatch, I realized a previous screencap I got of her top trim looked more like a lace - but actually was plaid! I couldn't drive, so my roommate went to Joann's for me and sent me pictures of different plaid trims to pick from. Then in true homemade costume fashion - hot glued most of the trims onto the skirt, sewing the more intricate ones like the fringe, and placed flowers at the bottom.
It was hard to match some of the ridiculous trims, so I just had to go for as close as possible to screen accuracy. I spent about 20 minutes in the trim section in Joann's double-checking. I looked at them all before I was satisfied.
This costume was so fun to make. It was more like an arts and crafts project more than anything—a massive shoutout to my roommate Liz for all her help.
CC: What tips or tricks can you share about crafting cosplays from scratch?
Dressesanddragons: I think it all comes down to the planning. Take your time and research so you can go step by step. I don't think there is genuinely a wrong way to do it; it's whatever suits your style best. But I've always found planning it out makes it feel like less of a mountain to climb. Also, get the extra long sticks of glue for your glue gun.
CC: Why did you decide to cosplay as this character?
Dressesanddragons: I LOVE Dani! I always thought she was hilarious and my favorite character from the movie. I'm also a little sister, so as a kid, I immediately gravitated towards her; we are a lot alike. Then it's just a plus that my roommate loves Max and wanted to cosplay him - so it worked out perfectly for Halloween shenanigans!
CC: Do you plan on cosplaying any other characters from Hocus Pocus? If so, who?
Dressesanddragons: If I cosplayed anyone else, it would be Sarah Sanderson. My cousin does an incredible impression of Winnie, and we always said we would someday get a Mary to cosplay the sistahs!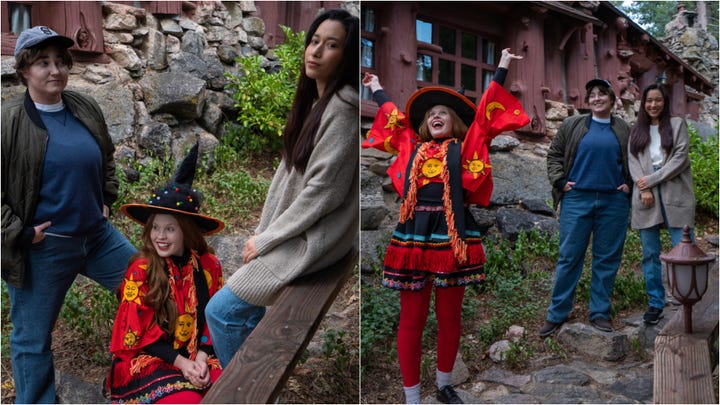 CC: Tell us the story of how you made this cosplay? From an Instagram post, it said something about how you made it after you got your wisdom teeth pulled?
Dressesanddragons: October 2020 was an interesting one, obviously with the pandemic but also needing some dental surgery hah. My birthday is at the end of October, so my roommate, a couple of close friends, and I decided to rent a cabin on Airbnb to get away from LA.
We all isolated for two weeks, got tested for Covid, and when we felt it was safe, we traveled together to head up to our cabin. We are all cosplayers and/or Disney-bounders, so we knew we had to go to the cabin with some outfits. I mentioned my roommate @heyitshawkguy always wanted to cosplay as Max, so it was a no-brainer for me to have the opportunity to cosplay Dani finally.
I had two weeks to make the costume before we left with my appointment in between. I prepped as much as I could before the surgery so I could do simpler things like drawing sun/moon faces or individually threading and knotting yarn for the scarf while recovering and less time at a sewing machine.
CC: Any concluding thoughts on this cosplay?
Dressesanddragons: I feel bad I don't have more progress photos or videos of my process as I have multiple people asking me about it on Instagram and TikTok. As I said before, the whole build is a little fuzzy and felt a little bit like a determined, fun fever dream. It was a blast to build.
Something I love about Hocus Pocus is how authentic the costumes are - how handmade costumes compared to store-bought costumes look for the Halloween Party scene to the Sanderson sisters. Dani's outfit genuinely looks like an eight-year-old designed it with her mom, and I love that. It feels natural, and that was my mindset going into the whole thing.
This eight-year-old just moved to Salem and has been hearing nonstop about witches, so she obviously wants to be a witch for Halloween. Her mom takes her to a fabric shop; she picks out all the colors and trims and felt for suns and moons ("it's witch stuff, mom!").
Then her mom brings out the sewing machine and sews up a skirt and blouse while Dani cuts out the suns and moons and draws faces on them with her dad. To then, hot gluing them at the kitchen table. I know I just made that all up in my head, but that's what's so interesting about costume design and why authenticity matters in costumes.
I think Hocus Pocus is such an iconic film because it feels tangible and real with these crazy witches - a 90s kid's dream!
Follow Dressesanddragons on Instagram, Twitter, and TikTok for more adventures and cosplay fun!
Hocus Pocus is currently streaming on Disney+.
To possibly be featured in our articles, be sure to tag us on Cosplay Central's Instagram, Twitter, or Facebook.