Cosplayers Attend Spider-Man: No Way Home Premiere
Swing into the premiere of Spider-Man: No Way Home with these cosplayers.
The infestation of Spider-Man cosplayers at the Spider-Man: No Way Home Premiere was everything we needed and more! On Monday, December 13th, stars and fans walked the red carpet in front of The Regency Village Theater before watching the web-slinging movie. Everyone was more than hyped to potentially meet Spider-Man himself, Tom Holland, and to get a glimpse of his co-star and girlfriend Zendaya while also seeing other MCU cast members as well.
Some of our favorite moments from the red carpet include: all of the cosplayers singing Happy Birthday to Jamie Fox, seeing Tom Holland's reaction to Zendaya's dress, and of course, hanging out with all of the cosplayers in the fan pin! Sony put on a superb red carpet that we are happy to attend any other time in the future, wink wink.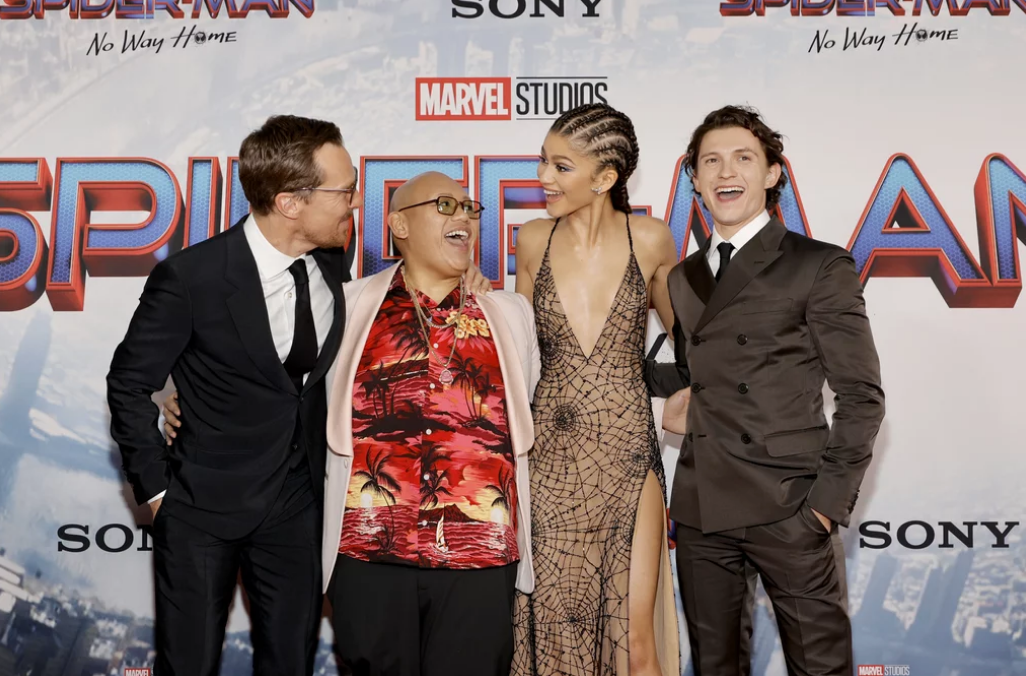 Starring Tom Holland, Zendaya, and Benedict Cumberbatch, the film focuses on the brutal realities of Spider-Man's identity being revealed and the aftermath that follows Peter Parker when he proposes to change that reality to Dr. Stephen Strange.
Now, the multiverse has opened, and the world is infested with villains from other timelines! Peter Parker will have to navigate this new world while combating advanced foes and college applications; here, he will learn what it means to be Spider-Man and Peter Parker.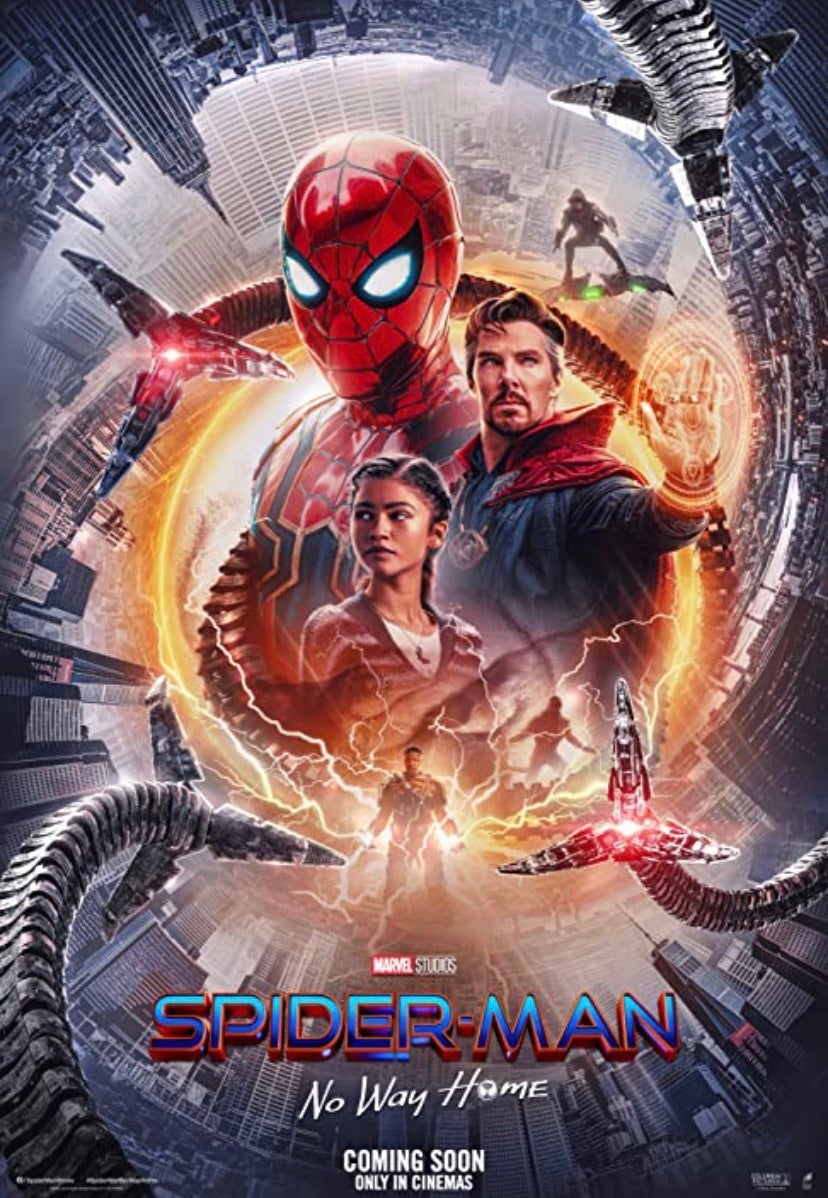 As for the cosplayers who gained early access to seeing the film first and foremost, well, they are over the moon and can't wait to start cosplaying new versions of their favorite characters. We interviewed several of the cosplayers who got this once-in-a-lifetime opportunity asking them these three questions: "What was your favorite moment from the premiere? How did you feel after watching the film? Tell us a bit about your cosplay!"
They responded with their non-spoiler reviews and reactions. So, sit back, relax, and enjoy their POV of the red carpet event: Spider-Man: No Way Home.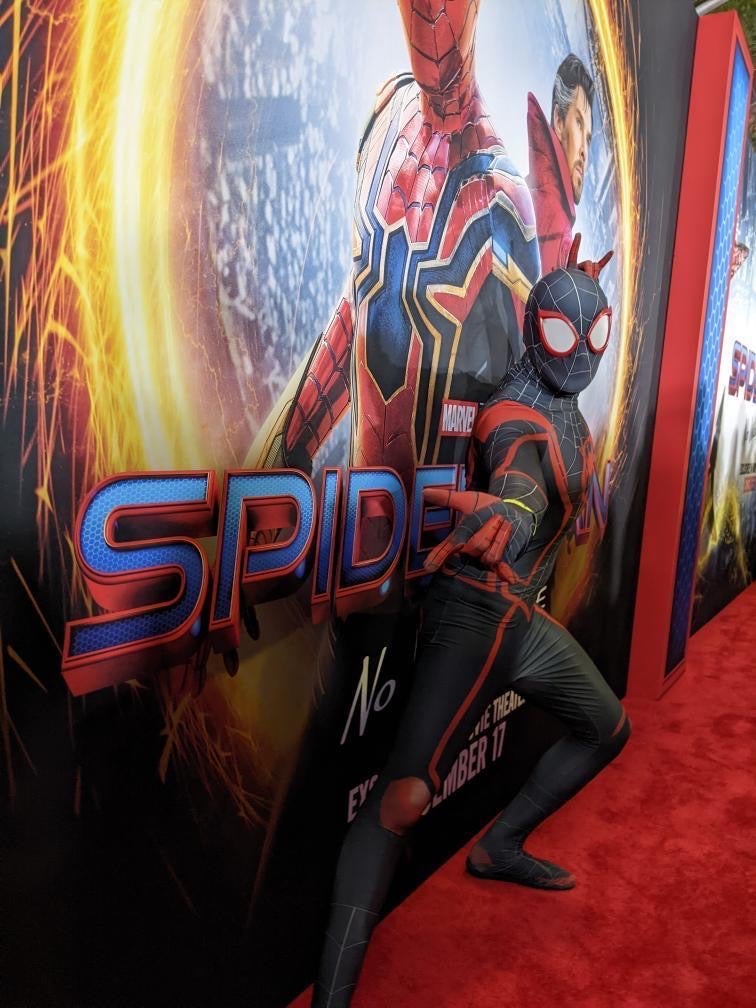 Fantastic4te: "Most memorable was getting Tom Holland to say hi to my son in a video and when all of the cosplayers sang Happy Birthday to Jaimie Foxx.
After the film, I felt emotional and just overall elated with the movie.
I was Miles Morales, based on the Into the Spider-Verse full suit, but halfway through, I took off my face shell because I couldn't project my voice.
These events are amazing for fans, and other movies should adopt the "fan pit". Not just because of the celebrities, but a movie is so much more when you watch it with a theater full of faithful fans. It's more emotional and intimate, almost like you are one family sharing in the ups and downs with characters on screen."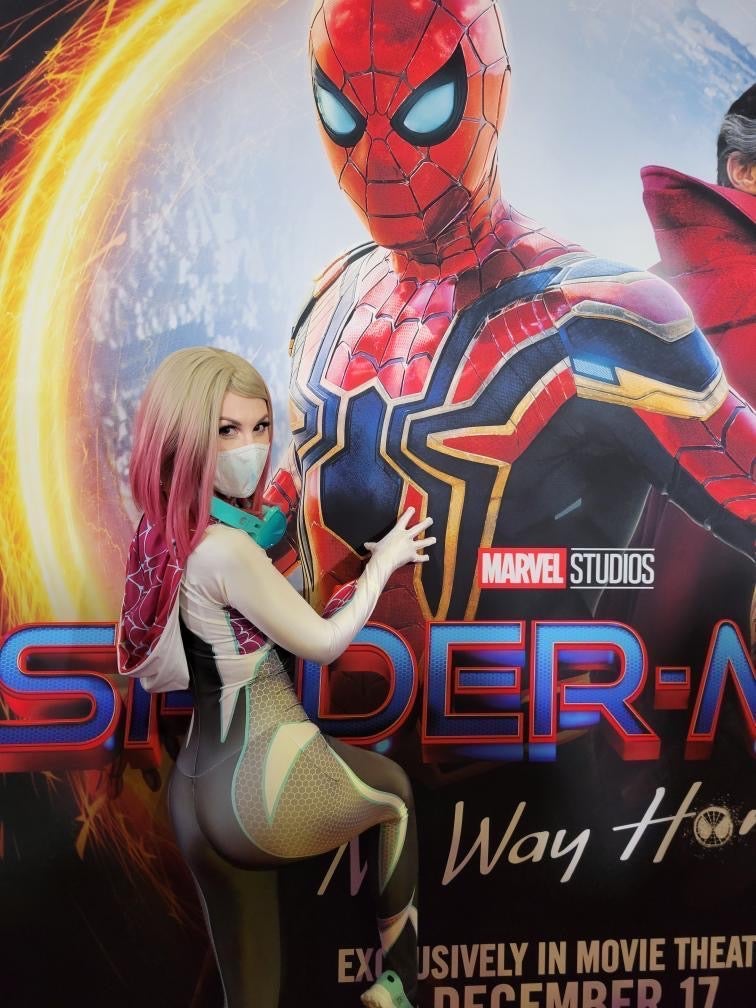 Meshellwaffleo: "So it's totally not Spider-man related, but I saw Simu Lu walking down the fan pit. I got super excited and asked if he would sign my Spiderman comic. He graciously did with a note under that said "not Spiderman =(" A lot of celebrities passed by our area or got whisked away for interviews, but he was just so charismatic and kind with his time.
So, it was a bit of an emotional roller coaster. Victoria Alonso mentioned in passing that we were going to cry, but I wasn't sure if it would be happy or sad tears. It turned out to be a little bit of both! I'm excited to see where certain characters go or if they turn up again because I feel like a few of them have more stories to tell.
I cosplayed as SpiderGwen, and my date came as Miles Morales from Into the Spiderverse. We usually try to do couples' cosplays or ones that complement each other."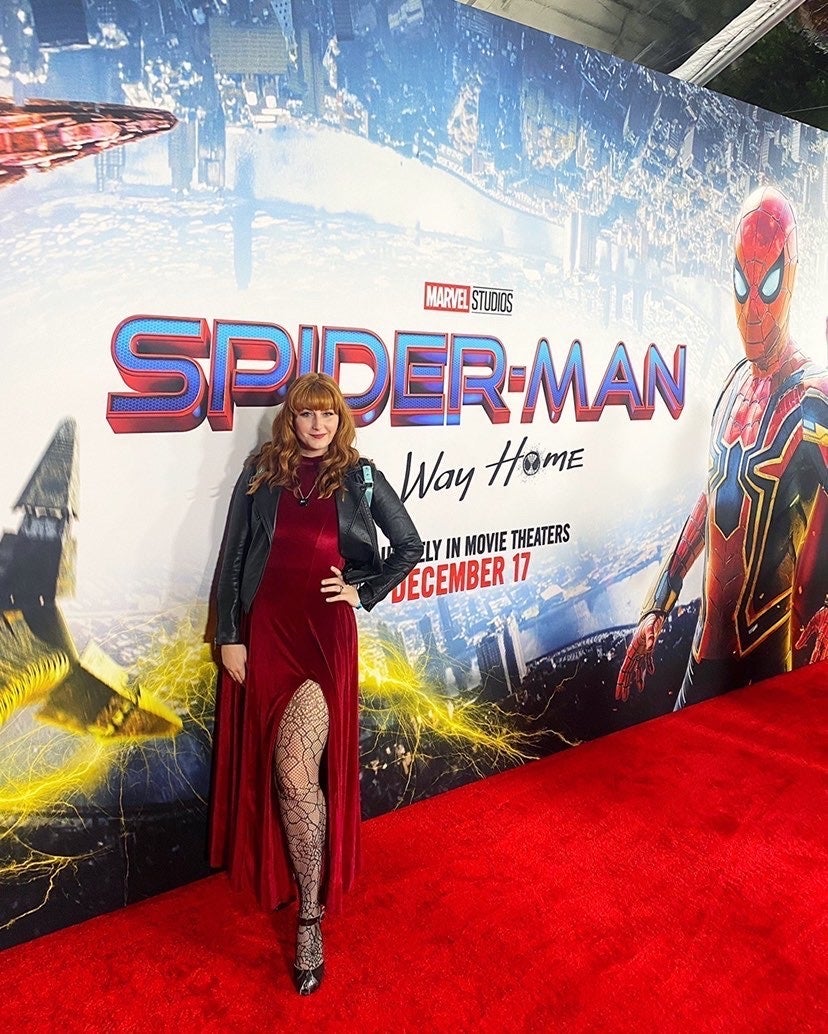 Thedrpepperprincess: "The best part of this premiere was seeing so many friends and having moments of shared excitement about the whole experience. After seeing the film, I am exhausted emotionally and so grateful for this love letter the filmmakers created for Spider-Man fans. Seriously, I felt all the feels: joy, sadness, fulfillment. It was an absolute dream!
For my outfit, I was asked to dress in formal attire for the event, and so I turned to Elhoffer Design for this lovely Bernadette dress."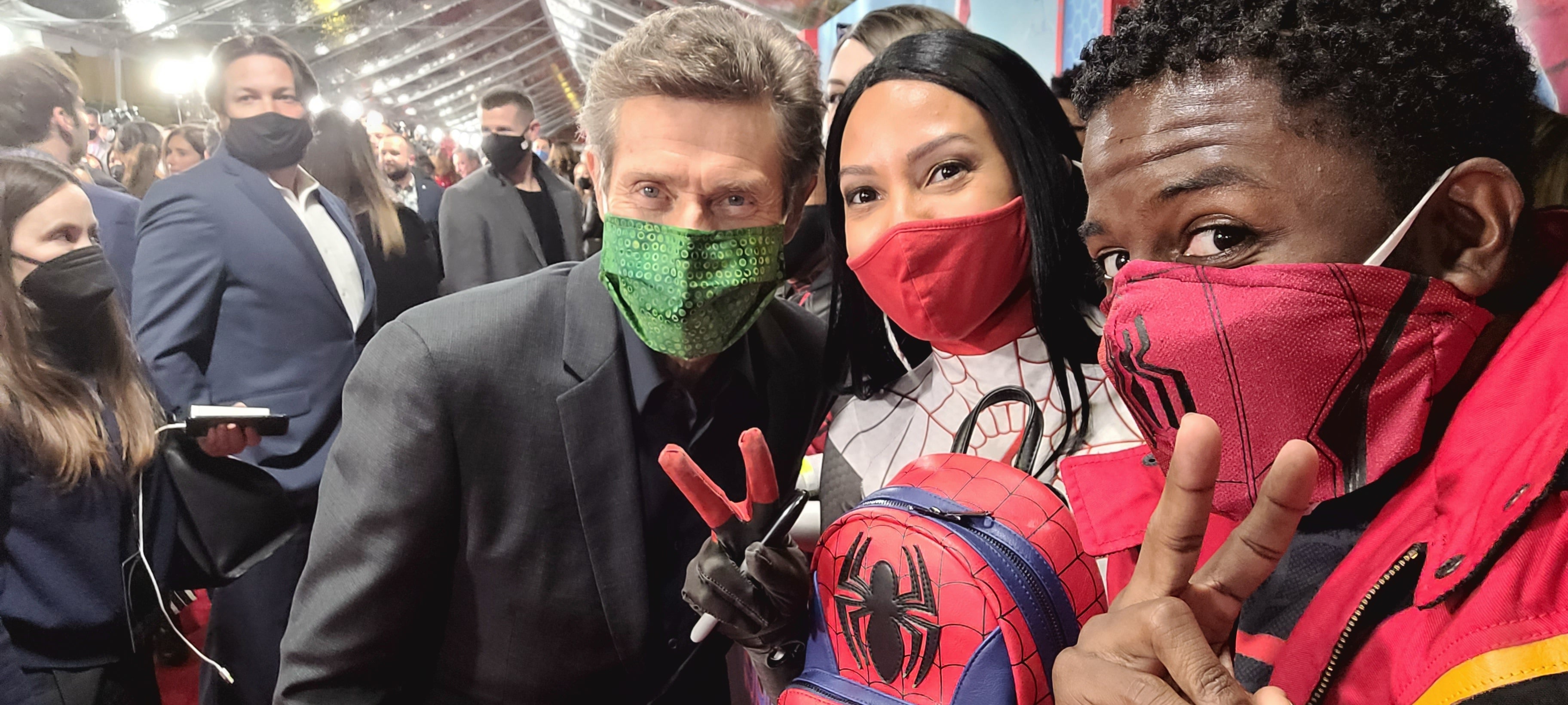 Royaltnoy: "First, I want to say I avoided every single trailer and spoiler that was out there aside from the main photo with Spider-Man and a Doc Ock tentacle. So a round of applause for me because it was very hard. It would be tough to decide my favorite moment from the premiere. Moments.
I haven't gone to any cons that have opened up this year, so it was honestly really great seeing my friends from the cosplay community. However, it's more than that. It's the fact that the ones from the community are also substantial Spider-Man fans, so uniquely, this felt like it was certainly for us. We were fortunate.
My favorite photo to have is the one with Willem Dafoe. He is a great actor and a significant influence on my Symbaroum ttrpg; with The Initiative Order group. My character's name is Nrobso, which is Osborn backward. "The cunning warrior attacks neither body nor mind, but the heart!" is a quote I used in my debut game with Nrobso.
From the movie itself, non-spoiler alert, I repeat non-spoiler alert, WHEN BLANK BLANK SHOWS BLANK! But more specifically, when it's the blank of blank talking before the blank. Full-on appreciation of each other blank blank of the blank. Hearing blank call blank blank felt so genuine. I could go on and take over this entire article with my favorite moments of the premiere because I haven't had a chance to talk about the movie yet out loud.
My heart is full, and my soul is satisfied. Sure the post-credits for Spidey-related immediately makes me want to see more. Sure we don't get a whole look at blank blank blank, but you can tell and feel that it's heavily blank by the other blank as if to blank blank as well. If this were a wrap-up film, though I know it's not, I would be happy with how it ended. And, of course, I'm hungry to see where Dr. Strange is headed.
But this spidey film felt full and complete with just enough to understand that, of course, more adventures happen. I'm glad blank blank got the blank of blank the blank. I appreciate it was blank saving blank from blank blank blank. Those blanks were the blanks blanks of two blanks blanks, and I loved it. There's no way home in this movie.
I'm rocking the PS5 Miles Morales 2020 Jacket. Custom made by white sheep leather. Fully functional with one large inside left pocket for all your cosplay carry necessities.
Thank you to my cosplay sister utahimecosplay, Briana, for inviting me and allowing me to see a movie I have been waiting on for 2 years. These invites to premieres can be a battle to get sometimes, so thank you for going through the trenches with me to get them."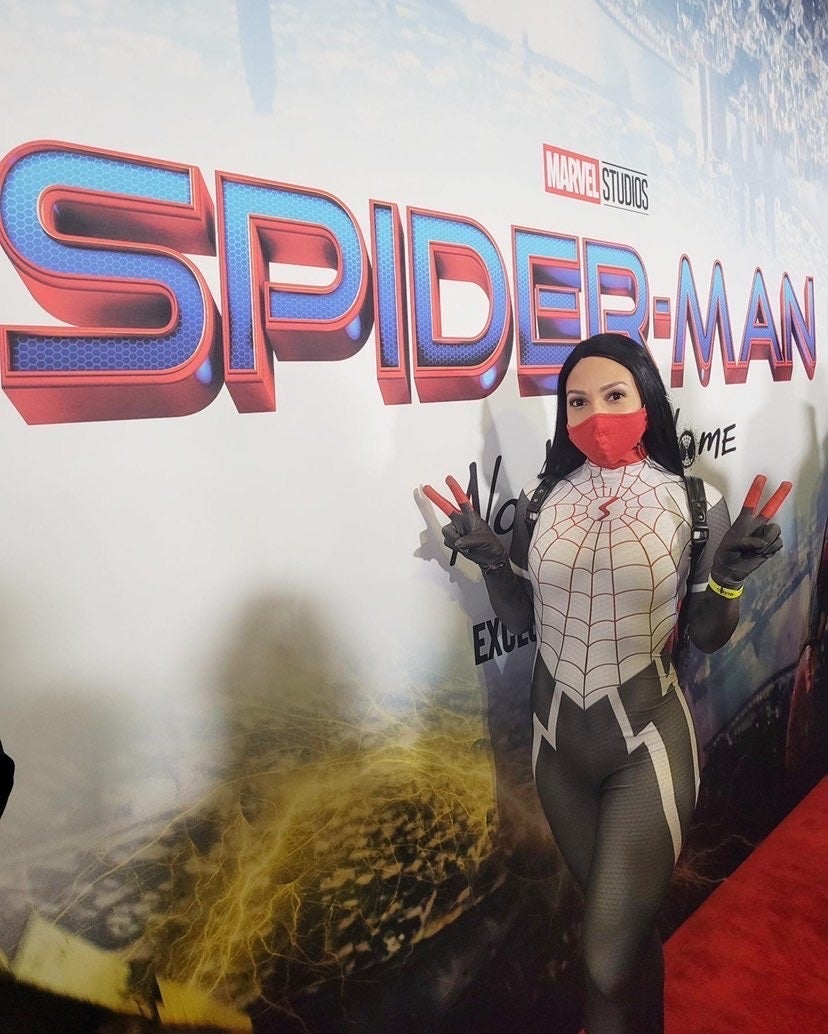 Utahimecosplay: "It was so incredible getting to experience all these fun moments with my friends, many of whom I hadn't seen for quite some time since the beginning of the pandemic. Any event where you get to geek out with your friends is going to be unforgettable.
I felt so many emotions throughout the film, which indicates the fantastic job they did on this film. As a fan, I want to feel like I'm going through this journey with the characters, and the movie did exactly that. I was so happy I got to cosplay Silk (Cindy Moon). She is one of my favorite characters in the Spider-verse! It was an honor to get to rock the suit on the red carpet."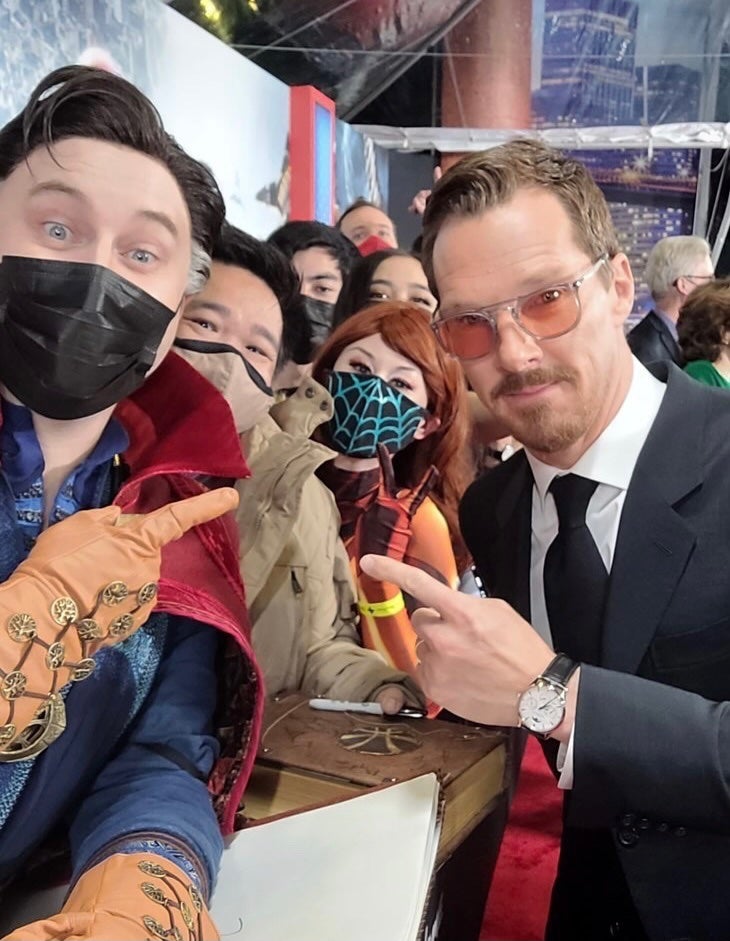 Chadhatter: "My favorite moment from the premiere was when Benedict took the time to have a conversation with us. So often, in situations like these, actors can disregard the fans, but Benedict appreciates his fans to such an extraordinary level. It makes standing in the cold for five hours with no food or water worth it.
My other favorite moment is a gigantic spoiler—but I will say that one major scene made me reconsider elements from my past and how I dealt with them. It makes me rethink my reactions, and that's a spectacular testament to the power of good storytelling.
This costume saw me through some pretty turbulent times but building it was a labor of love, and Benedict's reaction to it lets me know that I replicated it respectfully."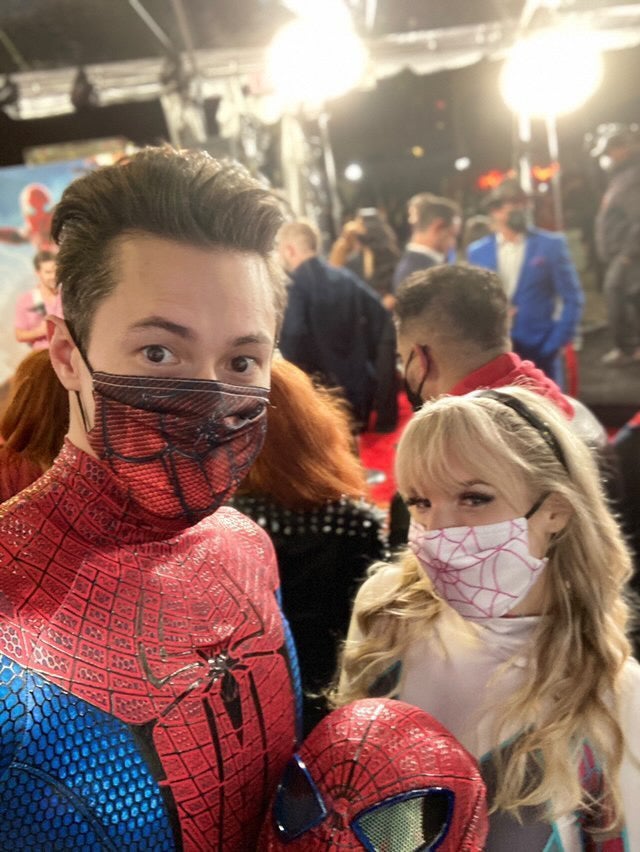 Roguesgallerycosplay: "Our favorite moment was experiencing the energy of the crowd, the people who worked on the film who were so excited to share the finished product, and the culmination of months of hype!
After watching the film, we were so excited! Both of us couldn't wait to watch it again, and we came away with new cos-plans!
We cosplayed as the Amazing Spider-Man (Andrew Garfield, 2012 film) and Spider Gwen (Emma Stone's Gwen Stacy as Spider-Woman). In those films, the chemistry between Andrew and Emma touched us personally, and we wanted to cosplay them as a couple!) We love all the Spider-Man movies, and we love expressing our enthusiasm for these characters through cosplay."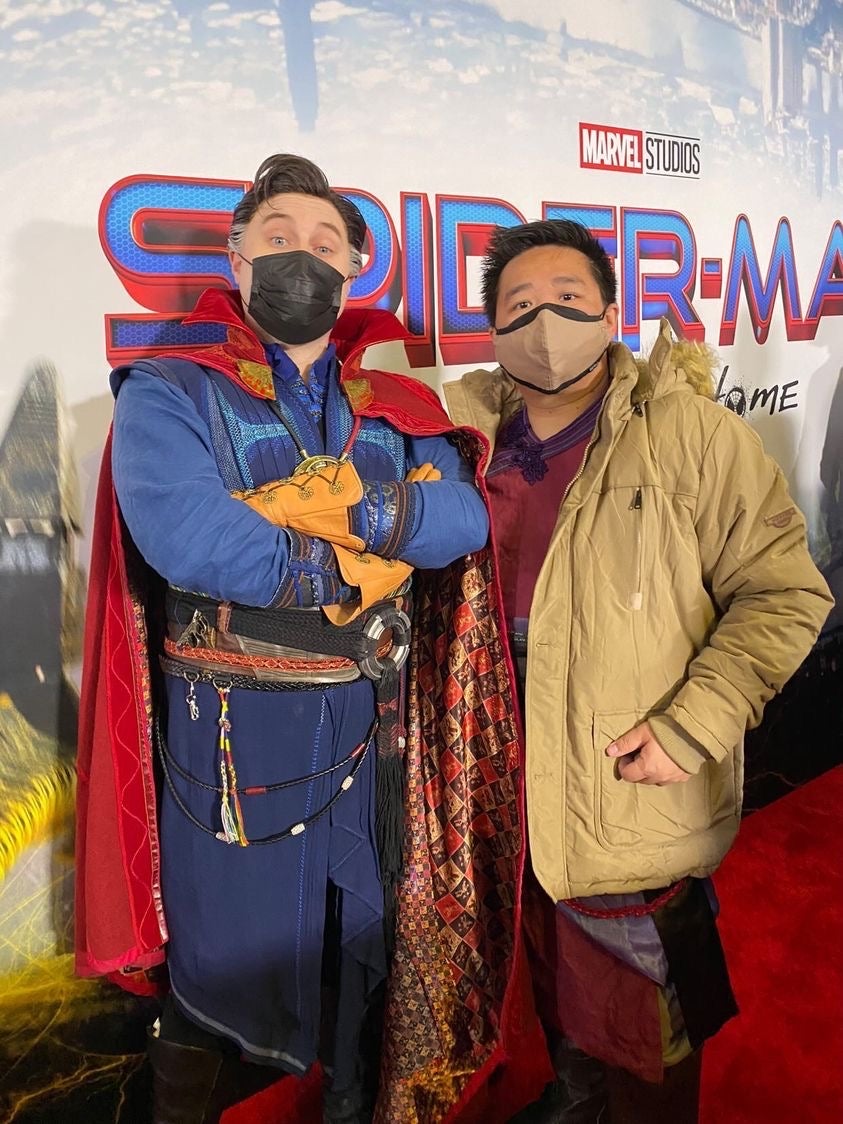 Therealchinaman: "It's tough to pinpoint one moment. I'm just so happy to be able to enjoy these events, and a huge thank you goes out to Marvel and Sony for including fans like us in these momentous occasions. I was super happy to share the red carpet experience with my wife Rachel (ladyraegun) and see her elation meeting all of the beautiful stars of the movie.
If I have to pick a single one, it might be getting to sing Happy Birthday to Jamie Foxx with the entire crowd. He seemed so happy to be there with us.
I felt incredibly fulfilled after watching the film. I can't believe how well-framed the movie is within the context of where Peter Parker is in his arc in the MCU. The performances were incredible, the action is enthralling, and Tom Holland just further shows his excellence on-screen.
I cannot wait to watch it again so that my brain can relive the moments they served us in this movie, and there are PLENTY. I can't wait to talk to my friends for weeks on end about this movie. Also, Willem Dafoe is an absolute king.
My cosplay is Wong's look from Spider-Man: No Way Home. The base costume was custom-made for me by Chadhatter. I'm so excited to see Wong continue to be the MCU's traveling man."
Bryan.s.lee: "Meeting Tom Holland and his flipping out over my cosplay made my night! But an honorable mention to fist-bumping my bro Simu Liu who rolled up with Benedict Wong looking superfly; love that Shang-Chi & Wong are IRL buddies.
And what a roller coaster of a movie. So many heart-warming and heart-wrenching moments. I laughed, I cried… everyone needs to see it so we can talk spoilers!
I was there as Martin Li, a.k.a. Mr. Negative, from Insomniac Games' Spider-Man! Mr. Negative is one of my favorite Spider-verse characters, and I can't wait till we see him next."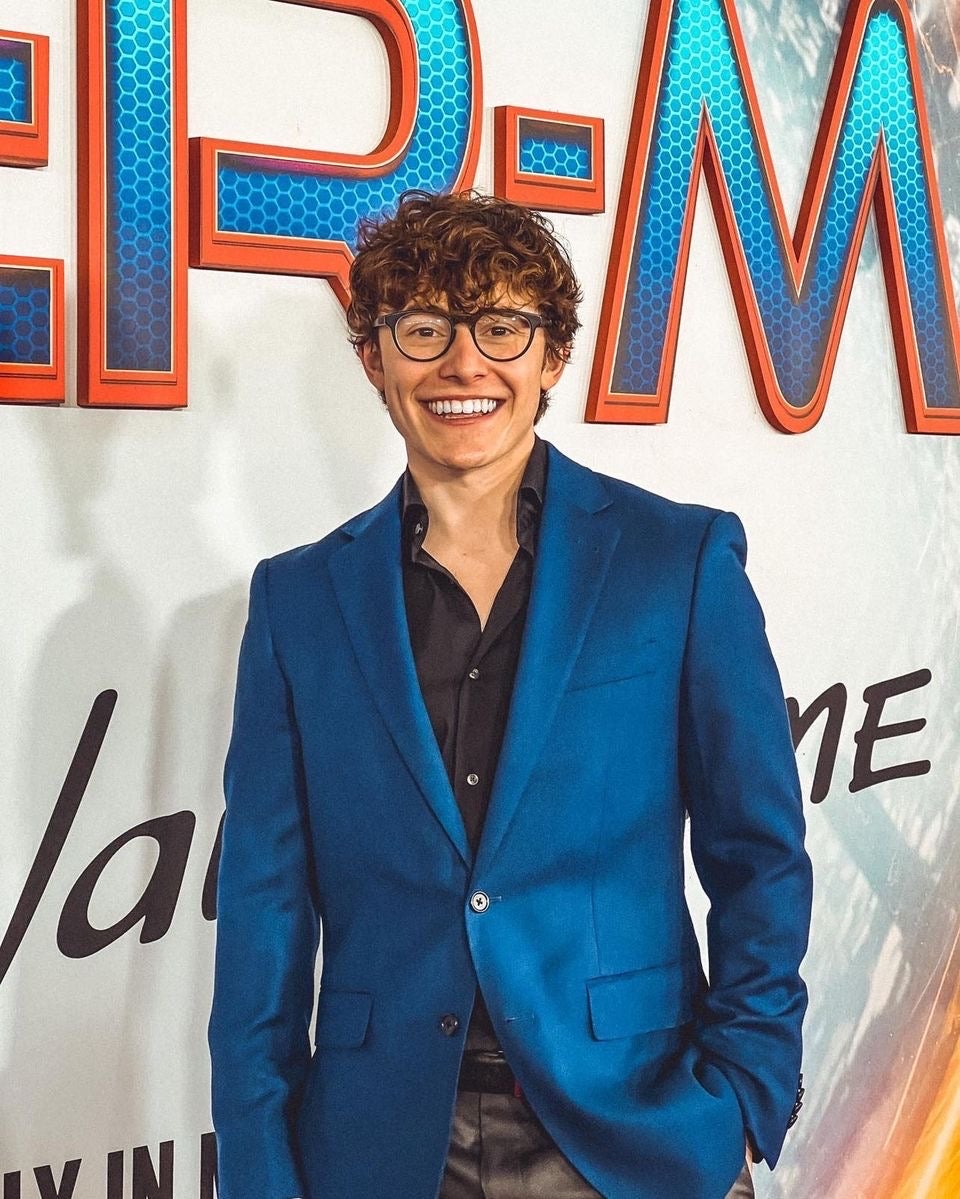 Anubace: "My favorite moment from the premiere was definitely experiencing the movie alongside my friends and the cast. Not to mention seeing other MCU actors' reactions to the film.
I felt absolutely speechless after watching the film. It was everything I hoped it would be and is by far my new favorite movie.
I do cosplay alongside my usual content on my social media channels. Cosplay is definitely a hobby I thoroughly enjoy doing because it allows me complete creative freedom. My favorite characters to cosplay are definitely Spider-Man, Milo Thatch, Peter Pan, and Wally West.
Overall the premiere was quite honestly one of the most fun events I've ever attended, and I'm incredibly grateful to have been able to attend."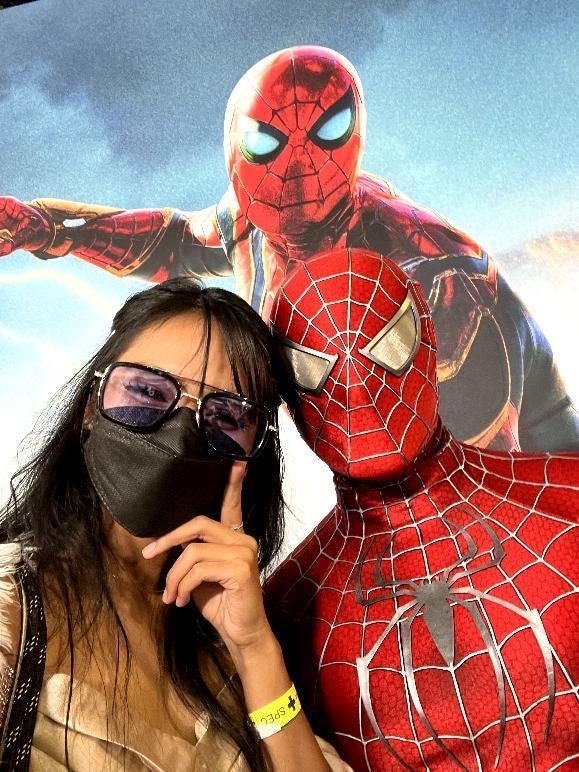 Kacosplaytech: "My favorite moment is easily having Willem Dafoe sign the mask I made for my cosplay. Since the spidey suit I made is from the Raimi films, his signature means so much to me!
After watching the film, I felt extremely satisfied with how the characters were handled. This movie opens the door for so many possibilities in the future for all Marvel films, and I am very eager to see what happens next!
My cosplay is the 2004 Spiderman 2 suit! I spent around 8 weeks researching and testing methods to get a close enough movie-accurate look without the movie-accurate price tag. I even 3D modeled my own face shell to ensure I'd be able to breathe properly while wearing a kf94 mask underneath!
This was my first film premiere, and I am very thankful to both Sony and Marvel for letting me be a part of it. I met so many amazing cosplayers, both familiar and unfamiliar. The opportunity to greet the stars from the film and other guests was invaluable, and the memories plus the photos taken will be cherished for a lifetime."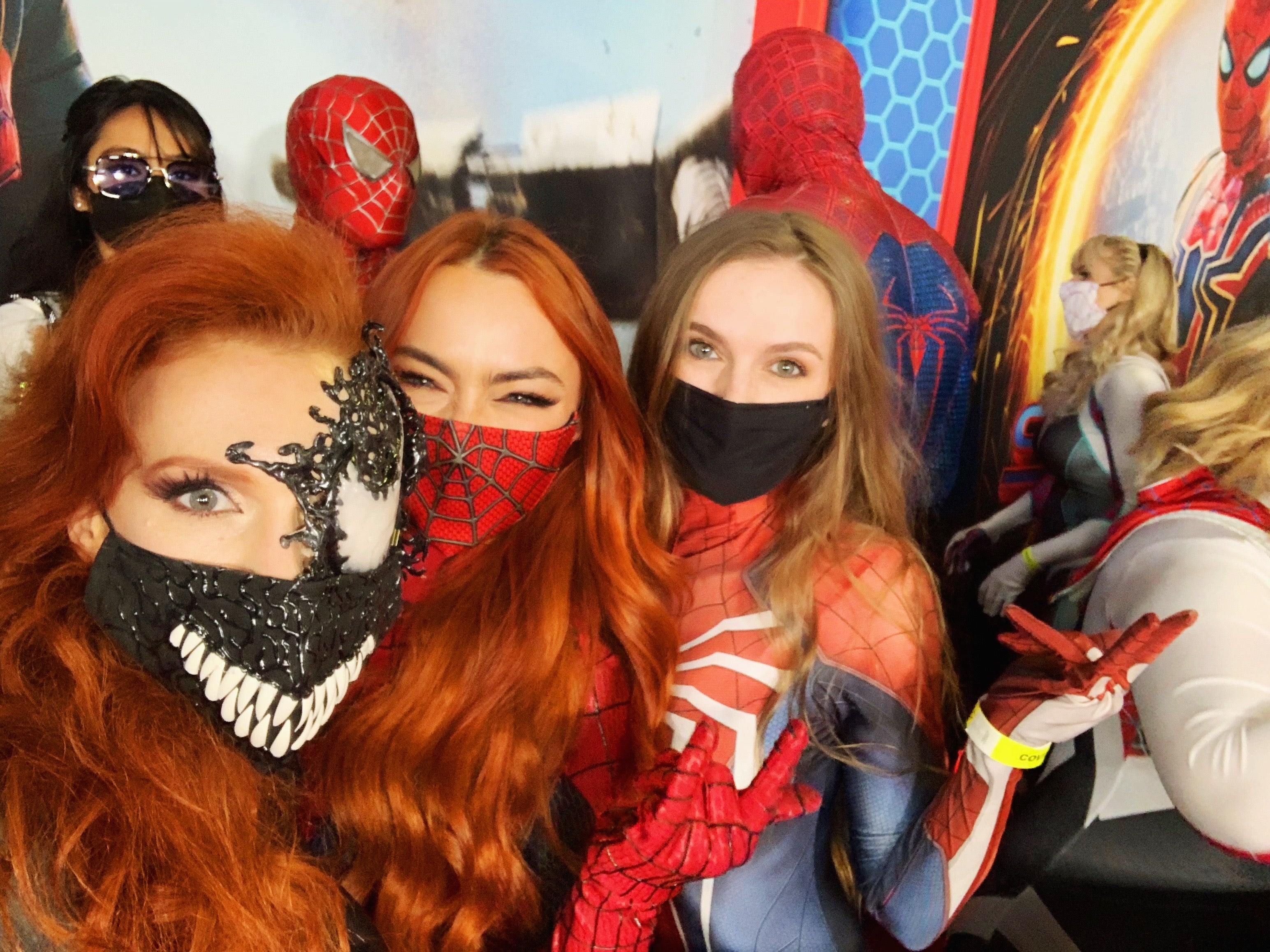 Darthlexii: "The interviewer has become the interviewee! This has been by far the most notable premiere I have been to. Since I was a little kid, I've been a die-hard Spider-Man fan, so coming to this event was momentous. No matter who donned the mask, I've adored each and every Spider-Man for their unique take on the character, and when Tom Holland took up the mantle back in 2016, I was instantly obsessed.
Yes, there was a time (a long time) where Tom Holland was my phone background, so getting the chance to meet him left me speechless. And, as someone who is known to talk a lot, that's saying something. It was genuinely fantastical, and I'm grateful to have shared the evening with so many new and old friends.
As for how this film made me feel? Well, without spoiling anything, I will say this is without a doubt my favorite Spider-Man film to exist. I can't wait to see it again!
Of course, I wore the PS4 Spider-Man suit. It is my favorite style and just so happens to be the only suit I own without holes in it… Okay, I know, I need a new suit! Since it was raining and chilly, I paired the suit with sweatpants and a green raincoat to honor Peter B. Parker from Into the Spiderverse."
Spider-Man: No Way Home is currently in theaters.
To possibly be featured in our articles, be sure to tag us on Cosplay Central's Instagram, Twitter, or Facebook.