Cosplayers Attend World Premiere of Eternals In Hollywood
The blue carpet was owned by these Eternals cosplayers at the world premiere!
Cosplay Central went to the Hollywood world premiere of Eternals on Monday, October 19th, and there was a blue carpet! Cosplayers met the actors, producers, and director Chloe Zhao while dressed as their favorite Marvel and Eternals characters. Many Marvel fans had to wait until November 5th for the theatrical release, and some have still yet to see the movie!
Okay, okay, it's only been the weekend, but if you haven't seen it yet, these Eternals cosplayers will inspire you. And although Disney+ hasn't announced an official release of the film, audiences can expect the 45-day exclusive theatrical run of the movie before seeing it at home. With that said, the predicted Disney+ release could be on December 20th, 2021.
Get ready to meet some new heroes that will blow your mind! Marvel's cinematic universe is expanding beyond its natural limits with this extraordinary group of individuals. These ancient aliens have been hiding amongst humans for centuries until now. However, something has awakened, and no one but these heroes can protect the world from it. Hence, they are called: Eternals.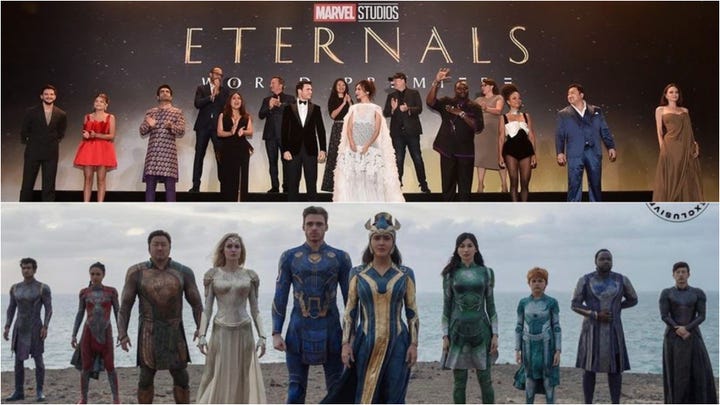 This film is bound for greatness with a star-studded cast including Jemma Chan, Richard Madden, Salma Hayek, Angelina Jolie, and more brilliantly talented actors and actresses. Unlike any of the past 25 Marvel films, Eternals introduces a new age of cinema for fans.
While embracing a storyline filled with family drama, heart-pounding action sequences, and everlasting love, Eternals also introduces the first deaf superhero and the first openly gay superhero in the MCU. Seriously, this film has everything for everyone! There's even a Bollywood musical segment!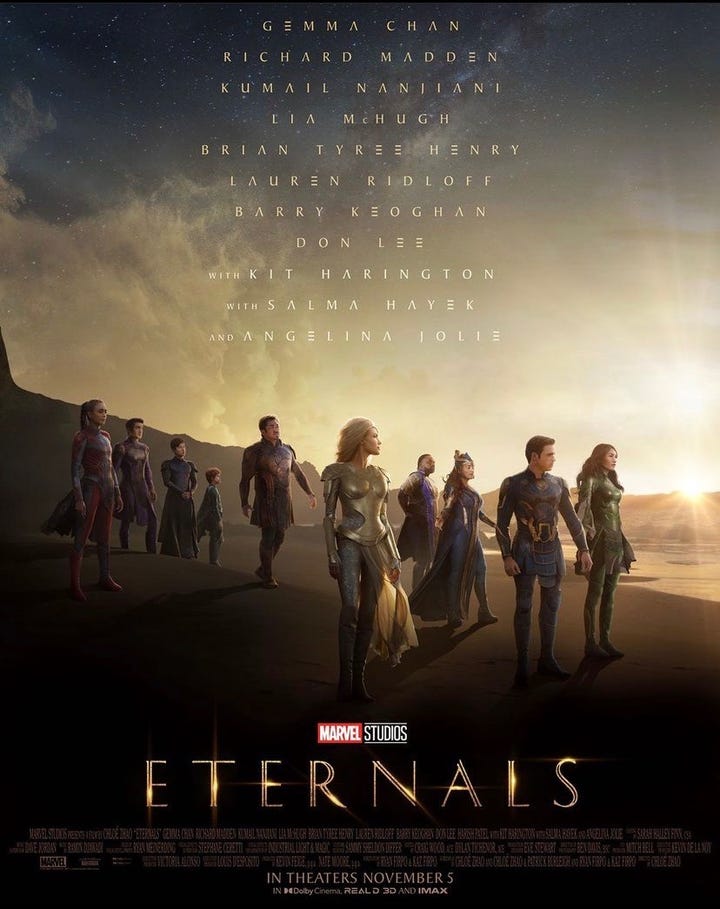 As for the blue carpet experience, these cosplayers got the royal treatment. Almost every leading character walked alongside the cosplay area to take photos and sign posters. Did we meet Kit Harington? Yes. Did we tell them our life story? Also yes.
Other than meeting their heroes, cosplayers saw the film first and foremost! We asked them about their experiences on the blue carpet, who their favorite character was, and their thoughts on the film. Here are their answers and incredible cosplays.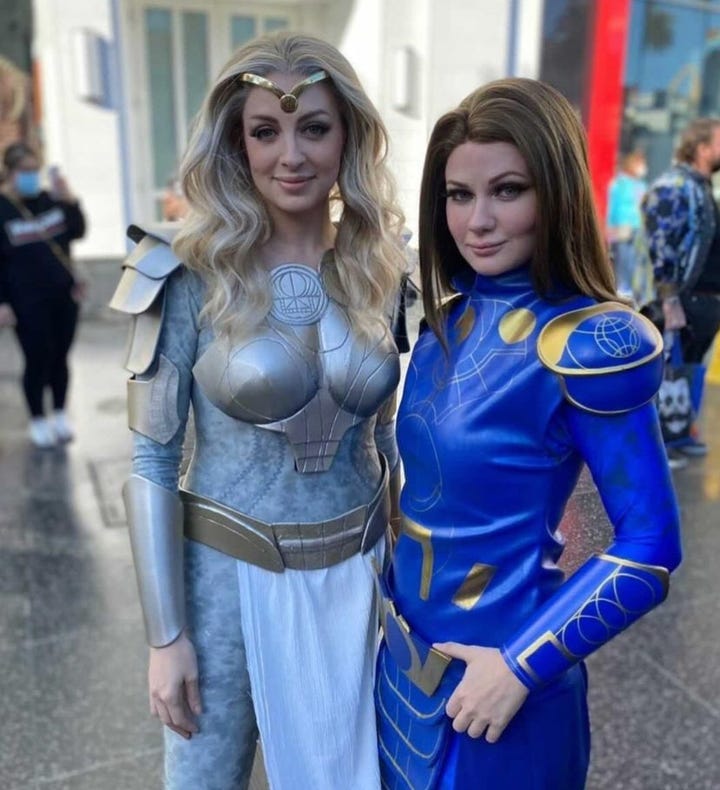 Alyssahope_: "My favorite character to watch was for sure Kingo. I've been a fan of Kumail's comedy for a long time and was curious how he would blend with this cast, but the writing and his performance were both phenomenal. He was insanely funny but also gave emotional weight to the character where it was required.
I was honestly surprised by how much I loved the film! I went into it with zero expectations (since I knew nothing about The Eternals comics) but came out of it so excited to see more of them. It felt very different from most other Marvel films, which I think is mainly due to director Chloe Zhao and the breath of fresh air she has brought to the franchise."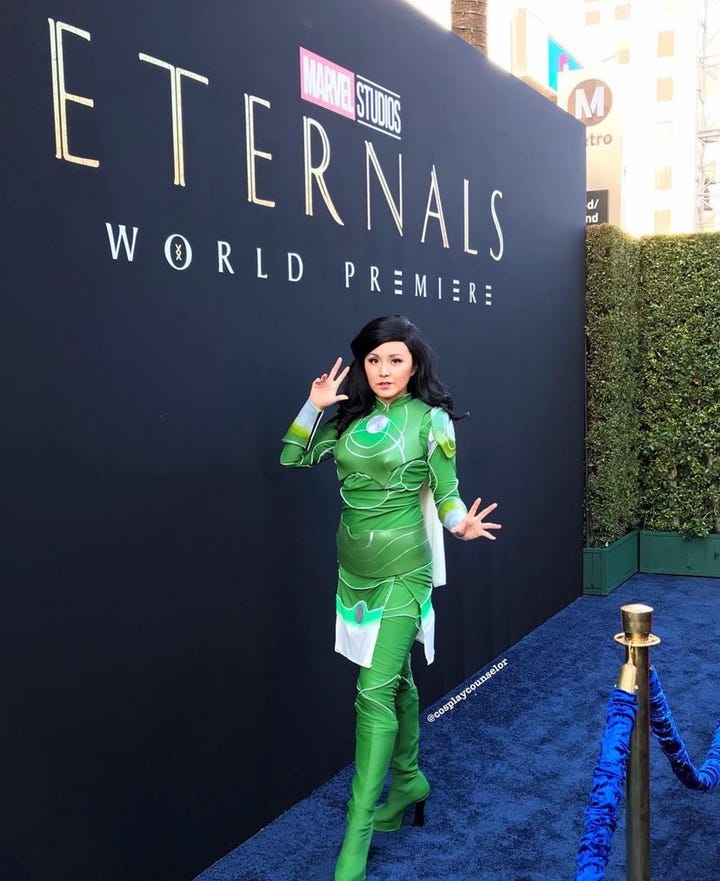 Cosplaycounselor: "I had a blast at the Eternals Premiere! Not only did I get to take selfies and get autographs from the majority of the Eternals cast (including Angelia Jolie!), but I also got to see first-hand everyone's stylish apparel! I absolutely loved Lia McHugh's (Sprite) red box dress, as well as Lauren Ridloff's (Makkari) bow dress – they're both so glamorous and eye-catching.
Additionally, I was so fortunate to be among the first to see the movie!! Director Chloe Zhao did a fantastic job with the cinematography, and I absolutely loved that this movie featured such a diverse cast! I can't wait for you all to watch it!
My favorite moment was definitely when I met Gemma Chan! She took her time with all the fans, signing autographs and taking photos, but when she saw two of my friends (who were also dressed as Sersi) and me, she was so excited to see us, and even asked if we all could take a photo together! (!!!) I was beyond floored, and it's a moment I will never forget."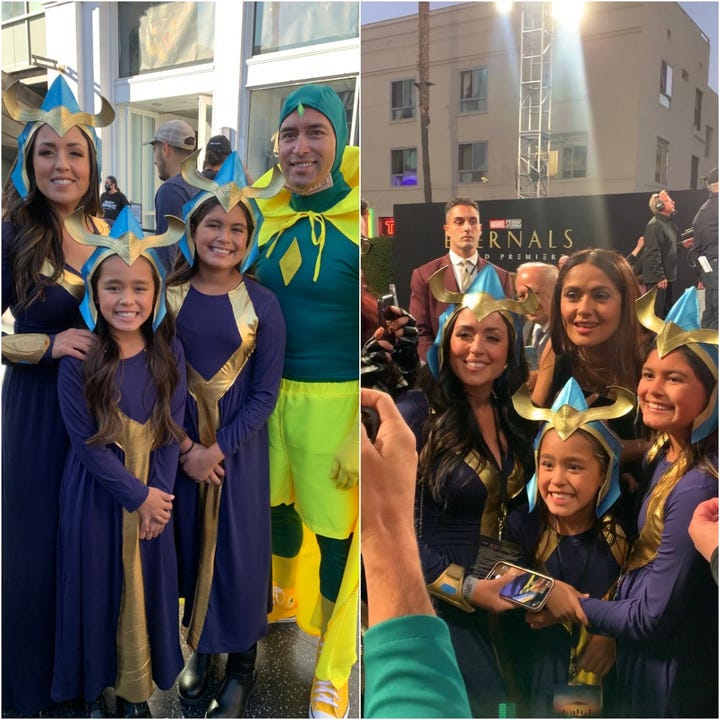 Chosenwanapperal:"The premiere was such an amazing experience! There was so much work and detail that made the event extend spectacularly! It was an honor to be part of the premier!
My favorite moment of the red carpet premiere was when my family met Salma Hayek! My wife, Jaime, and daughters, Lola and Leia, dressed as Salma Hayek's character, Ajak! The girls were so excited to meet her! It was touching to see how the cosplay family in the fan area helped get Salma's attention. The girls would not have met Salma without their help!
Having Latina representation on film will positively impact my girls, and to be part of that movement is the best a parent can ask for. We are eternally grateful for the experience!"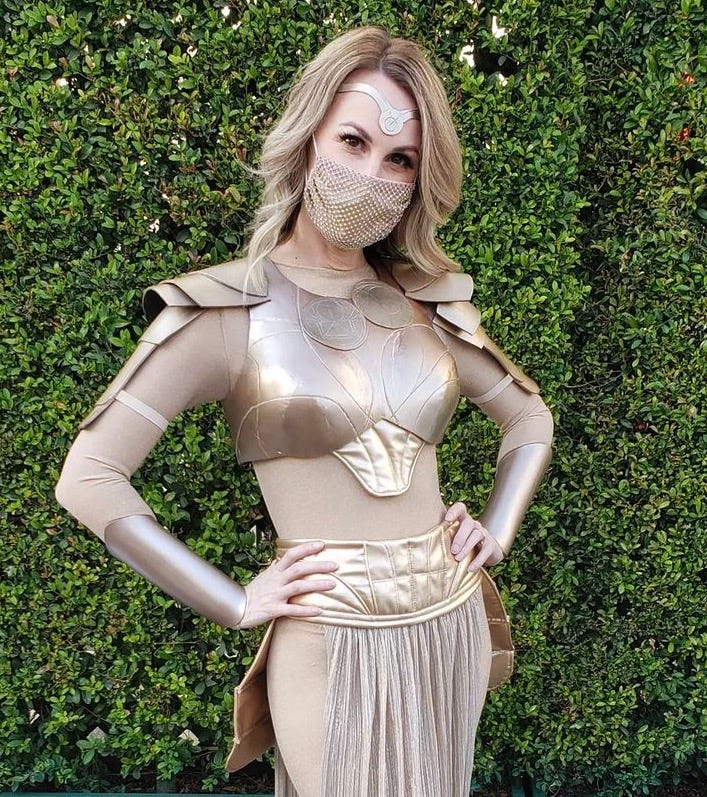 Meshellwaffleo: "The premiere was amazing! The fan's energy was high and cosplays on pointe. Unfortunately, we only had access to part of the blue carpet, but it was the best part because we got to see all the stars enter, even if they didn't come to say hi to us. Also, getting to watch the arrivals was so cool; I love seeing what everyone wears!
As for the movie itself, I would highly recommend it. It's got a great family story, everyone's character gets ample screen time, and the visuals are just literally out of this world. You don't need to see the other Marvel films to enjoy this one, and if you love sci-fi, you will love this movie!
I have two favorite red carpet moments: The first was seeing the beautiful Lauren Ridloff. When she came over to the fan pit, everyone was hushed but excited! I brought her Makkari Marvel Legends to sign, and she looked delighted when I motioned to ask for her signature.
The second was when Angelina Jolie stepped onto the blue carpet. She started to walk past me but then stopped when she saw I was dressed as Thena had her Marvel Legends figure. She walked over to me, and I offered her my pen to sign it, and I think I told her she looked beautiful. I don't really remember because I was just in awe. Someone posted a video to IG Reels of the moment, and just getting to see it happen again was incredible!"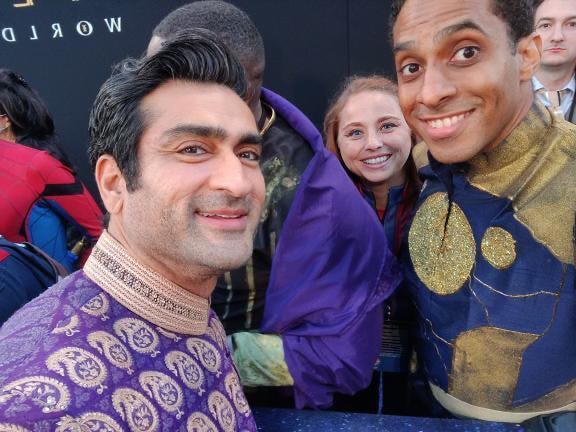 Fantastic4te: "My favorite character was Gilgamesh. I didn't expect that, but he a perfect mix of humor, action, and emotion. I enjoyed the film; I will likely need to see it again because there is so much information to process. The director of the movie recognized that my cosplay was inspired by Kingos Bollywood "Legend of Ikaris" (probably spelled that wrong) and specifically went back and got Kumail to show him."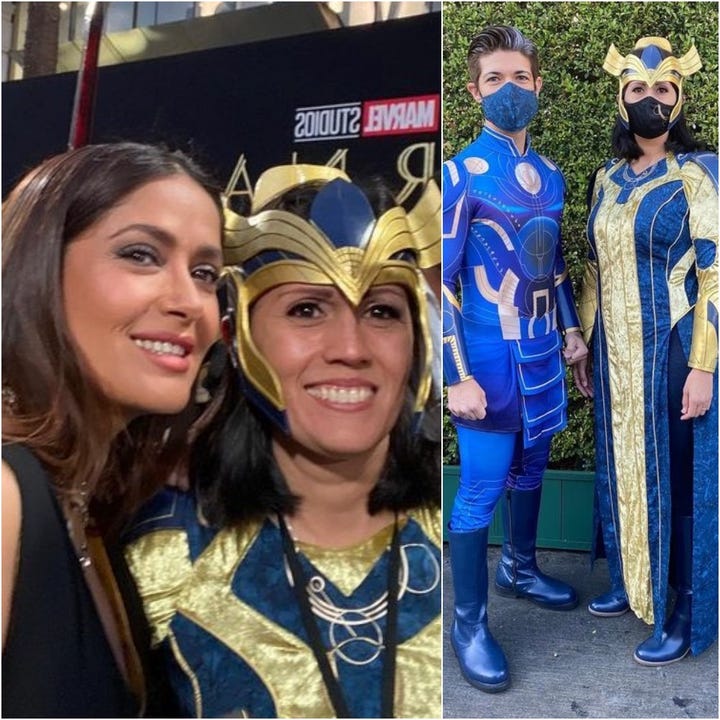 Perpetualmidnightcosplay: "Although Kingo (Kumail Nanjiani) was my favorite character to watch from purely an entertainment perspective, I'd have to say that overall, Richard Madden's Ikaris was my favorite. His character arc was pretty wild and definitely fun to watch.
Our favorite moment on the red carpet was, without a doubt getting to meet Salma Hayek. We put a ton of work into making the Ajak cosplay as accurate as possible. So when Salma came out and recognized my wife dressed up as Ajak, it was a pretty unforgettable moment. Being Hispanic ourselves, and seeing that type of representation, truly made it special for both of us."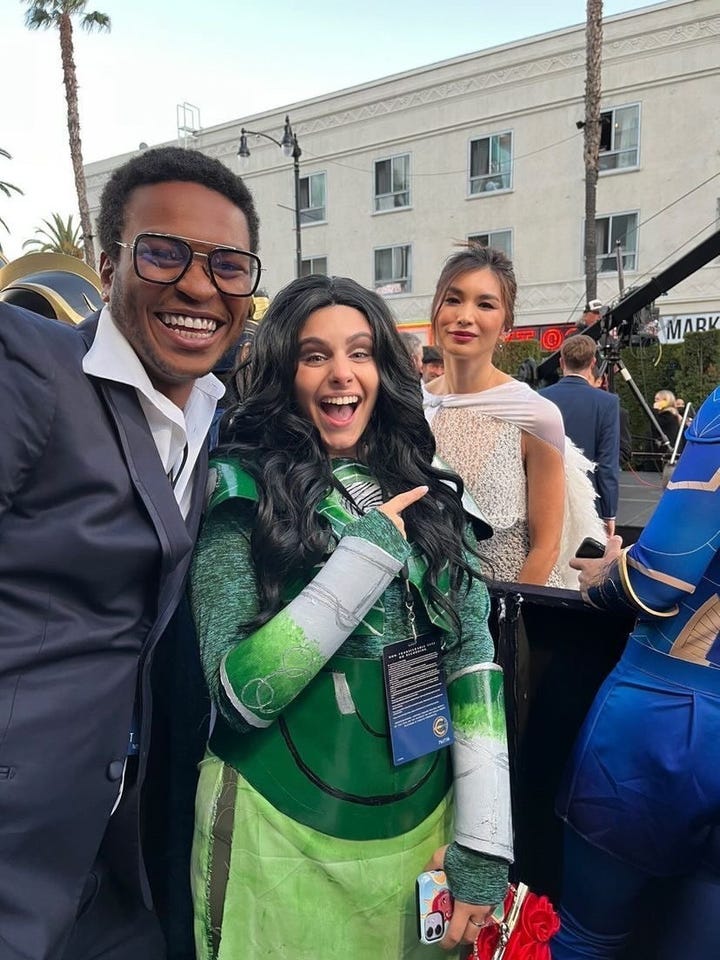 Sammyrubin: "The premiere was an absolute BLAST! Definitely replaying every moment of that evening over and over again.
My favorite moment on the carpet would tie between meeting Lauren Ridloff, who I have been a big fan of for YEARS! She has such a beautiful energy that left Jeremy and I near to tears and speechless after meeting her. And when I met the director Chloe Zhao, and she said my Sersi was beautiful. I had less than a week for this build, and I poured my heart into recreating this character, and hearing that from Chloe melted my heart.
I really enjoyed the film! Definitely one of the most beautiful Marvel movies I have ever seen. I have also gained some new favorite heroes, and I can't wait to see what else Marvel will give us!"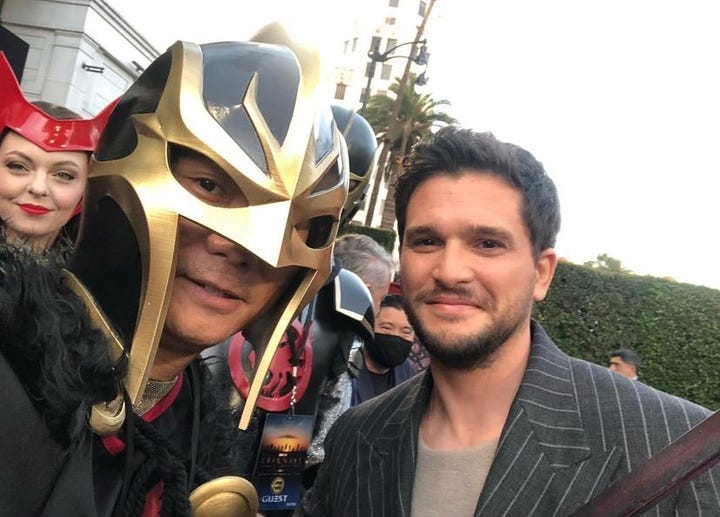 Thebrothersyeecosplay: "Sersi probably had the most complete arc and emotional journey. The film itself I'm pretty mixed on… I felt like there was a lot needed exposition, but it was a lot of information. Especially since these are less familiar characters, it was necessary, but it bogged it down.
This was Endgame level stakes and story, but because we had to get to know and care about these characters, it had to be crammed in there, so it ended up being a lot. Endgame had the benefit of many movies building up our love and connection to these characters. There was just a lot to chew on; some of the arcs felt underdeveloped, which is tough when you have 10 characters.
That all being said, it's a beautiful film. The action was excellent and fun. The actors were all generally wonderful. I just wish this was more a tv series that really allowed us to connect before some of them were gone, and we had time to chew on the cosmic philosophy and principles. I don't think it's a bad film, but I did leave feeling disappointed. Kinda overwhelmed and underwhelmed at the same time."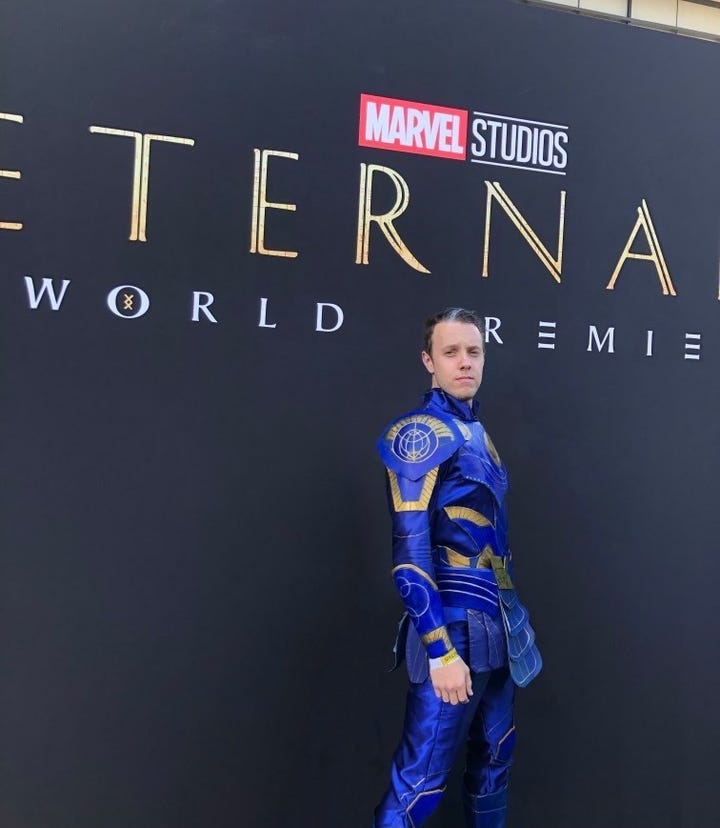 Namorcosplay: "I was so excited to see Ikaris in this movie. I loved him in the comics, and how he was our guide into this new world we'd never read before. I remember watching the trailer every day for 2 weeks and seeing the visuals of him flying and shooting his cosmic beams. It was so powerful to see. He's a total badass like I just wanna be Ikaris. I had to cosplay him. That suit is just so slick & vibrant; the costume designer went all out.
Richard Madden is also a phenomenal actor, and I'm obsessed with Game of Thrones, so it was exciting to see "The King in the North" in a Marvel film. Though he was late and couldn't say hi to fans, he did point at me in my cosplay, and that was everything as a cosplayer.
When they announced this movie in 2018, I remember I didn't know any Eternals besides Starfox, so I went and read all their comics and was instantly hooked. This film was the one I've been looking forward to the most all pandemic, and getting to go to the premiere made it even more special.
If anyone's been following me these past 2 months, you know I'm obsessed with this movie. Chloe Zhao made us something so unique and immersive with real locations and a film about these gods who have real human problems. Visually it was a masterpiece, topped by another iconic score by Ramin Djwadi, stellar cast, beautiful cinematography. Let's just say it far exceeded my expectations."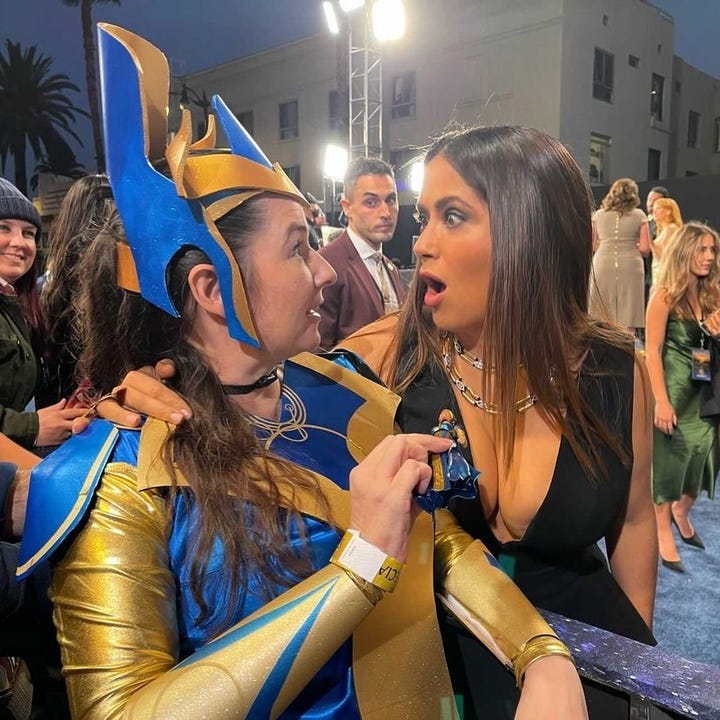 Rebel_nadia: "This was actually my first event like this, so I wasn't sure what to expect. It was super fun, though, and I really enjoyed meeting other cosplayers!
My favorite moment was chatting with Salma Hayek about her action figure- I bought it to use something as a blueprint for my cosplay. I brought the figure with me to the premiere because I thought she'd get a kick out of it."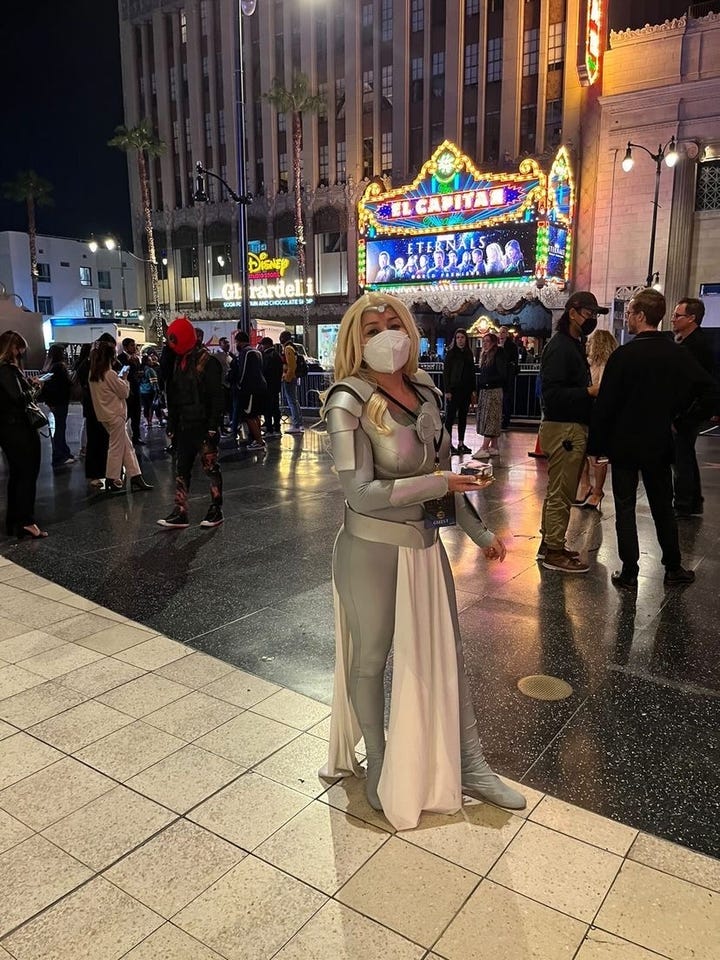 Sparrowsess: "I was really looking forward to seeing Thena! I had enormous expectations for the character because of what I had read about her in comics. I couldn't wait to see her in battle. Thena did NOT disappoint, and I was so excited watching her live up to her name on the big screen.
The film is different in an amazing way. I didn't know what to expect. It opened up another element for the MCU, and I was left speechless. I also liked seeing how the Eternals loved each other no matter what. Their bond was incredible."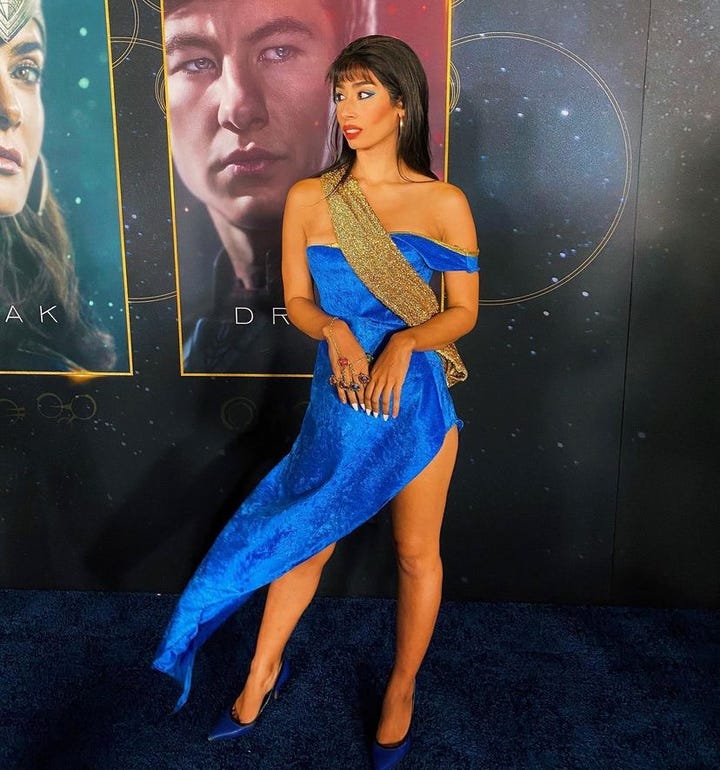 Jasminepaigemoore: "I'd have to say it's a tie between Thena and Cersei. I loved Cersei for being the heart of the film. Her compassion for humanity showed in each and every scene. And, I loved watching the development of her untapped powers. Thena, on the other hand, was EVERYTHING! I'm a sucker for Angelina Jolie, so getting to see her wielding a blade and beating up deviants… I was in bliss.
My favorite thing about the BLUE carpet this time around was, honestly, the sweet treats that gave us after the film! They gave us these delicious donuts! Marvel is excellent about making us feel loved and appreciated every premiere!"
BONUS! Although we didn't attend the London Premiere, fellow cosplayer Ugoandcosplay and his group did! Here is the inside scoop on the premiere and the group: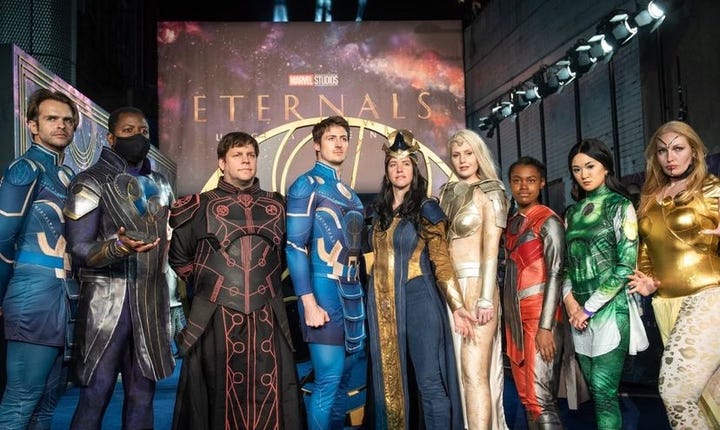 Ugoandcosplay: "The London premiere was glorious. The beauty of the movie and costume design spilled over to the style and colors of the blue carpet event.
The director, writer, producer, and entire cast were generous with their time and appreciative of our cosplay efforts which made us so happy! To be able to watch the movie (again, as there was a Science Museum event the night before) was an enjoyable honor.
It is hard to pick a favorite moment as I loved all our interactions. But if I was forced, it would be meeting the Makkari actress Lauren Ridloff. She was so enamored with our Makkari cosplayer, Kisa, and her signing translator said it was the first time anyone had cosplayed her character. Another moment for me was meeting Iman Vellani, the Ms. Marvel actress. She was introduced to us by Victoria Alonso from Marvel. Her excitement at being an upcoming superhero was evident.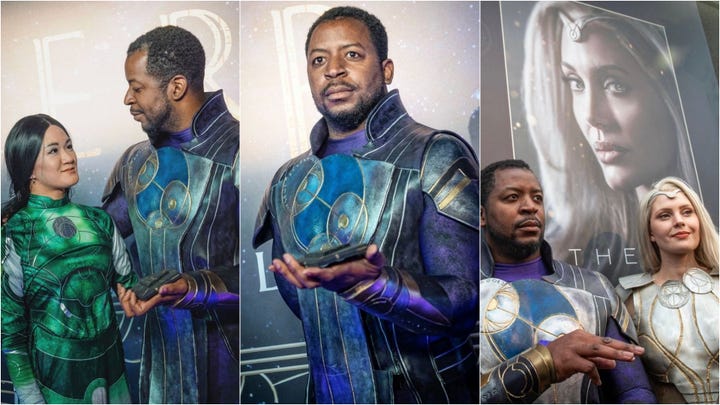 I was fortunate enough to be asked to bring together a group for the premiere, as I have done a few times before. Despite coming off the back of our London Comic-Con, everyone worked so hard and got the chance to treat photographers and videographers to the experience too who took fantastic shots. I knew all the cosplayers beforehand, and most knew each other.
I personally thoroughly enjoyed the movie. It is very different and having two viewings helped to take in the massive scope. I hope others enjoy it as much as I did."
Eternals is now playing in theaters.
To possibly be featured in our articles, be sure to tag us on Cosplay Central's Instagram, Twitter, or Facebook.