Cosplayers Dazzle At The Hollywood Launch Event Of Hawkeye
These cosplayers look marvelous at the LA launch of Hawkeye!
All the best gifts come wrapped with a bow! Cosplay Central walked the red carpet for the Hollywood Launch Event of Hawkeye on Wednesday, November 17th. Both stars and cosplayers dazzled in their holiday-themed looks as they snapped selfies, shook hands, and pet Theteenygolden, the cosplaying dog! Don't worry, we interviewed the dog.
Attendees also participated in the Disney Ultimate Toy Drive by donating a toy for Toys for Tots. As Marvel super-fans, these cosplayers watched the first two episodes a week before their release on Disney+. If that isn't lucky, we don't know what is!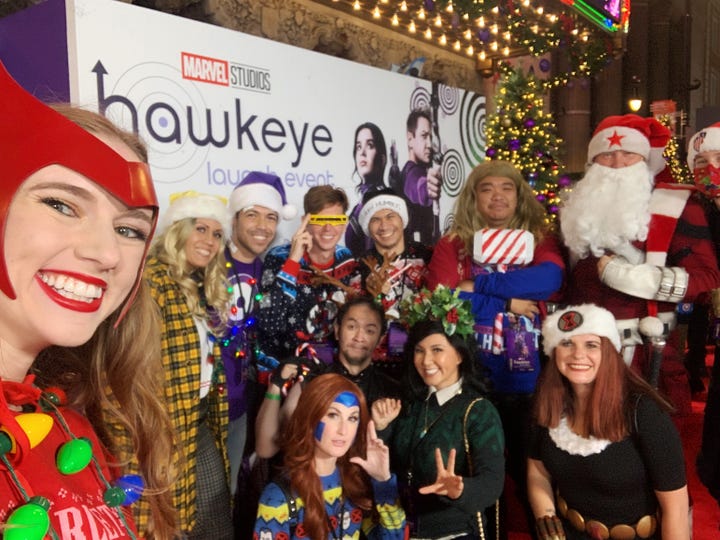 Following the events of Endgame where Hawkeye, played by Jeremy Renner, lost his family in the snap and picked up the mantle of the crime-fighting vigilante Ronin, Hawkeye is now picking up the pieces of his life and trying to glue them together. He's also doing his best to be a dad in a world that constantly needs heroes. But, unfortunately, Clint Barton's past catches up to him when the family is on vacation, and he must send them away.
Based on the comics, this mini-series focuses on Hawkeye, and young Avenger Kate Bishop, played by Hailey Steinfeld, as they strung their bows, maneuver the holidays, and escape from becoming targets themselves.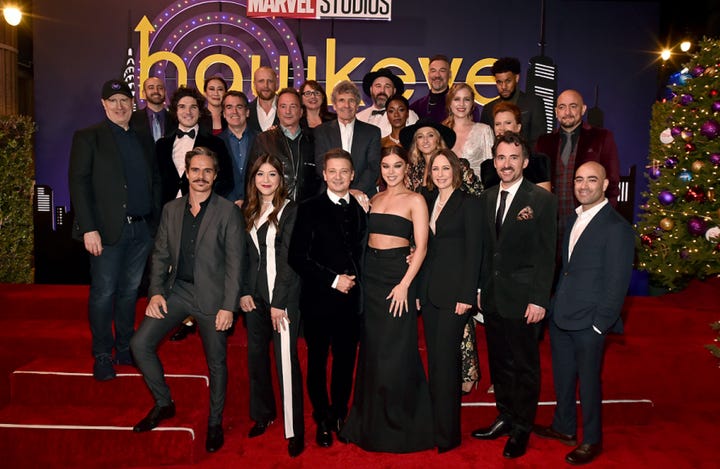 The red carpet was set up in a way where cosplayers and actors had the same opportunities for photo ops meaning we stood where Hailey Steinfeld stood, which is as close to meeting her as we got!
There were plenty of amazing cosplayers who dressed as Hawkeye characters or Holidized their Marvel costumes with Christmas lights, Santa hats, and Ugly Christmas sweaters.
We asked them questions regarding their thoughts on the show, the event itself, and who their favorite characters were. Some even told us how they made their costumes! So, put on some Michael Buble or Mariah Carey and grab a hot cocoa and enjoy these cosplayers' experiences at the Launch Event of Hawkeye.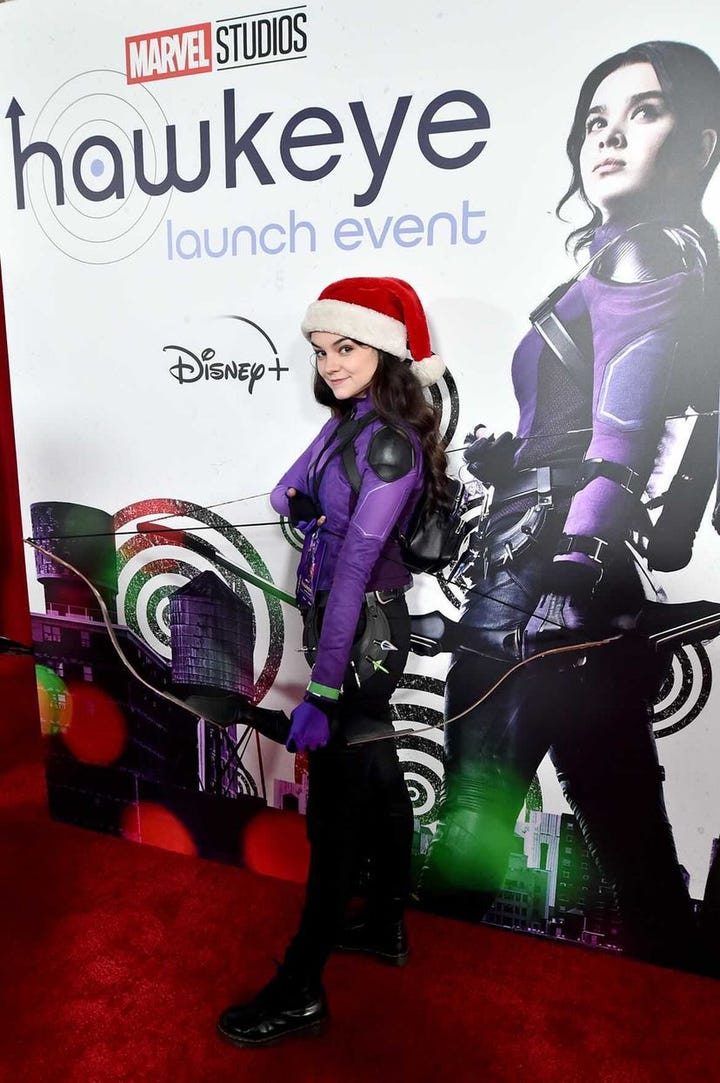 Mina Kess: "Aleks Paunovic (one of the actors from the show) was escorted to take some press photos in front of a backdrop that we were next in line for, and he obviously got to go first. So he's this intimidatingly tall guy wearing a gorgeous purple suit, posing for photos, and one of my friends calls over to him to ask if he wants to take a picture with our friend's service dog, who is dressed as Lucky, and his face LIGHTS up. So he shouts 'OF COURSE I DO' and just collapses to the floor to scratch Luca's tummy. It was just precious, and he was SO nice.
I absolutely LOVED the show. It had such a fun Christmas-y vibe, and the performances, the fight choreo, and the story… everything is so great. I can't wait to see how it unfolds from here.
Also...KATE BISHOP!! I loved the Matt Fraction/David Aja Hawkeye comics - I fell in love with Kate so quickly - so getting to see her on-screen (and a screen as large as this theater had especially) was absolute magic. She's definitely a bit different from her comic counterpart, but I think she's fantastic, and Hailee Steinfeld was the most perfect casting choice we could have possibly hoped for. I can't wait to see how she grows and evolves as a character throughout this show and hopefully beyond."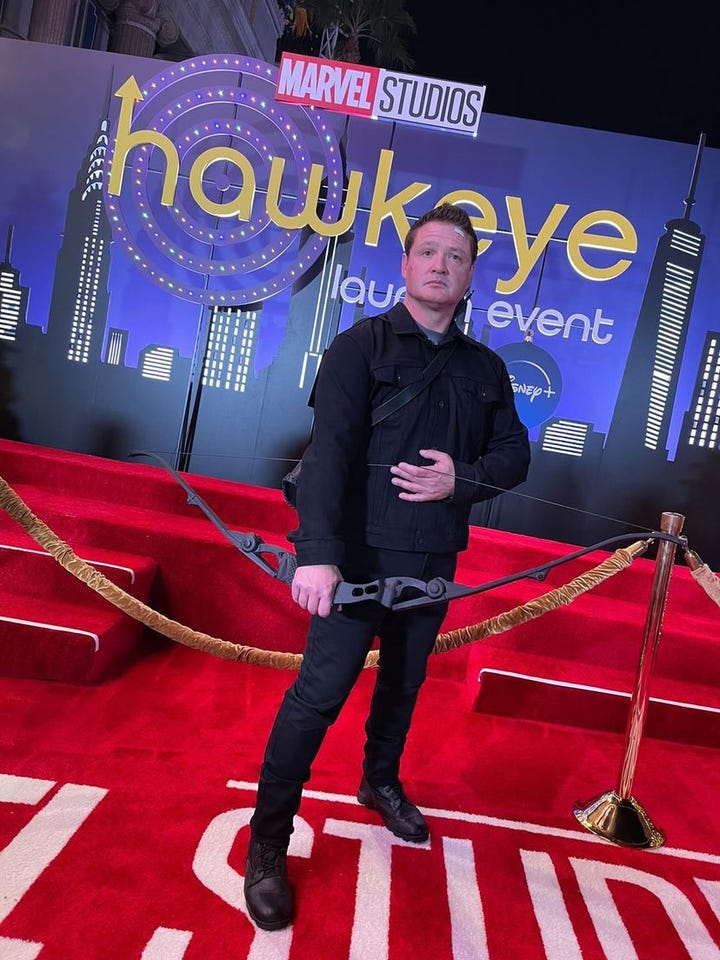 Hawkeye.cosplay: " The entire premiere was special for me since I cosplay as this character. Meeting Jeremy Renner was the highlight of the event for sure. He was absolutely amazing! He was just so nice. We met in the actual theater, and hearing my friends and fellow cosplayers cheer for me when it happened made it even more special.
He even introduced me to his daughter. I said to her, "people think I look like your dad." He turned and faced her and then pointed at his face, then mine, and back and forth. I then asked her if she thought so. And she nodded her head and said yes. Lol.
I love the show. It's as good as I hoped it would be and more. It's probably better, to be honest. Kate Bishop is excellent, and her dynamic with Clint is perfect. The scene with the larpers was hilarious."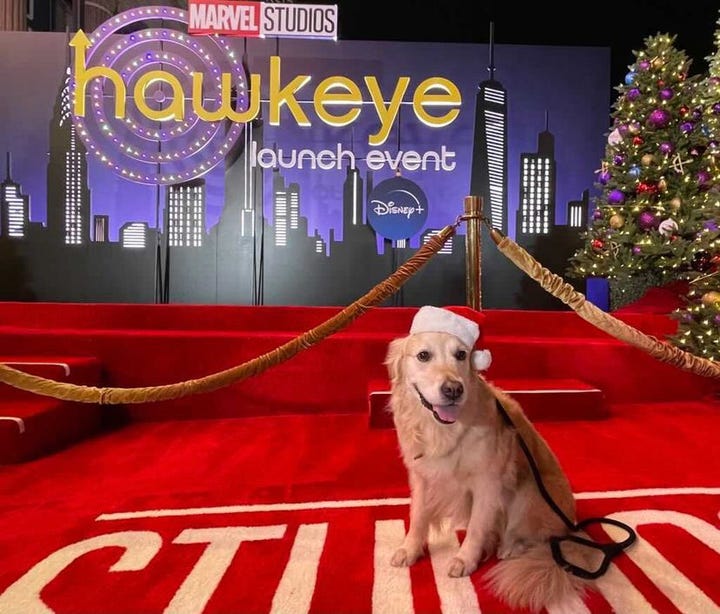 Theteenygolden: "WOOF WOOF Woooooof."
Theteenygolden's translator and best friend, Dani Lindeman: "She got sooooo many pets. I don't think she knew what to do with herself, hahaha. Everyone she saw, she'd just stop, drop, and roll over for belly rubs! And she got loootsss of treats at dinner afterward.
Marvel was really great about her; they gave us seats that accommodated her/my disability and were really great about respecting her and her job (when she was on duty, haha).
I really enjoyed it, and Luca did too! She knocked out most of the show, though."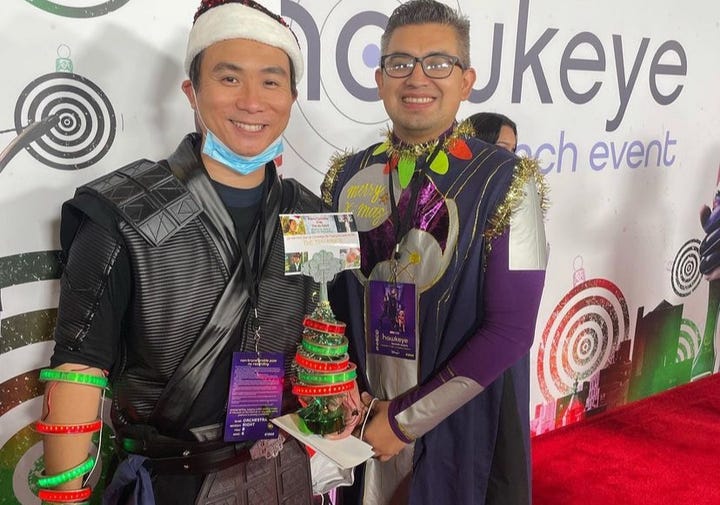 Thebrothersyeecosplay: "I love meeting up with friends that I don't see often was probably the best part, especially since many of us modified existing cosplays. It's fun to see the creativity! But perhaps one of the best moments of this premiere was when Trevor, AKA the Hawkeye.cosplayer who looks really like Renner, got to meet him, and the whole theater cheered. That was pretty awesome.
I really enjoyed the show. After Eternals, it was refreshing to just be on the ground. Nothing cosmic or grand just people living their lives trying to be normal or more than normal as it were. The characters' motivations are very clear and easy to connect with as we struggle along with them about what it means to be human and what it could be to be a hero. It's a solid debut with excellent performances and some laugh-out-loud moments.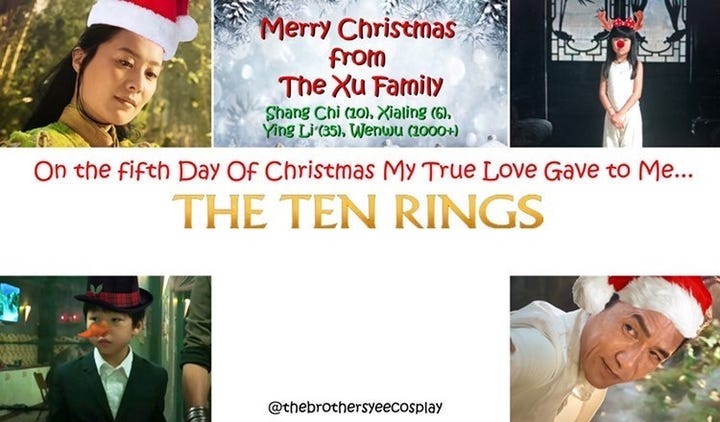 Christmas Wenwu was a lot of fun to craft. When they called for holiday-themed Cosplays, the thought immediately came to me to do a red and green version of the Ten Rings. I love doing lights on my Cosplay's, so this was a no-brainer. I wore five on one arm and put the other five of the rings on a mini Christmas tree (Five golden rings!).
I printed out several Christmas cards, too, with the characters from Shang-Chi on them to give out during the evening like it was Wenwu giving out his Christmas cards. So it's like a giant dad joke in a cosplay which is very me (ask my family!)."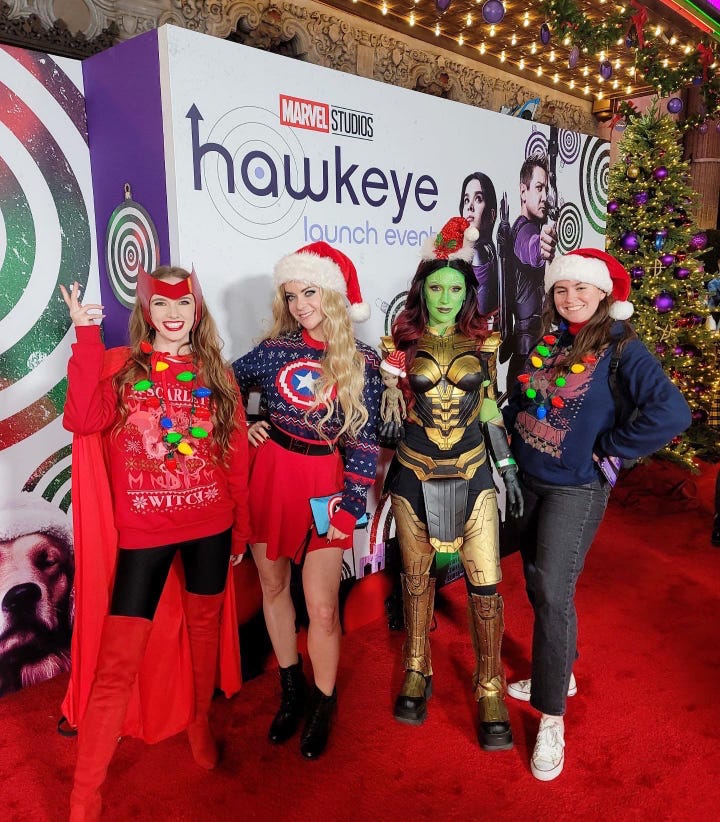 Meganrandom: "My favorite red carpet Moment was seeing all the Christmas-themed decor and cosplay. It really put me in the spirit. And when we walked out of the theatre, it was snowing! Marvel really knows how to put on a good show. As for my favorite new character, the Fiancé to Kate Bishop's mom, Jack, is a showstopper. I think he's a very mysterious and ominous addition to the cast, and he just gives me the creeps. You have to give props to the actor for that sort of showmanship. I like his chemistry with the Mother and Daughter as well."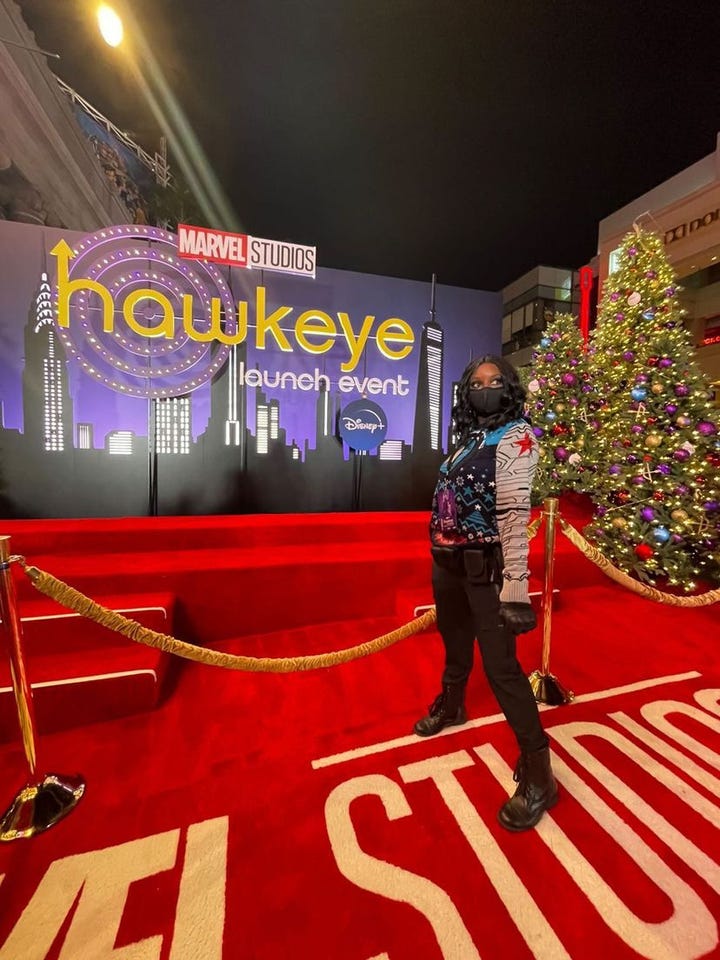 MissKrissKosplay: "I'm so grateful to get the opportunity to go to these events, and it's always great seeing friends from the community. But to me, it's always exciting seeing everyone so hyped for these new Marvel projects. The energy that everyone brings is incredible!
I liked it a lot! These Marvel shows always bring something different to the table, and I'm always so eager to see what's in store and how they will come together in the MCU! Kate Bishop has definitely caught my attention, and her story has me hooked, but I'm such a dog person that Lucky has my heart! Protect Lucky at all times!"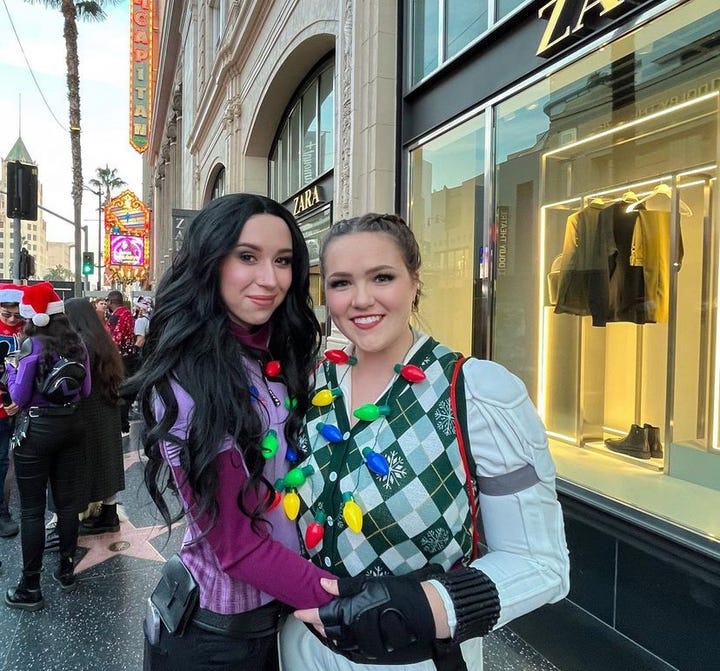 Justkaytlingrace: "My favorite red carpet moment was seeing all the Deaf guests on the red carpet! Disability representation has been so rare in the MCU that seeing interpreters everywhere and accessibility for Deaf/HOH guests was cool. I studied ASL all through high school, was fluent at one point, and spent a lot of time in my local Deaf community, so Echo and Hawkeye being repped properly are super close to my heart. Seeing marvel take steps to make the MCU inclusive, even down to the red carpet, was so special!
I loved this show! I really enjoyed Fraction's run of Hawkeye when it was going, so I've been really looking forward to seeing Renner's Hawkeye adopt more of that version of the character. He definitely did! There wasn't a single dull moment for me in either episode.
I could talk for hours about how much I love Kate in the comics (specifically young avengers), so finally seeing her brought into the MCU was honestly cathartic. I know a lot of fans have been waiting for this character for a long time as well (even longer than me), so the energy around her introduction was insane.
Also, I love that the MCU has been introducing more female characters, more disabled characters, more LGBTQ+ characters, and more BIPOC characters! So, Kate is definitely a big part of the puzzle I've been waiting for and hoping would come together over the last few years. Plus, her sense of humor (and style— I want her outfits) are incredible, so that helps."
Geekstrong: "The best red carpet moment was watching Luca (The golden retriever) meeting cast members, cosplayers and the overall joy she brought to everyone at the premiere!
It felt very much like the show is a teenage audience version of Falcon and the Winter Soldier. I love how each of the MCU Disney+ shows has a very different genre and storytelling style. It's as close as I've seen of all the shows to a more traditional TV series style.
What was it like seeing Lucky on the big screen? Distracting. Lol. It's hard not to be fully invested in what happens next to Lucky and get distracted by Lucky's storyline. I was constantly asking myself questions about how Lucky needed more screen time and story. I need me more Lucky!!!"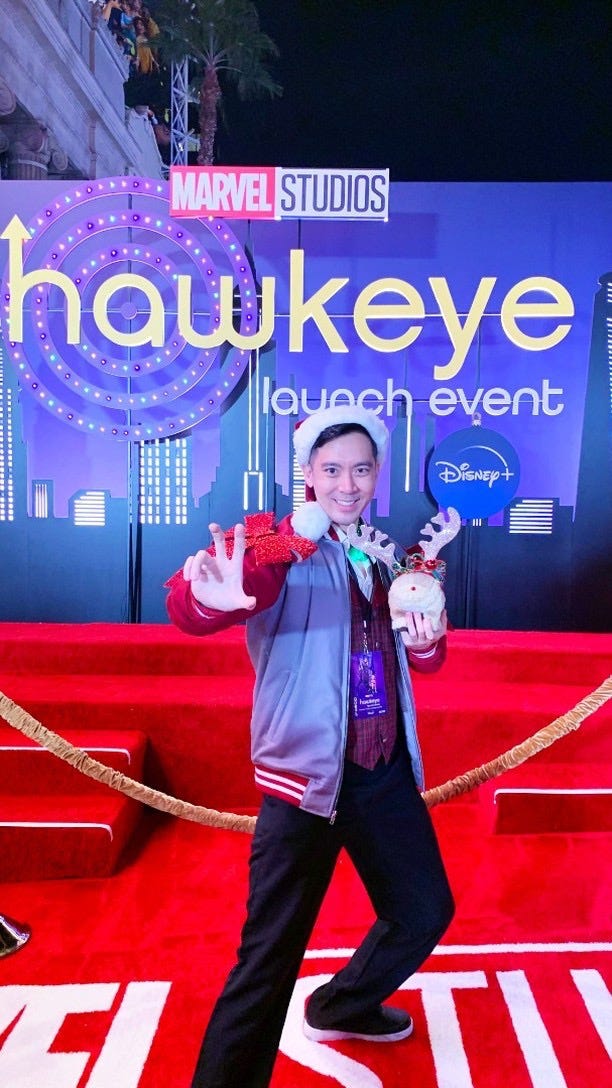 Bryan.s.lee: "The theme was absolutely my favorite part! Having all of us cosplayers be either Hawkeye or ugly sweater & tacky Christmas versions of Marvel heroes was such a genius idea. And the trees, the snow, the hot chocolate… I like to wait until after Thanksgiving to celebrate Christmas, but I was more than happy to make an exception for the Hawkeye premiere.
I loved the cast, the banter, the action! It's just a pity that, unlike with a movie, two episodes don't give you story closure, so now I'm anxiously awaiting episode three to see what happens next…
I can't wait for new fans to be introduced to the magnificence of Hailee Steinfeld's Kate Bishop! She's like all of us, a little awkward, looking up to the Avengers, and dreaming of being one, only she has the skills to do it and kicks ass. And, of course, Lucky the Pizza Dog."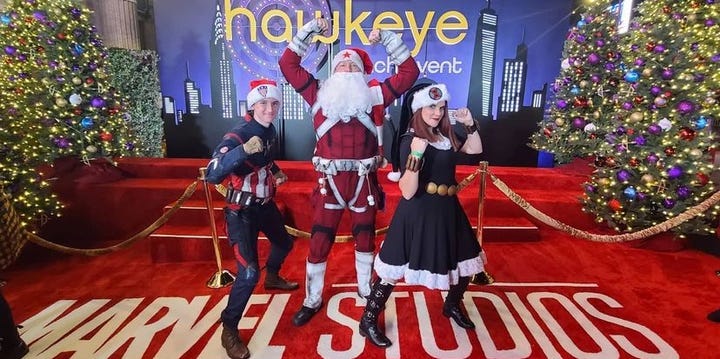 Batcap50: "First of all, it just makes me so happy to see that Clint and Natasha finally got to tell their own stories. After all of the work that Jeremy Renner and Scarlett Johansson put in over these years, it's really wonderful to see them front and center.
The show really hits the ground running in the first two episodes. We know exactly what we will get with Renner as Hawkeye, so expect more of that. Hailee Steinfeld is perfect as Kate Bishop, pretty much the younger version of Hawkeye through and through: witty and snarky. There are lots of action-packed scenes, humor, and callbacks to past MCU projects too.
For my costume, I went with a mash-up of Santa Claus and Red Guardian. I'm such a big fan of David Harbour from Stranger Things, and he was so great in the Black Widow movie. And you know, the beard and all, it just seems like a natural choice. I got a lot of compliments and laughs throughout the night, which was exactly what I was going for.
And to match me, my fiance, Lisa, went with a black Christmas dress along with accessories from her existing Black Widow costume."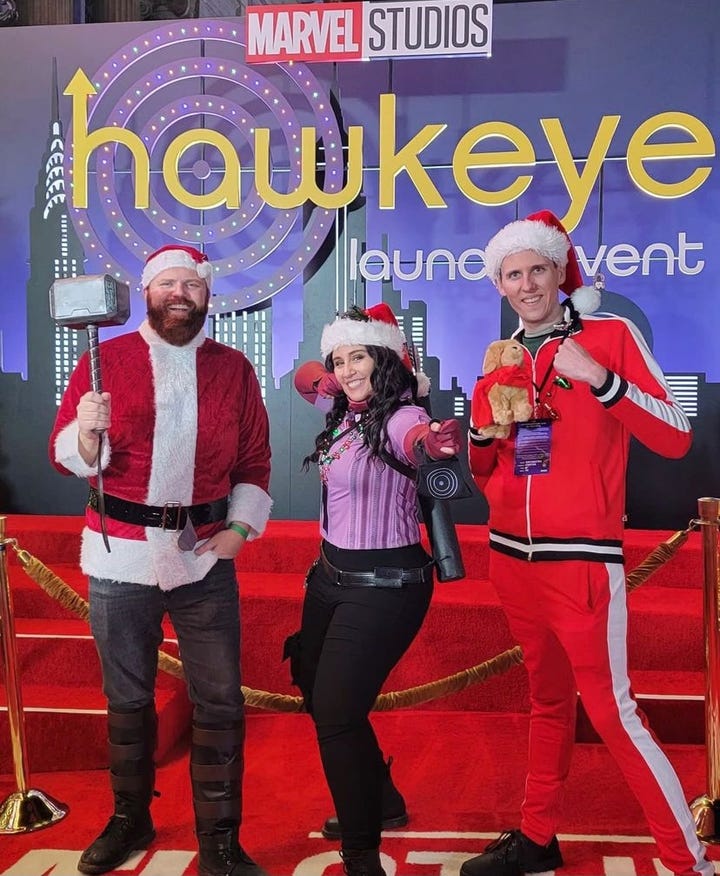 Ladytoxie: "I loved seeing the chemistry between Jeremy and Hailee, and this show is a ton of fun that really brings in the holiday spirit. So many moments felt like they were lifted from pages of the comics while feeling real and character-building. We get to see Kate coming from her roots and how she gets to work with Clint (much to his chagrin), and you can sense a foreshadowing of some pretty incredible moments to come. I can't wait to see the rest!
Kate is such an ambitious and dedicated character that seeing her being portrayed on screen like that was a delight. It is even more encouraging that someone like her - young, inexperienced, and femme - could get the chance of her dreams and go for it. She's smart, she's funny! I love her a lot, and Hailee's portrayal of Kate is spot on. I think a lot of people are going to love her too."
Hawkeye streams on Disney+ on November 24th, 2021.
To possibly be featured in our articles, be sure to tag us on Cosplay Central's Instagram, Twitter, or Facebook.