Cosplayers Partake In "Cosplay Sew-Along" To Create Historical Stays
These cosplayers show that you can create anything with a strong, supportive community.
I stared at my sewing machine for a year, wondering if I'd ever create again. I know a lot of cosplayers felt this way in 2020. I know many still feel this way.
It wasn't until January 2021, when I finished my first set of stays (also known as a corset), that I once again felt the surge of elation that came with completing a project. I had pulled myself out of the mental slump of creation fog, and had checked a huge cosplay goal off my 'to-learn' list. It felt so good. And it was at that moment I decided I wanted to spend 2021 experimenting with as many types of corsetry as I could.
I also decided I wanted to bring as many people along with me on that journey.
Historical costuming is a place many creators from marginalized groups do not feel welcome. While the community is trying to press forward toward inclusivity, historical garments can be intimidating to say the least. It can be easy to feel overwhelmed not only by the price of fabric and materials, but also by the lack of accessible information and community support.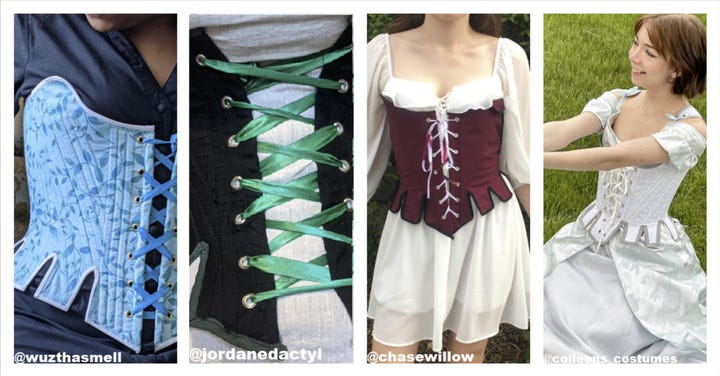 It didn't take long for me to notice a gaping chasm between who wanted to take part, and the tools and resources existing for them to actually do so.
Then, I got an idea.
What if the joy and accessibility I felt when creating a set of 16th century stays could be replicated? What if I could help others who wanted to learn and make their own set of stays get out of their creative slump as well? I'm a firm believer in the adage "As you climb your ladder of success, reach down and pull others along with you."
And thus, the first sew-along was born. The goal: One month of sewing historical stays while using a commercial pattern.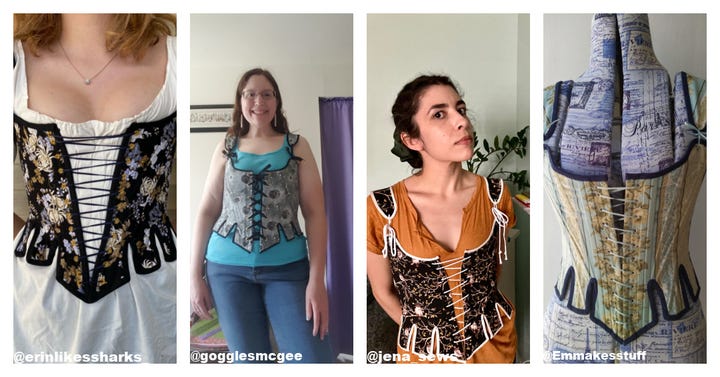 Originally I thought maybe twenty people would join in on the fun...but then almost 100 signed up via free registration. This number gave me the fuel to pivot in another creative way. I am only one person, so the idea of individually helping 100 makers (as much as I'd love to) wasn't going to be a possibility.
What I could do was set them up for success by pairing together those who were more experienced with those who were newer to sewing, in the same support groups. Support groups have been one of the most powerful parts of this process. Not only do they allow for easy communication between myself and those taking part, but they build a community with pods of 30 makers who can rally around and inspire each other. I also scheduled weekly check-ins with the larger group via Instagram Lives for questions, concerns, craziness and to talk about each week's goals.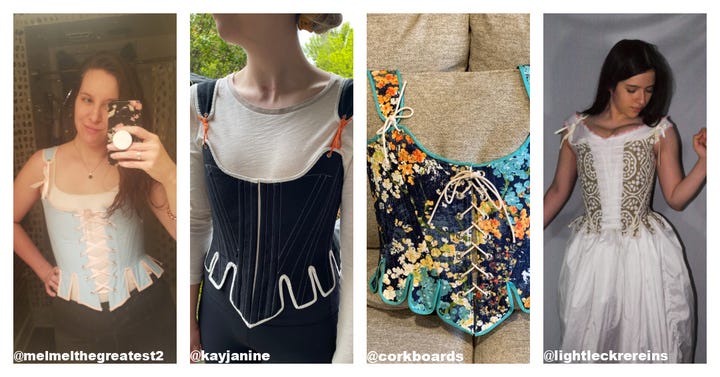 It was a lot of work. But April turned out to be one of the best months I've had in a long time. I loved seeing the tenacity of this group and makers supporting other makers. We pressed forward, despite all the quirky challenges that come with making a project, and we completed our goal!
Without conventions, photoshoots or gatherings for so many of us this past year, this sew-along felt like reclaiming our joint creativity. Afterall, one of the most powerful parts of being in the cosplay community has always been the people—and that we are stronger together. Our Instagram hashtag #oursewalong has posts and projects from people of different skill levels, cultures, races, nationalities and cosplay backgrounds. And as we learned together—we grew together. It's been so beautiful and inspiring to watch. Cosplay is and should always be for everyone.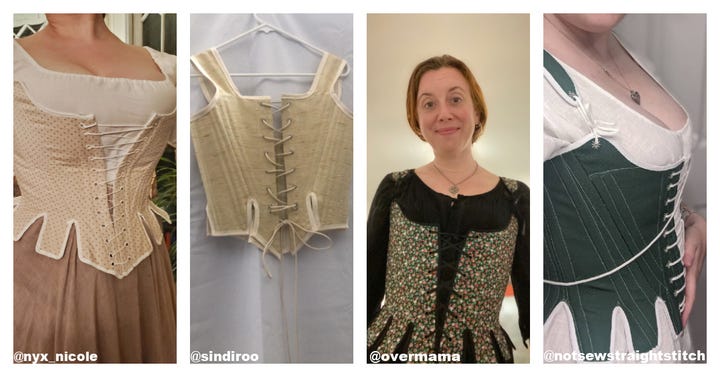 Our Summer Sew-Along (focused on beginner makers) will be during the month of June 2021 and will focus on making 18th century pockets. This project will allow beginners to dabble in some of the same techniques required for larger projects like corsetry. I honestly cannot wait to create with this community again. Registration is now open!