Cosplayers Transform Studio Ghibli Characters Into Witches
Halloween season is in full swing and these cosplayers descended on Dragoncon as Studio Ghibli witches.
Since 1985, Studio Ghibli has produced twenty-two films, with one currently in the making, leading to several iconic characters with incredible stories drawing in numerous cosplayers to cosplay over the years. Many of these cosplayers have redesigned the characters with their own twist for costumes. This group, in particular, decided to make each character a witch! How very Halloween of them. We talked with cosplayer Seams.come.true on the details of the group, her Sophie-inspired witch cosplay, and how to get into upcycling.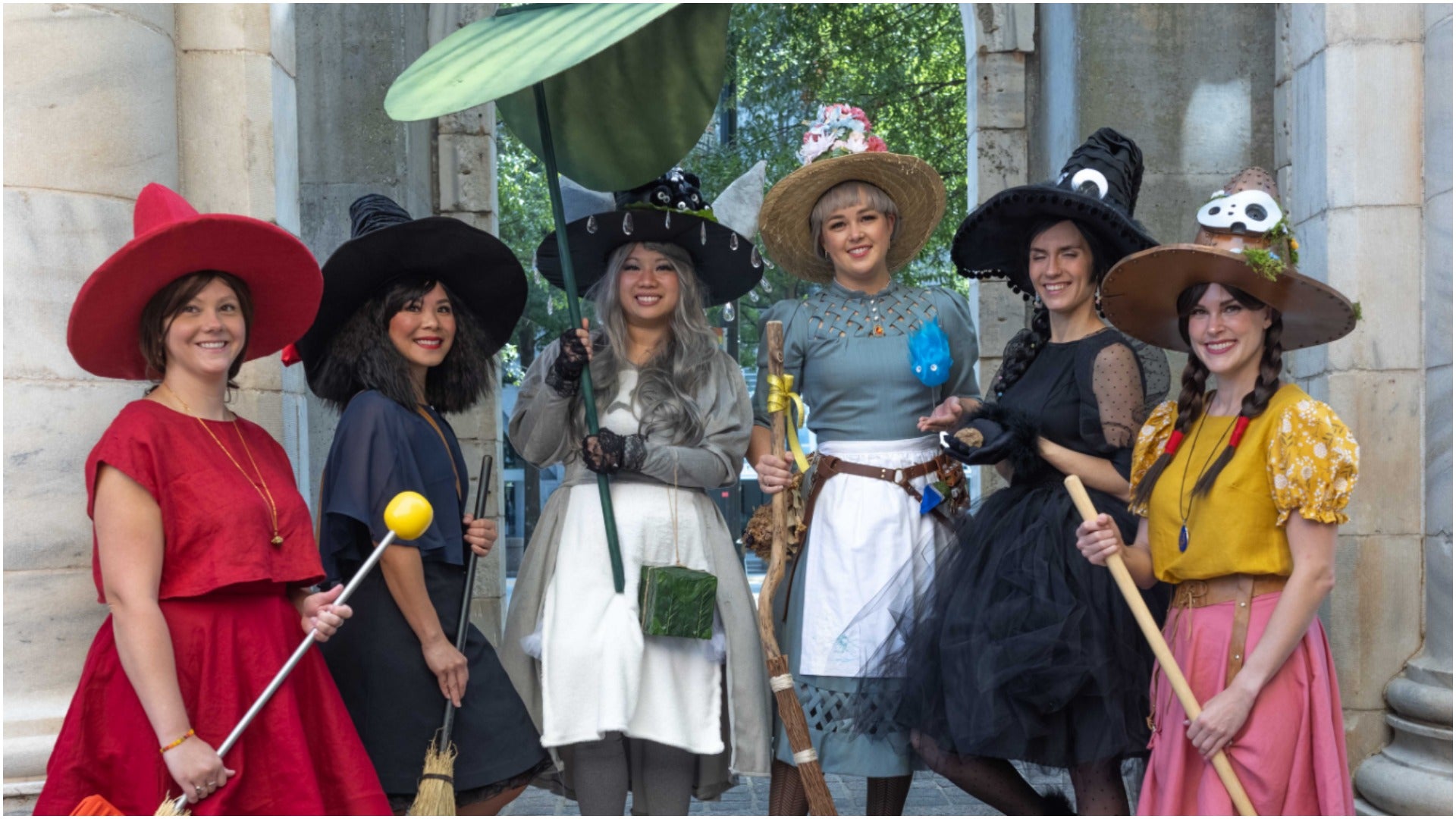 Cosplay Central: In a recent post your caption said this group came together two years ago! How did you all connect and find each other?
Seams.come.true: All of the cosplayers are a combination of local friends here in Greenville, SC, and a college friend of mine. Over the last couple of years, we found each other through cosplay and have stayed in touch mainly via group chat throughout the pandemic. There are actually eighteen of us in various stages of making our ghibli witches! This was just those that could make it to Dragoncon.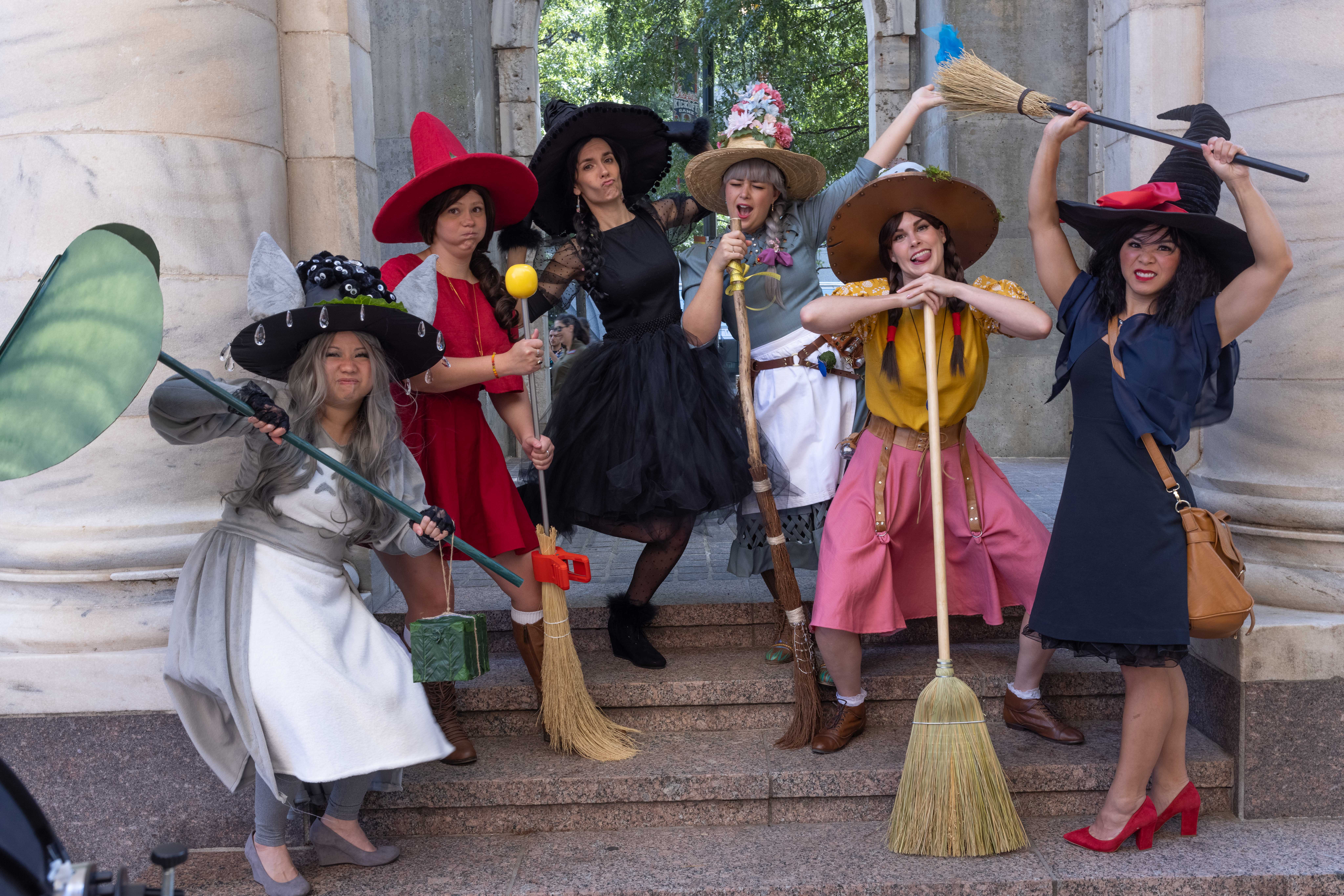 CC: Do you eventually plan on all eighteen witches meeting up for a photoshoot or for a convention?
Seams.come.true: That's the dream! But the FULL group lives all over the country, so we will probably meet up in pockets. Also, I'll be going to Anime Weekend Atlanta next month as Sophie and a Howl Witch will be there as well.
CC: Who came up with the idea for the group? What was the inspiration?
Seams.come.true: It was a brainchild of myself, sb_smo, and Sadie by Design (on FB) after seeing mahou.shoujo's Disney witches in 2019. We extended the idea to our group of friends, and they were on board! We previously did a group of Disney-Sailor moon crossovers, so the group chat had been established for a while!
CC: When it came to designing the characters to be witchy, was it a solo design or did you all work together?
Seams.come.true: We had a couple guidelines that include:
Large, pointy hat
Long or puffy skirt
A broom or long accessory of some kind
Other than that, it was free game. We decided on who would be who and gave advice to each other along the way.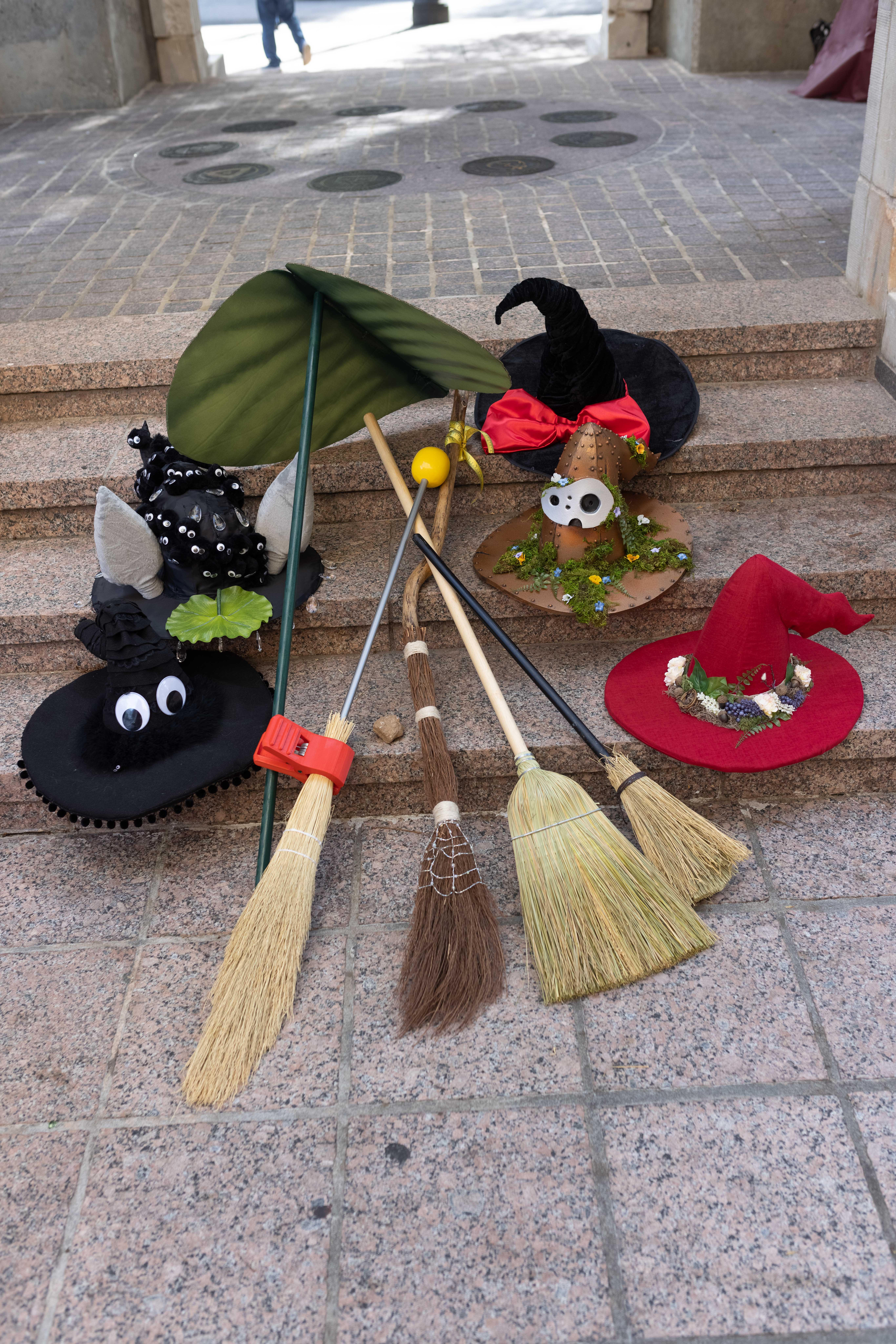 CC: Can you tell us about your costume in specific? What was your favorite part to craft?
Seams.come.true: Everything is self-drafted and patterned. I used 90% upcycled, thrifted, and found materials. It involved sewing, sculpting, weaving, embroidery, painting, sanding, leatherwork, beading, and wig-styling. The only "new" materials were the apron, petticoat, and bloomers cotton, which was in my stash.
The hat was thrifted, torn apart, rebuilt with floral wire, and covered in thrifted flowers. The broom is made from a branch I found on a hike, a thrifted cinnamon broom, and hand-strung beads. The weaving in the dress is what probably took the longest! There are over 180 individually cut, sewn, woven, and attached strips. I learned how to do hand embroidery with floss and freshened up my leatherworking skills. The flowers on the boots were hand-painted and based on the flowers in the movie.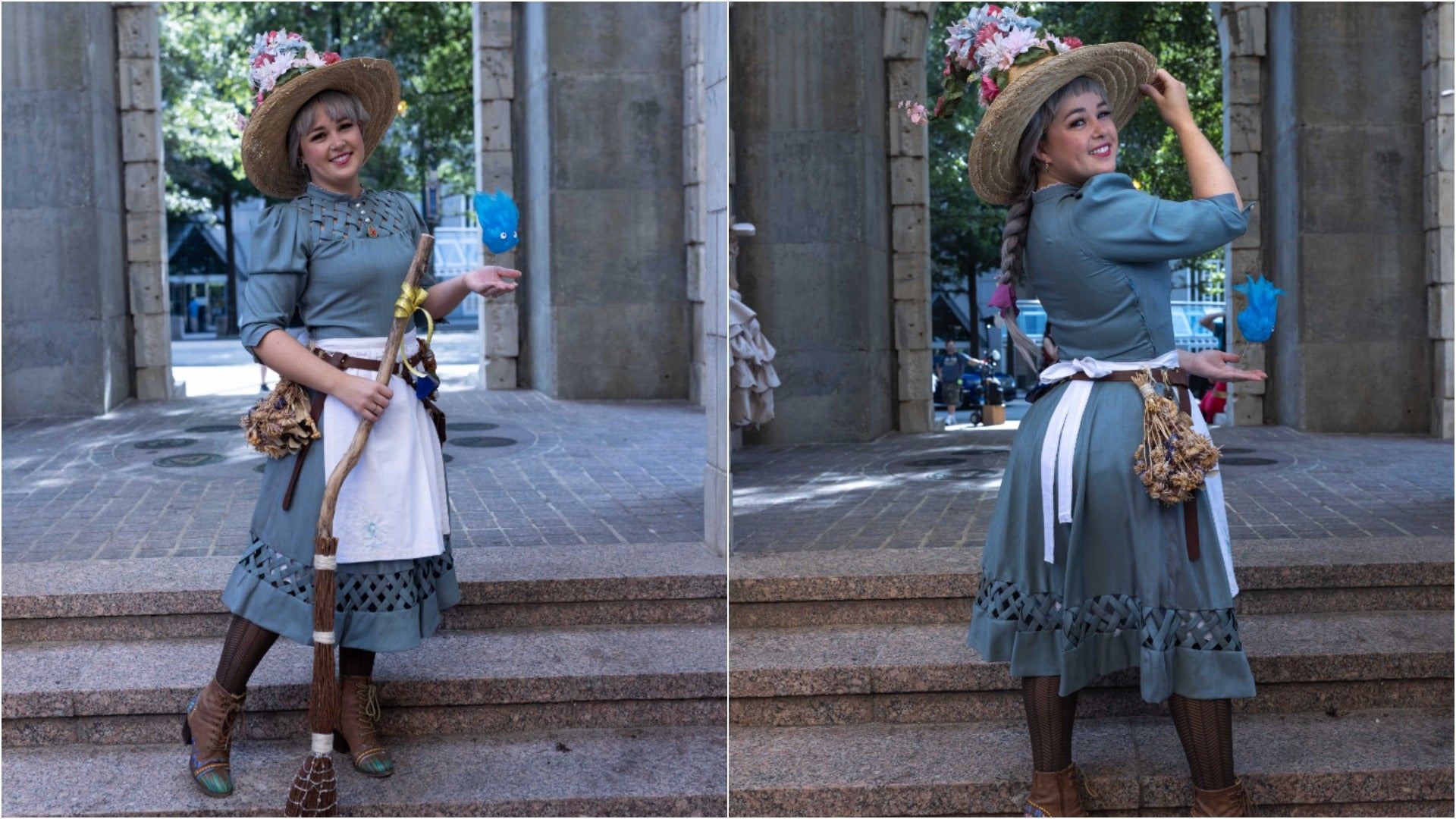 CC: Wow! That sounds like a beast of a project! Can you tell us about your Calcifer prop? He is too cute.
Seams.come.true: Calcifer is a Christmas ornament filled with fairy lights, covered with organza fabric. I made the eyes by cutting out circles of paper, drawing on the pupils, and then gluing them under glass cabochons. The structure he is attached to my hand is made with wire and loops around my two middle fingers like a ring.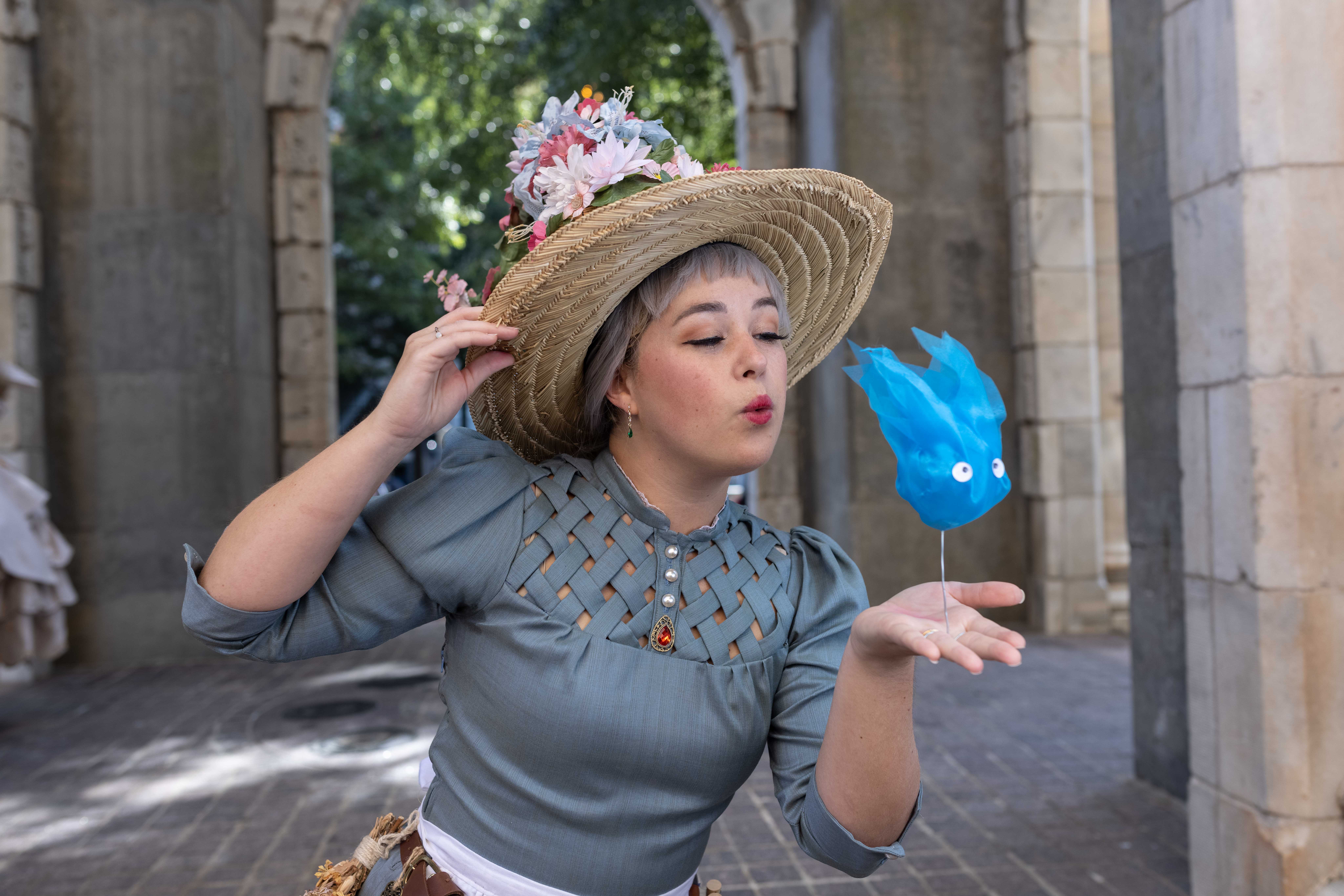 CC: You mentioned upcycling earlier, and we'd love to learn more about that. What advice would you give to cosplayers who want to start upcycling, and are there any resources to join or look into to help begin their journey?
Seams.come.true: Upcycling is a great way to save on supplies, but it also gives your cosplay far more depth and texture, making it feel more expensive! I visit thrift stores semi-regularly and am always on the lookout for garments that contain a large amount of fabric.
Many stores even have sales on dresses on specific days; I try to go then. Sometimes a dress, bed sheet, or coat will inspire a project I hadn't thought of before. Aside from fabric, thrift stores are great places to find boots, shoes, hat bases, garments you can trace patterns from, jewelry you can break apart and use as embellishments. There are so many possibilities!
As far as located stores, look up local, privately-owned thrift shops in your area (they tend to get higher quality items than large chains). My favorite local shop is safeharbor.resaleshop, which provides a continuum of services for survivors of domestic violence and their children. Another good source for cheap fabric is Seconds stores. They sell offcuts of otherwise unsellable fabric and are often locally owned.