Deadpool Cosplayer Turned Drag Queen Is Everything We Needed
Meet Dragpool! The sensational cosplay creator who turned Deadpool into a fabulous drag queen.
Watch out, Ryan Reynolds, because if Aphrodite took human form, this is what we'd expect to see. Even Wolverine can't keep his hands off. Dragpool is an original character based off of Deadpool brought to life by cosplayer The_reel_guy. Due to the character's popularity, The_reel_guy created the personas' own Instagram account Dragpool, where they exclusively post only the best Dragpool content.
The character Dragpool transforms Deadpool with marvelous accessories that include and are not limited to crystal bullet earrings, rhinestone glitter lips, and a 2-foot, red beehive wig. The higher the hair, the closer to the Marvel execs. Dragpool also doesn't wear a mask; instead, they use makeup to allude to an even more spectacular look. Of course, being a queen with a beard adds an additional hour to make up, but we think it's 100% worth it!
With great big hair comes great responsibility, and we want to know all of Dragpools secrets, tips, and tricks on becoming the 7.5 foot, red, mutant drag queen. Now, the best way to prepare for our exclusive interview with them is to strap on your tallest stilettos, put on your best lipstick, and grab a chimichanga, this is going to be an informative wild ride, and you might get hungry.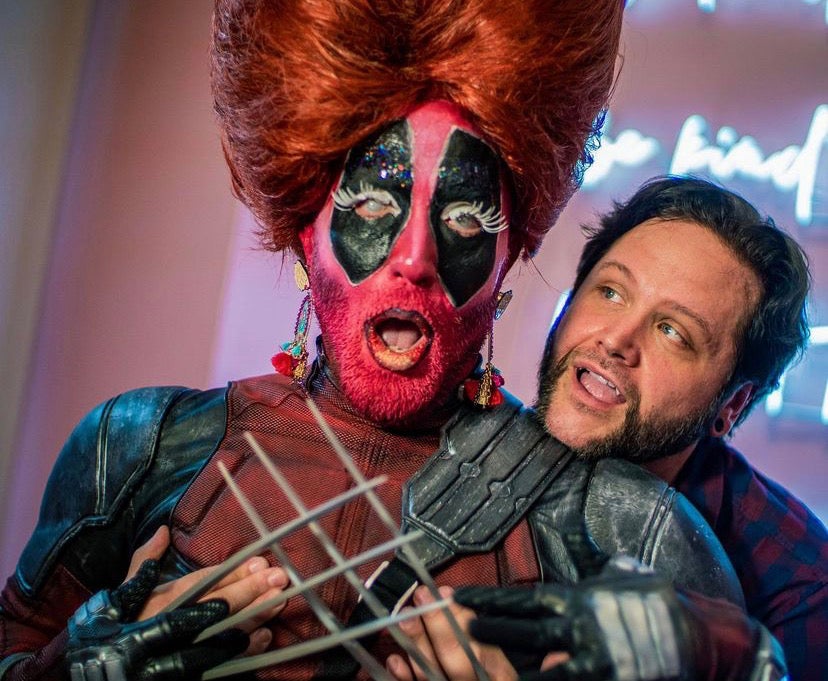 Cosplay Central: What are your pronouns? Do they change in and out of cosplay?
Dragpool: When I am in character, I accept any pronouns. I don't see Dragpool as being gender-specific. I am not impersonating a woman. I am a drag queen. I want people to see a drag queen. I do not pad my hips or create breasts. I kept my beard. I don't tuck. I am androgynous and non-binary on purpose. So, I welcome and respond to all pronouns.
Interesting anecdote" A decade or so ago, I had a colleague use the word "ma'am" to address me. She did this as a slip of the tongue, but because I was openly gay, she worried that I might see it as a slur and profusely apologized. I responded: "No need to apologize. I was raised by strong women. If you see them in me, I consider it a compliment. I am not offended by the feminine."
I didn't know that years later, I would wear false eyelashes and heels -- which have only secured my masculinity further -- but I think I was on the path that avoided letting others' judgments define me.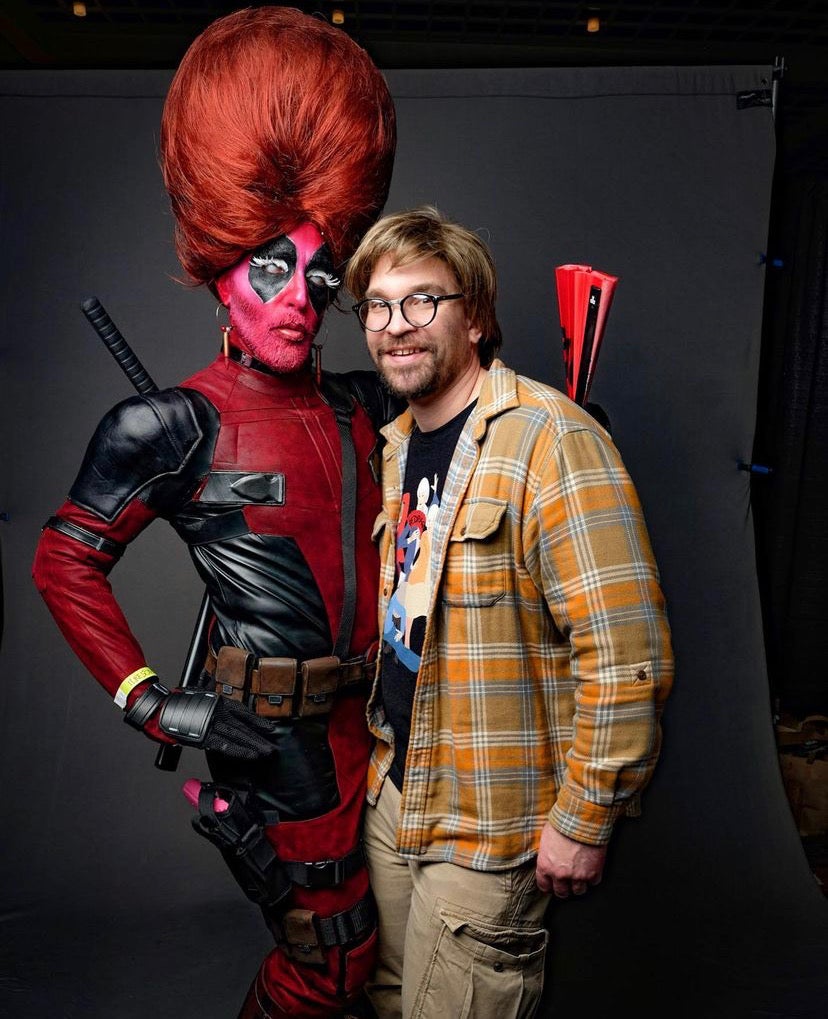 Dragpool Fun Fact: Dragpool and husband thereelpaul dressed as Dragpool and Weasel for the first time at San Diego Comic-Con in 2018. Though this wasn't their first rodeo at SDCC, the couple is widely known for dressing as Rick Grimes and Zombie Shane from The Walking Dead and as Will Byers and a Demogorgon from Stranger Things.
CC: What was the idea behind creating Dragpool?
Dragpool: I was in a cosplay rut. I was not feeling very inspired. Nothing was exciting to me. Then, by accident, I saw the Celine Dion video for "Ashes," the theme song from Deadpool 2. Behind Celine was an incredible dancer wearing stiletto boots in a full Deadpool suit. I later learned the dancer was Yannis Marshall, an incredible male dancer who has mastered dancing in heels. He trains people the world over. But his performance enthralled me. It was also like an epiphany. "That needs full drag," I said to myself. And literally, at that moment, Dragpool was born -- I just "saw" him in my head: Deadpool suit, beehive wig, stiletto heels, and a full face paint instead of a hood. Since then, I have tweaked some things (and have gotten better at the makeup, which included learning to camouflage my beard), but I got busy building the next day.
CC: When did you first debut Dragpool?
Dragpool: I debuted the character at San Diego Comic Con 2018.
I was invited to participate in a San Diego morning TV program to celebrate Comic-Con and had a very early call time. So I stepped off the shuttle bus, and a security guard was standing there. She approached. "We aren't supposed to do this,' she said, "But you are fabulous." I knew at that moment that I had a hit. The characterization was just as organic. I didn't think about it; I just kind of "became" Dragpool when I was in the cosplay. The voice. The mannerism. The sass. It was all just "there."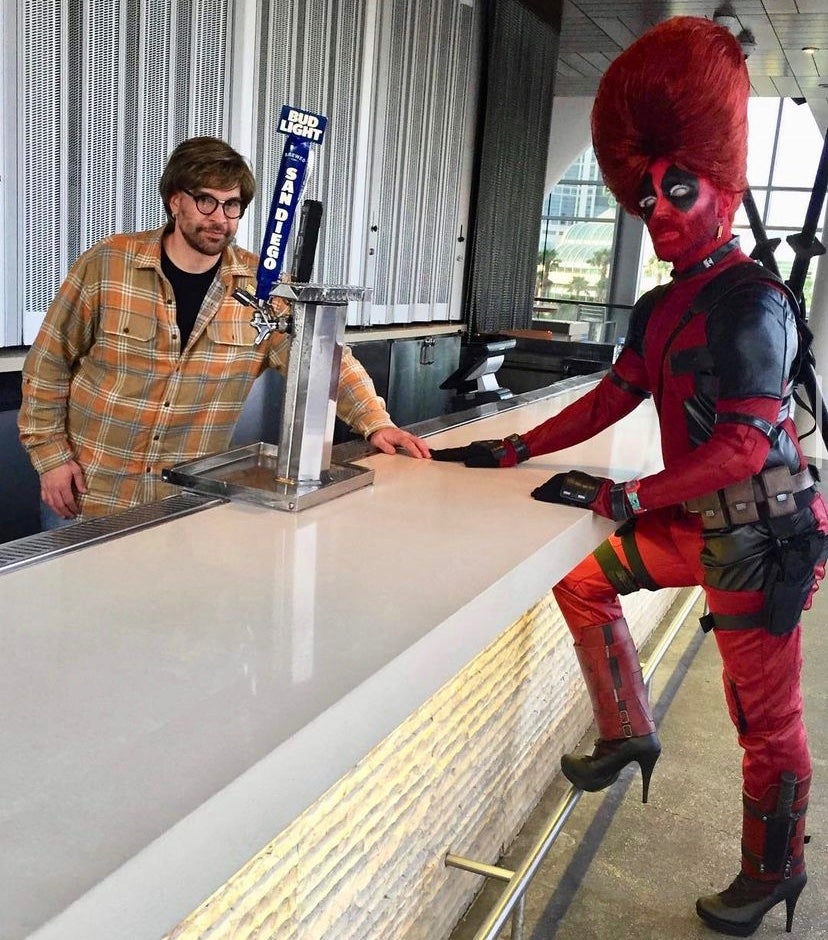 Dragpool Fun Fact: Dragpool wore these heels for nine hours on the debut of this cosplay. But being the goddess that Dragpool is, they were prepared. The shoes are faux leather and lace, so they stretch, and because of the platform, the foot is not extended too far. In addition, Dragpool uses Buck's Balm (a hemp oil-based salve)on their feet before and after a con.
CC: What does cosplaying as Dragpool mean to you, and how has it affected your life?
Dragpool: That's a big question.
Before Dragpool, I was questioning my creativity. Full of doubt. Falling back on old messages of being mediocre. But, that character and the fun she brings to con-goers, and now a social media audience, was very validating as an artist. Dragpool gave me back my belief in myself. Helped define my creativity. I am not a mainstream cosplayer. I am not about screen accuracy and recreating a well-known character. I like the obscure, the weird, the original. It is where I see my strength as a creator.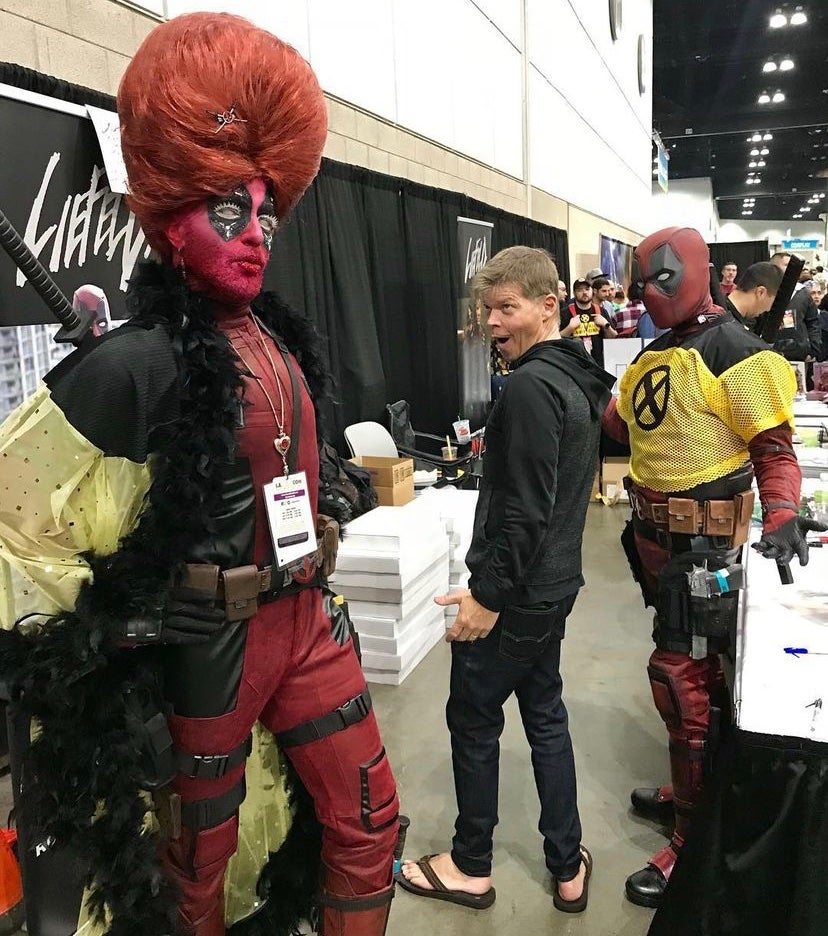 Though I had been recognized for prior work, Dragpool "moved" people. From little kids to grandmas, people got excited. It wasn't just about my skill as a cosplayer (especially then when my ability to create this drag makeup was pretty sad); it was about people seeing a character that gave them their own moment of being understood. The misfits call me their own. I'm a misfit. Dragpool became my medium to give us all some confidence. I get a lot of trans and non-binary youth who embrace Dragpool as their superhero. I am honored by that.
One of my favorite stories came from a young lady's mother. I was at a well-known horror convention. I had just arrived, and a girl approached me holding a prop axe and asked for a photo. I stopped and engaged her a bit, helped her hold her axe for maximum effect. It took all of 5 minutes. But, her mom later wrote me and told me that her daughter did not stop talking about me the whole Con. The girl felt empowered just by my recognition. That floored me. There are lots of people every day who struggle to see their value. Kindness, respect, and giving them some time -- can go a long way to helping them see who they are.
CC: Where did you get this fabulous costume, or how did you make it?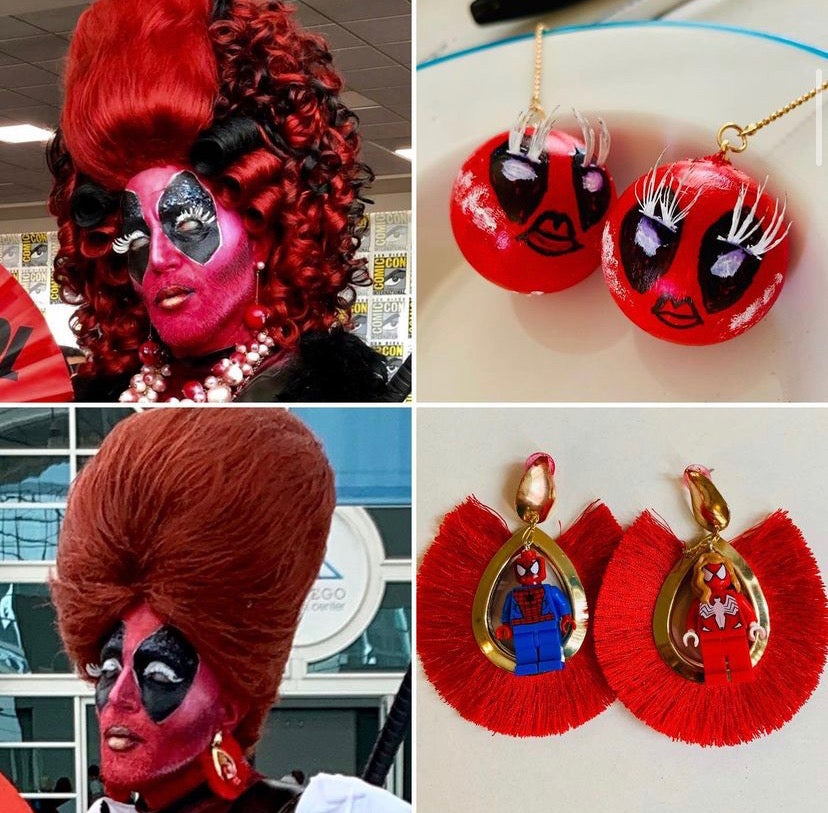 Dragpool: All of the above! I see Dragpool like Barbie: The basics have got to stay the same, and the rest is all accessories!
The basic Deadpool suit was purchased and then modified by costume and prop maker Jim Logan. The wig was designed by Hollywood Outfitters Wigs. Most of my shoes come from Pleasers. I do my own makeup and often construct my own earrings.
The X-Men Trainee Negligee robe was designed by me and brought to life by my friend, Shannon McCleerey-Hooper. The Thanos Infinity Stone Cha Cha Boots were a custom creation by me from a purchased pair of boots. I have a new Deadpool suit made by El Fett, but quarantine weight keeps me from fitting into it! A good reason to slim down!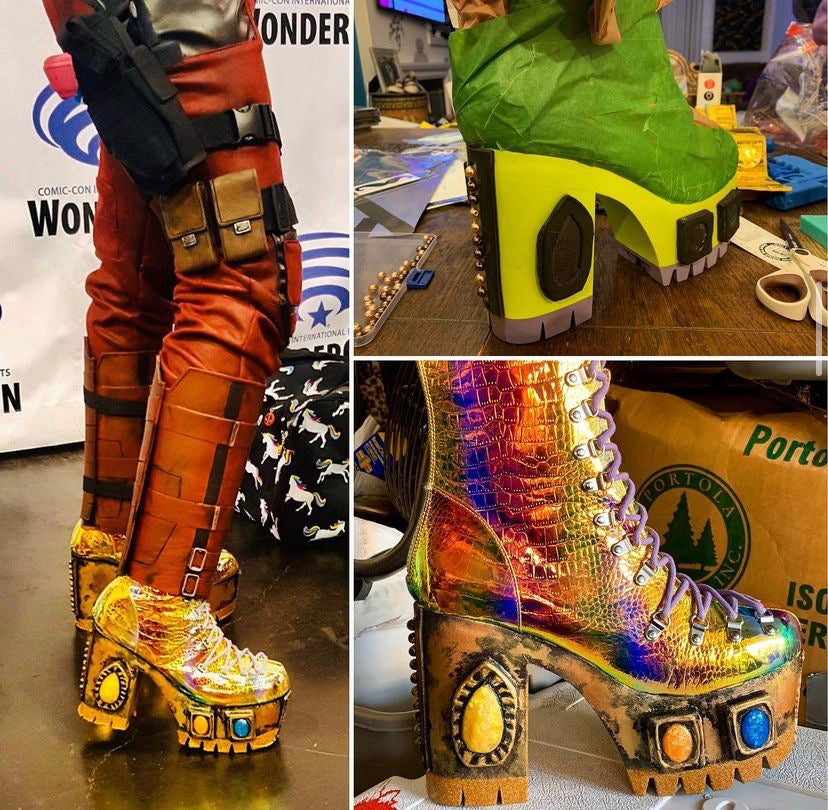 DragPool Fun Fact: These infinity gauntlet heel crushers are a pair of boots from @dollskill that Dragpool modified. These modifications include UV resin casting of the stones, foam inlay pieces (detail created with puffy paint), glued faux pearls, and the painted boot platform. Plus, there is holographic glitter on the edge of the sole!
CC: Tell us your makeup tips and tricks so we can all look as good as you!
Dragpool: I got started in makeup as an FX artist, mostly doing creature work. Dragpool's makeup is really theater makeup. It is a combination of effects makeup and beauty makeup. To camouflage my beard, I start with a layer of alcohol-based airbrushing. Then, I put a cream layer over that. I like glitter lips. I do different approaches to my eyes -- but primarily stick with glitter eyebrows. Messing too much with the basic Deadpool eye shape takes away from that basic Deadpool image. I also add mesh contact lenses to enhance the Deadpool hood effect of the makeup.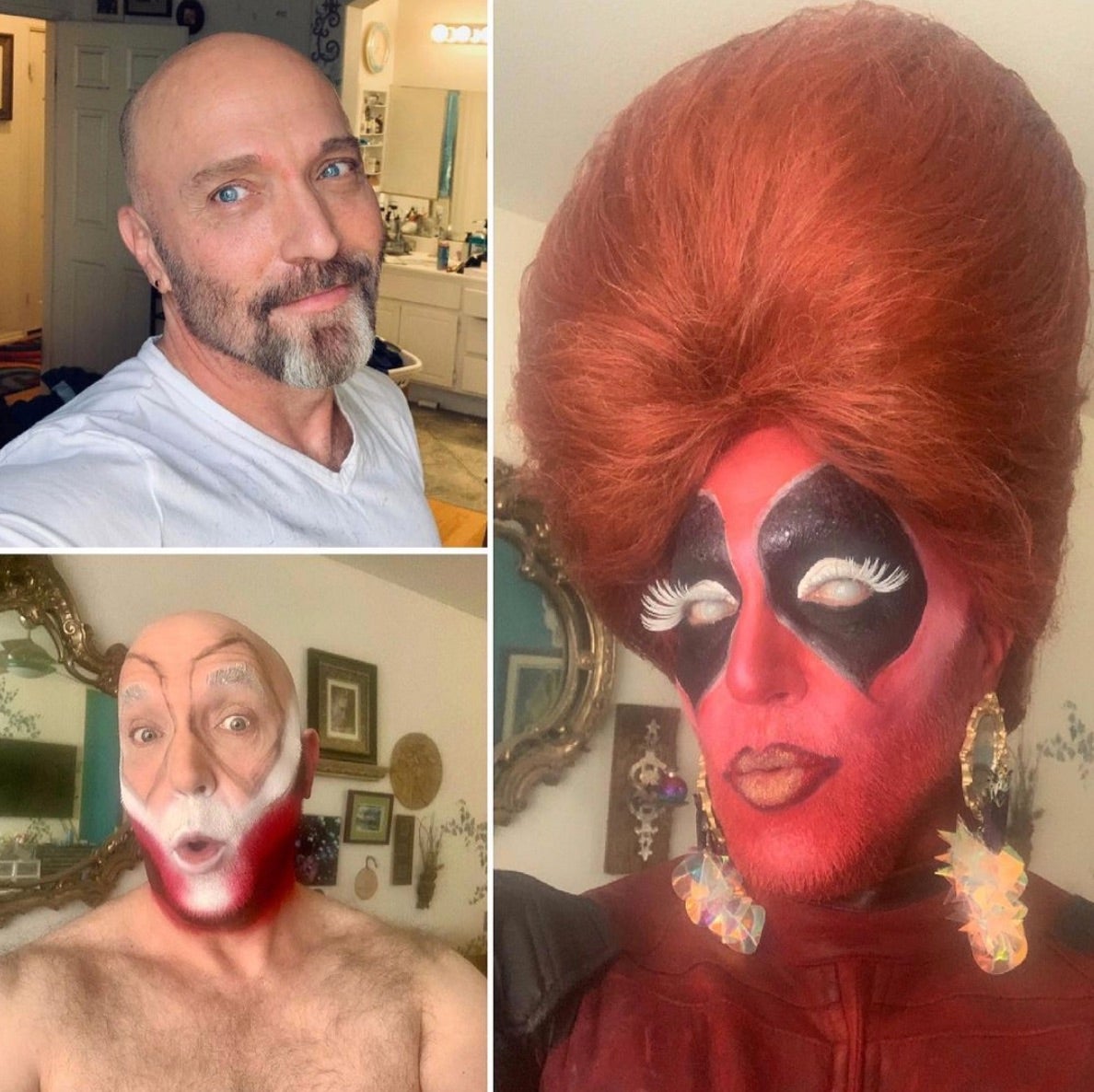 Some general tips: Set your makeup. This will generally be a combination of powder and a sealant. Use prosaide instead of glue stick to glue down eyebrows -- it takes longer to get off (and you will need an adhesive remover like Telesis), but they will stay down no matter how long you sweat or are in costume.
Never use cheap contacts! I prefer the brand, Gothika. They are moderately priced. Cheap, Halloween Store contacts can ruin your eyes. A name brand will require that you have an eye exam before they will sell them to you. It is a little more of an investment, but you only have one set of eyes.
Remember, you won't be Rick Baker your first time out. And that is fine! Even Rick needed to generate an expertise. Do not let troll comments define you. You have the right to be a novice and to learn. Dragpool's early makeup was pretty bad; it did not stop people from loving the character! Own it. Humble yourself. Practice. You gotta start somewhere, and you will get better.
DragPool Fun Fact: Instead of shaving off the beard, Dragpool decided to make it part of the cosplay! They start with a foundation layer of airbrushing before moving on to the cream makeups. The entire makeup process can take up to 4-6 hours.
To possibly be featured in our articles, be sure to tag us on Cosplay Central's Instagram, Twitter, or Facebook.