Emma And Marvel Costume Designer Talks Historical Costuming
Costume designer Alexandra Byrne gives tips for making Regency-era costumes from her new film, Emma.
Emma is a period film in which much attention has been paid to clothing details. The fitting scenes for a beautiful, cloak-like pelisse, for instance, alert the attentive cosplayer to all the carefully tailored stitches on the bodice. Emma's many costume changes – and the movie's general sense of character through costume – are courtesy of designer Alexandra Byrne. She previously won an Oscar for her work on Elizabeth: The Golden Age, then won the hearts of millions of comic-book fans with her work on such Marvel movies as Thor, The Avengers, Guardians of the Galaxy, Avengers: Age of Ultron, and Doctor Strange.
Now she's nominated for a Critics Choice Award for her gorgeously ornate Regency revamps on this film: the canezous, the chemisettes, the spencers, the pelisses, the reticules – and don't forget those hats! You could try to simulate those luxurious costumes by buying and modifying some modern pieces, or you could go all out and attempt to make them from scratch. Your choice. After all, you must be the best judge of your own cosplay happiness.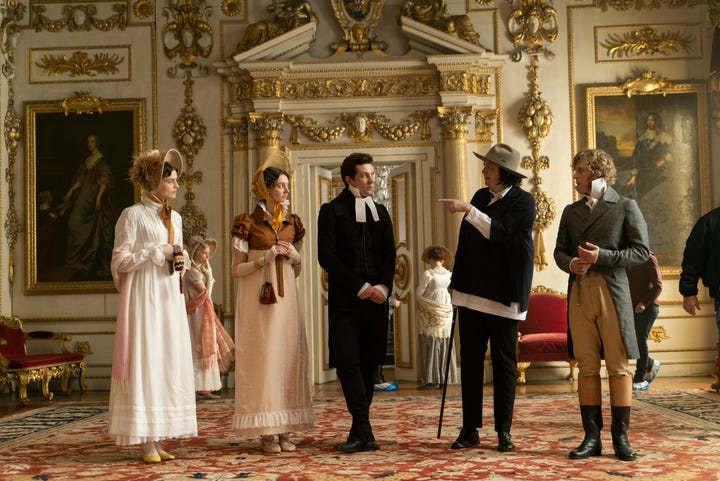 Cosplay Central: Emma creates a lot of her looks by recycling pieces, mixing and matching…
AB: It's not just recycling. Yes, she does have a lot of looks, but she's a privileged upper class girl, and she has the equivalent of a Net-A-Porter account. She has the right clothes for every occasion, every season, every dressing moment she wants to achieve. She only has three all-white cotton muslin dresses, but you can change the look by having a different colored petticoat on underneath, because muslin is so sheer, or by changing the little chemisette insert at the neck that changes the shape, the spencer jacket, the boots, the gloves, the jewelry, the bonnet, the reticule… People think this period is simplistic and that it's just one dress, and it's not. It's a lot of layers that gradually build, so you could change the look of your dresses for the season or for the occasion.
CC: There is one layer the film doesn't show, even though we're privy to a few dressing and tailoring scenes: the underpinnings or stays.
AB: We do see their underwear when Emma and Harriet are practicing their dancing in their nightdresses, and Harriet, because she wasn't expecting to stay over, is dancing in her chemisette and corset. The corset of the period wasn't a hefty corset to pull you in at the waist. It was like a long line bra, so it kind of airbrushes the shape of the body and moves through the body and lifts the bust. [Director] Autumn de Wilde was very keen to understand the reality of the period, and when we were talking about the dressing routines, she said, "Well, we've never seen a man get dressed in this period, so let's do that!"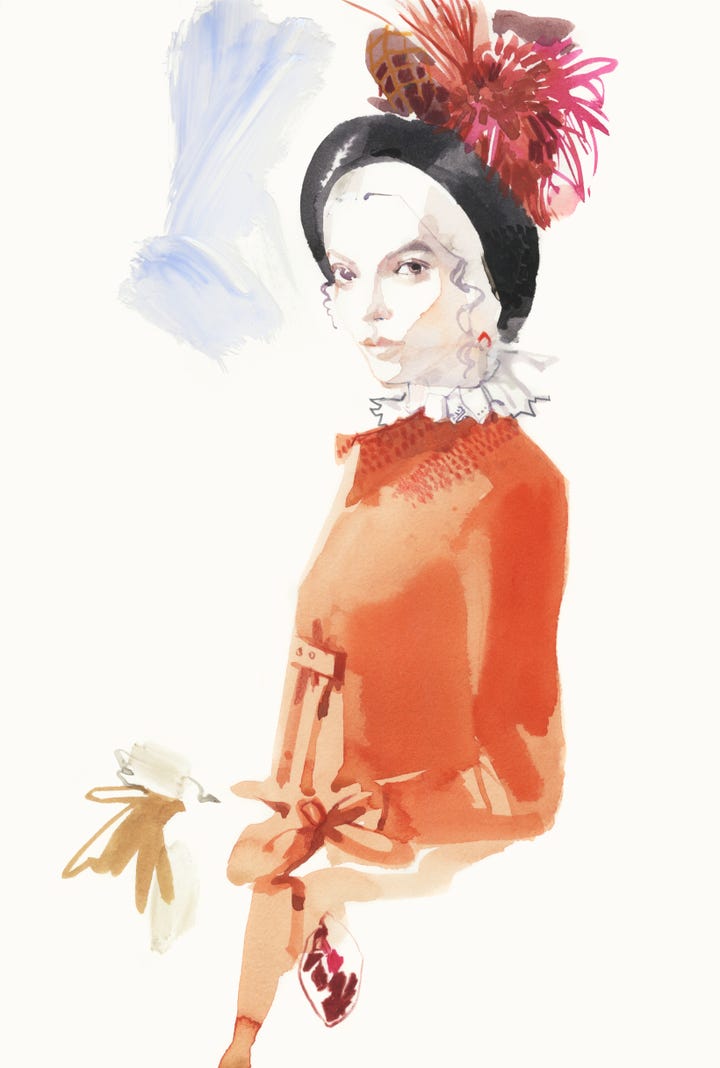 CC: One item that has inspired a lot of cosplayers so far is the canary yellow pelisse. Can you give some tips for a pelisse? For starters, what's the fabric? Is it wool?
AB: Gosh, I can't remember what the blend is! I think it's a wool-silk blend. It might have some cotton in it as well, because we dyed and printed and made most of the textiles in the film. You need to find a fabric that really sings that color, so we tried quite a lot of fabrics. Fabric is the most crucial thing – the weight, the behavior, the bounce, the fluidity, the drape. That's the most important thing about making anything.
It was the period when fashion magazines were starting, and they carried hand-drawn engravings of the fashion of the day coming out of London and Paris. What I discovered looking at the fashion engravings and museum pieces is that how the pieces were translated depended completely on your sewing ability and your finances, as to what kind of fabric you could afford, and whether you were trying to adapt an existing garment or if you could afford to buy fabric to make it new. It was very much a personal interpretation. There were no dressmaking patterns. You would see the fashion plate, and you could be inspired to either adapt something you already owned, to bring it up to date, or to make it from scratch. Emma, because she's wealthy, has a dressmaker, but most women would be making their own clothes.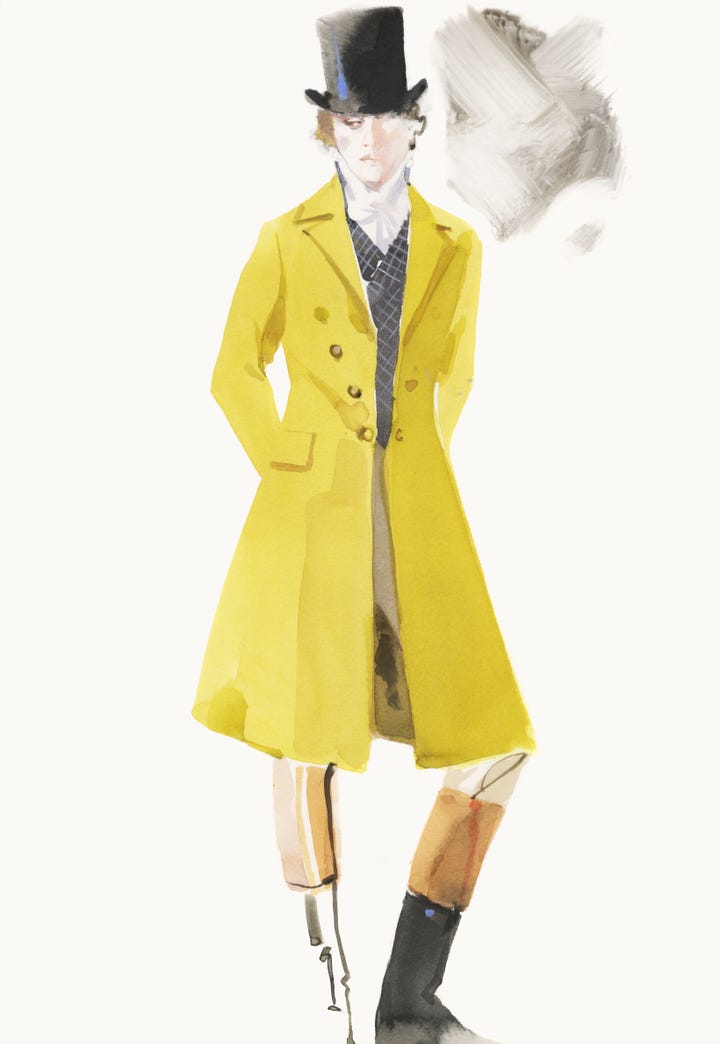 CC: What's the difference between following the fashion plates then and now?
AB: If you slavishly follow the fashion plates, there is a tendency for the clothes to become heavily built, because of the sewing techniques that we use today. You have to remember that everything back then was handmade. They were made quite spontaneously. They weren't turned and backed and everything. If you look at a lot of the original garments in the museums -- for example, the little pink spencer that Emma wears in the beginning, which is derived from a very similar piece in a museum – they don't have backing fabrics underneath all those little shapes on the sleeve. It's literally turned over and whip stitched. And so the costumes and garments of this period are surprisingly delicate and lightweight.
The biggest challenge, then, is finding fabrics that are sufficiently lightweight, because a lot of the fabrics today are very heavy. It really was about finding fabrics that had the translucence to let colors and layers show through, finding the embroidery, finding the lace, finding all of these incredibly delicate pieces. Mrs. Elton's orange dress was made from a sari of tissue paper silk that we found in Wembley. And the fabric of the chemisette is incredibly delicate. I wanted a tiny rolled edge on the end of that ruffle, sort of like a pencil line drawing around it. I wasn't even sure it could be done, but I had a stitcher who did beautiful hand finishing, and she made this piece of magic.
So keep your eyes open. Don't just stick to fabric shops. Go to markets, go to vintage sales. If you see something that's a good color, if you see a fabric that you love, don't be afraid to pull it off the roll and see how it behaves, if it has the right movement. Follow your lead from the fabric. Don't try and fight a fabric into doing something. It won't do that, particularly in this period when the costumes are not heavily built. You need to allow the fabric to do its work, as it were.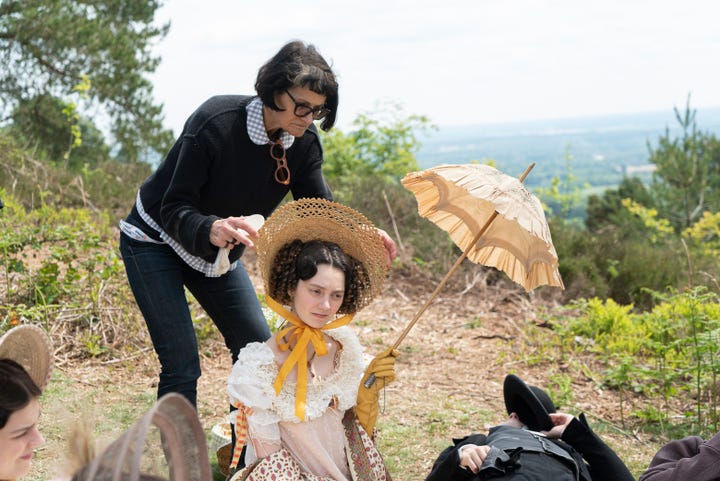 CC: With that signature spencer, I think people were trying to figure out its little tricks, like how to keep the tab in place…
AB: There are lots of tricks! Every single costume presents its challenges. I think those smaller pieces are almost more difficult, because you've got less fabric to play with. The cut lines and the seam lines become incredibly important in terms of balancing the shape and the proportions, and there aren't a huge number of cutting lines in these dresses. Because you're not fitting to the waist, the under-bust and the upper-arm are crucial measurements. It doesn't fit like any other period.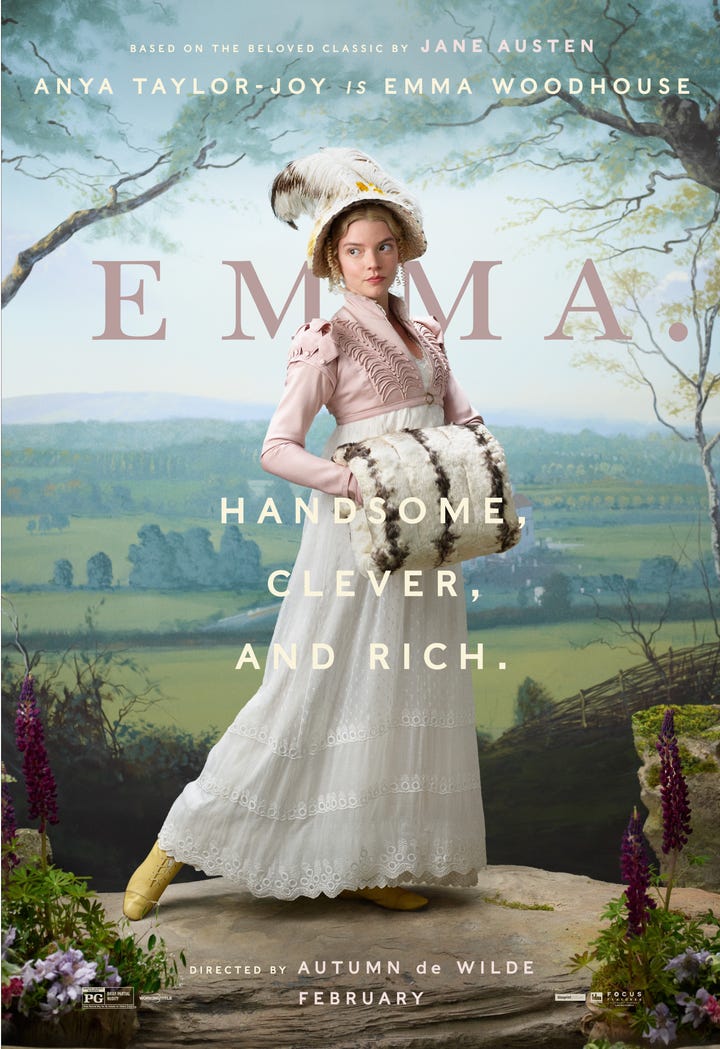 CC: What hacks or tricks have you developed over the years? You've borrowed techniques from different films, such as with Mr. Knightley's buckskin britches, for example.
AB: There are several kinds of these buckskin britches in museums, and they're incredibly beautiful, but that leather is very dried out and old, although it does have these incredibly kind of fine stitched seams. How to achieve that, so they look as marvelous as the pieces in the museums, but can be worn for riding? How do you not end up with soggy leather? We cheated there. During one of the superhero films – I think on one of the Black Widow suits? -- we developed a technique of using a stretch fuse to bond leather onto Lycra. And then it means that the Lycra in the bondage gives it a fantastic memory. It always comes back to shape. I think you can buy a stretch fuse at a good haberdashery. It's trial and error to get the temperature right, but it's a very good technique, and we used that for the britches.
CC: Speaking of meeting the two worlds of period drama and superhero costumes, you did something pretty extraordinary with Dr. Stephen Strange's Cloak of Levitation.
AB: [Laughs] Yes, indeed. Not so much with the fabric [a double weave of wool], but all the processes that happened to it. Many, many processes. It was embroidered. It was flocked with velvet. It was printed. It was braided. It was fringed. It had dévoré on it as well. It had everything. It just comes together into this extraordinary thing where you can't say, "Oh, that braid is from there, that's from there…" The aim of that cloak was that you wanted something that people couldn't work out how it was all done.
Just follow your nose to try and manipulate the fabric to do what you want it to do, whether it be dyeing, printing, dévoré, embroidering, adding a braid, trying different sizes of stitches or different sewing techniques. It's about constantly experimenting, trying new things, and being open to serendipity. There are very lucky accidents in this process where you go, "Oh! I didn't expect that to happen, but that's a really good look!"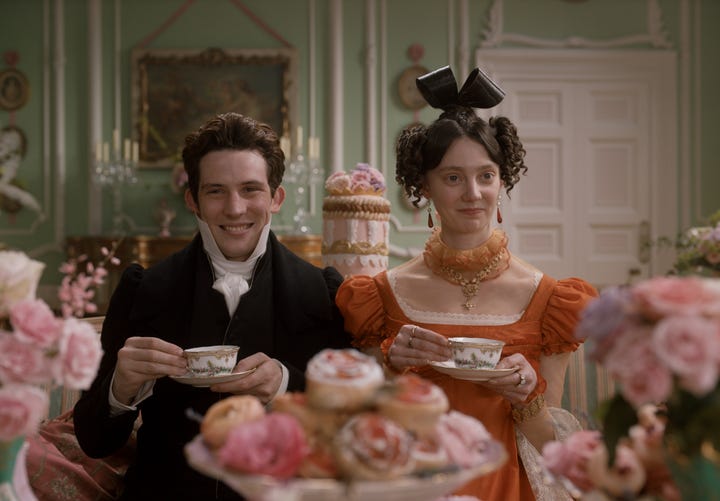 CC: Have you seen cosplayers recreating outfits from your designs? What was your reaction?
AB: I've seen quite a lot online. I've seen a lot by the Jane Austin Society, where they make the Regency clothes. And people do a great job, because what one senses is that there is a real kind of passion. They may not have the team I have, but what they have is the passion and their decision-making for how they want to look, which is very, very true to the period. They're doing what women in Jane Austin's time did. And, I have to say, some of the Groot costumes from Guardians of the Galaxy were astounding! Truly astounding.
Emma is available on HBO Max.