Is A Makerspace Right For You?
The rise of makerspaces means more cosplayers can create their own props—but at a cost.
Callie, a computer programmer living in California, crafted her first prop in seventh grade.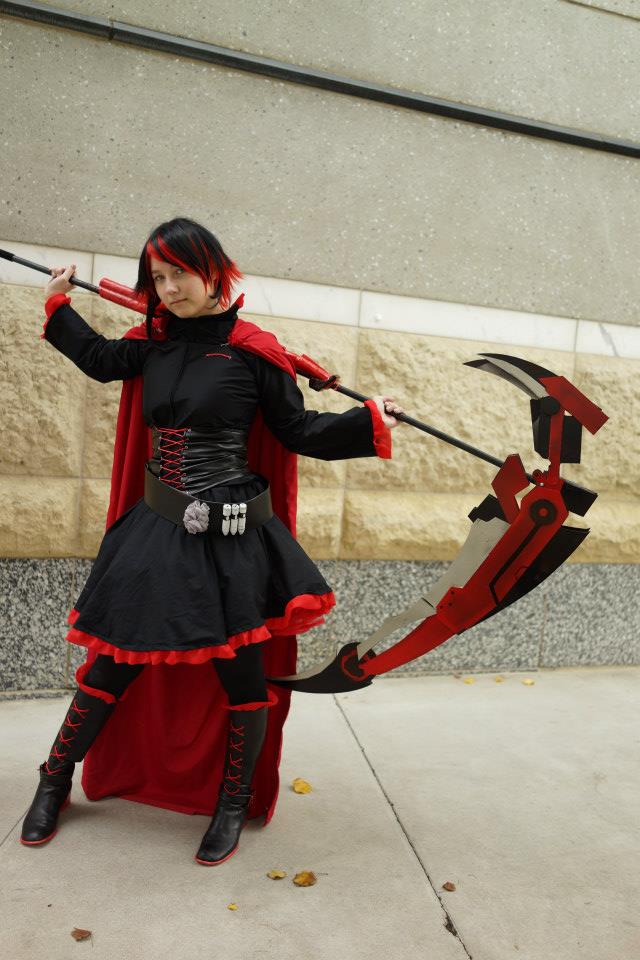 "The first time I made a prop for cosplay was one of the first cosplays I put together on my own, which was Taiga Aisaka from Toradora. I made her sword," the 24-year-old says.
While Callie's parents had plenty of tools for her early work, she needed more specialised tools as her cosplays got more complex. While still in high school, she joined a makerspace to craft Ruby from RWBY's scythe.
Mike Taylor, membership co-ordinator for Vancouver Hack Space in Canada, describes makerspaces—or hackspaces—as "communal spaces to make something, whether that is code or cosplay or electronics or woodworking." Members get trained on every tool before you use it, to minimize danger.
Space and money constraints mean many people can't work on cosplays at home—so makerspaces provide a way to access tools, resources and storage space for craft projects.
Mike used the hackspace to create foam armor for Torbjörn (Overwatch) and set up a resin casting table to create gems he sold to Steven Universe cosplayers.
"I was squatting essentially in the hackspace, taking up a lot more room than I should've been," he says.
College makerspaces
In college, short on both room and equipment, Callie used The Foundry makerspace at the University of Texas—Austin.
"I made an Academy Ahri [League of Legends] cosplay for my friend with all the tails and everything, and I made a Humboldt Penguin from Kemono Friends," she says.
University makerspaces are pretty new: the first dates back to 2001 at MIT. In 2015, 35 major American colleges had makerspaces; now, it's at least 78 universities and growing.
And while makerspace members pay a monthly fee, university makerspaces are normally free to students and staff. That makes them a great resource for college cosplayers.
At the University of Massachussetts—Amherst, the All-Campus Makerspace opened up in fall 2019. It's home to the UMass Cosplay and Costume Club, who meet there weekly to work on their creations.
The club's president, David Schottler, says the group had been running for a few years but "really only got most of its membership" once the makerspace opened.
"A big part of the resources that our makerspace ... can provide is tools most people don't have at home or might not know how to use, and even more importantly, employees at the makerspace who know how to use this tool and can teach you to use them safely," says Laurel Parsons, the club's incoming president.
She and David are paid staff at the makerspace, having had some prior crafting experience. They often spend Cosplay Club meetings helping other members with their projects as well as organizing experts to come and lead workshops, be they in wig-styling or foam-working.
"A lot of the members haven't ever done anything cosplay related before. So, it's really important to me that we give them a good foundation," says David. "I like to let them experiment. ... Finding a small project they can do to completion is a big goal of mine."
More expensive, less convenient
Makerspaces come in all different sizes, from small rooms with a couple of tools to expansive buildings filled with machines, materials and mentors.
Callie's current makerspace in California is "just owned by a single dude out of a warehouse he rents. There's another that's way closer to me ... that's huge."
Bigger makerspaces often have bigger price tags. For hobbyist cosplayers, Callie thinks massive makerspaces might not be worth the investment.
"The bigger places cost upwards of $60 a class to learn equipment," she said, which is an extra fee on top of monthly membership. If you were debating commissioning a cosplay prop versus joining a makerspace for a couple of months to work on it yourself, "the makerspace is likely more expensive."
And sometimes makerspaces are just less convenient, especially if you don't have round-the-clock access or adequate storage.
"For a lot of people, their costumes are smaller and can be done in small apartments—or it's too big for them to ferry back and forth, or it's too big to be stored at the hackspace," Mike says. "But where do you live in the city? Are you able to get to the space? Are you a keyholder to get into the space?"
A passionate community
But there are ways to learn skills without paying. Students can use their university makerspaces. Some public libraries have small makerspaces you can access for free. Simpler cosplay projects—like 3D printing an accessory—don't require the complex tools you'll find in bigger operations.
And, like joining a gym, makerspaces are worth the investment if you intend to use them frequently. The other members are often the biggest draw and keen to share their knowledge.
At UMass, Laurel says "we sit around and talk and help each other." In Vancouver, Mike ran cosplay nights "for six months or so" and encouraged other cosplayers to work on their projects with him.
The community is supportive even if, like Callie, you're in a makerspace without any other cosplayers.
"Everyone's a wealth of knowledge and are usually excited to see what you're doing and help out," says Callie. "Everyone's passionate about making."