Meet The Cosplayer Who Is Also Kevin Hart's Stuntman
LeRoyal is a cosplayer, podcaster, DnD player, and a stuntman for actor Kevin Hart.
Cosplayers have been known to have many different occupations outside of their cosplay life. Some have been in the medical field, while others have found cosplay and crafting to become their full-time job.
There are others, however, who have used their love for cosplay and pushed it one step further into the entertainment industry. LeRoyal has done just that: he is a professional stuntman, actor, novice Dungeons and Dragons player, and cosplayer. He has acted in several projects such as Austin & Ally, Snowfall, and Pipe, as well as performed stunt work in American Horror Story, Shameless, and 9-1-1.
Setting the standard for Spider-Man cosplayers by utilizing movement to create stunning action-captured images, LeRoyal cosplays characters from Anime, Marvel, DC, Films, etc. He is also a husband, father, Podcast Host, and Gamer. LeRoyal can comfortably take the name of a chameleon.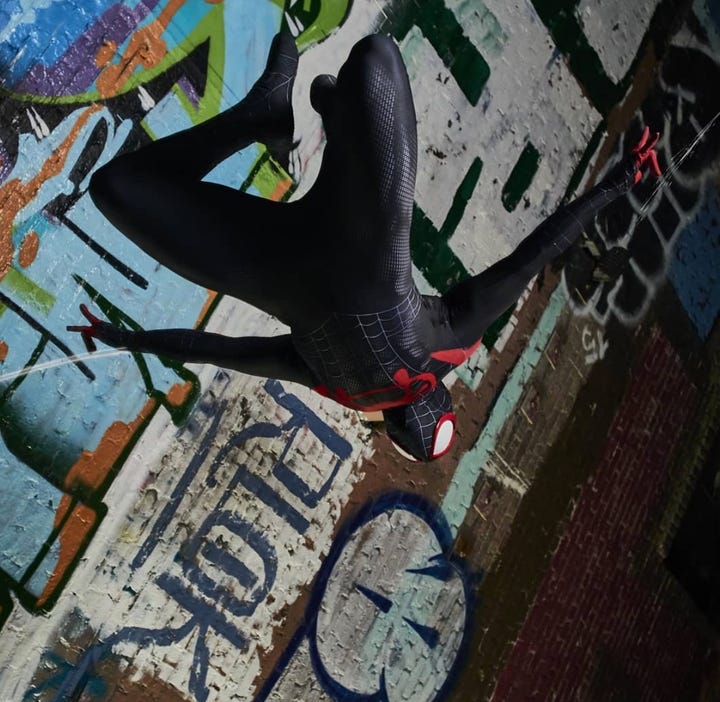 With such an interesting person in the cosplay community, we decided to ask him a few questions. He obliged and gave us his best answers and tips as a stuntman, D&D player, podcaster, and cosplayer. So, get comfortable, grab a snack, and learn more about our multi-talented friend, LeRoyal.
Cosplay Central: What got you into cosplay?
LeRoyal: I didn't participate in Halloween growing up. I was always interested in looking like a superhero as a kid. As an adult being able to do those cool flips and moves, I became even more motivated when I realized the accessibility to Spider-Man suits. I was working with a friend for a Spider-Man fan film, but it never seemed like it was moving forward. So instead of waiting, I bought my own suit, and everything rolled from there.
CC: What are three cosplays you would say you are known for or represent you best?
LeRoyal: I am known for my Miles Morales, Ruby Rhod, and Luffy cosplays. Miles because of the ability to do the flips and pushing my pictures more and more. Luffy because his personality fits so well with me, and he is all smiles. Ruby Rhod is so iconic, and I'm not just wearing a cosplay; I perform Ruby for others because 1. it's a little expected and 2. I'm an entertainer to the fullest and love that reaction from others when they light up and get excited. Sometimes it has nothing to do with me but how I look.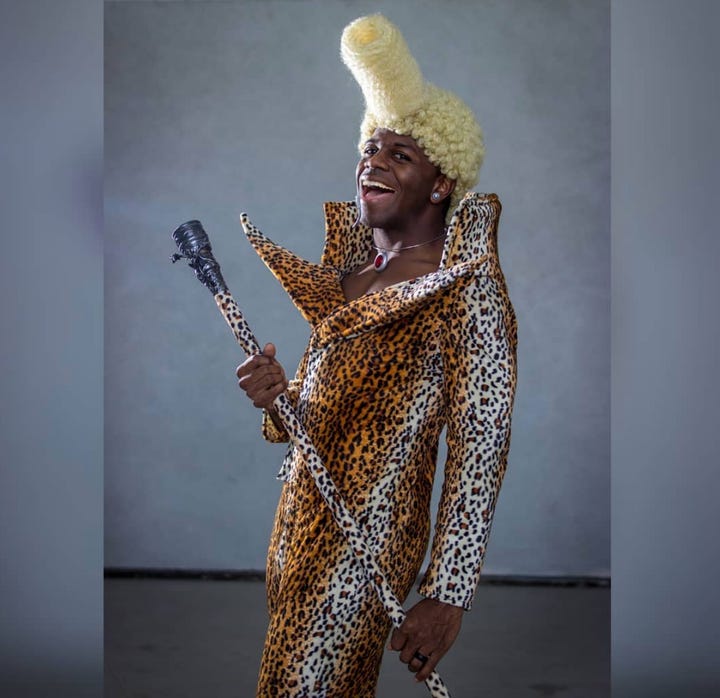 CC: What is something you would change about the cosplay community?
LeRoyal: I would change the level of equality. Mainly on the cosplay community's social media presence. I feel at conventions, all types of cosplayers are more accepted because we are in our element amongst peers. However, outside of that, there is a massive gap between what's accepted and what's normalized. There is a lack of representation for black cosplayers on photographer and share pages alike. From our perspective, at times, it feels like we're not on those pages because of our skin, to be honest. Of course, there are pages dedicated to sharing POC cosplayers, however, is it right that we have to only hope for appreciation from those pages. It's a huge turn off when a potential share page or photographer page only mostly shows ethnically ambiguous cosplayers. It makes that inner child ask, "where do I fit, where do I belong, where's the person that looks like me?".
CC: What advice would you give to someone who has never cosplayed before but wants to?
LeRoyal: Don't limit yourself. Every type of cosplay is possible with time and dedication; and patience! A lot of patience in trusting the process. If you don't know how to make something, go to youtube. If you're dressing up as Spider-Man and you're a male (with male parts), know you're undergarment requirements. It is required not suggested that you wear something in the nether regions. I double up on under armor shorts and one layer of under armor pants. I also wear an under armor short-sleeved shirt. It helps. Cosplay is not consent. Whether it's for a picture, a pose, or anything that involves another cosplayer that you don't know, cosplay is not consent. That's for men and women alike.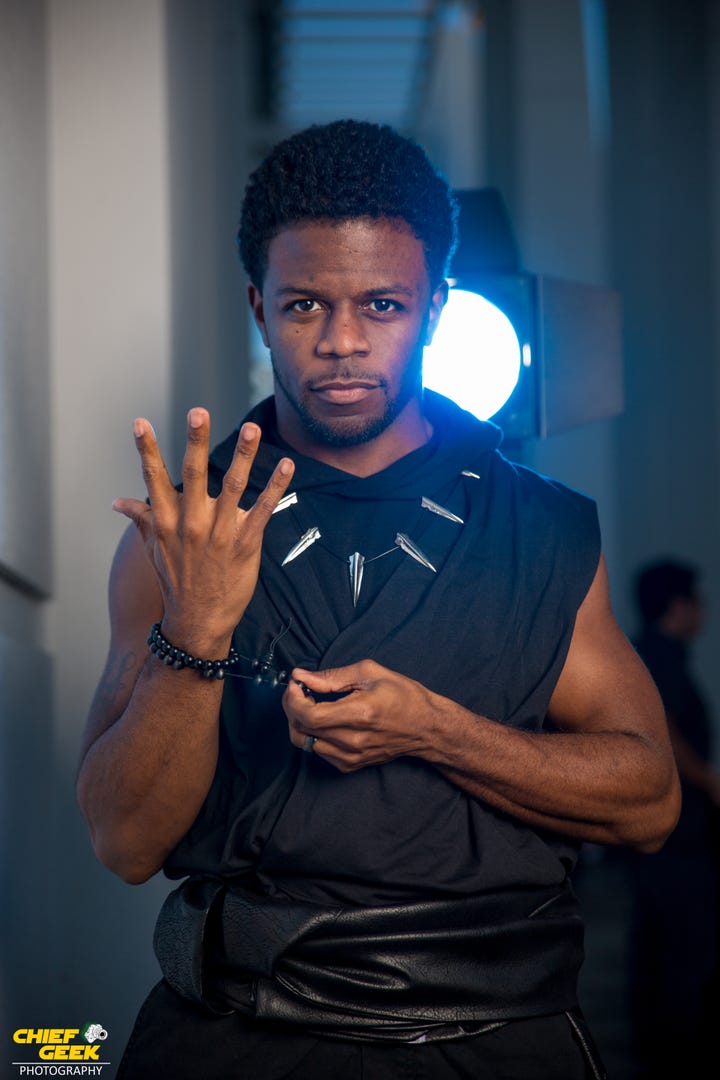 CC: If you could transform into any hero for a day, who would it be, and what would you do?
LeRoyal: Black Panther. I would have the technology to help my family by setting up a system where we still get the benefits even after my day in the life is over. I'd have the finances to help those dear to me. I'd finally have a screen accurate Civil War suit that I would take so many pictures in. I can't think of any bad guys that would need fighting, but maybe I'd go somewhere that's full of crime just to make a difference once and be a symbol the people need.
CC: Can you tell us a bit about your podcast?
LeRoyal: The ConArtists is an all-inclusive podcast. It stands for Convention Artist. You know, like WonderCon, Anime Expo, Comic-Con, Long Beach Comic Con, Emerald City Comic Con. It's something we do and what we do is art. The ConArtists are a group of friends coming together to talk about their main connecting interest, cosplay! However, cosplay alone isn't why we're friends. Somewhere on a deeper level, our friendship can connect through multiple interests. So making a podcast together is a way to document those moments, and hopefully, through our conversation, others can take something from it as well.
CC: Like cosplay, you also enjoy playing DnD. As a new Dungeons and Dragons player, what is something that surprised you about the game?
LeRoyal: Honestly, for me, it was how fast I would pick it up. After every game, I go back home and study the character book and learn about what I can do next time that seems more strategic.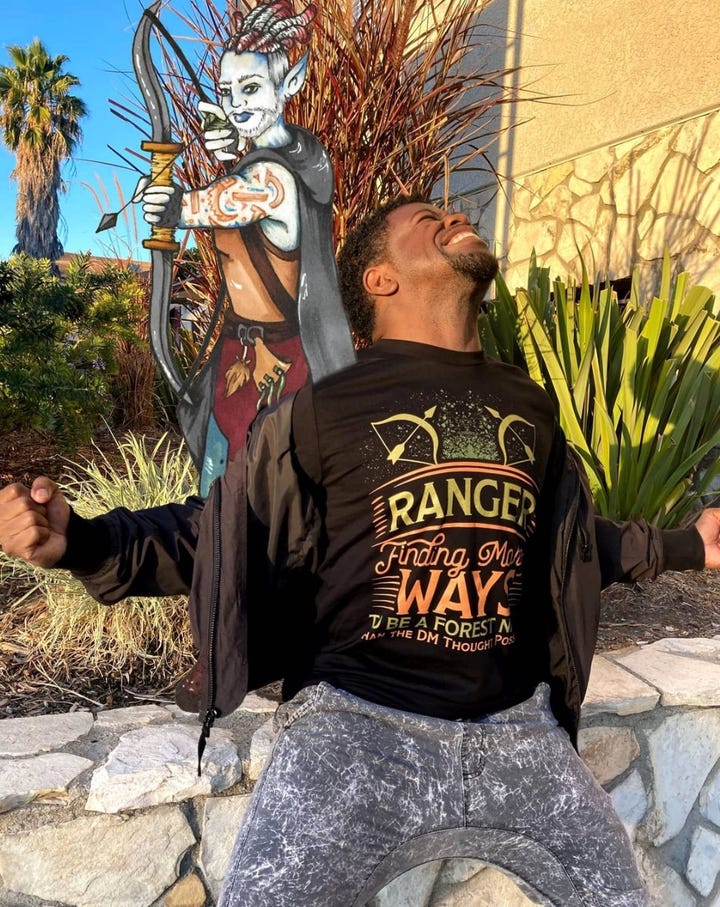 CC: You play for a DnD podcast called Roll For It. In the show, you play a character named Kanar. Can you tell us a bit about him?
LeRoyal: Kanar is a mixture of my son's name and a random elf name I found in the book. The character Kanar is a moon elf that longs to live out the variety of life. In his village, most elves are tied to one profession for the rest of their lives after receiving their "birthday mark". Kanar's mark was something he disagreed with, so he sets out to change his fate.
CC: Why did you pick a moon elf?
LeRoyal: Elves are always cool to me. Mainly Legolas from Lord of the Rings. His fighting style was so cool between using arrows and occasionally sword fighting. It was when he rode a shield down a staircase that made me go, oh, they're cool cool.
CC: What has been your favorite part of playing Kanar?
LeRoyal: The improv, honestly. As a first-time player, I wasn't sure what to expect when it came to that stuff. Whether we guessed it or just created it. I've done improv before at I.O. West; rest in peace. So it is quite similar. The main difference is the rules of the game.
CC: Now you also do a lot of stunts in the entertainment industry. How did you get into stunt work?
LeRoyal: Similar to how I got into cosplay. I started training for the role with my friend and growing from the capabilities that I already possessed. The following year an opportunity presented itself to work a live show with stunts in it. One of those preparations meets opportunity things for sure. Keep training so you'll never be unprepared. After working within the show, my friends explained how it's about who knows you that gets you gigs. However, from working on Straight Outta Compton as Jason Mitchell's stand-in, I got to see stunts up close and personal, and the direct push came from stunt coordinator Lin Oeding.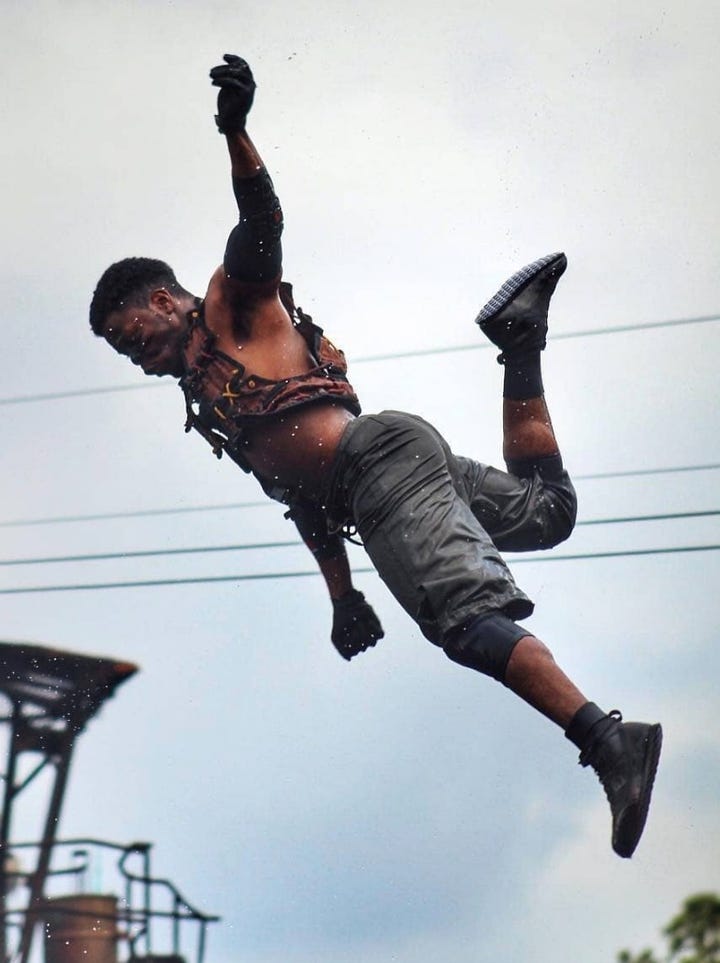 CC: Who has been your favorite celebrity to stunt for?
LeRoyal: I usually double for Kevin Hart. By far my favorite because every now and then, I get to do some cool things. Production flew me out to Utah one week, and I got to run in the canyons next to a wolf hybrid. Probably the most epic thing I've done, and that's how I got my SAG card.
CC: What has been the craziest stunt you've done in your career thus far?
LeRoyal: The craziest stunt I've done was having to jump in a nasty looking lake at night in the middle of fall in Santa Clarita about four times with my wet suit rolled up because no one told me to bring a 3/4 suit. It was cold and murky, and the following week I did get sick.
CC: What is a common misconception that people have for this job?
LeRoyal: People assume I'm always on set with Kevin Hart or that I'm his main dude. I'm not. I'm grateful enough that my friend J. Paul, his actual main man, throws stunts my way from time to time. Linking up with Kevin is either through him or someone else. The grass isn't always greener, and most stuff with the right crew and safety precautions can be pretty straightforward. We set a guy on fire in a live show. It seems dangerous, but they don't feel it until about 20 to 25 seconds in, and by that time, the shot's already taken.
CC: What would you say is the most crucial tool to have in this line of work?
LeRoyal: Character, to be honest. Be a good and humble human being and always give a helping hand. It goes a long way to be remembered for next time. If people know who you are as a person and even more the confidence you have in your skill, they'll want to work with you again.
To see more of LeRoyal's life both in and out of cosplay, be sure to follow his Instagram at Royaltnoy.