This Cosplayer Created His Own Black Superhero For He-Man
He-Man cosplayer Hellspawned_cosplay talks success, racism, and the need for minorities in mainstream media.
Hellspawned_cosplay, otherwise known as Demetrius Holt, is making waves of progress within the cosplay community. With his successful Kickstarter for his concept of He-Man PSA's for black children, Demetrius Holt is determined to spread more than positivity but awareness. Several cosplayers of color are constantly told to stick to the source material of a character, meaning if a character doesn't match their skin tone, they shouldn't cosplay it.
"Friendly reminder that you can cosplay as ANY character for ANY reason, and you don't owe an explanation to anyone," Demetrius Holt once said in a caption on Instagram. "As someone who has taken crap for the cosplay choices I've made from EVERY demographic. I'm here to tell you that you DON'T have to care. Have fun, and do you!"
Demetrius' page advocates important messages, including All Black Lives Matter and Black Heroes Matter. He also highlights black businesses and regularly posts affirmations in his He-Man cosplay. Demetrius Holt inspires the community to be unapologetically ourselves.
In this interview, Demetrius speaks on cosplay, fatherhood, He-Man PSA's, past controversies, and the changes the cosplay community needs to make. So, without further ado, let's meet the sensational man behind Hellspawned_cosplay, Demetrius Holt.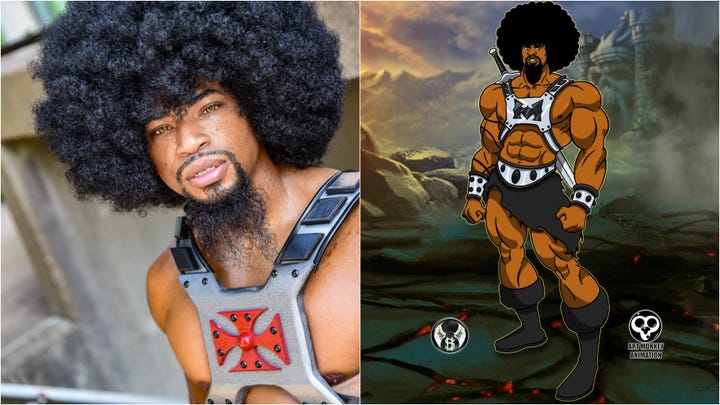 CC: Can you tell us about your He-Man cosplay? What was the concept? How has the response been to the character?
Demetrius Holt: He-Man cosplay was one that I came up with when I was 4 years old...watching the show on VHS tapes. I was born in 1984, and I was the eventual target audience for that show, and it stuck with me for over 30 years. The response to the character has been overwhelmingly unexpected.
I had no clue that the visage of a Black Man being the "Most Powerful Man in the Universe" with an Afro would be that "lightning in a bottle" to affect so many demographics. From children sending me drawn Crayola versions of myself to folks actually wanting to cosplay with me. It has been entirely humbling and motivating all at the same time.
CC: How did you make the cosplay? Or, if you commissioned it, where did you get it from?
Demetrius Holt: I had the harness, bracers, sword, and belt commissioned by Dustin Kiska (DK_PropShop on IG). The loincloth is a faux fur fabric I bought at Joann's and cut myself while the boots were left over from an old Tarzan Halloween costume I had. The Afro came from a stylist who is a friend of a friend.
Since getting all of those items together back in 2018, I've had to do modifications and repairs on my own, which is, what I think, my cosplay talent lies. I may not make everything I wear but, coming up with the concept, putting the pieces together, and then modifying them to fit the character's lore are my abilities when it comes to cosplay. I make sure to make that distinction because some Cosplay Purists believe that buying items and not making them yourself isn't really cosplay... it's "modeling a costume."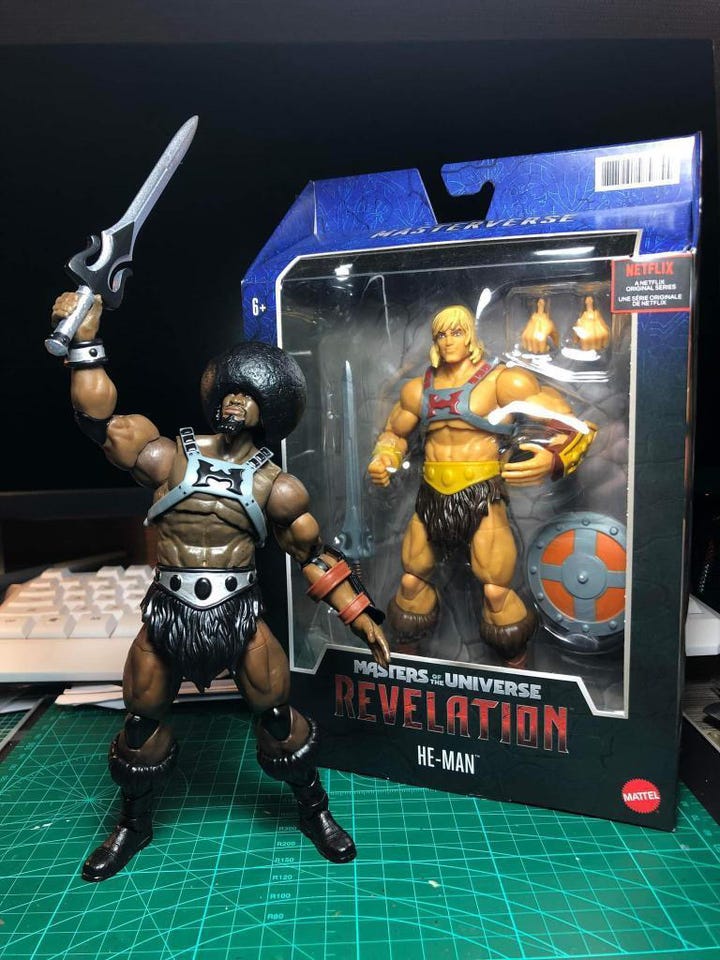 CC: Can you further explain your successful Kickstarter for the He-Man PSA's For The New Generation?
Demetrius Holt: The Kickstarter was meant to raise $1,000 for the production of a 30 second Public Service Announcement to let Black Children know that their heroes do exist. This was in response to a story I heard from a mom who bought her son one of my He-Man Funko Pops by MiniJini_Customs. Her son was once playing with his figure of me and was approached by a white child close to his age. The child decided to tell this woman's son that the He-Man he was playing with was not real because he did not look like him, caucasian with blonde hair.
This woman's son proceeded to ask his mom if his He-Man was real; why wasn't there a cartoon of him to watch on tv? I sat in my thoughts for a day. I tried to answer that question myself, and I went through moments of frustration, sadness, hopelessness, and finally a moment of clarity after speaking to my "Man-At-Arms," Richard Sutton. The next day, I contacted Oliver Banks, whom I followed as a fan and did not have a relationship with. He was gracious enough to take a meeting with me where I was able to pitch the idea from the previously mentioned story. He was on board, and we were off to the races.
The Kickstarter featured businesses that I had created a relationship with over the past 3 years. With custom Funko Pops, He-Man apparel with my visage on them, and being able to illustrate and animate those who paid for the highest tier, the campaign was a success where we raised $20,155 instead of just $1,000.
With the money left over after paying the vendors and Kickstarter taking their cut, we are creating five 30 second PSAs with a 1-Minute intro that is AMAZING. We're aiming to hit that nostalgia button with elements like Silverhawks, Thundercats, Clash of the Titans, and even One Piece to attract investors for more projects.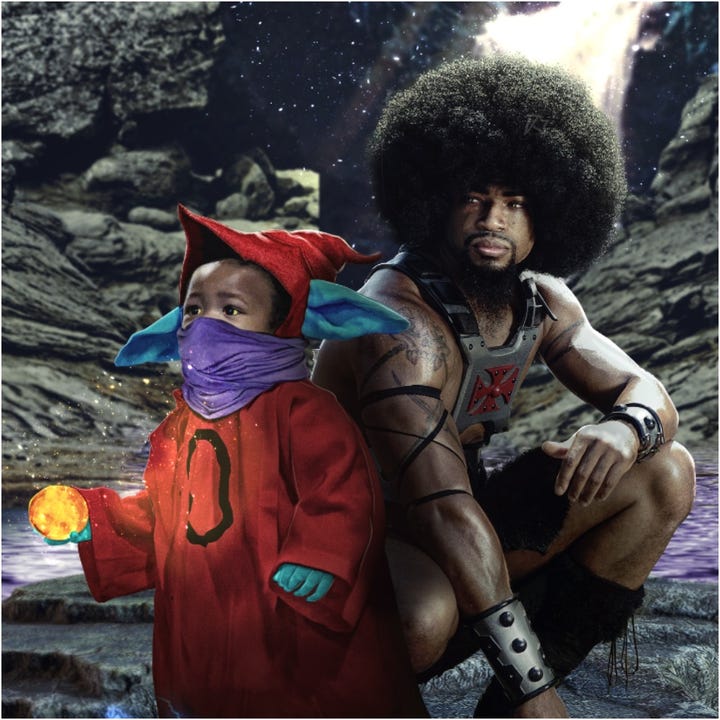 CC: We saw a post with your son as an animated character for your PSA; how has he inspired you as a creator?
Demetrius Holt: My son Kaua'i (Ka-Why) has inspired me as a creator simply by existing. I want to include him in everything I do because that's my "Little Hero." Our cosplays have ranged from the Mandalorian and Grogu, Icon and Baby Icon, Invincible and Omni-Man, and even Mr. T and LL Cool J. Right now, we can be seen on my TikTok (Hellspawned) providing affirmations for people of all ages and specifically, people of color, as He-Man and Orko. I just want to make sure he knows growing up that he is every bit a part of my life and my heart...that he is considered in all things. That he is everything to me.
CC: According to a social media post, you are making ten animated titles in 2022. What started this ambitious road?
Demetrius Holt: Well, the plan was always to create an animated block of television on streaming services for Black Children. The goal of the PSAs was to provide valuable life lessons to black children and show investors and black indie comic book companies what we, as a team, could do in the production of animation and marketing.
Having partnered with myself and Always Press Record Production, Oliver Banks recently unveiled ten projects/ideas that he'd wish to get pushed with the current team behind the PSAs. I'm essentially the "front man" where it's my job to raise my public profile to get as many eyes on these projects as possible. With my history of getting things done, he trusts me to do this. Travels Lawson is a producer who owns Always Press Record Production, and it also happens to a streaming service. It features over 1,000 hours of original content and can be found on Roku, Amazon Fire, and YouTube.
Creating the content for Black Children is a necessity because it simply does not exist. We can point to a few cartoons on various streaming services but no specific group or section dedicated to children of color. Why is it important? Refer back to why I came up with the PSAs in the first place.
Black children struggle with identifying with characters they see on television. Sure, some examples come to mind but not numerous titles that one should have sitting in their mind. If the larger companies aren't doing it, then we will. We've been successful as a team thus far...so we don't plan on stopping until the proliferation of minorities in mainstream media isn't just a mission statement...but a fact of life.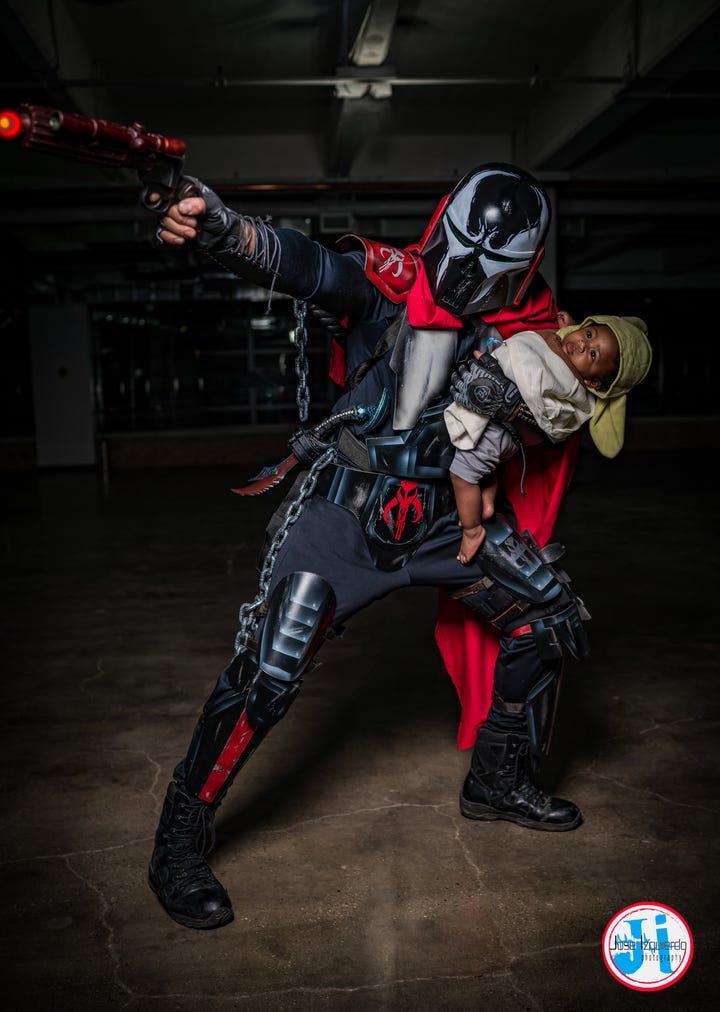 CC: Last year, a post used your image with the title of "Cosplay as your own Race" to promote a YouTube video. Could you walk us through your response and how this reflected on the cosplay community?
Demetrius Holt: Oh, you saw that, huh? Whew, I was HOT!!! They decided to use my image to promote a video I did with them 6 months prior, where there was a panel of Black Cosplayers discussing how racist the cosplay community can be. That we are subjected to comments demanding that we "cosplay as our own race" and not characters who happen to be White or Asian in origin.
My personal belief and position publicly are that we, as Black people, have EVERY right to cosplay ANY character we choose and not be called the Black version of said character. Case in point, I cosplay as He-Man...not Afro He-Man, not Black He-Man, not N-Word He-Man....just He-Man. So, seeing a post from a cosplay publication that had a thumbnail of ME saying "Cosplay Your Own Race" for click-baiting purposes. He knew exactly what he was doing; he just did not think he would get heat for it. But he did.
I made sure to post a statement condemning the action as I had not approved using my image in this manner, nor was I ever spoken with about it. To try and label me with something so antithetical to my beliefs for views is the sort of duplicity that I will never tolerate. He was a part of that panel and knew how being limited by racists and bigots made us feel...made me feel specifically, and he chose to do this for clicks and views? I will never work with that publication again, and those who saw it for what it was were just as offended.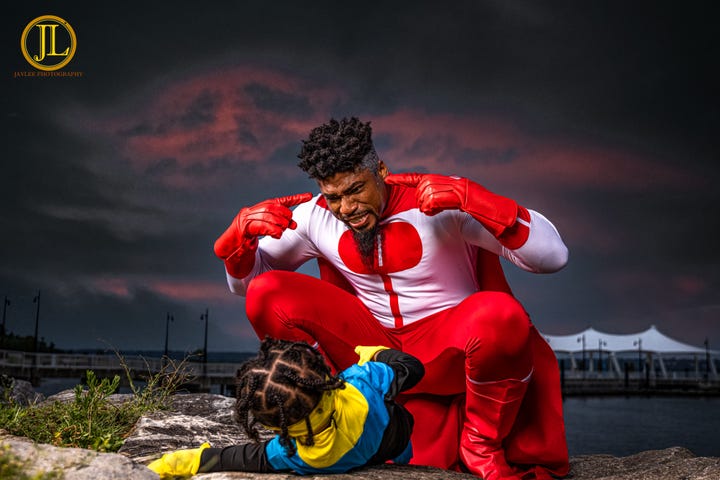 CC: What is something you would change about the cosplay community?
Demetrius Holt: The things I would change within the community all have to do with personal responsibility and entitlement. I was having the time of my life being a part of the cosplay community until I did the He-Man cosplay. Unfortunately, some people are petty and jealous that they're not getting the attention they think they deserve, so I became a target.
I can not stand how much infighting there actually is over the desire to be 'Cosplay Famous' when 90% of the people who want fame aren't talented enough to maintain notoriety, or they wouldn't do anything positive with a platform. I know that's mean and subjective, but I've been forced to take a hard look at the community as a whole on several occasions, and the truth is ugly. Suppose we could find a way to not subject ourselves to bickering, jealousy, or suffer from the insecurities that plague us.
In that case, I think the cosplay community would be a bastion of creativity, imagination, and fun. The sort that would not only attract more people but keep a smile on their face as opposed to tears running down it.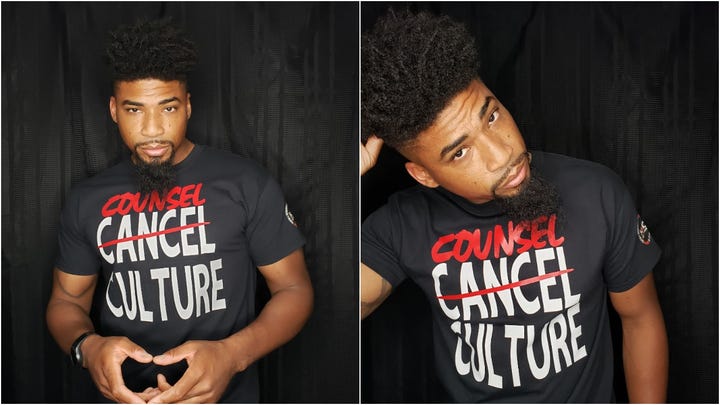 CC: What advice would you give to someone who has never cosplayed before but wants to?
Demetrius Holt: Give yourself time to fully realize the idea you have in your head. Most times, it takes me 6 months to pull together a cosplay. I have to consider commission shipping woes, finding the materials, modifying the items to what I see in my mind...and none of that happens within 2 weeks. Take your time and never feel like you have to rush yourself. You are your own competition, and you are on your own time.
CC: Can you name three creators who inspire you?
Demetrius Holt: I'll always have Eric Moran on this list because this man has been in the cosplay game for over 40 years and has done almost all of my favorite characters. To have him as my Skeletor for the He-Man shoot was truly an honor.
Jason Richardson of J1Con and VT Heroes is another one because he mentored me in how to manage the Kickstarter. He's been a force within the geek space for years, and I have nothing but respect for the man.
Finally, Fantastic Frankey is one I've come to appreciate on many levels. She's found herself a niche where she can talk about her passions on a daily basis and influence folks to give things a chance where they usually wouldn't.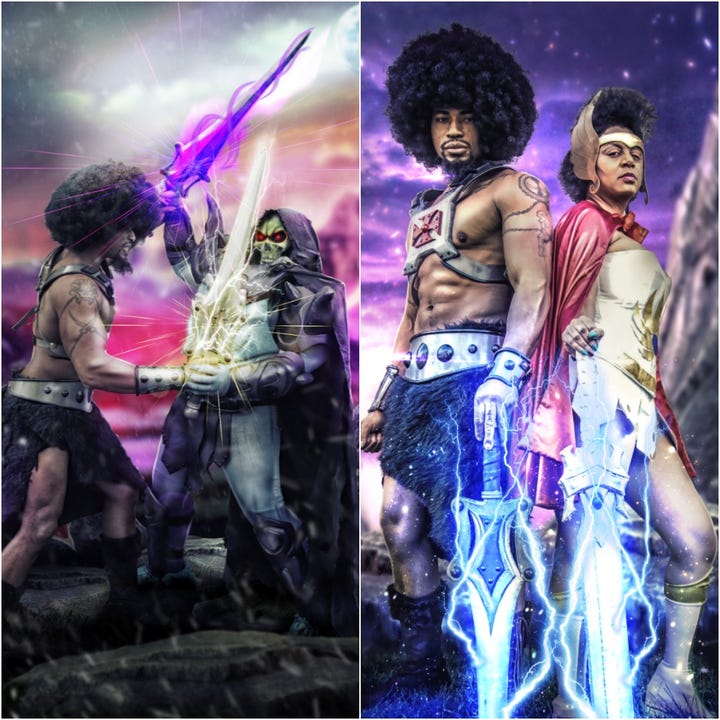 CC: What upcoming projects do you have in the works?
Demetrius Holt: I'm currently under an NDA for a cosplay project I'm unveiling at KatsuCon. There is a short film that I was a part of last year with a very prolific Youtube star that should be released in March. I can't say more because my role is a secret, so I want to respect their wishes. I'll also be hosting the 2nd Annual Juneteenth Cosplay shoot at HNIC Con by Head Nerds in Charge.
I've been offered guest appearances by 3 different conventions this year. Still, until contracts are signed, I can't say which ones. I'll be returning to Afro Comic-Con as their cosplay consultant and in-person emcee for the event at Oakland, CA, later in the year. The PSA team and I aim for the intro to be released by March, so folks can finally begin to see the fantastic work that's being done.
Finally, there are two episodes of Kombat In The Grid up on YouTube right now. An amalgam of Mortal Kombat and Power Rangers, a story definitely worth taking a look at.