This Cosplayer Creates Phenomenal Star Wars Cosplays
Meet Star Wars cosplayer Rensempress in this exclusive interview!
After being inspired by all the phenomenal Star Wars content and cosplays from May the 4th, We wanted to learn more about what it's like to be a cosplayer in the Star Wars community. Podcaster and Twitch streamer, Rensempress aka Isabelle, gave us an inside scoop on why she cosplays these iconic characters and what they mean to her in an exclusive interview.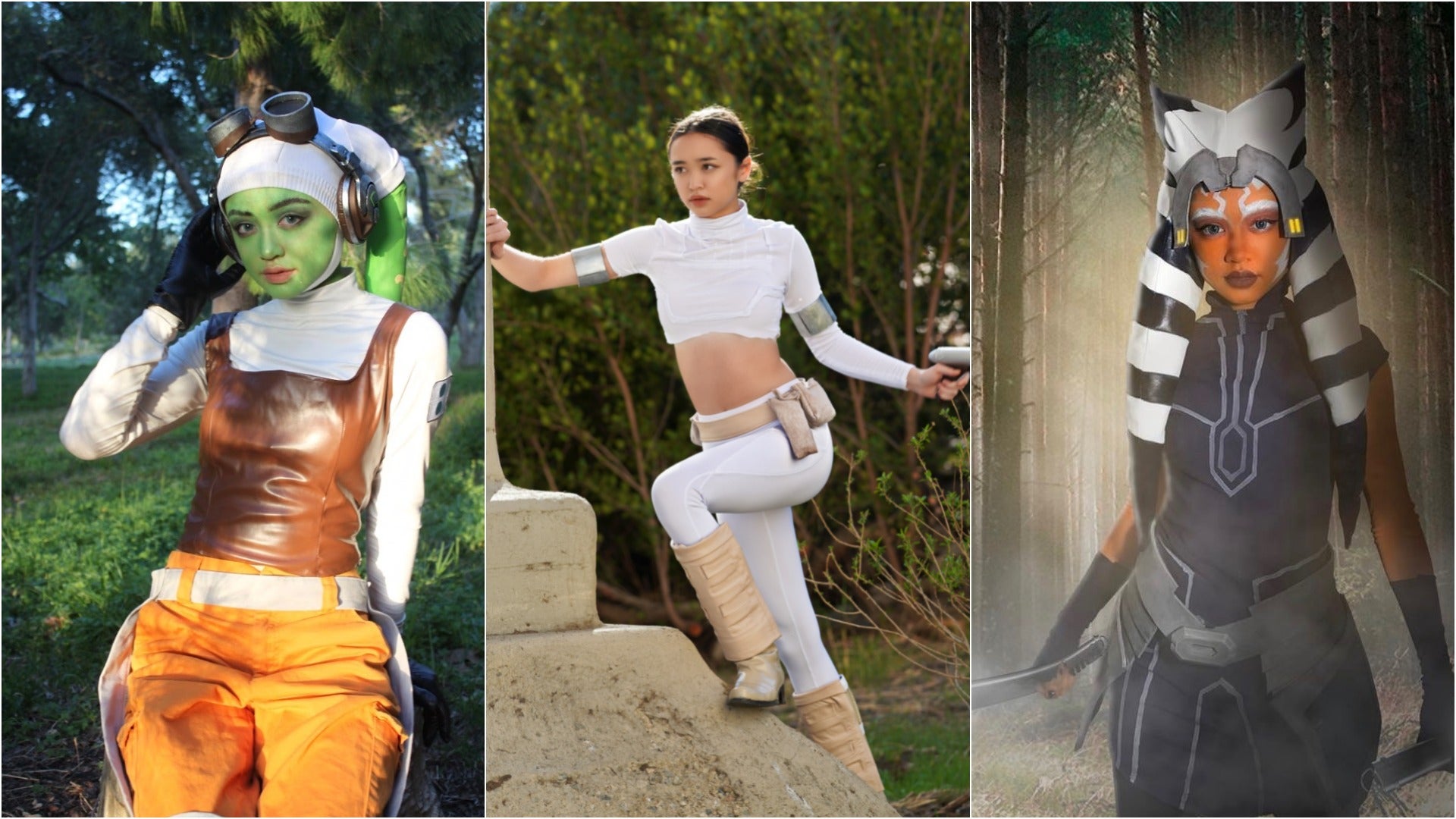 Isabelle dabbles in various media forms for her cosplays, but her most prominent has to be Star Wars oriented. The list of Star Wars cosplays she has done includes mainstream characters like Kylo Ren, Padme, and Ahsoka and her own designs based on Twi'leks, fighter pilots, and Jedi. She's a master at makeup transformations with looks ranging from Ventress to Bo-Katan. Needless to say, Rensempress knows a thing or two about the galactic empire and how to maneuver it as a rebel space princess.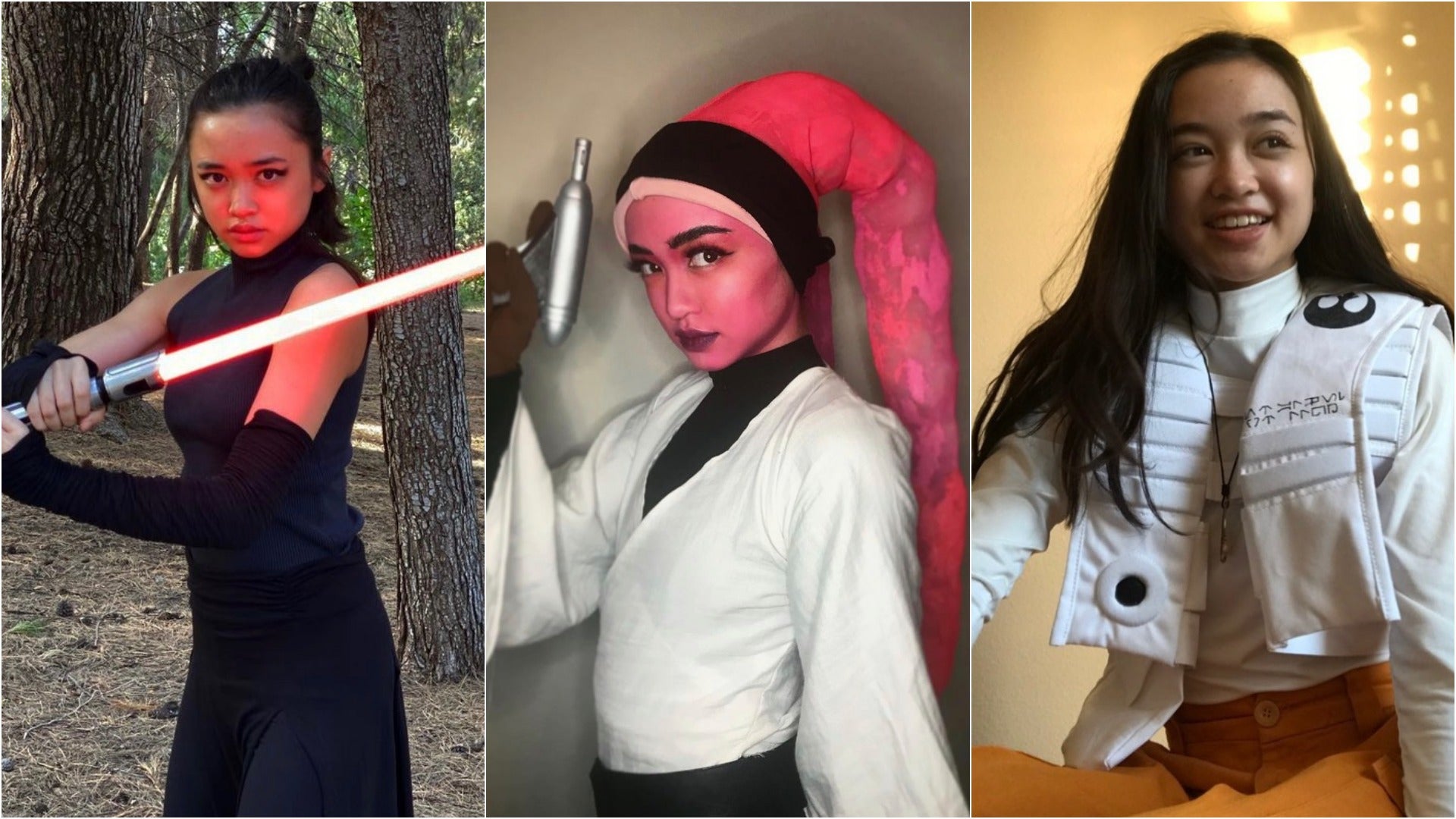 Cosplaying in the Star Wars community isn't all Ewoks and two suns. There are groups of people who believe that if your cosplay isn't movie-accurate, you shouldn't be doing it. Which is an absolute sleemo way of thinking by only true nerf herders. Cosplaying shouldn't be about who can make something better than someone else, or if you look exactly like the character, or if you made your cosplay by hand or got it from a store. It should be about the love and admiration for the craft, characters, and something we can all share together. People like Rensempress motivate us to believe that heartened individuals like her will positively change the community for the better.
Without further ado, here's Isabllea's interview full of advice, tips, and Jedi mind tricks. Enjoy!
You are a Star Wars fanatic, and we absolutely love it; what got you into Star Wars? And what was your first Star Wars Cosplay?
Isabelle: My first experience with Star Wars was watching it with my dad. It was 2005, and he pulled out a VHS of A New Hope, sat me down in front of those super bulky screens, and told me I had to watch it. Later on, I remembered absolutely nothing from the film, and I recall being thoroughly confused about why the prequels came after the original movies. At some point, I was watching Attack of the Clones and became obsessed with Padme... I mean, she's an icon with some spectacular fits, so naturally, I got my mom to get me her white Geonosis costume for Halloween in 2008 (I was seven years old!).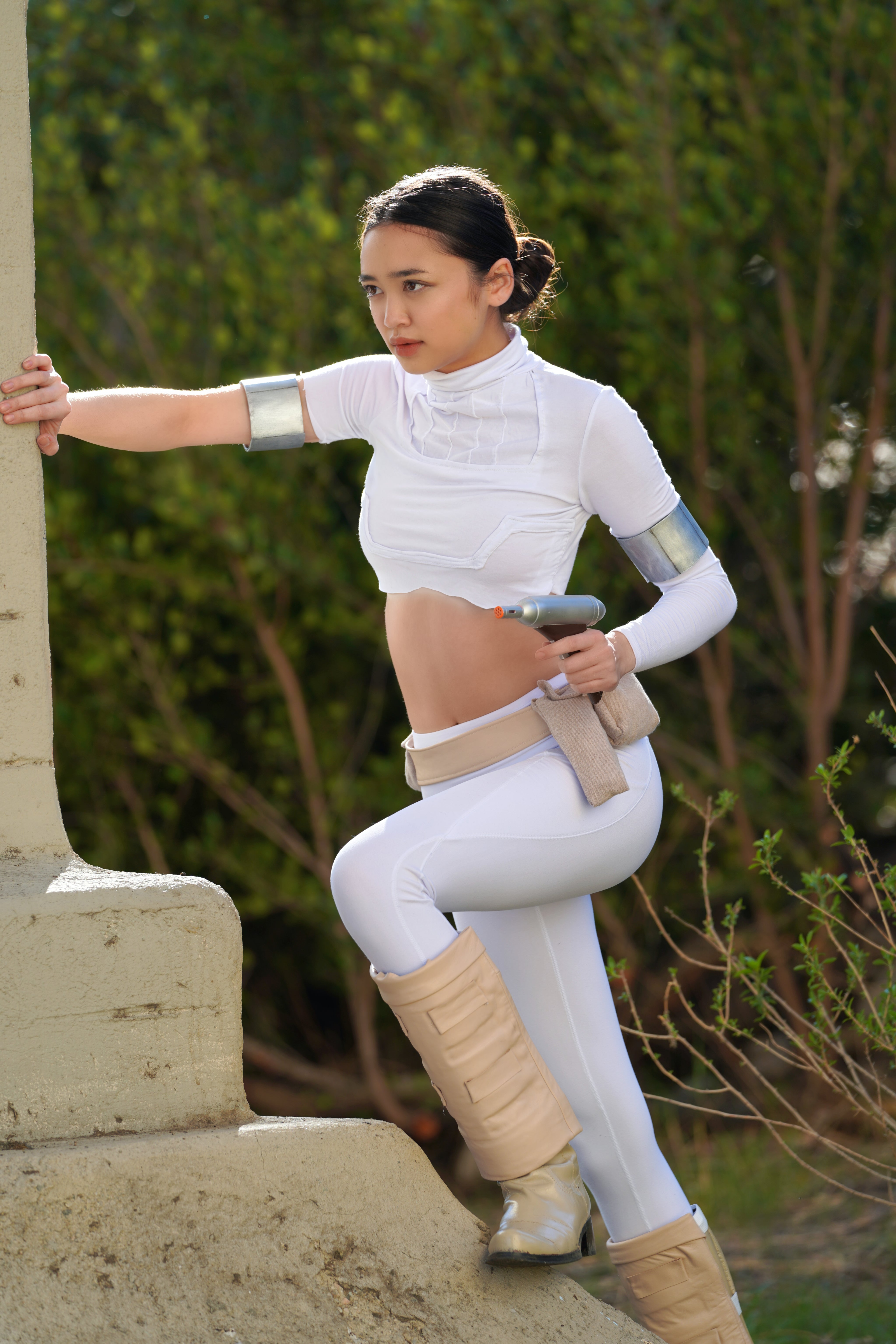 What does Star Wars mean to you?
Isabelle: It means the absolute world to me. Now in my life, it's less about the actual stories and content but more about the relationships and memories I've made because of Star Wars. I definitely would not have gotten to know all of the incredible artists I'm friends with now without it. I wouldn't have a podcast, a TikTok, and I probably wouldn't have a Twitch. I really can't imagine what I'd be without it, so it truly is everything.
What is it about these characters that make them so appealing to cosplay?
Isabelle: When it comes to characters I cosplay, it's either because I admire them or think they're aesthetically pleasing. In the case of every Star Wars cosplay I have put out there so far, it's definitely a mix of both. So many of the female characters have incredible stories and arcs that I relate to, or they have traits that I have a strong admiration for. I get inspired by characters I genuinely love, and it certainly doesn't hurt when the clothes they wear are pretty cool-looking as well!
How do you create your patterns, or where do you get them from?
Isabelle: For pieces like Ahsoka's tunic or Padme's Geonosis "torn" crop top, I just take old clothes that have the same shape as the costume, then cut those into patterns. Definitely cost-effective!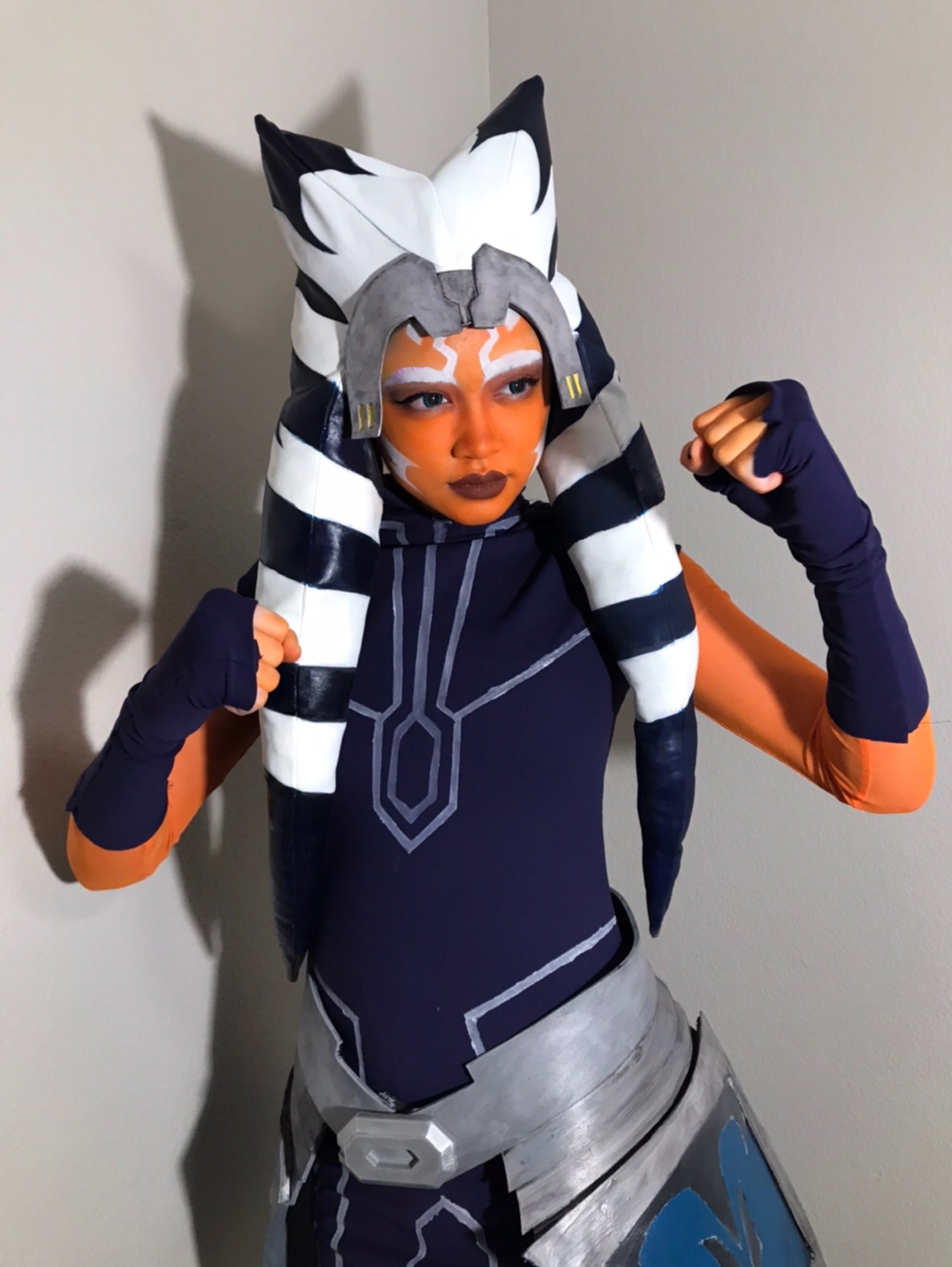 When it comes to sewing, what's the best tip you can give?
Isabelle: I am still very much an amateur in sewing, but I would recommend watching loads of tutorials and just practicing with what you have at home. I have a scrap pile of old t-shirts that I test techniques on. Every new character has something different than the last, so be prepared to learn a lot!
What body paint do you recommend for characters like Hera, and are there any applying techniques that you do?
Isabelle: I exclusively use Mehron Paradise paints. I use any primer to prep my face, apply the paint with a flat brush, then stamp it all down with a dampened sponge (bonus points if you use setting spray to wet the sponge!). Eye makeup and contacts are all done before this to reduce the risk of any contamination. Finally, I set it with either a translucent powder or an eye shadow with the same color. Then, voilà! You're now a space girl!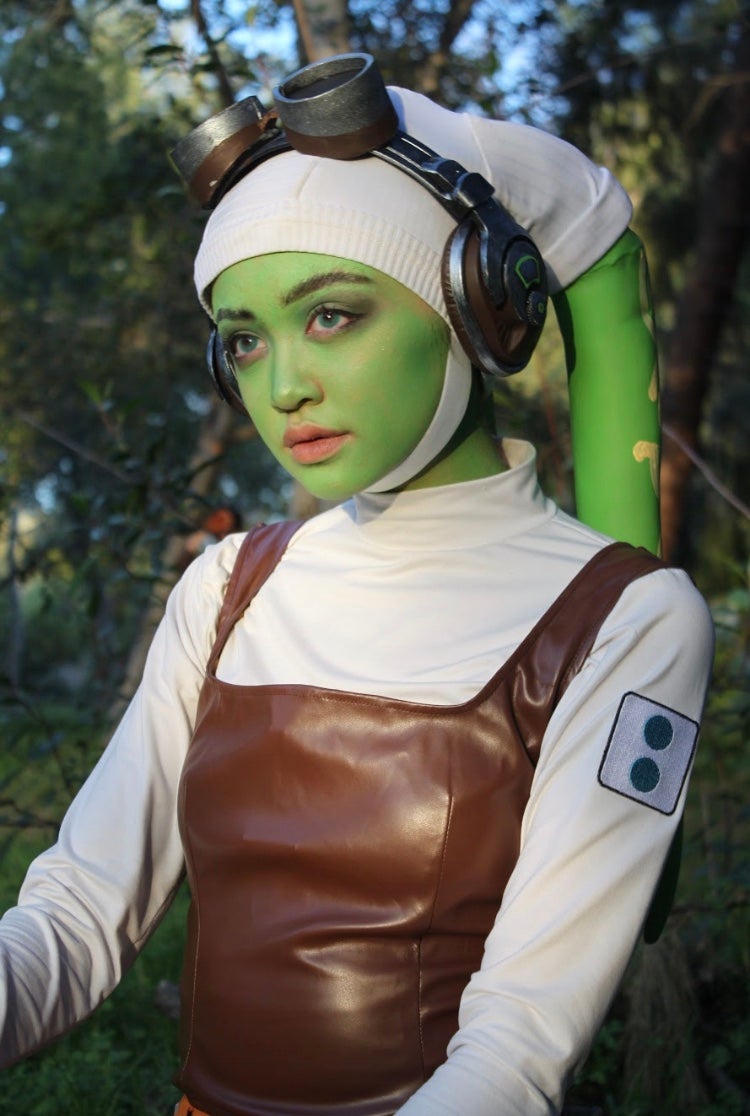 Favorite Star Wars quote?
Isabelle: Ahsoka's response to Maul pointing out her Obi-Wan-like arrogance sticks out to me. "You'll find I have many qualities for you to dislike." It's iconic, witty, and also very applicable to a lot of people. You can't please everyone, and that's ok. Also, Ahsoka sass!
What advice would you give to a beginning cosplayer?
Isabelle: The most important part is to have fun! For myself, it's very much a hobby, so I try to prioritize that. Making friends and sharing art is the beauty of cosplay. The community is just a bunch of nerds that are all into the same content, so don't sweat joining in on the fun!
How did you make your Ahsoka headpiece?
Isabelle: The headpiece was a base I bought from Etsy for about $50. I re-stuffed it, painted over it in liquid latex mixed with acrylic paint, then made a new headband out of 2mm foam to replace the one that came with it.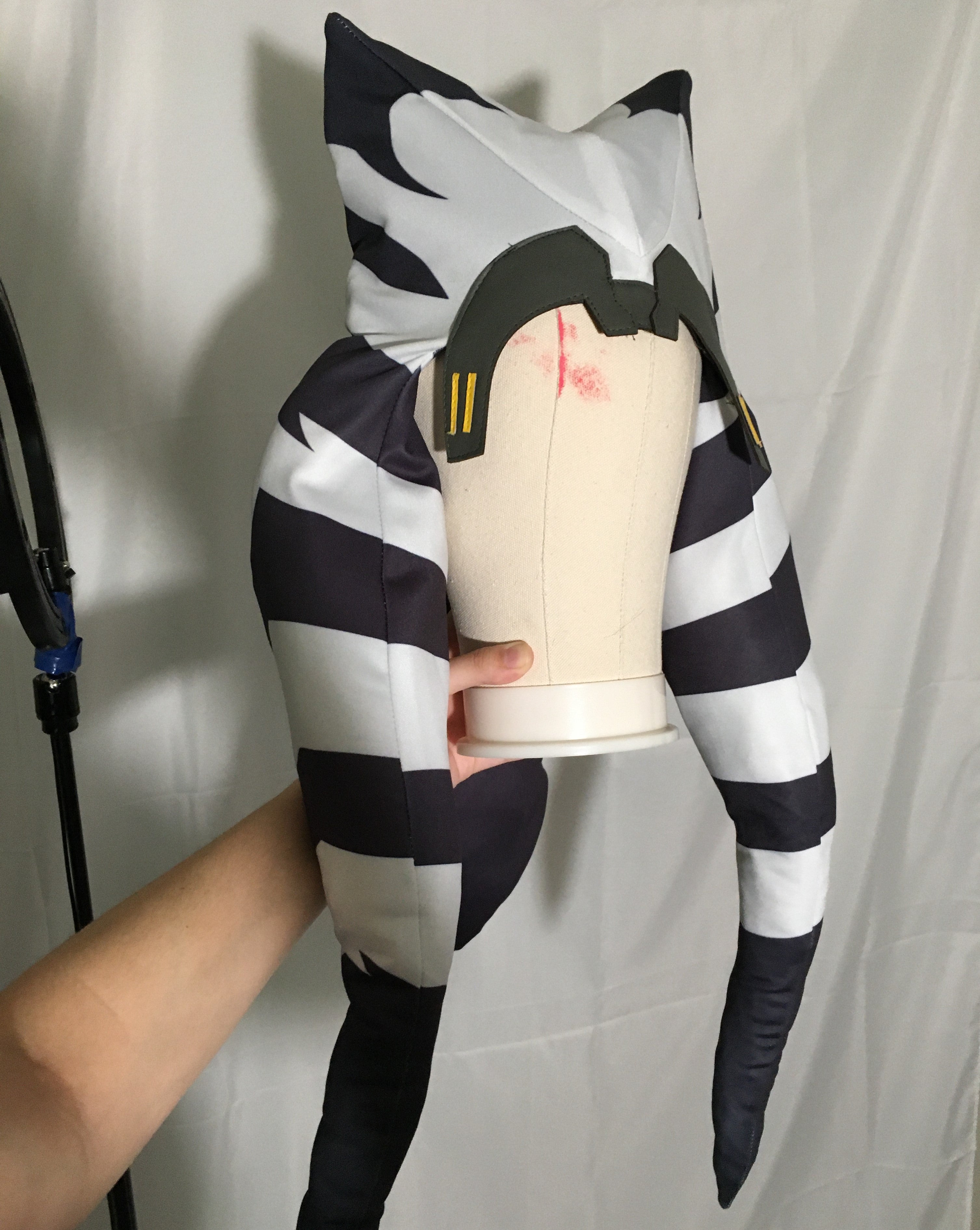 You have a few Twi'lek cosplays, are those canon or original character concepts?
Isabelle: The Pink one, Ayy, was made for a TikTok group at the beginning of quarantine. She doesn't have much of a story, but the premise of everyone in that group was that we were the other students at Luke's temple on Ahch-To when Kylo turned to the Dark side. The Blue Twi'lek was just for fun!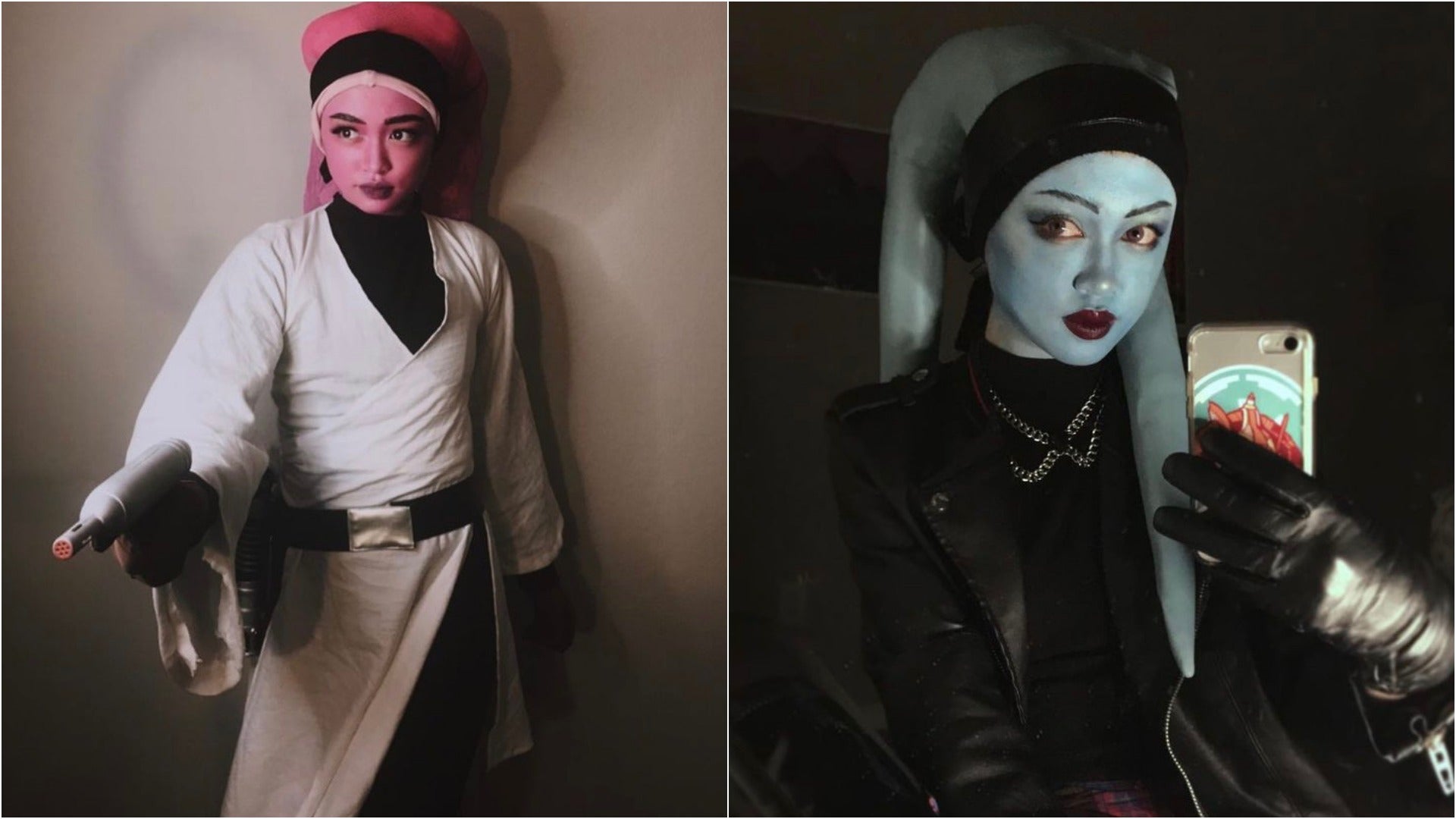 What Star Wars cosplay has been your favorite thus far, and why?
Isabelle: Ahsoka is my favorite by far. She truly is one that I made pretty much on my own. I've had other builds, but this was the first that taught me a lot, and I'm genuinely proud of it. On top of the learning curve, she was the first character to do well on TikTok. Many of my followers on that platform came to my account because of that cosplay, and consequently, a few dear friends that I have now.
If you could change anything about the cosplay community, what would you change?
Isabelle: Any gatekeeping! It doesn't matter if your cosplay is handmade or store-bought. You're still a cosplayer. Everyone here is a nerd with a knack for dressing up, but not everyone has the same level of detail or even extra money to spend on what is a hobby for most people.
Tell us about your podcast, TaunTalk?
Isabelle: My love letter to Star Wars! We were produced by The Nerdy Bunch and debuted on October 2nd, 2020, on just about every platform you can listen to podcasts on. I co-host the show with another content creator/writer, Clarisa (@redleader13 on Instagram), and we get into a women-driven perspective on everything Star Wars. We started with our personal stories with the franchise, covering each chapter of The Mandalorian, and most recently, breaking down The High Republic: Light of the Jedi part by part. I'm incredibly proud of what we have made altogether, and I hope whoever listens can enjoy it as well!
If you could rule the galaxy with one other Star Wars character, who would it be?
Isabelle: Obi-Wan Kenobi! He knows plenty about politics, and I just know he wouldn't betray me. It also doesn't hurt that he's arguably the prettiest Jedi in the Order (don't tell Anakin).
What Star Wars cosplays do you have planned in the future?
Isabelle: Ideally, Fennec Shand! Possibly as a 2022 goal since that's when Mando Season 3 drops and when SWCC will be back... Also, because I've been a Ming-Na Wen fan since I was basically raised with Mulan. She's an icon!
To see more on Isabelle's life both in and out of cosplay, be sure to follow her Instagram at Rensempress.