This Cosplayer Recreated Zombie Captain America From What If
What If 's Captain America is jaw dropping, literally.
Marvel officially announced episode five of What If…? as a timeline where Marvel's greatest heroes became blood-thirsty zombies, and fans couldn't be more thrilled! Of course, die-hard Marvel fans know the episode is based on the comic Marvel Zombies, a five-issue limited series published from December 2005 to April 2006, written by Robert Kirkman. What If…? will adapt the classic while also showing Spider-Man hunting zombies wearing Doctor Strange's Cloak of Levitation. WE ARE FANGIRLING!!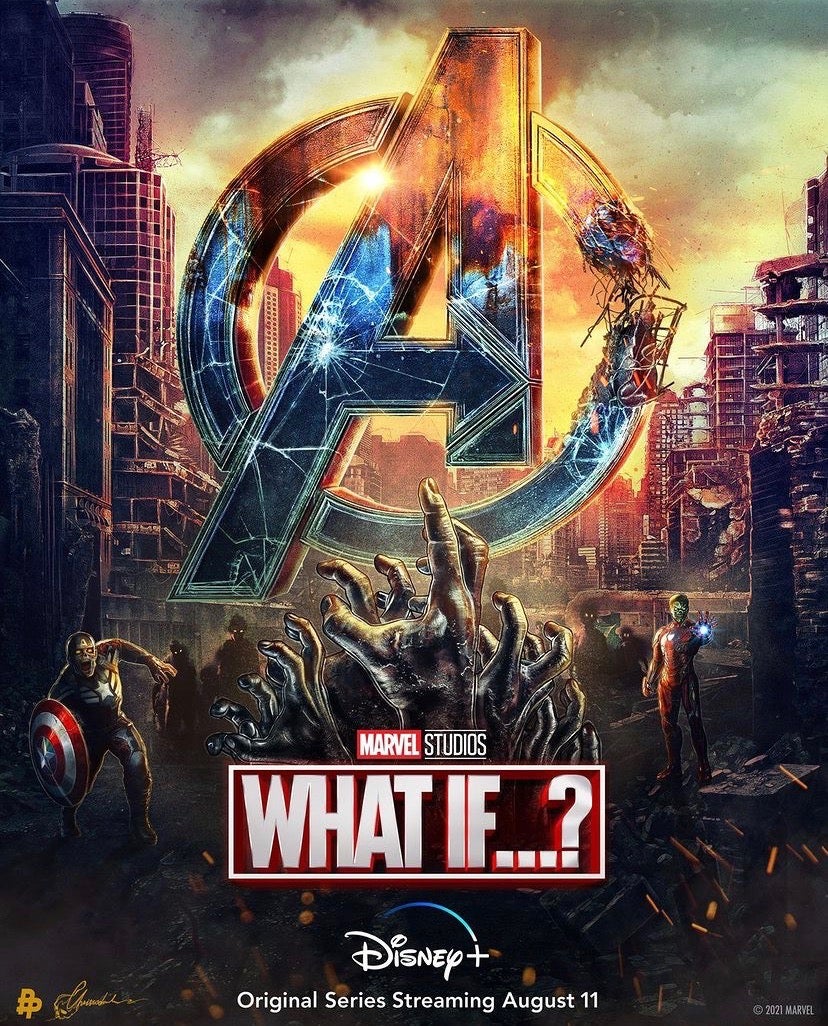 If you're unfamiliar with the show, What If..? is from The Watcher's perspective viewing alternate corners of the Universe where everything is possible. We've seen Peggy Carter become Captain Carter, T'Challa as Star-Lord, and a Dr. Strange who lost his heart and not his hands. All of these events are considered canon within the Marvel Cinematic Universe. We can't wait to explore more of the multiverse with What If…? and films like Doctor Strange in the Multiverse of Madness, Ant-Man and the Wasp: Quantumania, and Spider-Man: No Way Home in the wings.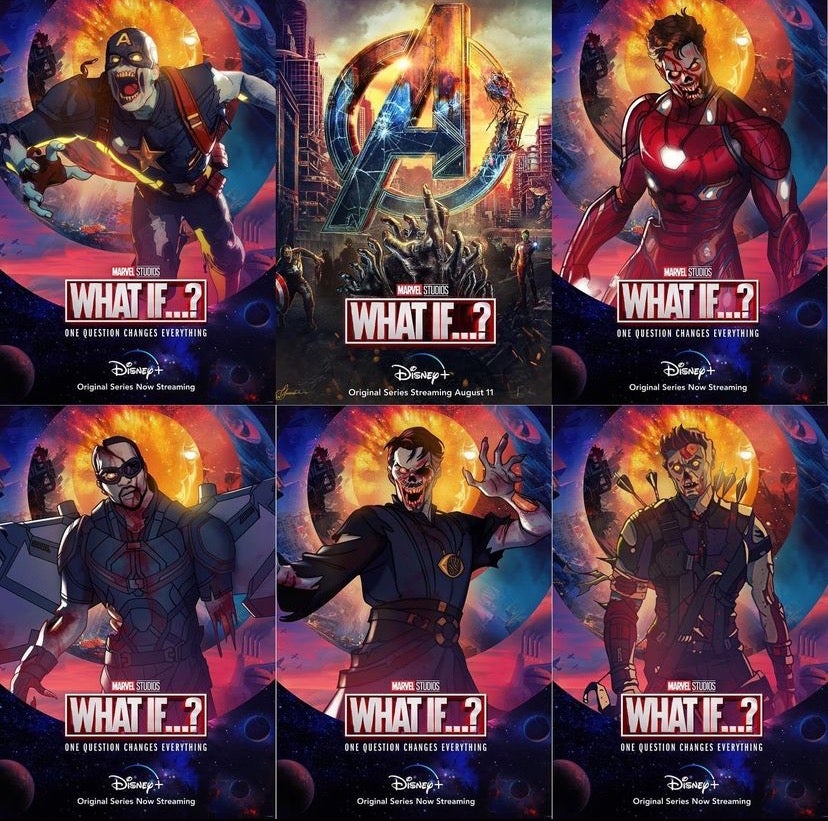 Cosplayers consistently surprise us in how quickly, efficiently, and beautifully they put together brand new cosplays! For instance, the star-spangled man with a plan, cap.mathis_cosplay, had already made his Zombie Cap solely from promo images. He wore the cosplay at Carolina Fear Fest in June and again at Metrocon Florida in July with his friend the_craft_goblin as Captain Carter.
Jeff Mathis was already a fan of the Marvel Zombies comics and decided to repurpose an old Captain America for the cosplay. He also added a few personal touches, like Thor's Hammer with Thor's hand attached to it. Gross, but brilliant! We interviewed Jeff Mathis on how he made his cosplay and asked a few fun questions as well. So let's meet the cosplayer behind the shield, Jeff Mathis!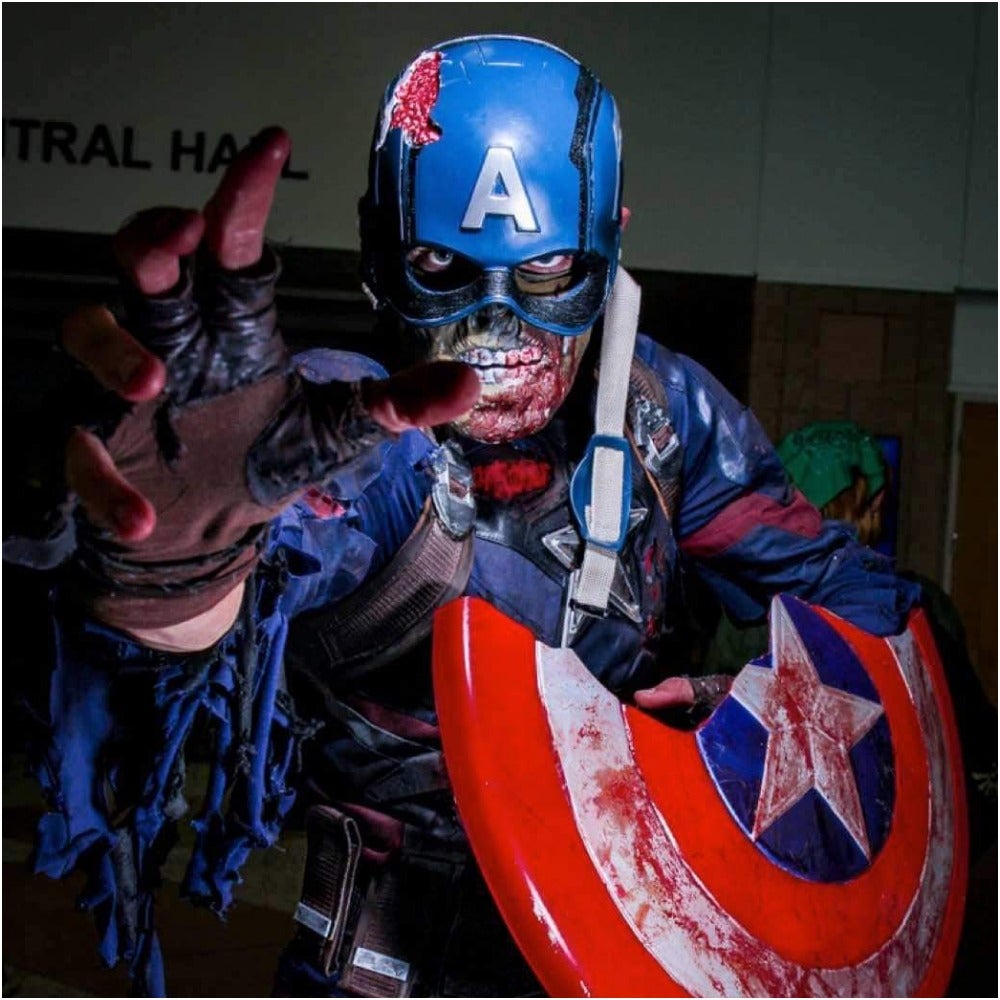 Cosplay Central: Can you tell us how you made your Zombie Captain America?
Jeff Mathis: The suit was made by White Sheep Leather and used to be their Civil War suit made of Cordura fabric. I took this suit and modified it to more closely resemble his aged Civil War suit seen in Infinity War. Over the course of a few years, the suit began not to fit as I liked it to anymore, and I was looking at retiring it.
Then the first images of Zombie Cap were released in anticipation for What If..? and I decided to recycle the suit for this purpose. I made more cuts/tears in the suit, shredded one of the arms, legs, etc. Added gore details by cutting out a large section, adding a layer of foam, then using puff paint to look like innards and covered with fake blood. The helmet was made from an old unused helmet I had laying around and using a dremel to cut out a section, then used the same puff paint method to look like exposed brains.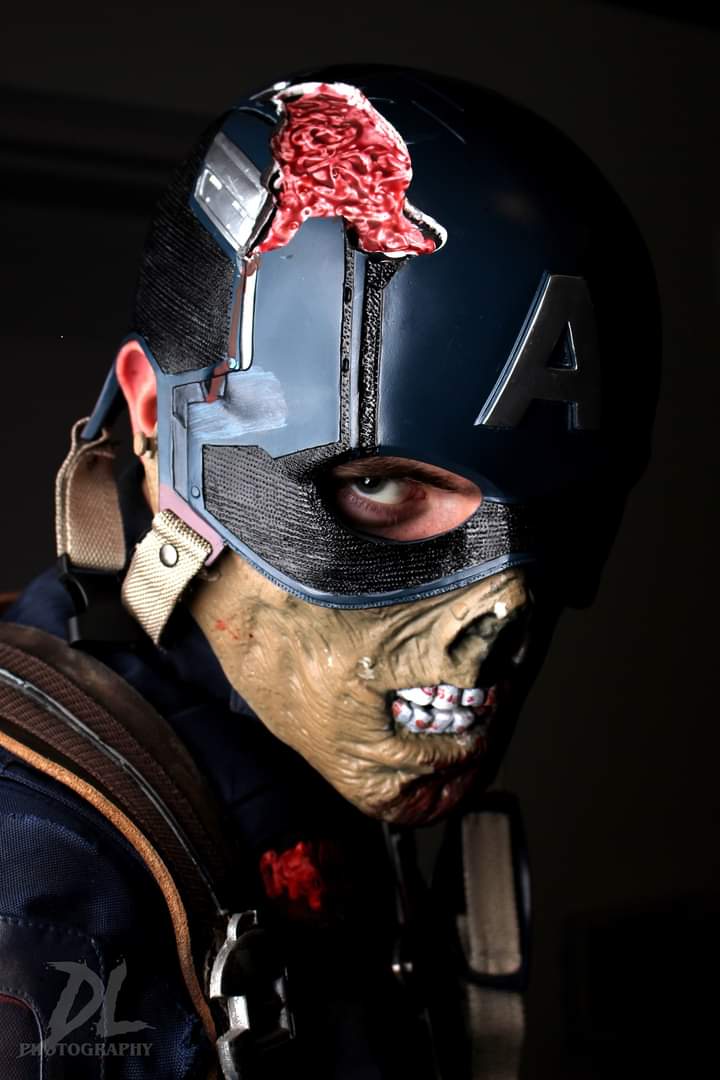 CC: What component of this cosplay is your favorite?
JM: My favorite components are most likely the cracked helmet with exposed brains underneath. But when I have my Mjolnir prop with a severed Thor hand still holding onto it, it makes for an entertaining conversation.
CC: Is the Zombie Mask 3D Printed? Does it act as a facial covering for Covid?
JM: The mask is not 3D printed, but rather a generic airsoft/paintball half-face protective mask that I remodeled into how it looks now. It is Covid safe!
CC: How many Captain America cosplays have you done?
JM: I have done roughly seven Captain America cosplays and fully intend to do more.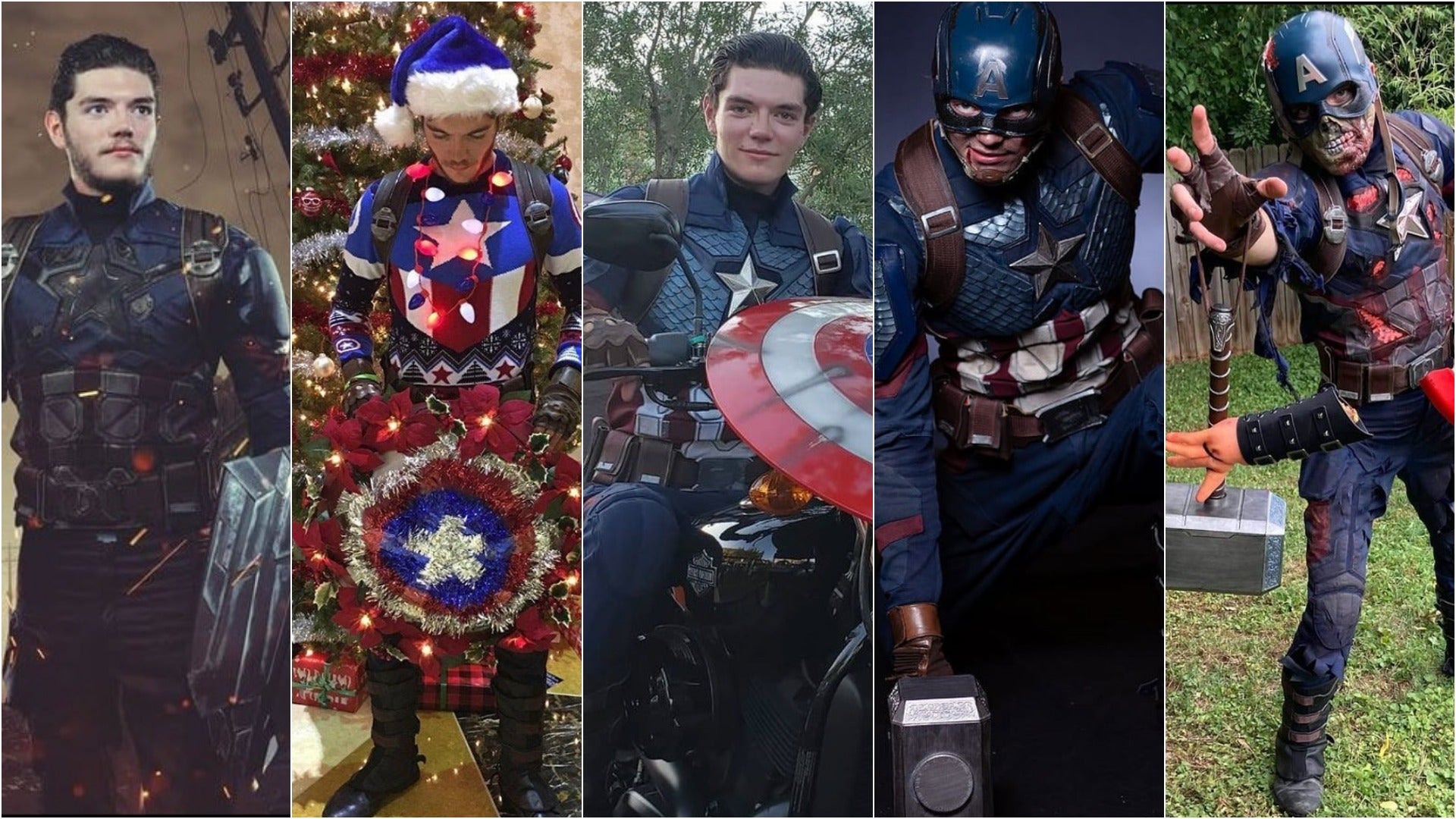 CC: What about Captain America appeals to you? Why do you cosplay the character?
JM: Cap's moral character is what always drew me to him as a kid, the guy always wanting to do right, even if he's the only one seeing it that way.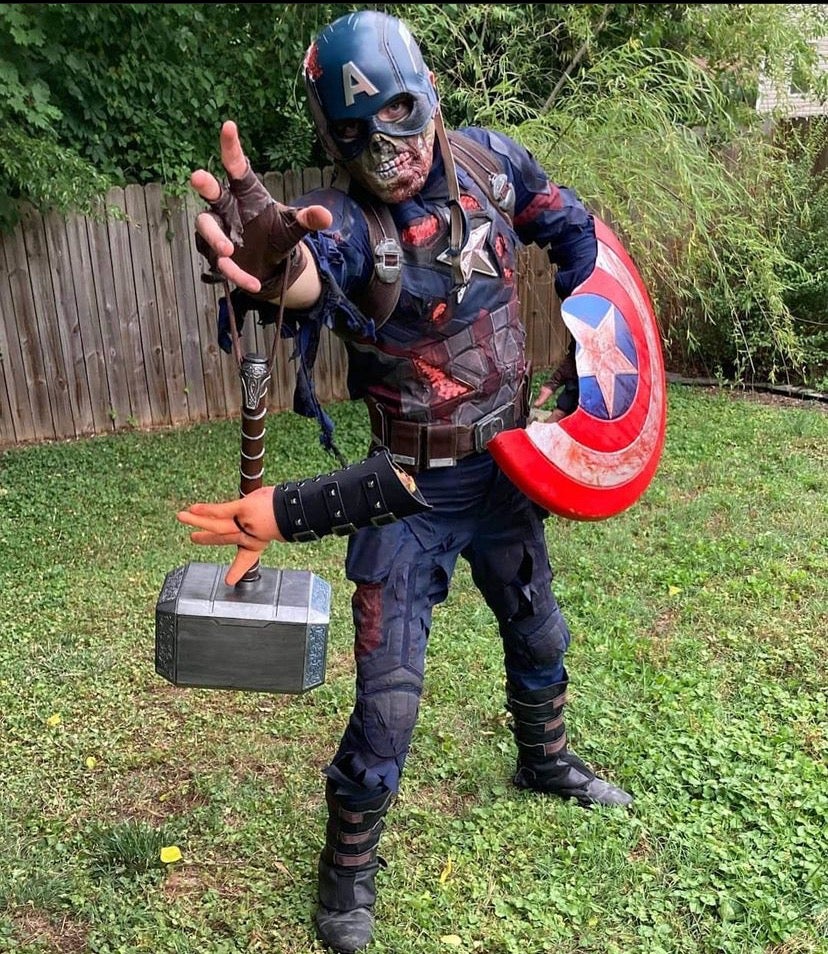 CC: Pick your Zombie fighting team with three other Avengers:
JM: I'm just going to go with my three favorite Marvel heroes and say Steve's Captain America, Moon Knight, and The Punisher. They each have military backgrounds, so survival wouldn't be a huge issue. Second, all are resourceful and can make the most out of limited supplies. Finally, each has a particular set of skills/weapons that would easily set back a horde of zombies.
New Marvel: What If...?'s episodes debut on Disney+ weekly every Wednesday.