This Mandalorian Cosplay Is Identical To The Star Wars Character
Nomad Props' Mandalorian cosplay is truly a work of art.
Warning: This article contains spoilers for The Book of Boba Fett episode 5 and The Mandalorian season 2.
The Book of Boba Fett has swiftly become a hit among Star Wars fans for bringing back the fan-favorite Boba Fett. We had last seen the bounty hunter in season 2 of The Mandalorian when he goes to Din Djarin's aid after Grogu was taken by Moff Gideon. Now, he is back with his own show dealing with the repercussions on Tatooine after the death of Jabba the Hutt in The Return of the Jedi.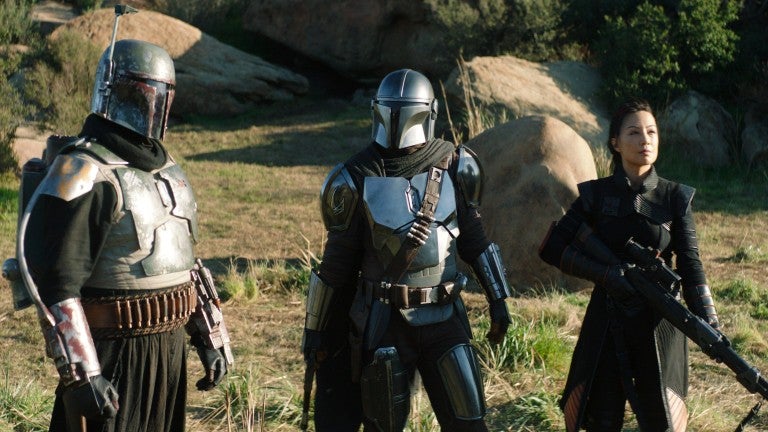 Episode 5 of The Book of Boba Fett took a surprising turn when Din Djarin, the Mandalorian, showed up to star in an entire episode. The episode shows his life after leaving Grogu in the hands of Luke Skywalker. Not only is he dealing with the weight of the Dark Saber, but is also longing to see Grogu once again.
With the return of the Mandalorian in The Book of Boba Fett, it's no wonder why so many cosplayers are wiping the dust off their Mandalorian cosplays. One such cosplayer by the name of Sean Gerardi, also known as Nomad.Props, has brought out his Mandalorian cosplay in the most epic way possible.
In a video that now has almost 30,000 likes on Instagram and over 60,000 likes on TikTok. The video shows him donning his Mandalorian cosplay walking out of his house with the Beskar spear and the whole armored getup.
Not only is the video amazing, but his armor looks nearly identical to the one they use in both series. As seen on his Instagram, all of Sean's armor is made by him in his shop. Perhaps one of the most impressive parts of the build is that he has actual working whistle birds on the gauntlet. Look at that tech!
Aside from his insane-looking armor, he also has some absolutely hilarious videos on both his TikTok and Instagram. Our personal favorite is definitely the one of him working from home with Grogu causing mischief. He also has an Etsy where he will occasionally post his 3D print kits. We cannot wait to see more videos and content from him soon!
The Book of Boba Fett is now streaming on Disney Plus.
To possibly be featured in our articles, be sure to tag us on Cosplay Central's Instagram, Twitter, or Facebook.