10 Cosplay Tutorial Resources That You Need To Know
Whether it's learning about makeup or creating foam props, here's 10 resources to help you on your next cosplay.
Even experienced cosplayers need help with creating a cosplay or learning a new technique they've never used before. Tutorials can not only teach cosplayers exactly how to make a specific part of a cosplay, but the concepts can then be used for a multitude of different projects later. Here's a list I've compiled of 10 resources for tutorials from various sources, including cosplayers themselves.
1. Punished Props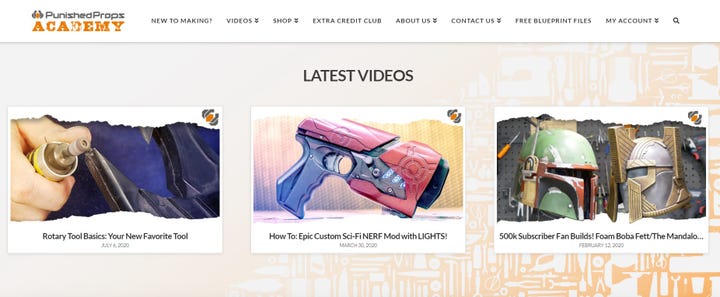 Punished Props is a well-known name in the foam-crafting community. They are a husband and wife team based out of Seattle who have been creating cosplays and props since 2009. They have published four extremely detailed books showing exactly how to work with foam to create props and armor for both beginning crafters and those looking for advanced techniques. Their website also provide numerous videos detailing the step by step process of making a wide range of props.
2. Kamui Cosplay

Kamui Cosplay is another popular cosplayer but this time based out of Germany. Svetlana and Benni work together to not only create extremely detailed and elaborate armored cosplays but have also published 14 books filled with tutorials and patterns. They also have a YouTube channel where you can find videos on an array of important topics such as how to attach foam armor for mobility. My favorite part of her offerings are the various pattern packages available for download. You can find everything from pieces of armor to foam skulls.
3. Kinpatsu Cosplay

Kinpatsu Cosplay is a South African cosplayer currently based in Canada. She is known for her extremely accurate cosplay portrays and her active tutorial making. She has published two books covering wig styling and makeup and her cosplay tutorials are character specific. These character specific tutorials will teach you how to create an entire cosplay including wigs and accessories.
4. Alyson Tabbitha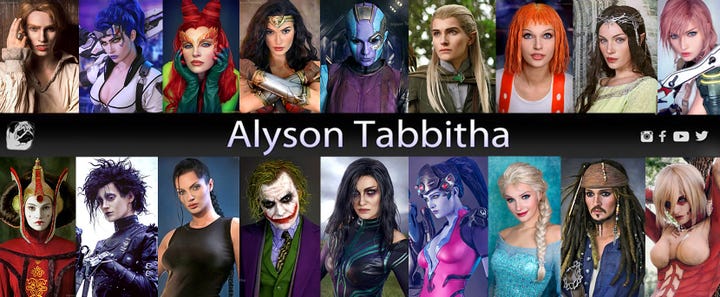 Makeup can really complete a cosplay and Alyson Tabbitha has the ability to transform herself into a wide variety of characters of both genders. Her YouTube channel is filled with astounding makeup transformation videos that can help you completely transform into your favorite character. But her videos aren't solely based on makeup as she also has many videos detailing the creation of her cosplays from start to finish such as her Wonder Woman cosplay.
5. Lightning Cosplay

Lightning Cosplay is another talented creator from Germany who has written four cosplay tutorial books including ones specifically tailored for working with electronics and lighting in cosplay as well as mold making. Her website also conveniently has a listing of all the equipment that she uses while creating cosplays, making supply purchasing much easier.
6. Ludus Cosplay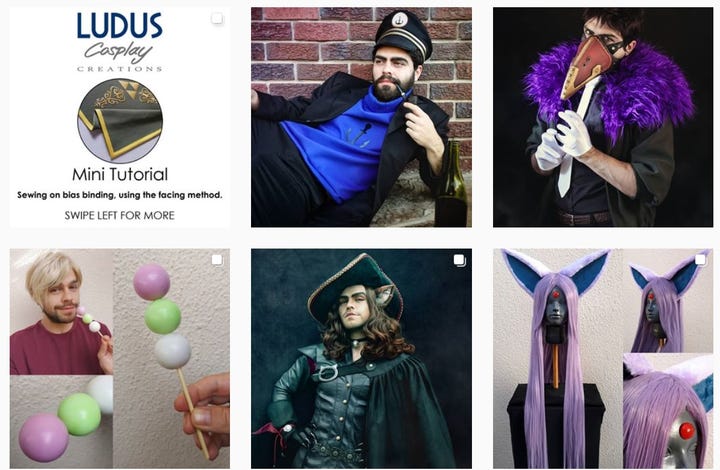 One more South African cosplayer with an array of tutorials is Ludus Cosplay. His Instagram has many fully illustrated step-by-step tutorials for creating everything from unique claws that will attach to your nails to sewing on bias binding. His creative ideas can inspire you on how to fully utilize the potential of products like Worbla beads.
7. Cosplay Central

Brought to you by ReedPop, owners of New York Comic Con, Emerald City Comic Con and many more of the biggest conventions in the US and even globally, their Cosplay Central section of the con floor has been moved online and is now easily accessible to all cosplayers. Their goal is to become the one stop shop for cosplayers in terms of inspiration and instruction. With new articles and tutorials added daily, they are quickly becoming a leading resource for cosplayers.
8. CosplayTutorial.com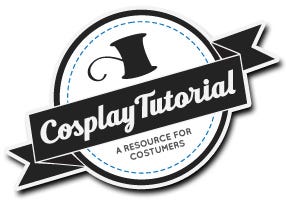 The name is pretty straight forward in what they offer though the website navigation is a little rough as they are currently updating their site. CosplayTutorial.com provides catalogued links to a gigantic selection of tutorials for any part of a cosplay. For instance, there are 16 different tutorials under the term Tails, from character specific tails for Ahri or Rin Okumura to general fur or dragon tails.
9. Product Specific Websites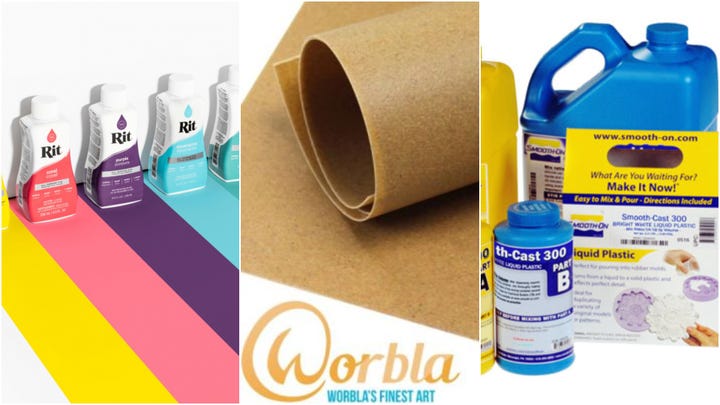 If you're working with a product for the first time, it's always recommended to check out their website first. Not only because they will often have better instructions for use than the ones simply listed on the back of the product itself, but the websites often provide tutorials or suggestions on alternate uses for the product that you might not have thought of yet. Some product websites that offer additional tips and tutorials are: Smooth-On, Rit-Dye and Worbla.
10. Arda Wigs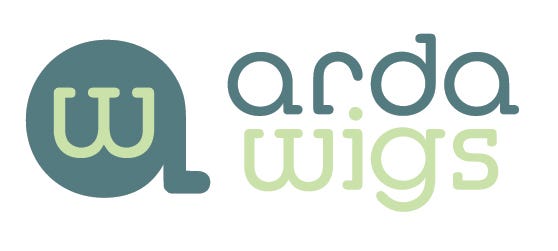 Arda Wigs is not only the top cosplay wig company in the US, but they also provide their customers a full list of wig tutorials, some written by staff and many by other cosplayers. The best part about using tutorials directly from the website is knowing that you can find all the necessary wigs and components on the website so you can precisely recreate wigs from the tutorial. And if you really want to show off your wig skills, check out the wig making contests they occasionally have.
There are many more cosplayers offering tutorials and even more that offer sewing patterns (an article topic for another time). If you come across one that you'd like to recognize, drop their name and links in the comments section. Now go out there and find the guidance you need to create your next cosplay.