This Stunning Snow White Is A Real Life Disney Princess
Be The Spark Cosplay embodies Snow White in this incredible handsewn cosplay.
Snow White is one of the most iconic Disney princesses. Since its release in 1937, Snow White started a wave of Disney movies that would eventually continue well into the 21st Century. With her black hair, high-pitched voice, and blue and yellow dress, she has proven to be one of the main Disney princesses to represent the franchise.
It's no wonder that cosplayers flock to cosplay as Snow White. Some have created modern cosplays for her, while others have cosplayed the villainous Evil Queen from the story. Now, cosplayer Mandy Pursley (Be The Spark Cosplay) has gone one step further and made Snow White into a true queenly look.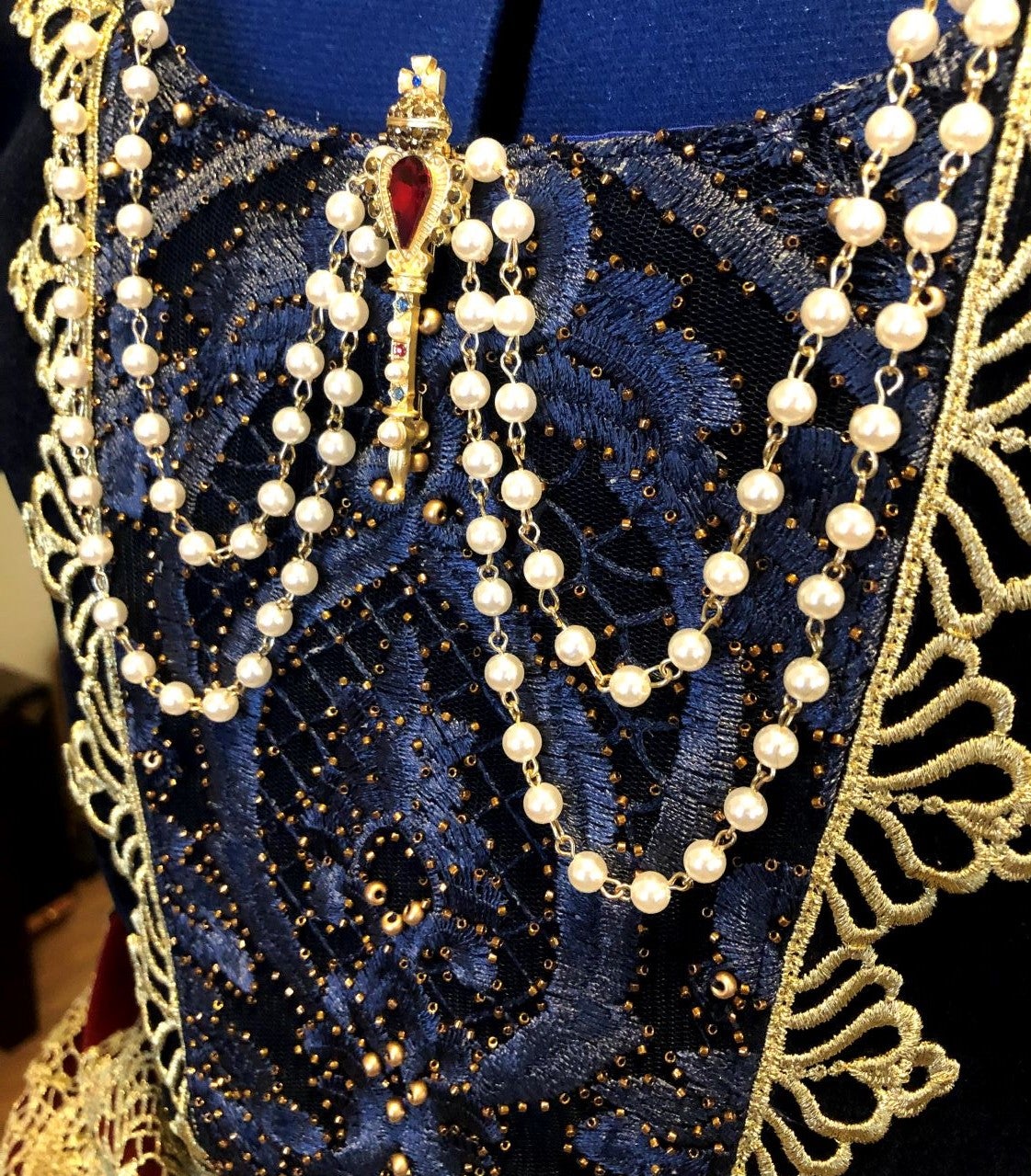 The images were first posted in the SheProp Community: a Facebook group for female, nonbinary, and transgender cosplayers. The group, which promotes a positive and safe space for cosplayers, already has over 4,000 members. We reached out to Mandy to ask for an interview, and she happily told us all her tips, tricks, and struggles along the the way for building the Snow White gown.
When asked what made her want to cosplay as Snow White, Pursley explained that she was one of her favorite princesses growing up. "For me, she represented someone who possessed so much kindness and joy. But I think most people associate Snow White with her beauty. She is, after all, the fairest in the land. I really wanted to take that idea and show that beauty isn't limited to some boring idea of physical perfection," she explaiend to Cosplay Central. "Kids with limb differences don't often get to see people like them portrayed in a way that is strong or beautiful. With this version of Snow White, I really wanted to portray her as confident and joyful, and to show that having a limb difference really had no effect on how I, as a cosplayer, was able to step into this character and this story."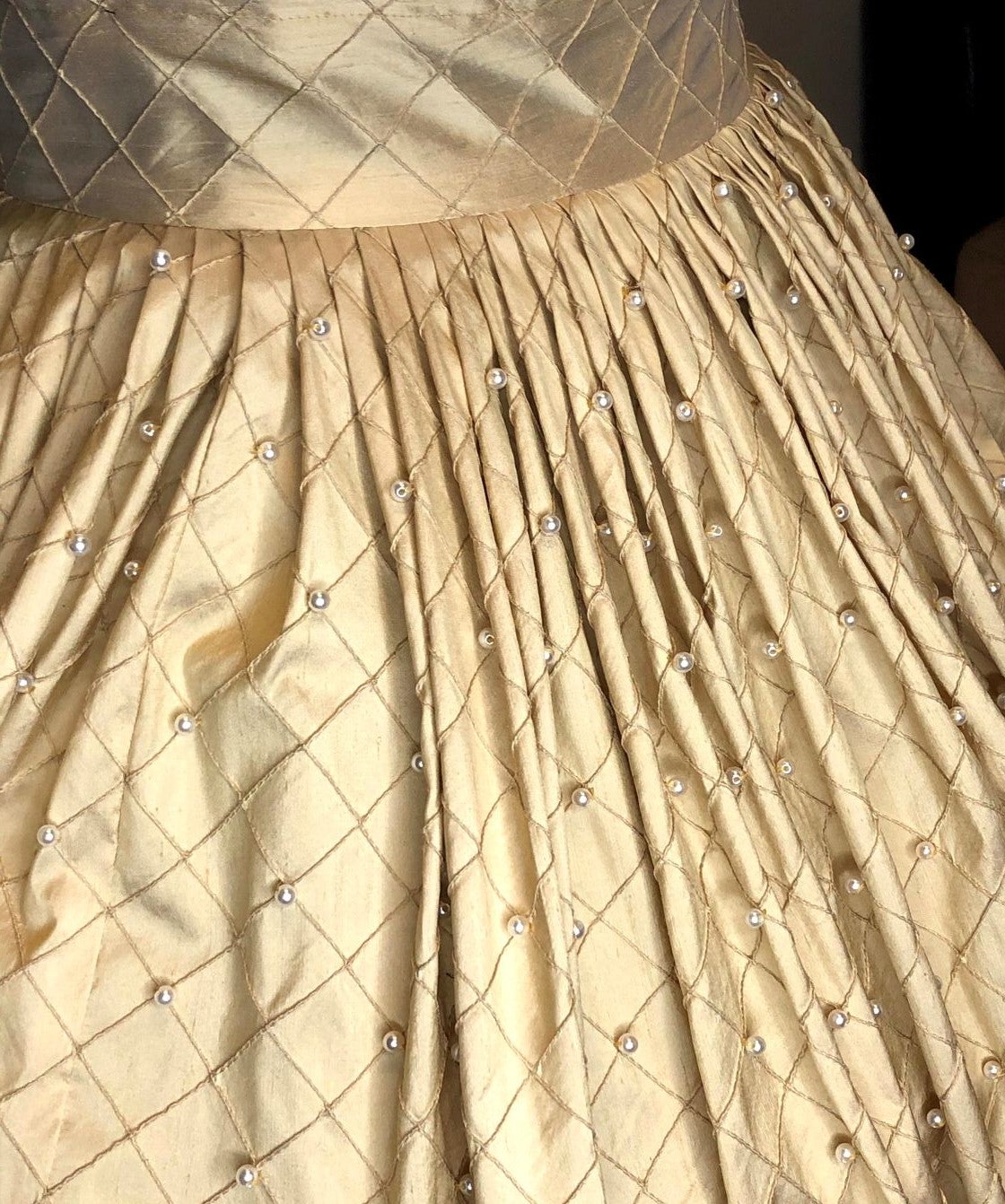 Pursley made the entire cosplay by hand, using her trusty sewing machine and embroidery needles to put the entire dress together. Pursley started by describing her ideas of how she wanted the dress to look. "Before starting, I was really brainstorming some ideas to subtly add some story elements into the design of the dress. On the bodice, I wanted the navy fabric with the tiny gold beads to evoke the feeling of a night sky. I could imagine Snow White spending many a night gazing at the stars during her time in the woods. And I designed her sleeves to look like a plump, juicy apple. Though they were small details, to me they represented Snow White's past and the obstacles she overcame, just as the regal dress was evidence of her happily ever after."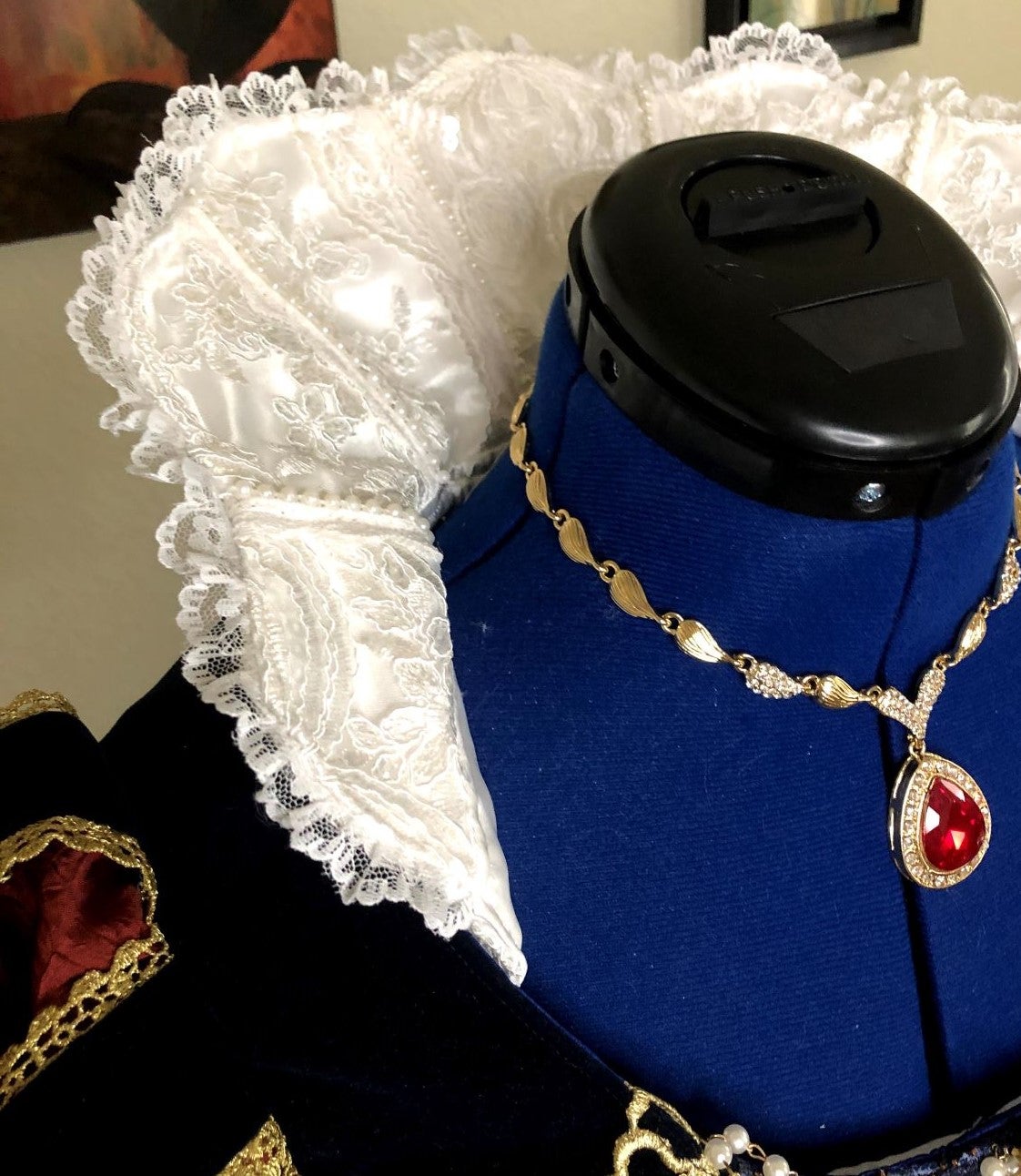 Perhaps one of the most impressive parts of the build was that Pursley was able to make the entire dress in less than a month. "I had just bought the fabric for this design at the end of December when I heard Foundations Revealed was having a costume competition with the theme of 'Once Upon a Time'," she told Cosplay Central. "The only catch was that I only had a month left to completely create this costume! Somehow I managed to finish it just in time and submitted with only 12 hours left before the contest closed. I'm sure it took at least 60 hours to finish the dress, squeezed in between work and homeschooling my daughter."
When asked about her favorite parts of the crafting process, Pursley said that it was the beadwork that was the most relaxing. "This was the first time I had attempted any kind of beadwork of this magnitude. There ended up being about 1000 gold beads on the bodice and 900 pearls on the skirt. I binge-watched the entirety of Bridgerton while sewing beads on the bodice, which felt like an appropriate pairing of activities. I always enjoy making corsets as well. There are so many layers that have to be cut with precision, but I love a good challenge."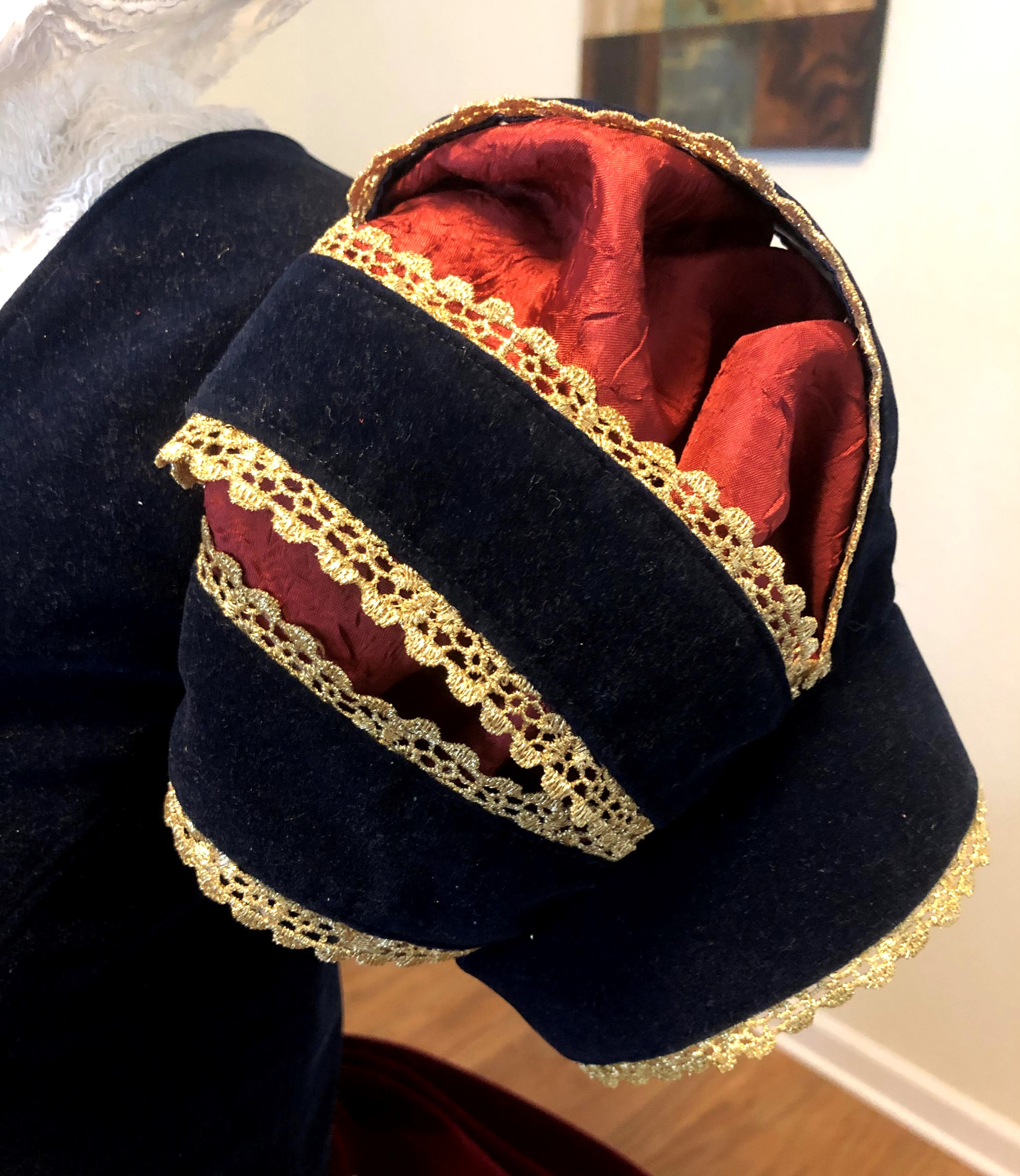 Pursley didn't hold back when it came to her mistakes, however. Like with all cosplays and crafting projects, there can be a lot of mistakes that can be teachable moments for cosplayers and crafters. Pursley explained that she encountered these challenges while making the dress.
"It was a lot of trial and error creating the collar, because I wanted a scalloped look while also creating the perfect angles and enough sturdiness to stand up on its own," Pursley explained. "I definitely learned the importance of creating test patterns out of old or cheap fabric, because I would have quickly run out of my expensive lace otherwise! I probably made test versions of the collar 10 times before I was completely happy with the design. In the end, all the mistakes I made were worth it though, because the collar ended up being one of my favorite parts of the costume."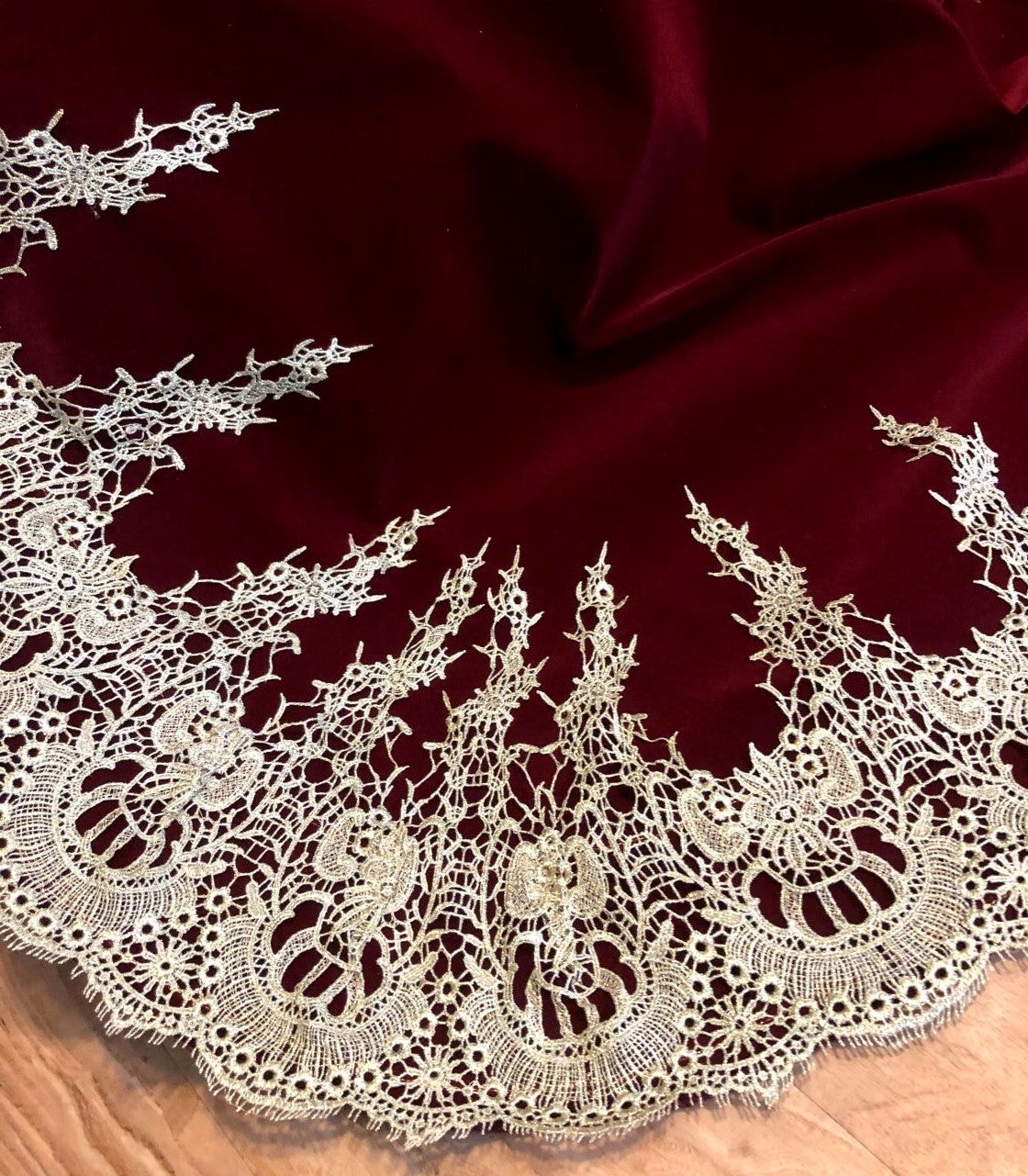 The resulting cosplay turned out absolutely fantastic, with the details of the dress captured perfectly by photographer Chloe Roloson. The photos were taken near a pond in a forest setting, complete with her own apple and enchanted mirror.
Pursley didn't hold back when it came to talking about cosplay. In fact, she wanted to emphasize that anyone can cosplay regardless of your gender, looks, race, skills, etc. "Cosplay is so much fun and allows you to explore so many different skills, from designing to sewing to making props," she told Cosplay Central. "Don't feel pressured that you have to look a certain way to play your favorite characters, because cosplay is for everyone! If you've never cosplayed before, grab a pattern or some supplies and give it a shot! It can be very empowering to embody your favorite characters for a day. And if you've already done a few projects, I really encourage you to keep choosing projects that stretch your skills just a little bit more each time. You'll be amazed at what you will eventually be able to accomplish."
To see the full gallery of her Snow White photos by Chloe Roloson, be sure to click on the View Gallery icon at the top of this article. You can see more of Mandy Pursley's cosplays and photos of her Snow White gown by following her social media pages on Instagram and Facebook.