4 Ways To Speed Up The Embellishment Process For Your Cosplays
Embellishments can take a long time to apply, so here's some tips to speed up the process!
Embellishments are an amazing addition to any cosplay. They can take the most basic looking costume and not only make them look extraordinary but also uniquely you. Since the world of embellishments is so vast it's pretty easy to make the same costume twice and add embellishments to make them have a completely different vibe to them.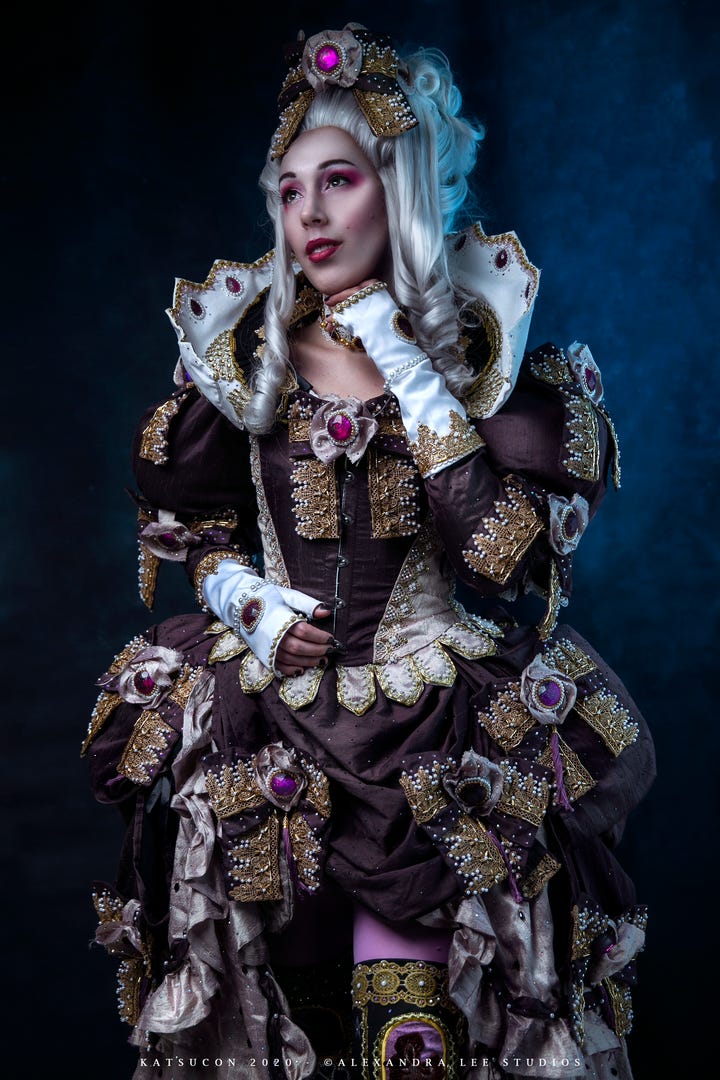 The main downside to embellishments is that they take quite a long time to apply. I can't tell you how many hours I have spent hand placing rhinestones or tacking down lace applique and learning about tools that can make these tasks quicker has been a gamer changer in constructing ball gowns and other garments that can be embellished. For me, if it can be embellished, it likely will be embellished.
Cutting Applique from a Lace Fabric
One of my favorite ways to embellish skirts and bodices is to buy lace fabric and cut it up and place the decorative pieces on my chosen garment. The types of fabrics that I personally look for have an edge design on each salvage and then a separate design in the center. Sometimes flowers, or butterflies, and maybe even circular sequin designs.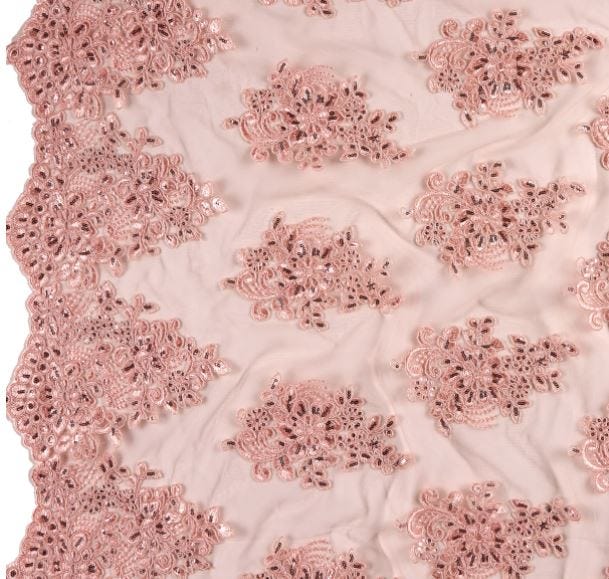 I typically search for these on Etsy or Fabric.com using search terms like "lace fabric" or "beaded fabric". I prefer ones with a trim because you can essentially use that trim as trim on a skirt or bodice and then use the middle pieces as applique elsewhere on the costume.
However, fussy cutting these pieces out with tiny thread scissors can be a literal nightmare. My fingers often get fatigued and even worse blistered where my thumb rubs the inside of my hand. On top of that you can't really use big scissors because they're not as precise. So to combat all of that I started using a Heat Cutting Tool, this one is specific for fabric and has a few different heads to choose from and also works with doing cutwork embroidery designs. Although, I have also used a soldering iron and a wood carving knife to cut out my fabric as well.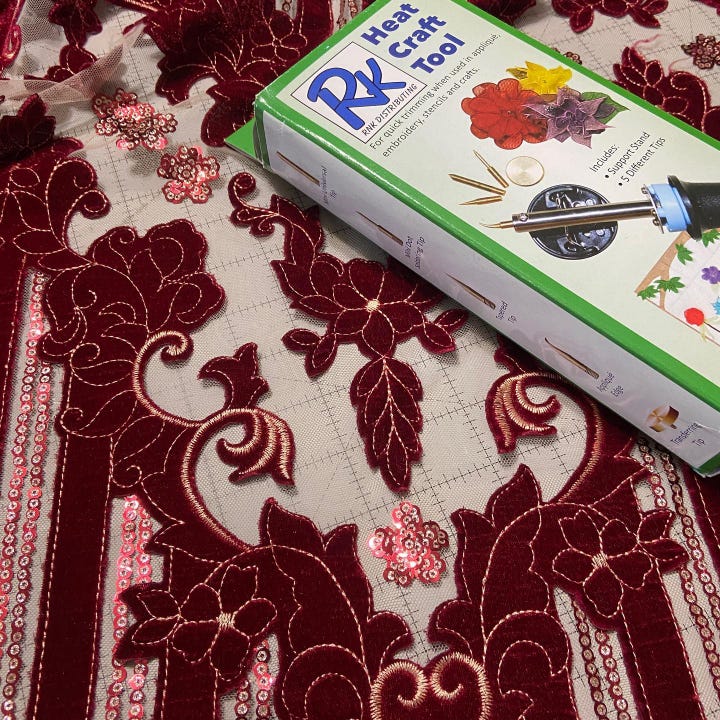 There is a small adjustment period to this process. Getting used to holding the tool steady can take time, for me I'm used to using something similar to apply rhinestones so my adjustment period was extremely fast. I benefit from using a heat tool as well because it will seal any polyester blend fabrics so you won't have to worry about organza fraying or anything like that.
Applying Applique with Fusibles
Now that all of these lace applique have been cut out faster using a heat tool, let's apply them to the garment faster. There are two ways to speed up this process that I will mention but the first is using a fusible. A double sided fusible like Mighty Fuse or Heat N Bond can allow you to iron on the applique pieces.
Both of these products are clear so you can use them with sheer and lightweight fabrics. This can really make it easy to attach fabrics with sequins or beads onto a textile and just eliminates the need for hand sewing.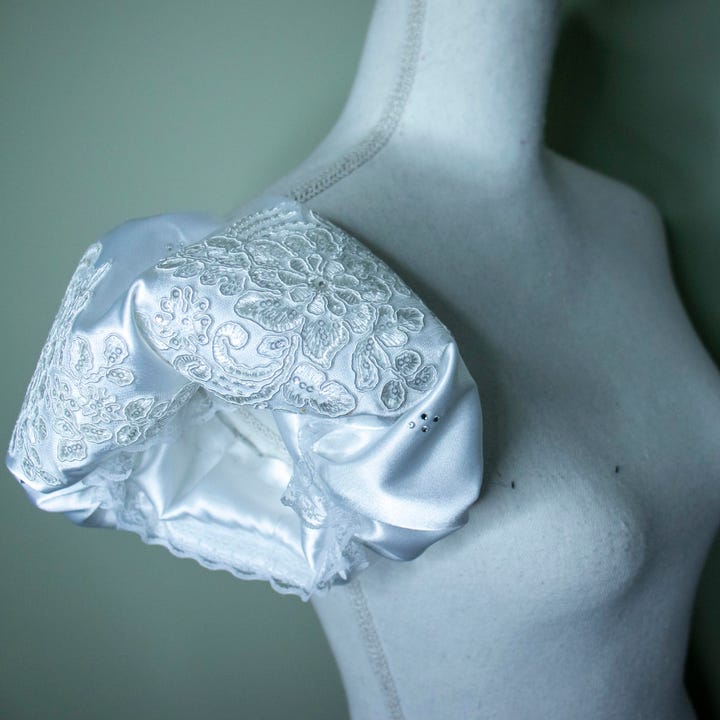 Applying Applique by machine
Yes it is completely possible and easy to sew down sequin and beaded applique or trim by machine. To do this you will need a Free Motion Quilting Foot. What this foot allows you to do is drop the feed dogs on your sewing machine, most beginner level sewing machines have this feature but double check your manual before purchasing the foot because this won't work without that feature. The foot then hovers slightly over your fabric making it easy to maneuver around beads and sequins. With the feed dogs down, you can move the fabric every which way you desire so you can go all the way around your applique or trim.
If you plan on doing lots of trim and applique like work this is honestly the best foot to invest in. I believe most places sell them from $15-$30 and if this saves you one hour of work, it's worth the price. This is the one tool I wish I knew about before I started making ballgowns and this is my favorite thing to gift sewists who are new to sewing.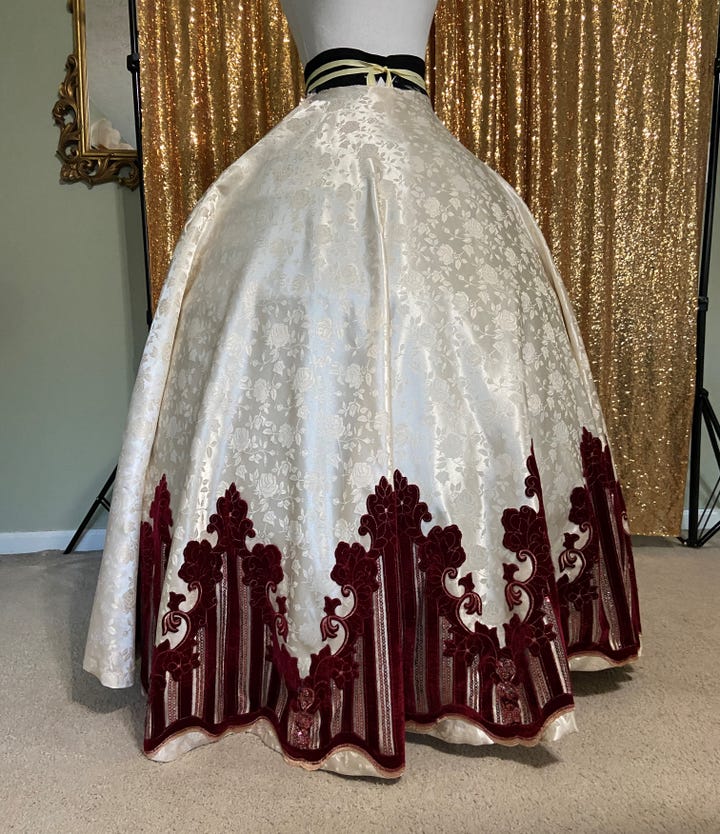 Rhinestone Application
This is the newest tool I have added to my tool set and it has changed the game for rhinestoning for me, Rhinestone Templates. These templates are very different from others I have seen before they are made out of a magnet and you place them onto a baking sheet to create a short term bond with the template and the sheet. Then you pour your hotfix rhinestones onto the template and using a paintbrush or even your fingers you can move them around the sheet to fill in the template.
From there you can use transfer tape to pick up the design and then iron the design onto your costume. Recently I used the snowflake template on an Elsa Cosplay and I was able to apply thousands of rhinestones in just an hour and a half. I will never go back to hand applying rhinestones.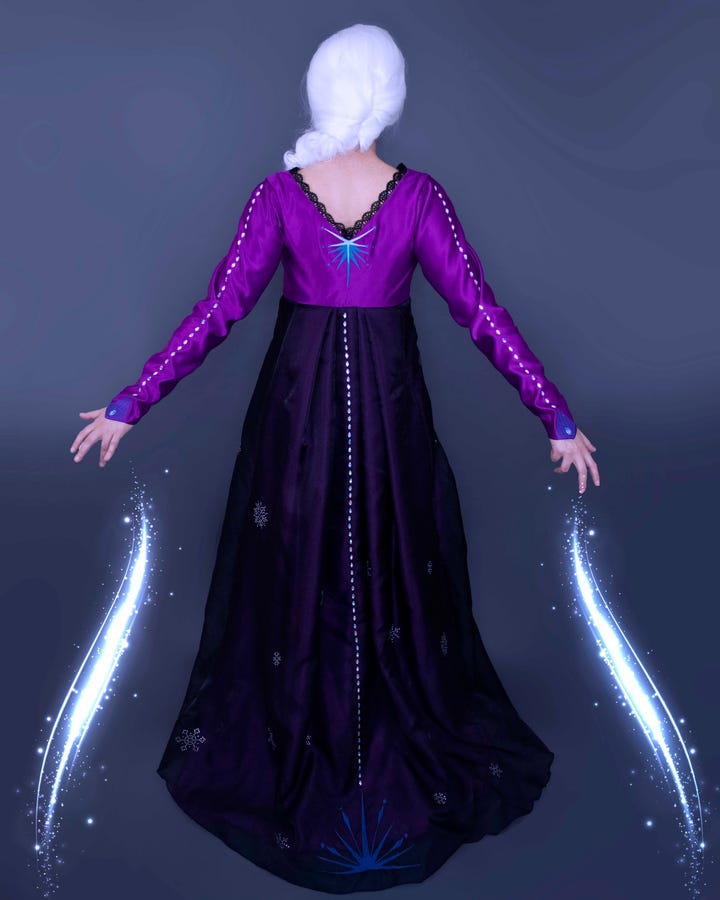 With all that being said I still do enjoy hand applying beads and sequins. There's something incredibly relaxing about sitting down to a good documentary, tea, and a pile of sequins waiting to be hand placed on a garment.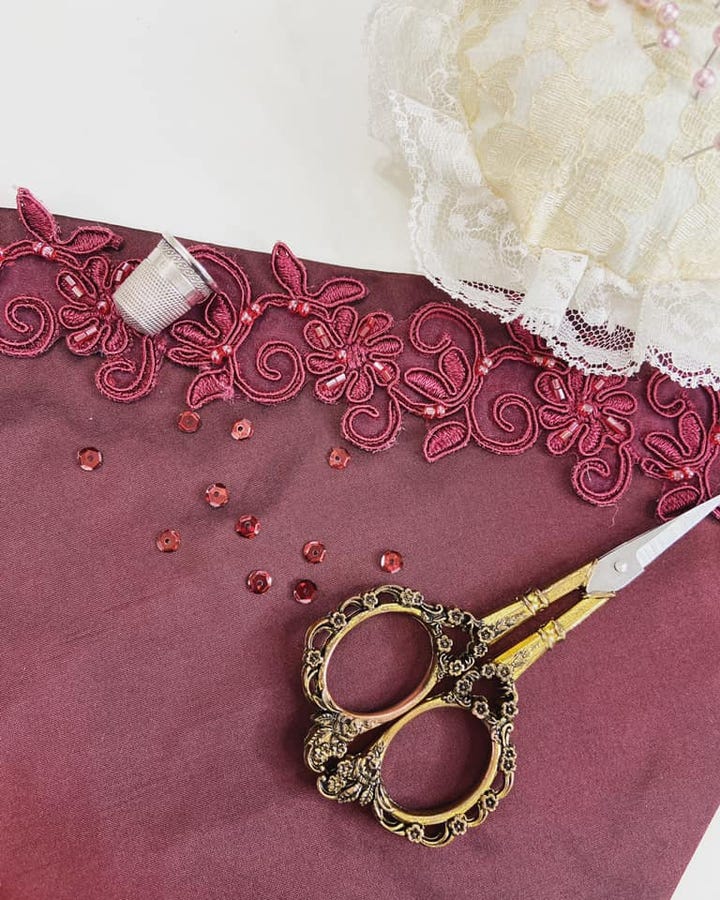 Embellishments will always be my favorite part of making costumes and now that there are so many amazing tools out there that help making embellishing quicker I feel my need to embellish things growing. The best part about embellishments and sewing is that there is no definitive way to do something. Everyone has their own favorite/easiest/fastest way of getting to the finish line and what matters above all of that is having fun in the costume when it's done.