How To Cosplay From Emmy Nominated Shows Like Hamilton, WandaVision, and More
Want to cosplay from shows like Hamilton or WandaVision? Then check out this guide!
This week was the Emmys, the annual award show recognizing those having worked on extraordinary television productions the past year. These shows not only inspire others wanting to work in the industry, but also inspire cosplayers with new characters to cosplay. Here are a few pointers on how to put together some cosplays based on a few of this year's Emmys nominees and winners.
Cobra Kai – Outstanding Comedy Series – Nominee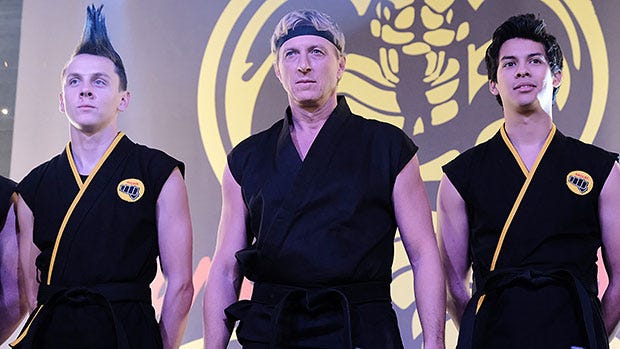 The continued story revolving around the next generation of the Karate Kid's main characters, Daniel and Johnny, has become a breakout hit from YouTube to Netflix. Having seen a few Cobra Kai cosplays recently at a convention, it seems to be quickly becoming a comfortable favorite to wear on the con floor. While a traditional karate gi can be purchased and easily modified, sewing patterns can also be found to help create one from scratch.
Simplicity pattern #7640, is an out of print, official Karate Kid pattern that can be found for sale online or you can use #S0691 from Simplicity's It's So Easy line, which is patterned for a generic gi. The trim can be added by using yellow bias tape and additional patches can either be purchased from an embroiderer or created using a printer and iron transfers.
Hamilton – Outstanding Variety Special (Pre-Recorded) – Winner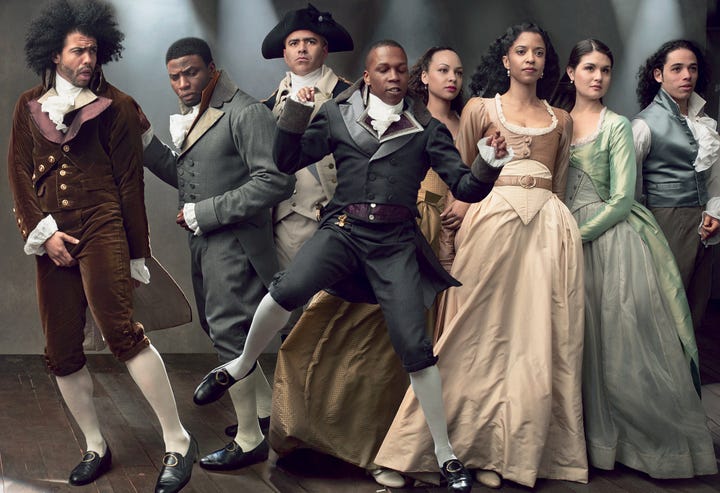 Up for a challenge? The award winning stage production, Hamilton, sets the stage for a variety of historical costumes no matter which character inspires you. Luckily, this particular period of clothing has a vast selection of readily available patterns to choose from. A list of those to try: Simplicity R11005, S9251, S9252, 8752, Butterick 3072, B4317 and McCall's 2258, M7965.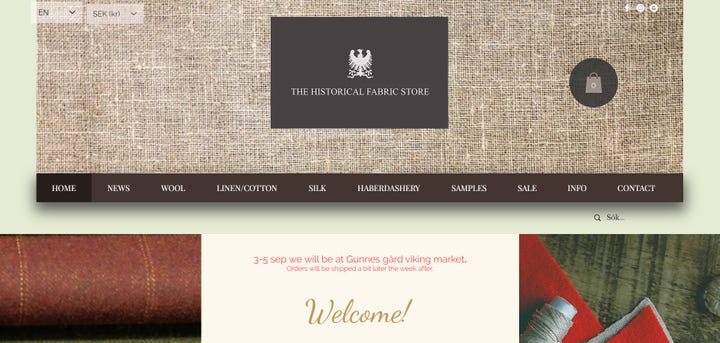 While many of the costume pieces are detailed by design, try using lush and textured fabrics to give your cosplay dimension. Some resources for period appropriate fabrics are the Historical Fabric Store, Sartor Bohemia or for a longer resource list, head to Historical Sewing.
Kathryn Hahn, WandaVision – Outstanding Supporting Actress in a Limited or Anthology Series or Movie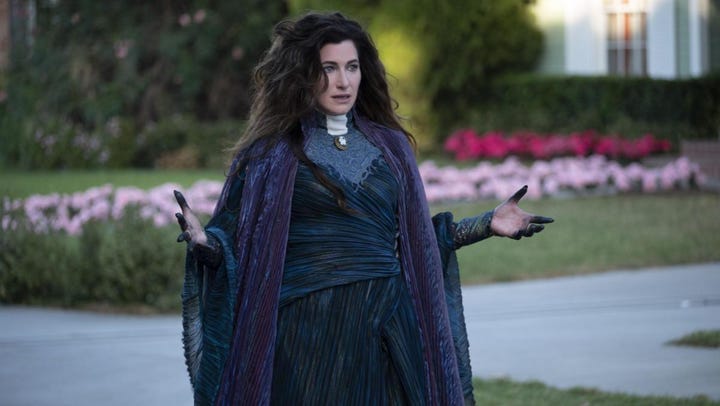 WandaVision, and namely Wanda and Vision, have gotten a lot of love from cosplayers this year but Agatha deserves more cosplay love than she receives. Plus, the cosplay is perfect for Fall and Winter weather considering Kathryn Hahn wore a cooling system underneath her costume to keep herself cool in the summer heat during filming. A number of sweetheart neckline dress patterns can be modified for Agatha's dress, the key is to use a crinkled textured or pleated fabric and work to achieve the top right to lower left direction of the fabric for the top.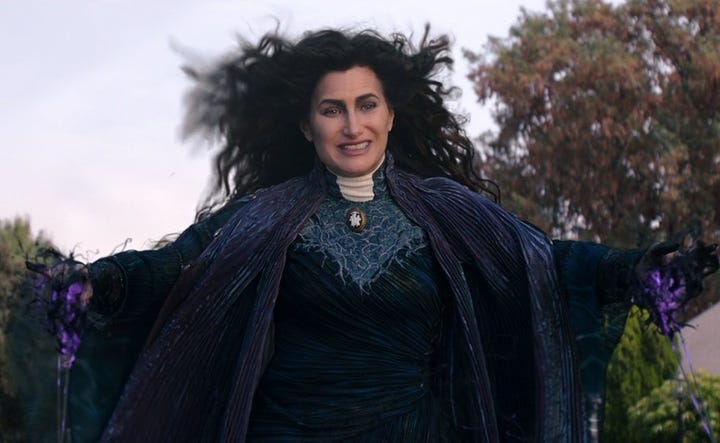 For her upper chest, you can create a simple top and then attach it to the sweetheart neckline of the dress. From there, you can sew or glue embroidered lace over the upper chest and onto the neckline. Her cape can also be created using pleated or crinkled fabric but look for material that's very lightweight like a chiffon or georgette so it will flow in the wind.
The Queen's Gambit – Outstanding Limited or Anthology Series – Winner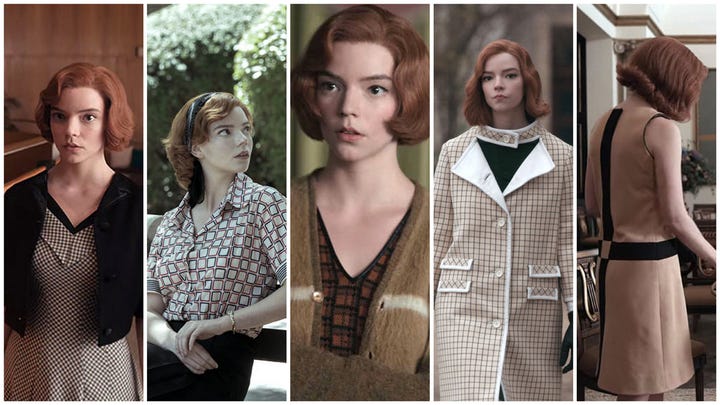 For fashion loving cosplayers, Netflix's The Queen's Gambit gave Beth Harmon a 60's wardrobe that has inspired many duplicate outfits found on websites and Amazon. The fun part of recreating an outfit from The Queen's Gambit, is the opportunity to create some elegant, vintage pieces. Contemporary patterns like Simplicity S9371 can be used and modified but there are a number of vintage inspired designer lines that can be easier that truly vintage patterns, especially in terms of sizing.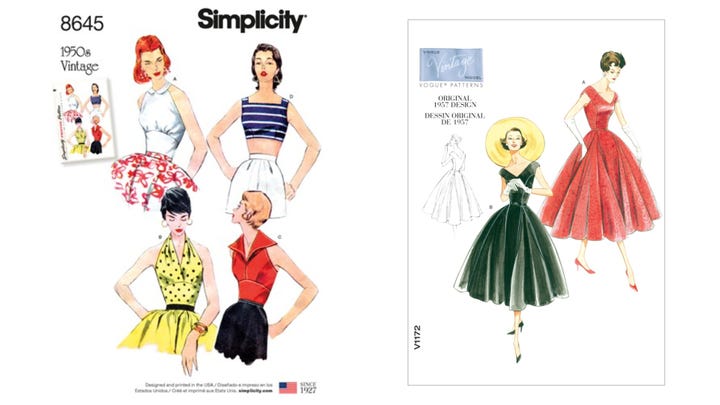 Simplicity's Vintage line has patterns from the 1940s to the 1970s ranging from outerwear to undergarments; while Vogue's Vintage pattern collection has a selection of vintage designer patterns inspired by some of the period's most influential designers.
The Mandalorian – Outstanding Drama Series – Nominee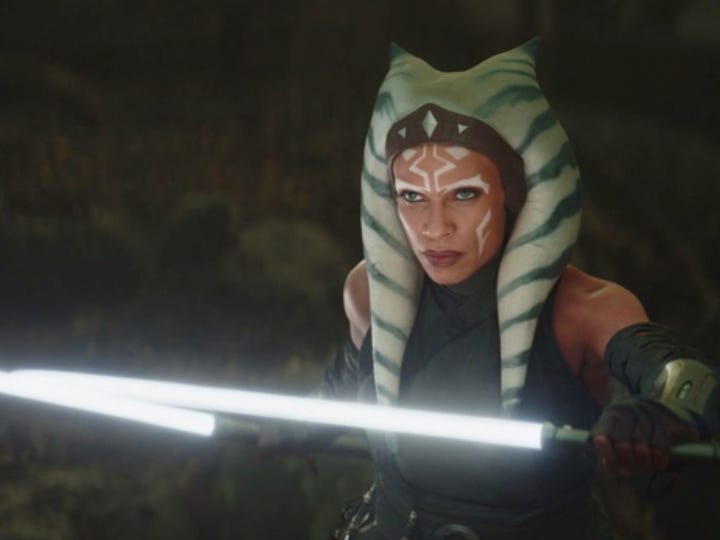 It's not unexpected that the Disney+ hit, The Mandalorian, was nominated for multiple awards this year and while there are numerous tutorials on ways to create the Mandalorian's signature armor; perhaps its nominations could inspire you to try a completely new technique in cosplay making. With the introduction of Ashoka this past season, why not try your hand at creating a lekku headpiece.
There are a number of methods for creating lekku, from cardboard to foam and even latex work. The cosplay will also give you a chance to work with face painting techniques. Her face markings can be achieved using makeup, face paint, temporary tattoos or even prosthetic pieces.
Now you not only have some cosplay ideas for your next project but maybe a few shows to check out as well.