How-To: Craft Basic Gloves
Here's a great tutorial for those wanting custom gloves!
What you need:
4-way stretch spandex or lycra
Matching thread
A sewing machine
Pattern Paper (I used butchers' paper)
Ruler or measuring tool
Pins
Fabric Scissors
Paper Scissors
Marker (one color is fine, I've used 2 different colors for this one)
Stretch sewing needles
Seam ripper
Step 1. Using your marker trace your hand onto the paper, keeping your marker perpendicular to the paper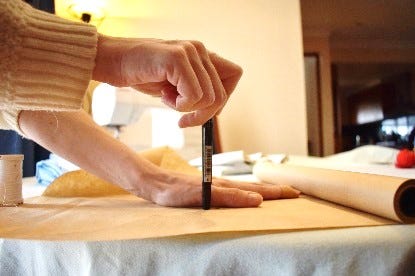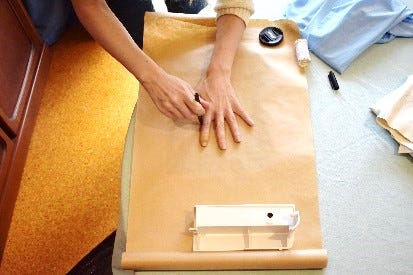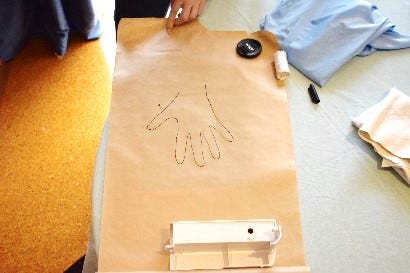 Step 2. Using your measuring tool measure 1cm around the outside of all the fingers. There will be some overlap, that's ok!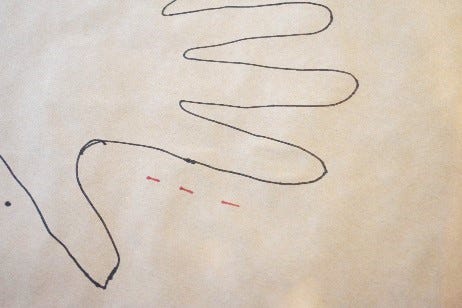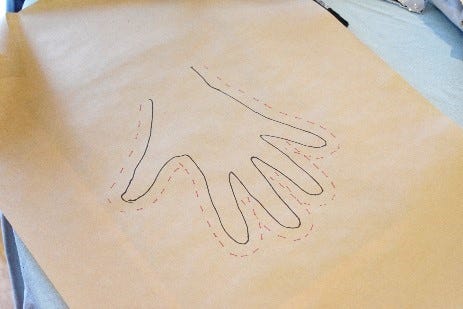 Step 3. On the lines that intersect, mark it with a dot, then rule a line to the base of each finger, then draw around the line markings and cut with your paper scissors. You'll end up with a bit of a cartoonish looking hand where the fingers look a little big at the top.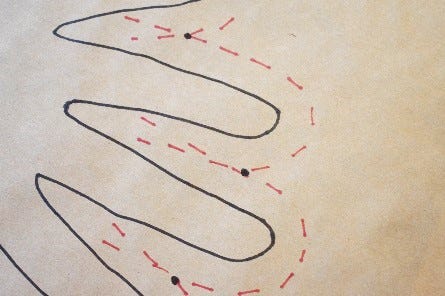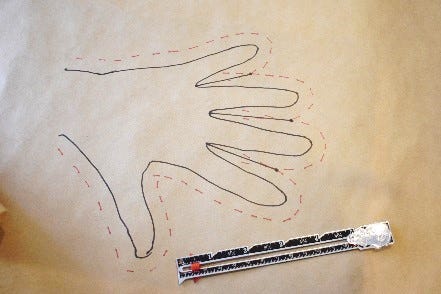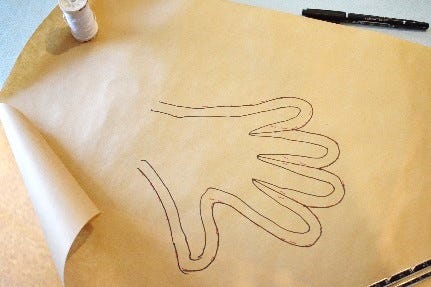 Step 4. Trim the top of the fingers so they look a little less cartoonish leaving enough room for seams. Whenever I do this, I also measure about 5cm down the finger to make sure it's all consistent. However this is completely optional.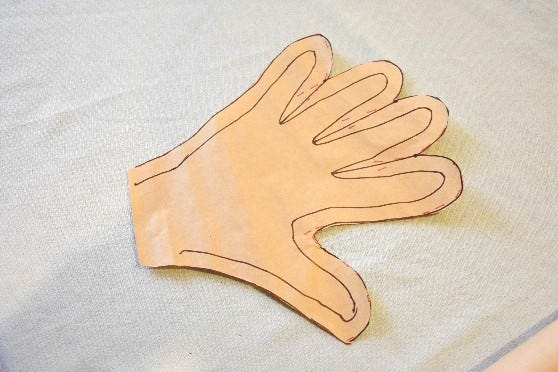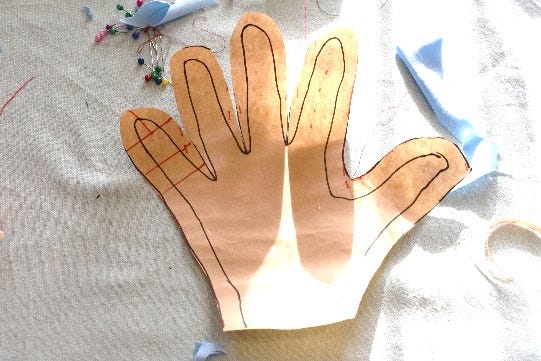 Step 5. Place this on your fabric in 2 layers, right sides together and then pin and cut with your fabric scissors. Take the pattern off and pin everything in place.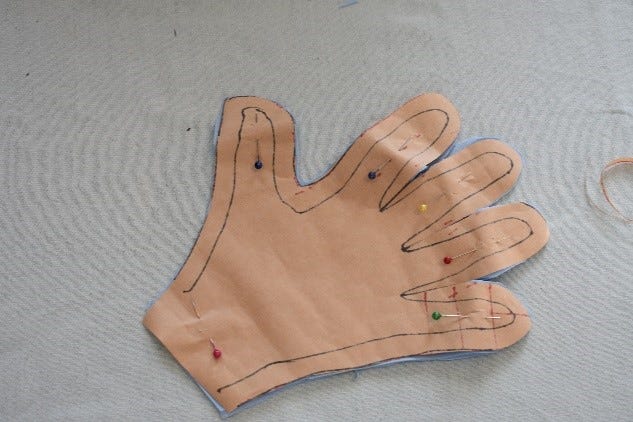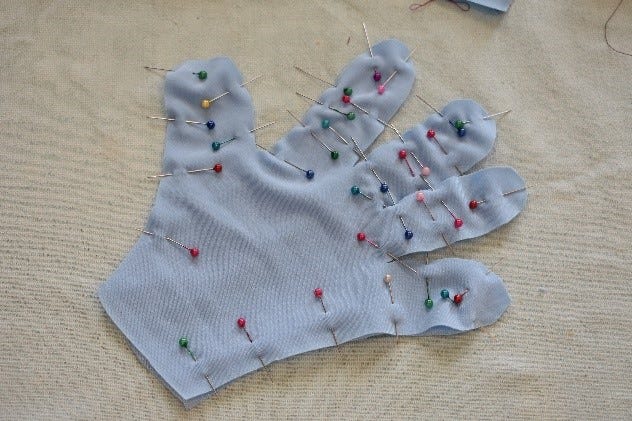 Step 6. Place your fabric in the machine where the fabric is lined up with the right side of the presser foot. Don't forget to change the needle. Before you start sewing, I recommend you test out on a scrap piece of fabric to make sure that your machine is sewing correctly. For sewing stretch fabrics, you can't use a straight stitch and you'll need to use a narrow zig-zag(10), a lightning bolt stitch(4) or a triple straight stitch(17). I used a triple stitch for this one. Sew around the entire glove.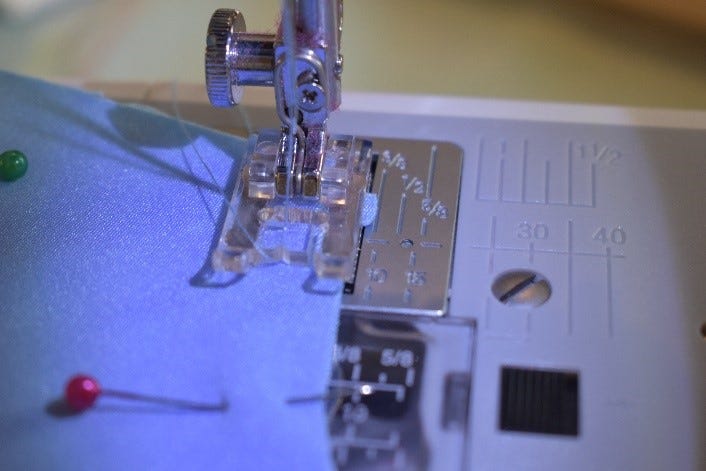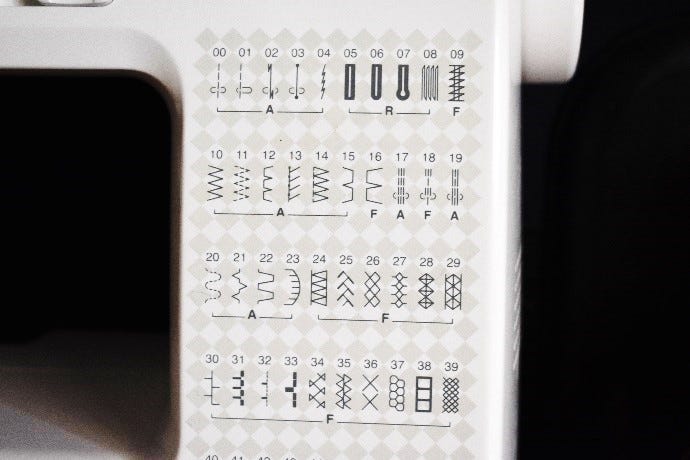 Step 7. Before you reverse it, make sure to clip at the base between the fingers and trim back any excess fabric around the fingers. These have been marked in red to demonstrate (however you shouldn't mark your fabric).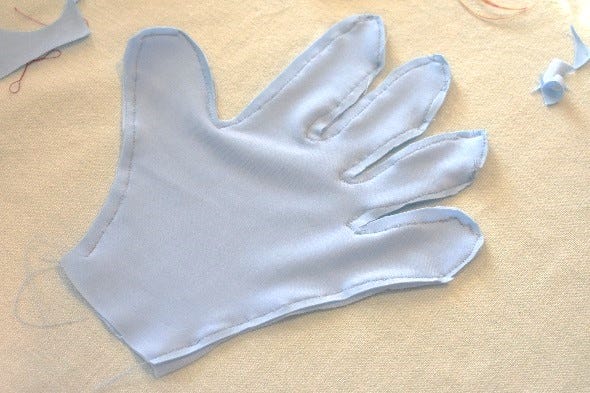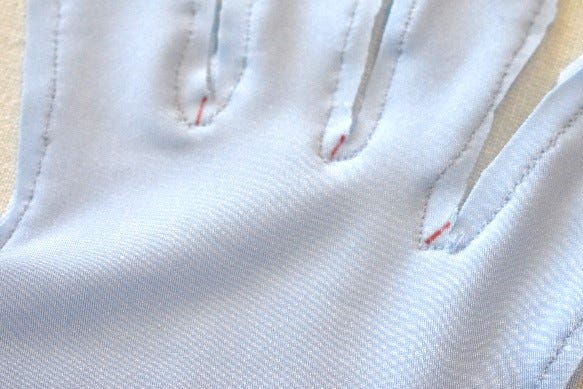 Step 8. Ta-da! You now have a glove. Reverse it and try it on and see if you need to make any alterations.