How To Make An Easy & Casual Lady Loki Cosplay
If you're wanting to be the Goddess of Mischief, here's an easy way to create a casual cosplay!
With Marvel's Loki series on Disney+ coming out and doing so well, the number of people wanting to cosplay Loki — or some variation of him — has grown exponentially! But not everyone can afford to go and buy or make one of his complete, incredibly complex and detailed costumes from the movies or show. Fortunately, there is a solution: Casual Cosplays!
Casual cosplays can be a great way to get into cosplay for the first time, or to bring a character to life without having to make or buy their full outfit. There are several different principals involved in designing and creating a casual cosplay, which I will go over below. While the examples I show are most specifically intended for Lady Loki, these strategies can easily be applied to any casual cosplay you may want to make. So, let's get started!
First off, you need to know what kind of character you are going to make into a casual cosplay. And not just the character — what outfit or look you are basing it off of is just as important. Lots of characters have many different outfits and styles, and it's important to know which ones you're basing your own look off of.
For my own Lady Loki cosplay, I started off by gathering and saving many different reference images for inspiration. Some of these were screenshots from different Avengers and Thor movies (this was before the Loki series came out), and some were Lady Loki cosplays that other cosplayers had done. Eventually, I had a large sampling of different costumes and cosplays, to draw inspiration from. For whatever casual cosplay you're planning on bringing to life, it's important to gather lots of references, so you know what exactly you're going to be making.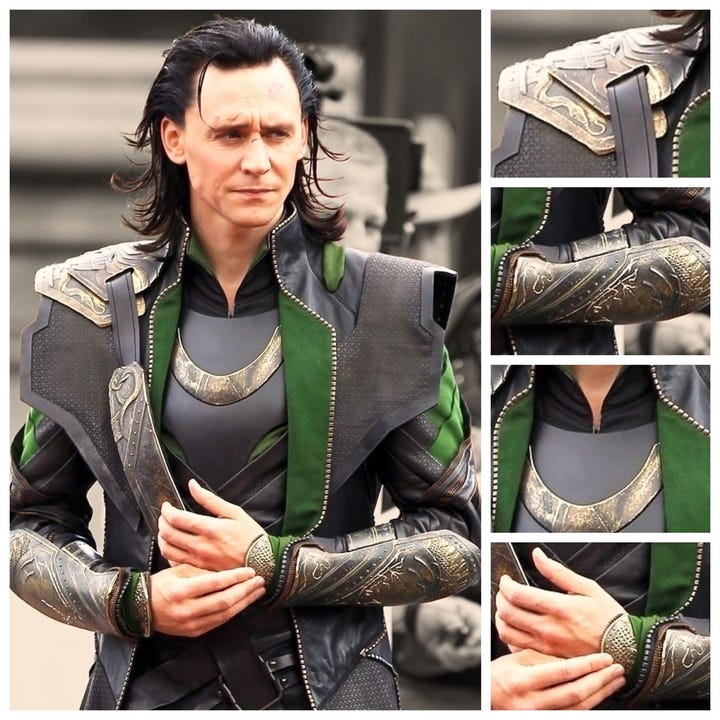 Once I had gathered these references, I wrote down a list of the most iconic parts of the costume. This is super important for casual cosplays, so people can easily recognize you as the character. For my Loki, which was based largely on his look in the first Avengers movie, it was pretty easy to pin down the most iconic parts. First off was the colors: Green and black, with gold accents. Next was some of the other iconic parts, namely the horned headpiece, curved golden neck piece, and black boots. The most iconic parts of a costume changes from character to character, and what I decided on is just an example — you can choose whatever you want, that you think best represents the character.
Once I had figured these iconic parts out, it was time to start designing the actual casual cosplay. I started out with some simple sketches, trying to decide what I wanted the costume to look like. What I sketched ended up being way more detailed than what I actually put together, but that's alright! Your sketch or design doesn't have to look like the final result; in fact, you don't have to do a sketch at all if you don't want to! I've just found it helps me pin down design ideas better.
For my design sketch, I made sure to include all the iconic colors and components that I had decided on earlier: The main colors were green and black, with gold accents and jewelry. And I couldn't forget the headpiece and high-heeled black boots! This costume was mainly put together with thrifted items, including a green suit jacket with gold accents, black heeled boots, layered black and green skirts, a plain black shirt, and gold jewelry. All of these parts were things I already had, or that I thrifted, which is great for a casual cosplay! Super cheap and easy.
The only things I made from scratch for this cosplay was the headpiece, which was EVA foam and a styrofoam heart wreath that I cut in half; and the scepter, which was PVC pipe, cardboard, and more EVA foam. For this cosplay, I didn't even use a wig, and I didn't need to! The rest of the cosplay was iconic and recognizable enough that I didn't feel the need to. Plus, I hadn't started using wigs for cosplay at the time. Though, if you wanted to add one, a curly black wig is a great idea! The awesome thing about casual cosplays, though, is that they don't have to perfectly match the actual character and costume.
And there you have it! A super easy, casual Lady Loki cosplay! Of course, the design that I showed here is just one way to create this cosplay. By figuring out the most iconic colors and components, you can create a great casual cosplay for any variant of Loki, with any type of design you want!
Casual cosplays are a great way to get into cosplay, have a fun and low-key day at a con, and enjoy dressing up as your favorite character! I hope this walkthrough helped you get a better idea of how to plan out, design, and create your own casual cosplay, especially for Loki or Lady Loki! With the show having been so popular, there's no better time to dress up as everyone's favorite god of mischief!