How To Pack & Travel To Comic Cons With Your Cosplays
Want to know how to pack and fly to cons with all of your cosplays? Here's some tips to help!
Difficulty Easy
Time Less than 10 hours
With conventions starting to open up again and cosplayers finally taking their costumes somewhere outside of their homes it seems like the perfect time to chat about traveling with cosplay. Whether you're flying or driving there are quite a few ways to stay organized and make sure everything gets to its final destination.
In previous years before panini times I've flown numerous times with large gowns, styled wigs, armor and props. Shipping costumes ahead of time is always a possibility but it is pretty expensive and I've heard too many horror stories where things arrived completely damaged so there is more risk to shipping.
The very first thing that I do when I am traveling for a convention is to make a checklist of all the items I need for each costume. I like to pick my costumes for an event around a week in advance so that I have time to fix or adjust anything before I get to the show. Once my costumes are picked I create a packing list for them. I often add notes like "shares with Ariel" which allows me to know what is being used multiple times. I try my best to also list any special makeup supplies I need like for Sally Skellington, I need blue body makeup. I used to make my list by hand but now I do them all digitally and it makes it super easy for packing at the hotel to go home.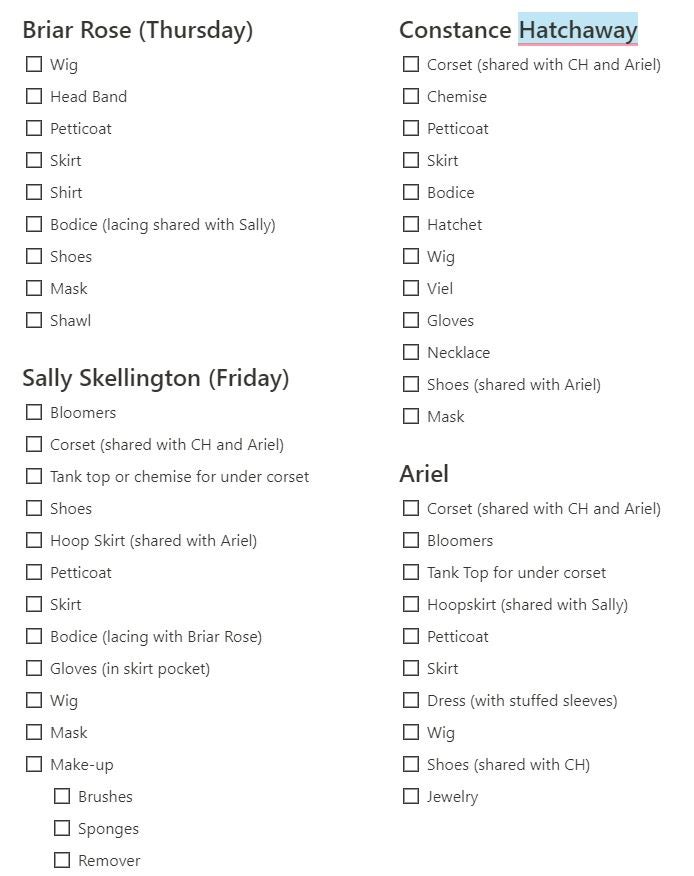 For packing Ballgowns I prefer to put things in dress bags. My dress bags can carry a hoop and a gown or two full gowns without the hoop depending on which gowns I am bringing. This garment bag I almost always bring on the plane with me and typically no one asks what's in it, most people assume it's a wedding dress and take good care of it. These bags can get very heavy so make sure you only put what's absolutely necessary in a dress bag. Things like shoes, petticoats or corsets can go into a suitcase.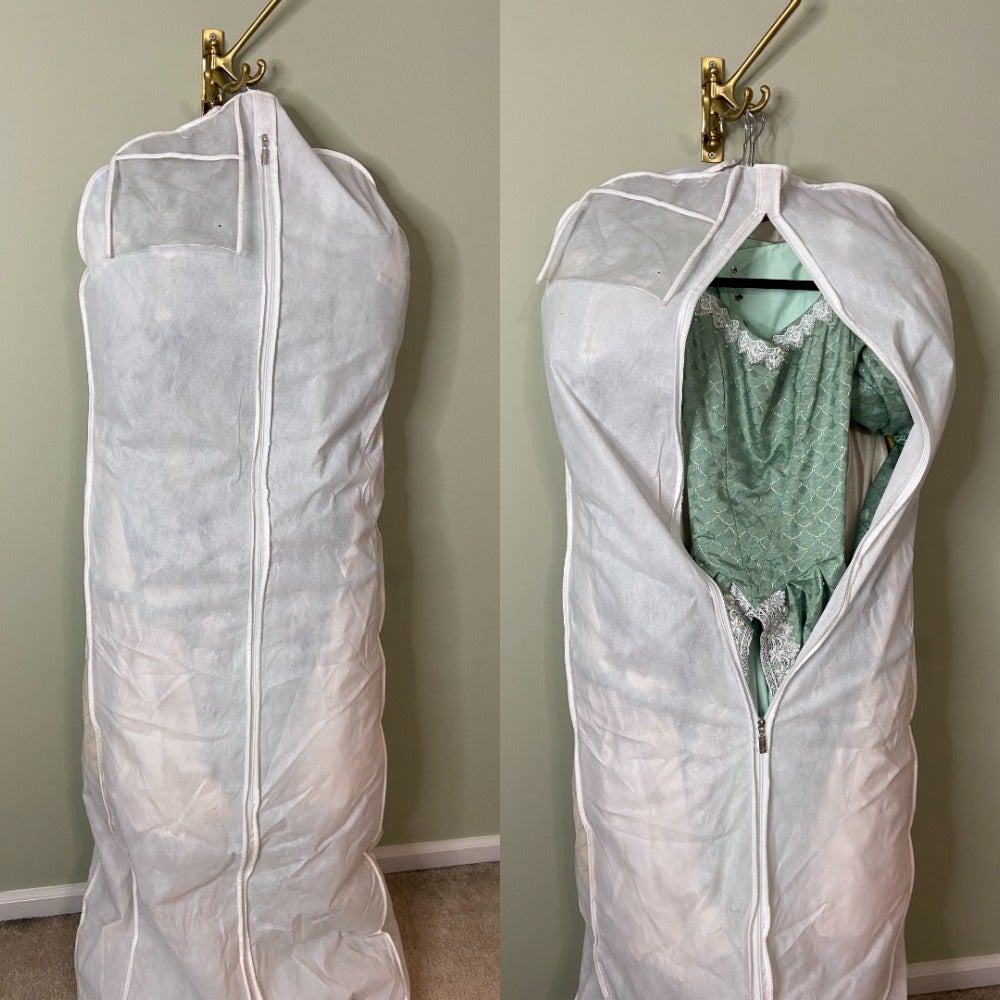 When I travel with props or fragile pieces I like to use some of my fabric garments to create a barrier between my fragile pieces. I also like to make things break down as much as possible so with my Shera sword, the hilt has a lot of fun details and things that could possibly be broken if another bag was to be thrown on top of mine so I try to keep it in between layers of fabric pieces. I also travel with hard shell suitcases to help with the added protection.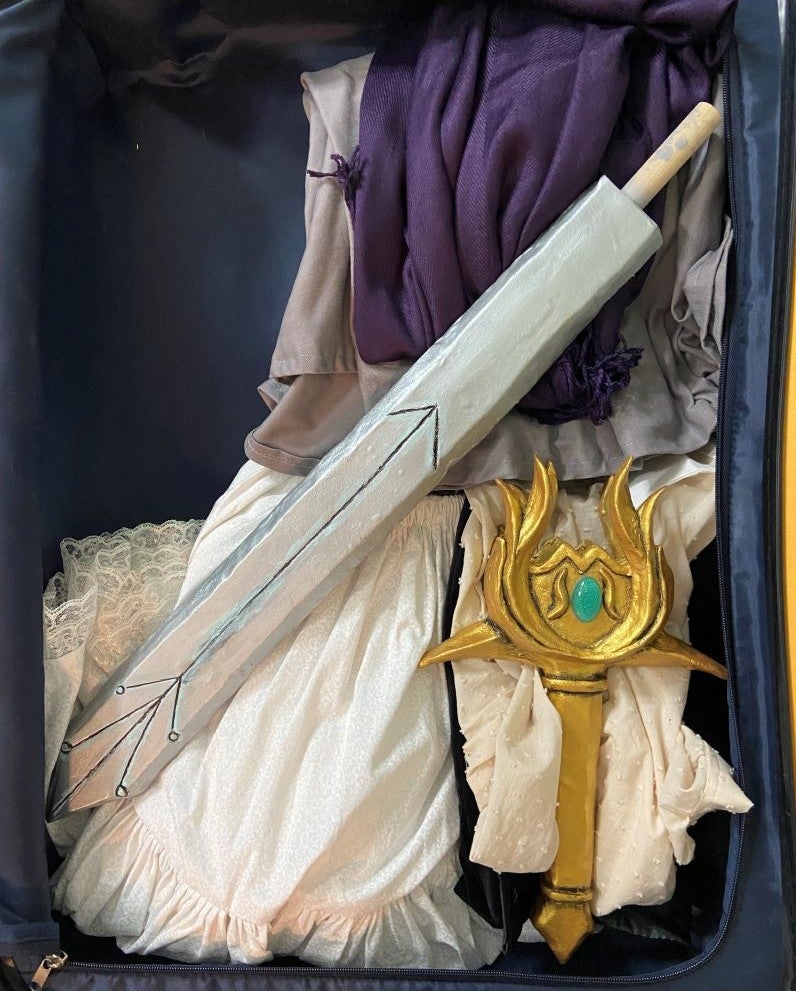 For flying with bulky pieces like foam armor, a plastic traveling tote is great. Getting one that allows for the lid to be locked onto the base and that can stack onto another like it will really be useful. I bought one of these to ship a few gowns to a museum for display so they can be used if you choose to ship a costume as well.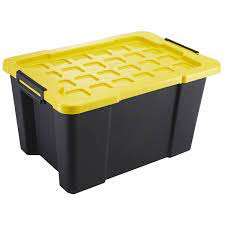 For small bits like gloves, jewelry or right now with masks I like to store them in with my wigs. I travel with my wigs in either an acrylic box or a large plastic bag that I label with the character name. Storing small bits with the wig just makes sure everything is together. I have also been known to store things like gloves or socks in the pockets of my dresses too.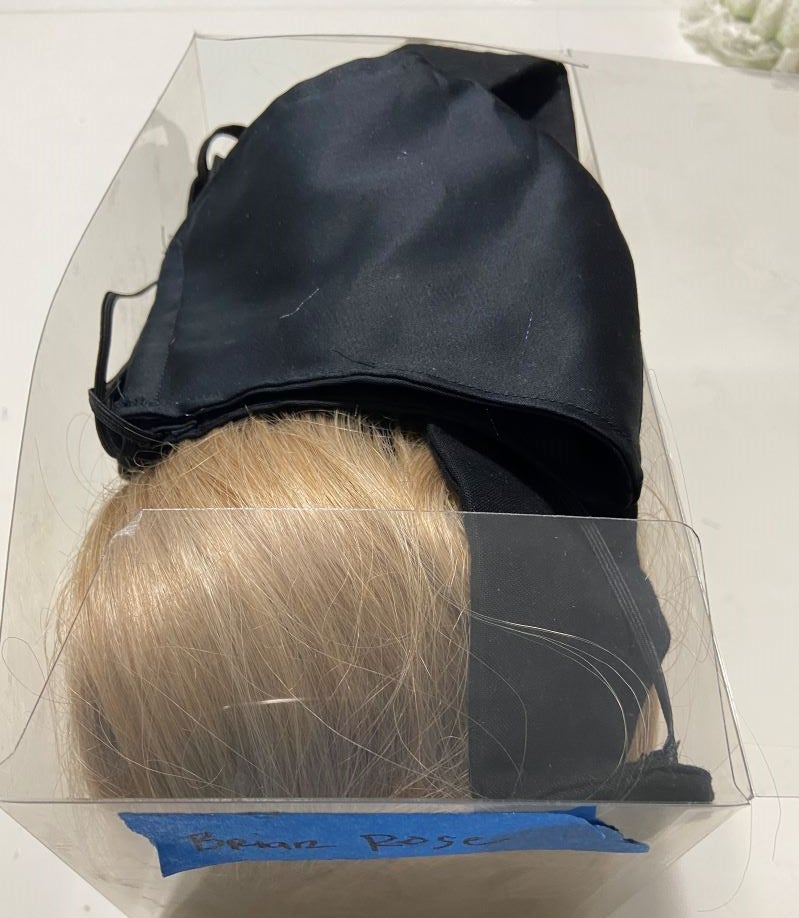 For large styled wigs it's really helpful to store them on a wig stand in a bag with handles, like a gift bag, that can be brought on the plane with you. I have in the past brought my bouffant style wigs in a wig suitcase on a stand so that I don't have to restyle or touch it up when I get to where I am going. Traveling with wig stands can be tricky but luckily these awesome collapsible stands can be stored very easily in a bag and then assembled at your hotel. I also prefer to travel with tools to fix up my wig if needed so a flat iron, curlers, combs and hairspray are always packed with my wigs.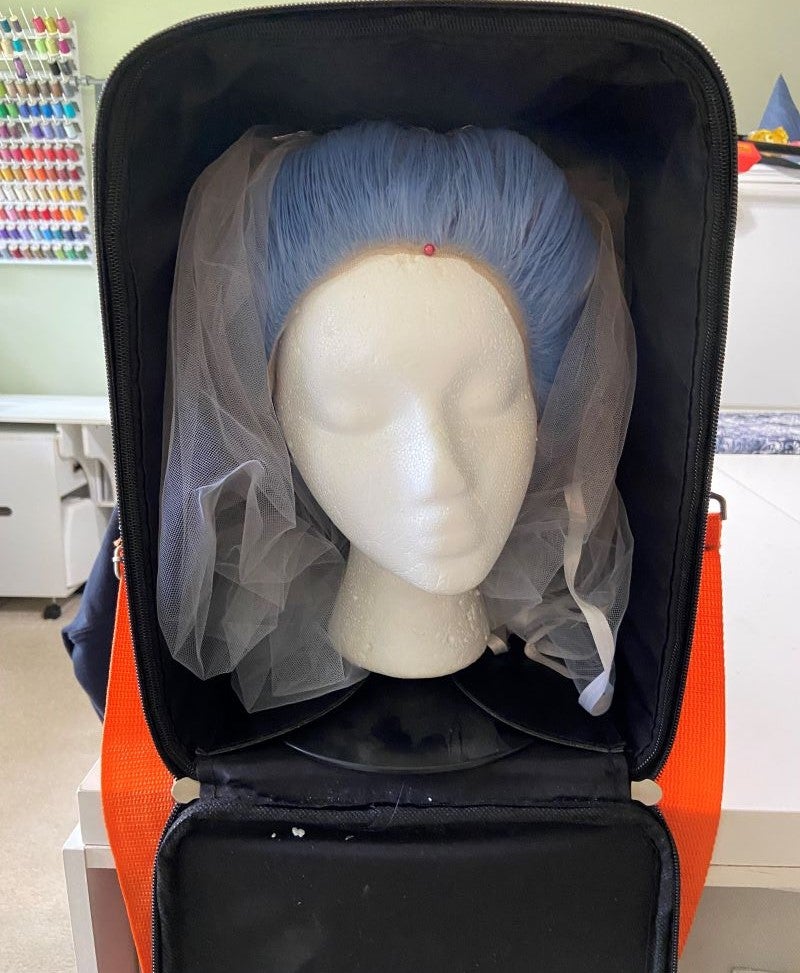 For makeup I find that a traveling case is key. I love this one with the large strap and all of the compartments. I almost always lose or forget spirit gum and eyelash glue but this has helped me from forgetting either in the past. I almost always have the necessities in here and then I just add the makeup and brushes before it's time to go.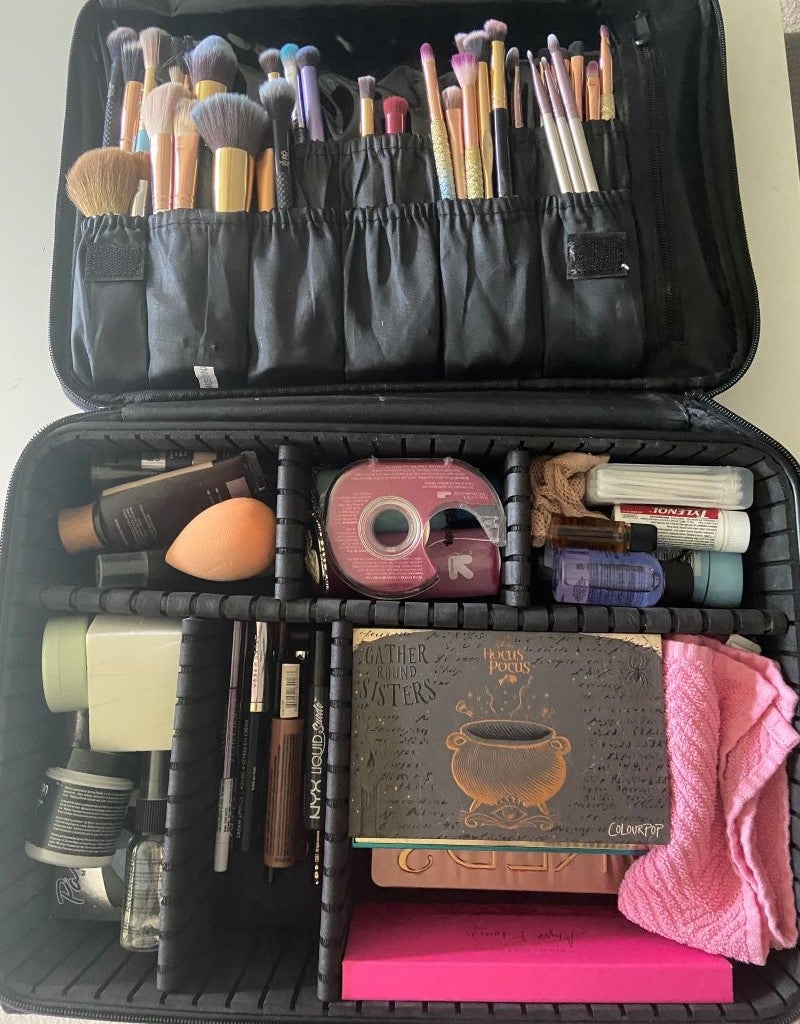 Some of the emergency things that I like to pack are a small sewing kit, bandages for blisters, over the counter pain medicine for those long con days, a hand steamer to steam my gowns and keep them wrinkle free, Tide pens for stains and super glue.
Finally, if something goes wrong with a costume check the convention to see if they have a cosplay repair center. I've gone to the lengths of posting on Twitter and Instagram for a very specific shade of red paint and a paintbrush and someone came through and I was able to bring them coffee and chat about their cosplays while fixing up my piece in the lobby of the hotel. It really doesn't hurt to ask and who knows, you might make a new friend along the way.
Here's what Briar Rose, Sally Skellington, Constance Hatchaway and Ariel look like ready for my next convention.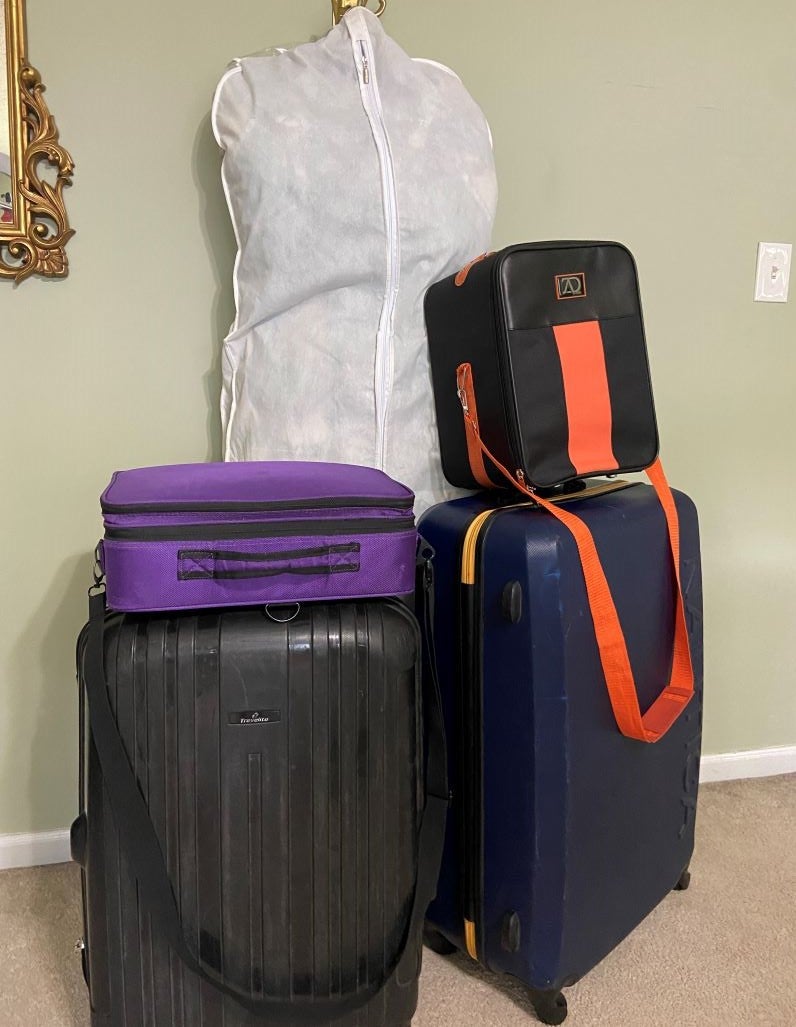 Good luck on all your cosplay traveling adventures!