How To Create Cosplays Using PVC Vinyl Material
Want to level up your cosplay? You may want to try using PVC vinyl.
The materials for cosplay creation are virtually endless. There's a range of quality as well as use, but there are still many materials that haven't quite gone mainstream in costuming yet.
Recently, I won the Special Effects category at TwitchCon, and one of the biggest points of intrigue for the judges and viewers alike was my skirt.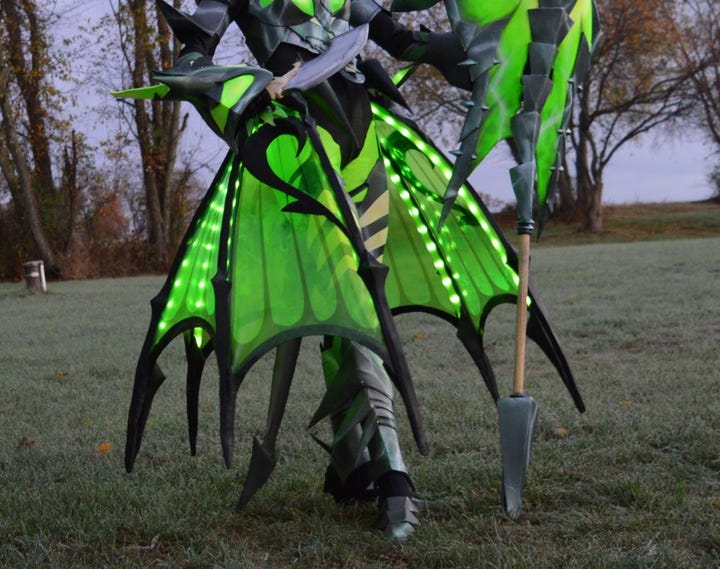 What's it made of?
Even after the competition ended, judges and cosplayers from other contests were still sending me the same question: What was your skirt made of?
And this surprised me, because the answer is not only fairly simple, but it's also used in a method that is relatively user-friendly!
I used PVC vinyl, and I did so for a few reasons:
Rigidity. PVC vinyl is not rigid in and of itself, but I needed my skirt to retain its shape when I moved. This meant I needed a frame that was rigid as well as a material that would be able to be stretched taut between the boning. I didn't want the flimsiness of HTV Vinyl and cellophane that many fairy wings are commonly made of.
Transparency. For this particular piece, the skirt was supposed to be created out of a monster's wings. In thinking of a material that had more structural integrity than HTV Vinyl and Cellophane -- AND that was still transparent -- I came across the thicker PVC vinyl.
Shine. The skirt needed to shine and reflect light like the original artwork. I couldn't just use a tulle or other transparent yet stretch'able fabric. Instead, I needed something with a plastic consistency. Thus, PVC vinyl.
How Do I Use It?
You can certainly sew PVC vinyl like a fabric for a bendable, wearable piece. But in my case, I like to stretch the vinyl over a framework for a sharp, flattened result. Whether you choose to use this material for wings or for a skirt, the steps are about the same:
Create a framework. To stretch the vinyl, you'll need a base frame. You can either make an aluminum frame, or use another rigid boning material like PVC pipes.

Trace the outline of your frame onto the vinyl (I like to use a silver sharpee), and cut out the vinyl with a little extra at the edges for wrapping.

Connect the vinyl at one corner or side, clip the curves as you would when sewing, and gently pull the vinyl over the framework to adhere.
If you follow these steps, you can utilize PVC vinyl and boning in a variety of cosplay pieces!
The uses are virtually endless, and the materials are relatively easy to acquire. Local fabric shops may likely have PVC vinyl in different colors either on rolls with their interfacings or they may also have PVC vinyl in larger rolls in the 'outdoor fabrics' section.
I personally use Fashion Fabrics because of the color options for their PVC vinyls. The boning materials are easily found online or at hardware stores.
Like this tutorial? Then be sure to check out our guide on tips and tricks for cosplay wigs!