Marvel's What If…? T'Challa As Star-Lord Accessories Guide
Cosplayer LeRoyal takes us through the stages of becoming T'challa's Star-Lord.
Difficulty Very easy
Time Less than 10 hours
Budget More than $50 and less than $100
Marvels' What If… T'Challa Became a Star-Lord?? episode was a beautiful tribute to both the character and actor Chadwick Boseman played. Featuring the late actor's final performance as T'Challa, fans were moved by how the character transformed the galaxy.
T'Challa's Star-Lord is more like a Robin Hood, with the Ravagers becoming the Merry Men as they change the universe for the better. Heck, even Thano is reformed because of T'Challa. As the episode ended, Marvel praised and thanked the actor in the credits saying, "Dedicated to our friend, our inspiration, and our hero, Chadwick Boseman."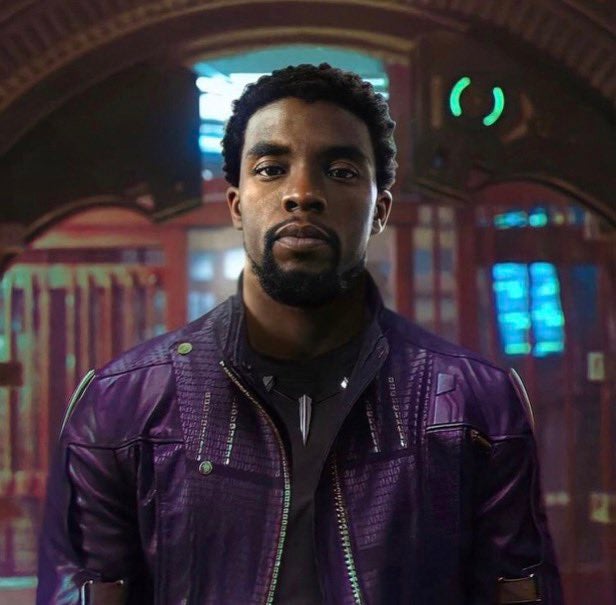 With such a touching homage to Chadwick Boseman, cosplayers like LeRoyal were ready to cosplay his What If… ? look. As to the entire reason why, LeRoyal said, "I haven't fully grown my Marvel roster as far as cosplay. Black Panther in Civil War is my great white Buffalo. First, I had casual T'Challa, and when the What If series was introduced, it was a fun idea to think on how to add a different look for my regular T'Challa. When I was invited to the premiere of Shang-Chi and The Legend of the Ten Rings, I knew Star-Lord T'Challa would be a cool cosplay to debut/honor Chadwick Boseman a day before the episode aired, and a cosplay that no one would expect; plus, he's way more comfortable than my usual Spider-Man cosplays."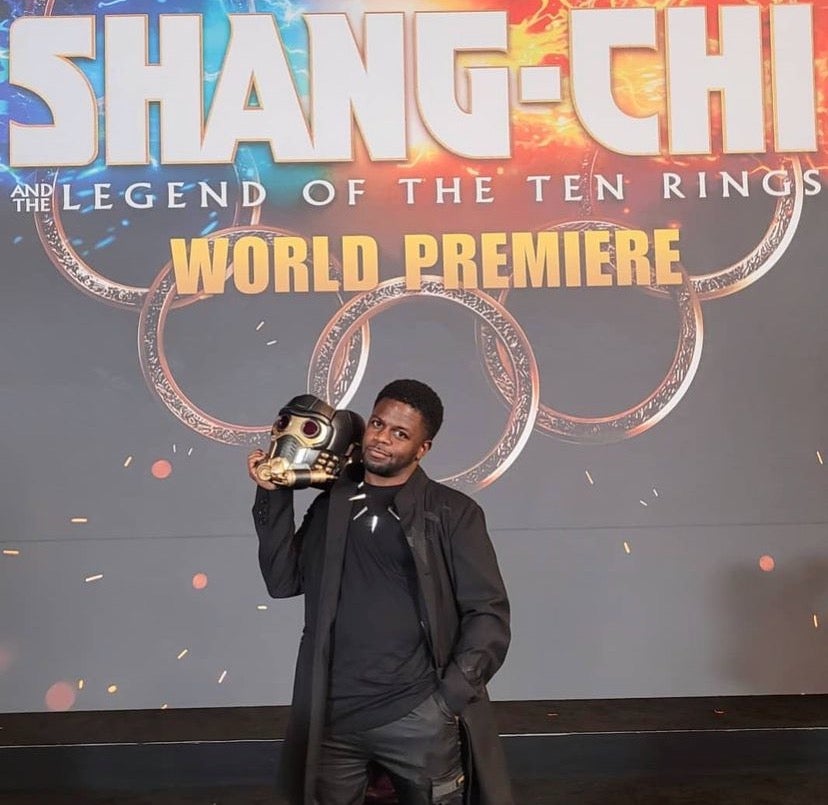 With a quick closet cosplay, his jacket from HeroWithin, and a Black Panther necklace from a comic convention, LeRoyal whipped this together before the What If…? episode aired. As for the Star-Lord additions, the cosplayer purchased the helmet and weaponry from a friend and repainted it to resemble T'Challa's in the show.
Both the helmet and blaster can be bought off of Amazon. But this repaint wasn't as easy as it might seem. First, LeRoyal had to reassemble the helmet to access all available parts for the repaint.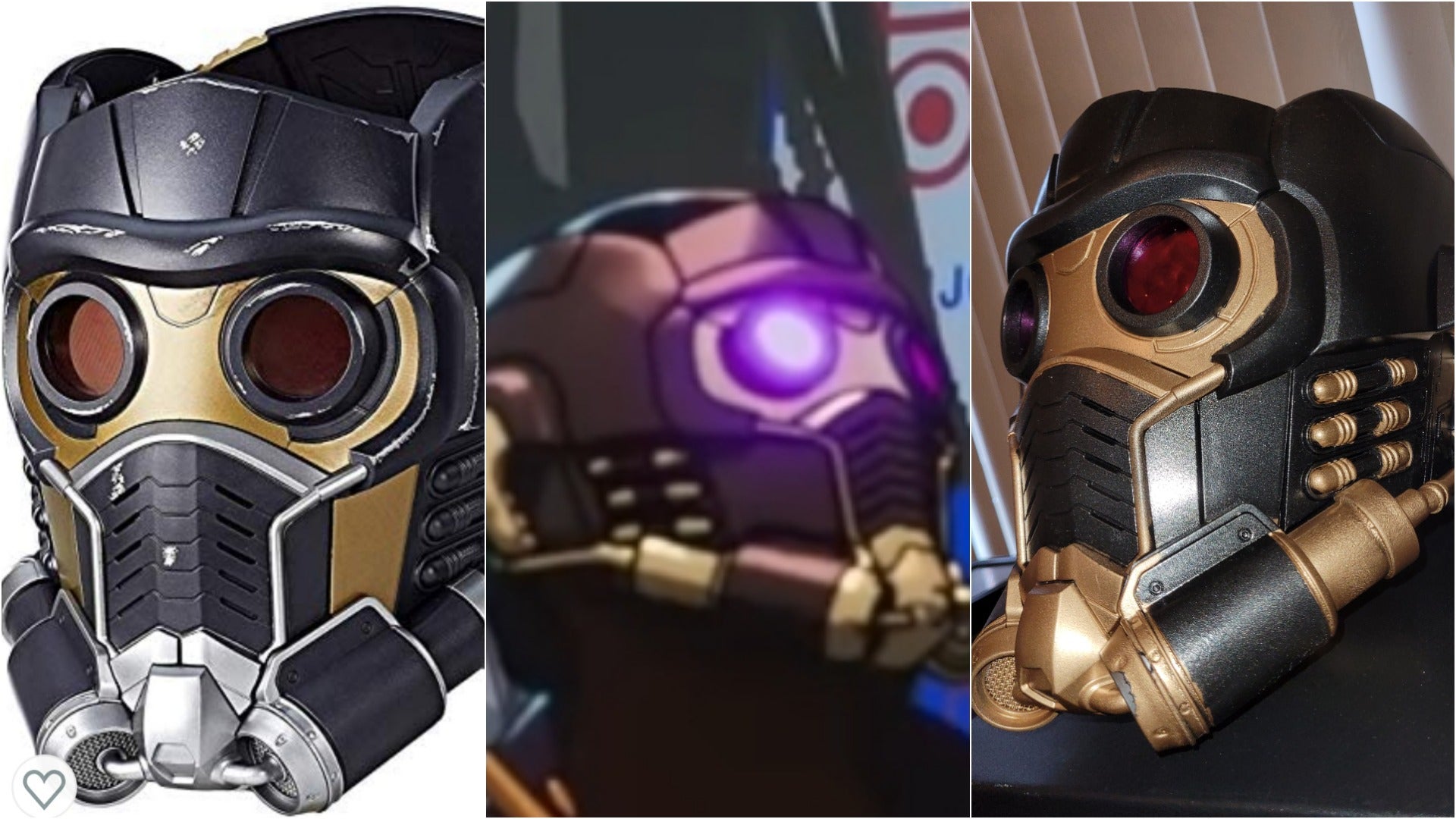 "I had to unscrew everything and pull it apart. The way it's built has a lock-in type of mechanism, but I had to literally wiggle it off of itself. When you are unscrewing the helmet, have a bowl or cup for the loose screws to not lose them." - LeRoyal.
When the pieces were disassembled, LeRoyal took up spray painting instead of using a brush. In this case, he recommended the spray paint because of how smooth and even it came out to be. His first coat was Plasti Dip, a spray that protects coated items against moisture, acids, and abrasion. It also helps the spray paint stick to the helmet and gun while creating a neutral base to paint off of.
Tips: "Wear a ventilator when applying any kind of spray paint. Also, make sure plasti dip covers all the areas that will be painted, or you will notice a difference." - LeRoyal.
The second coat was spraying each individual piece black. Once dried, LeRoyal taped off sections with artist tape, exposing certain pieces to be sprayed with gold.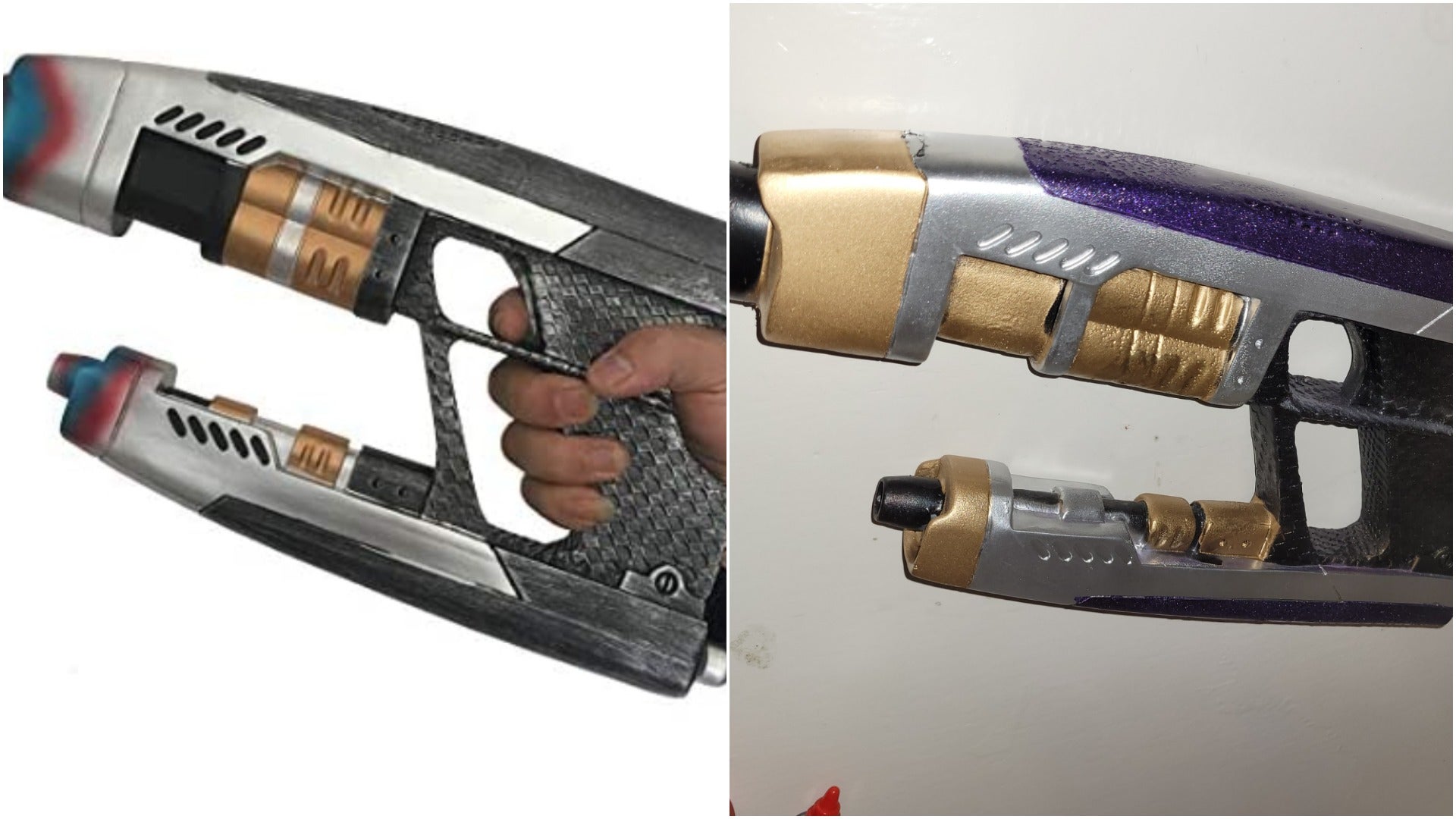 Both the gun and the helmet had purple accents that needed to be painted on. Spray painting the weapon was one thing, but the helmet was another. This particular Star-Lord helmet has red eyes, so LeRoyal used a purple transparent vinyl to cover them. See, we prepared you to think it would be too tough for you to try, but we got ya!
"Having a controlled painting area with limited sunlight and wind interference makes all the difference, trust me." - LeRoyal.
Once everything was painted, LeRoyal Reassembled the helmet (careful not to break anything) and became the Star-Lord. He took some epic photos with a beautiful purple tint. In the future, he plans on making or purchasing the jacket. Unfortunately, we haven't found a purple leather jacket that was inexpensive from our resources, but anything is possible with a can of paint and a little elbow grease.
We thank LeRoyal for his tips and tricks and can't wait to see what cosplay he'll do next!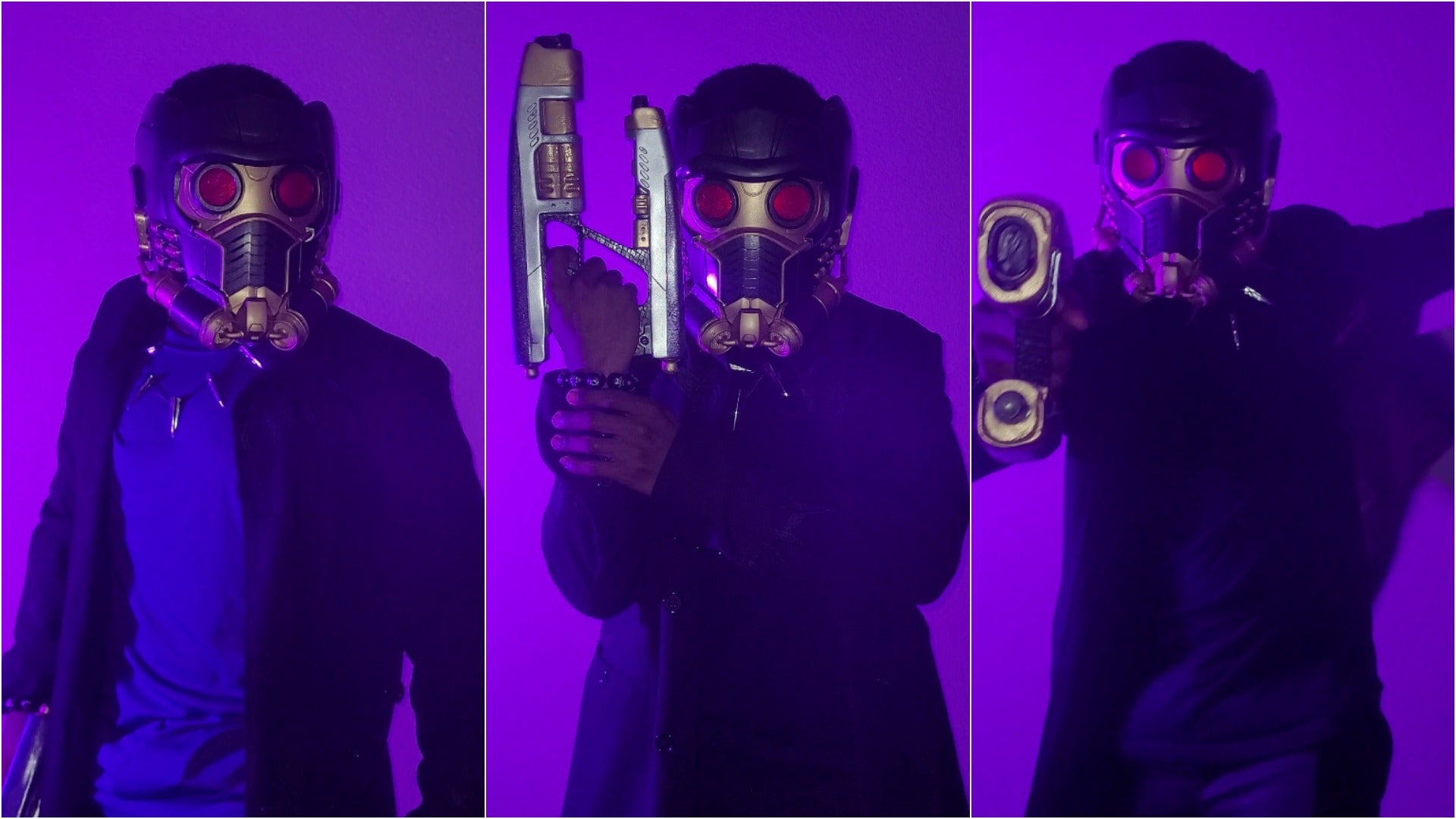 What If…? Is currently streaming exclusively on Disney+ with new episodes out on Wednesdays.
To possibly be featured in our articles, be sure to tag us on Cosplay Central's Instagram, Twitter, or Facebook.