Agatha Cosplay From WandaVision Is Positively Haunting
This team of creators put together a stunning Agatha Harkness cosplay.
Agatha Harkness has easily become a fan favorite character in the WandaVision series, from her witchy personality to her incredible finale look. While many cosplayers are working on cosplaying Scarlet Witch, others have found their love with Agatha Harkness.
Canvas Cosplay, AKA Philip Odango, has come together with a team of creators to create the ultimate Agatha cosplay. The costume itself was made by Philip, complete with the iconic brooch Agatha wears as well as all of the beautiful purple fabrics.
The Agatha cosplay was worn by Sarah Storminger, who looks absolutely perfect for the witch. They also were able to get a Billy and Tommy, which allowed them to recreate one of the scenes from the finale (which you can see below).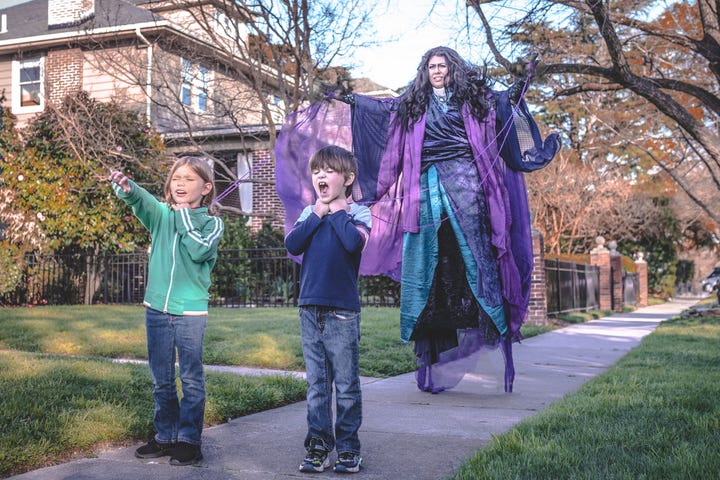 Aside from photos, the team also put together a cinematic video with the Agatha cosplay so you can see the fully thing in motion. Probably one of the best parts is the fact that the theatre they shot next to actually put up a sign that said, "Philip Odango presents Agatha All Along".
The whole cosplay is certainly a show-stopper, and the team behind it all did an incredible job putting everything together. To see the full creative team, be sure to check out the list below:
Agatha Harkness: Sarah Storminger
Tommy Maximoff: Quinn
Billy Maximoff: Locke
Photography: With An H Media
Costume, Hair, Prop Design: Philip Odango
Production Assistant: Christina Rhodes of Viva Valentina
Makeup consultant: Jessica Martinez
Makeup assistant: Christina Rhodes
Film directed and edited: Philip Odango
Assistant Cinematography: Christina Rhodes
Puppeting: Philip Odango
Special thanks: Matthew Prible and Naro Cinema
To see more of Philip Odango's work (and the complete Agatha Harkness photos), be sure to check out his website, YouTube, Instagram, Twitter, and Facebook.