Ahsoka Fans Are Rushing to Cosplay Her Mandalorian Look
Fans of the Clone Wars and Rebels Jedi have already started analyzing her Mandalorian costume.
Last Friday's episode of The Mandalorian finally revealed the fan-favorite Jedi, Ahsoka Tano, who is seen throughout the Clone Wars and Rebels animated series. Earlier this year when Rosario Dawson was rumored to have landed the role of Ahsoka, many were eager to see what Ahsoka would look like in live-action.
Yesterday Disney released new promo images of the episode on The Mandalorian's social media pages finally showing Dawson's Ahsoka to the world.
The majority of Star Wars fans were pleased with her performance and look in the show, which reflected more of her Clone Wars appearance than Rebels. Nonetheless, cosplayers were already pulling their sewing machines and duct tape out of their crafting closets and preparing to recreate the new Ahsoka look.
One cosplayer, known as Jedimanda on social, has already created a full breakdown video of Ahsoka's costume in the show. Not only does she go into detail about the different fabrics that were most likely used, but she also gives advice for acquiring her dual lightsabers either by making them or purchasing them from prop makers.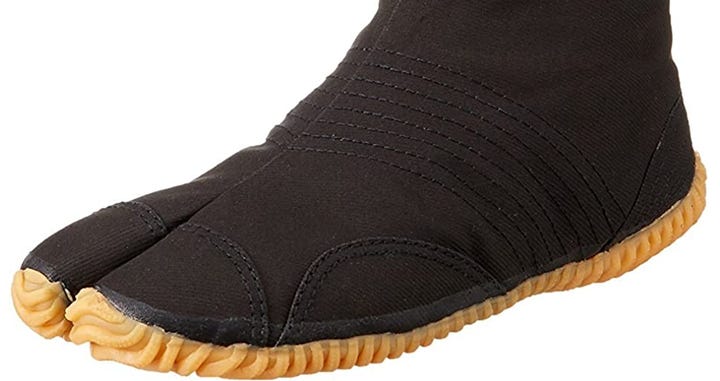 Other cosplayers have resorted to Ahsoka and Star Wars costuming forums to continue to scour for pieces of the cosplay. One member of an Ahsoka Tano Cosplay group looked at zoomed in screenshots from the show to find her shoes. She ended up finding a pair of boots called Marugo Tabi boots in black on Amazon, which look like the screen accurate shoes she wore in the show. All that would be needed for the complete lower leg portion would be a little bit of foam armor over the ankle and up to the knee.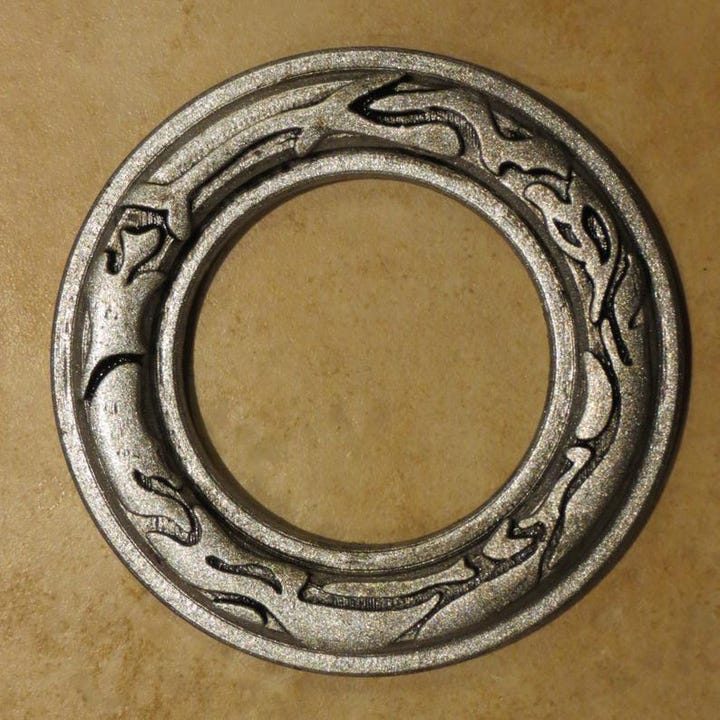 The belt is also one of the signature pieces of the cosplay with a dark brother leather band with black leather strapping embellishments and a silver belt ring in the middle. Luckily 3D printing experts have already designed and printed the exact belt ring from the show. One store on Etsy, known as PrintedPropz, has already listed the 3D printed prop in his store.
For those who are not wanting to go and learn how to craft Ahsoka's new lekku (headpiece), you're in luck. Wretched Hive Creations has already watched the episode and plans to make Ahsoka's Mandalorian lekku. He is currently working on her Season 7 lekku and has even shown a close up photo of the texture process he does for each headpiece. They look very similar to the ones on the show and we wonder if the costuming department of The Mandalorian looked to him for inspiration.
Rosario Dawson and director Dave Filoni have also given some insight into the costume in a recent interview with Vanity Fair. In the interview, Dawson explains that the makeup was wanting to be "very warm and natural" so that it could still be seen in different lighting and the smokey environment on set. She also wore contacts while she was Ahsoka. According to Dawson, before she wore the contacts she "felt like [she] was in cosplay. The second the contacts went in, it was Ahsoka."
The lekku was also discussed in the interview about how it was firmly on her head and everything was "clipped in the back and held in place" so that she could do stunts with the headpiece firmly attached to her head. While some fans were disappointed her lekku wasn't as long as her Rebels look, it appears that it was shortened more for practicality and the ability to be able to wear it while doing full Jedi stunts.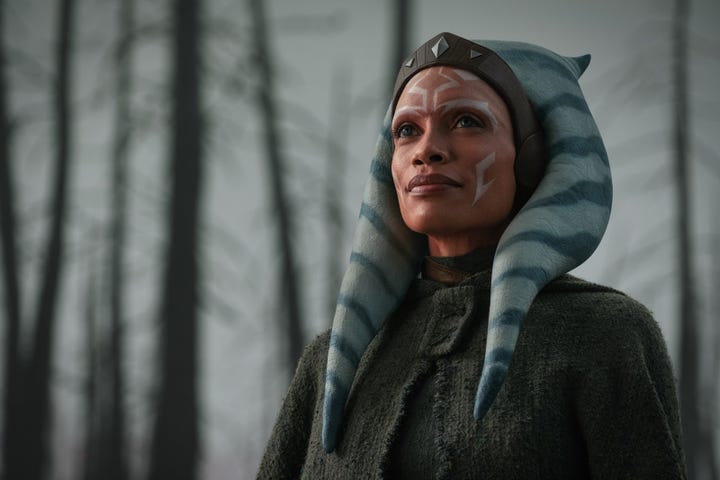 With cosplayers and prop makers now scrambling to create her Mandalorian look, one can assume that we are about to see a plethora of new Ahsoka cosplayers in the future. We can't wait to see all the incredible cosplays that will be revealed on social in the coming months.