Alyson Tabbitha Explains Why You Should Credit Cosplayers
A sharing page on Facebook posted Alyson's cosplays without credit, and now she is speaking up about crediting cosplayers.
Alyson Tabbitha is one of the most well-known cosplayers in the community because of her makeup tranformations that are so good she looks exactly like the character. She's especially known for her Wonder Woman and Jack Sparrow cosplays, and has created other iconic looks such as Scarlet Witch, the Joker, Mystique, and even Legolas from The Lord of the Rings. Between the makeup and the cosplay itself, she really puts her heart and soul into every cosplay she makes and has gained the attention of millions around the world.
Last week a Twitter post went viral with Alyson Tabbitha, but this time it wasn't solely because of her incredible cosplay transformations. Instead, it was because a Facebook sharing page known as "The Marvel & DC Multiverse" had posted her before and after transformation photos on their page. In their post, they had written "WOW" with a credit underneath that said "Unknown Cosplayer", even though every single one of the images had Alyson Tabbitha's watermark on the image.
I just wish we knew WHO IS IN THIS??? ANOTHER MYSTERY pic.twitter.com/My6fIWnszt

— ᴋᴀʏʟᴀ ᴇʀɪɴ (@itsKaylaErin) May 16, 2021
Alyson Tabbitha herself had also commented on the original Facebook post after hundreds of users tagged Alyson because the page didn't credit her despite the watermark. "I dont know why I bother watermarking every photo with my name, just to be credited as "unknown cosplayer"... might wanna fix that The Marvel & DC Multiverse," Alyson had commented.
Since then, the Facebook post has been properly credited, but it brings about a discussion on crediting cosplayers on reshare pages such as this one. We recently spoke to Alyson Tabbitha about the Facebook post as well as the importance of crediting cosplayers. Check out the full interview below.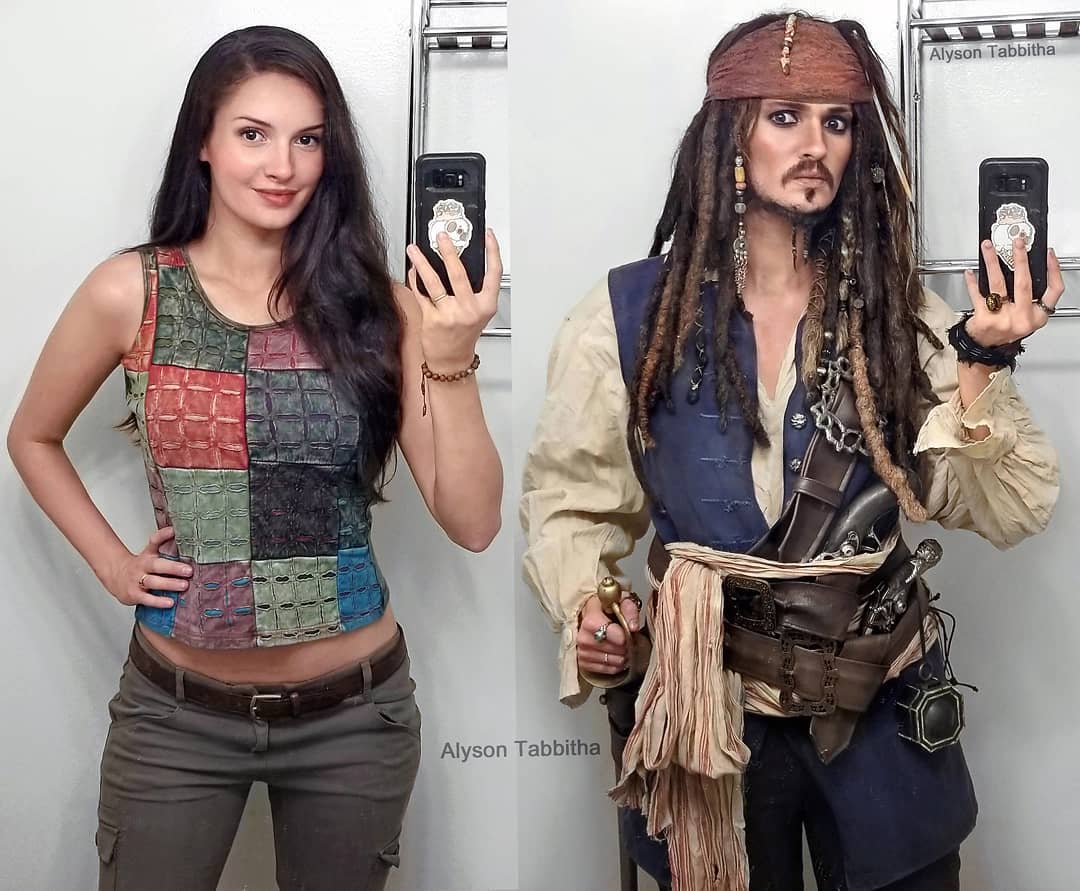 Cosplay Central: You've been adding your name to your cosplay posts for a while now. When did you start watermarking your work?
Alyson Tabbitha: I actually started watermarking my photos as soon as I made my cosplay page. I posted a before & after pic of me as Jack Sparrow on my personal Facebook for Halloween. Someone shared it to Tumblr / iFunny and it went super viral, and no one knew who I was. Eventually it went so viral that people started to find me, & ask me to make a cosplay page they could follow. I didn't even know what cosplay pages were, but I made one & from that point on only posted watermarked images to avoid that from happening again.
CC: What was your reaction to seeing the Facebook page repost your photos without credit?
AT: I am actually so use to it and have my watermarks on all my pics, as well as lots of people in the comments tagging me, so I actually found it kind of funny. Although I really don't think people who don't know how to find credit sources should be posting to share pages. I do get upset when I see lesser known cosplayers work get shared and not credited for it though, 'cause I've been there and it sucks to have your hard work used for likes, and not get credited for all the work you put into it.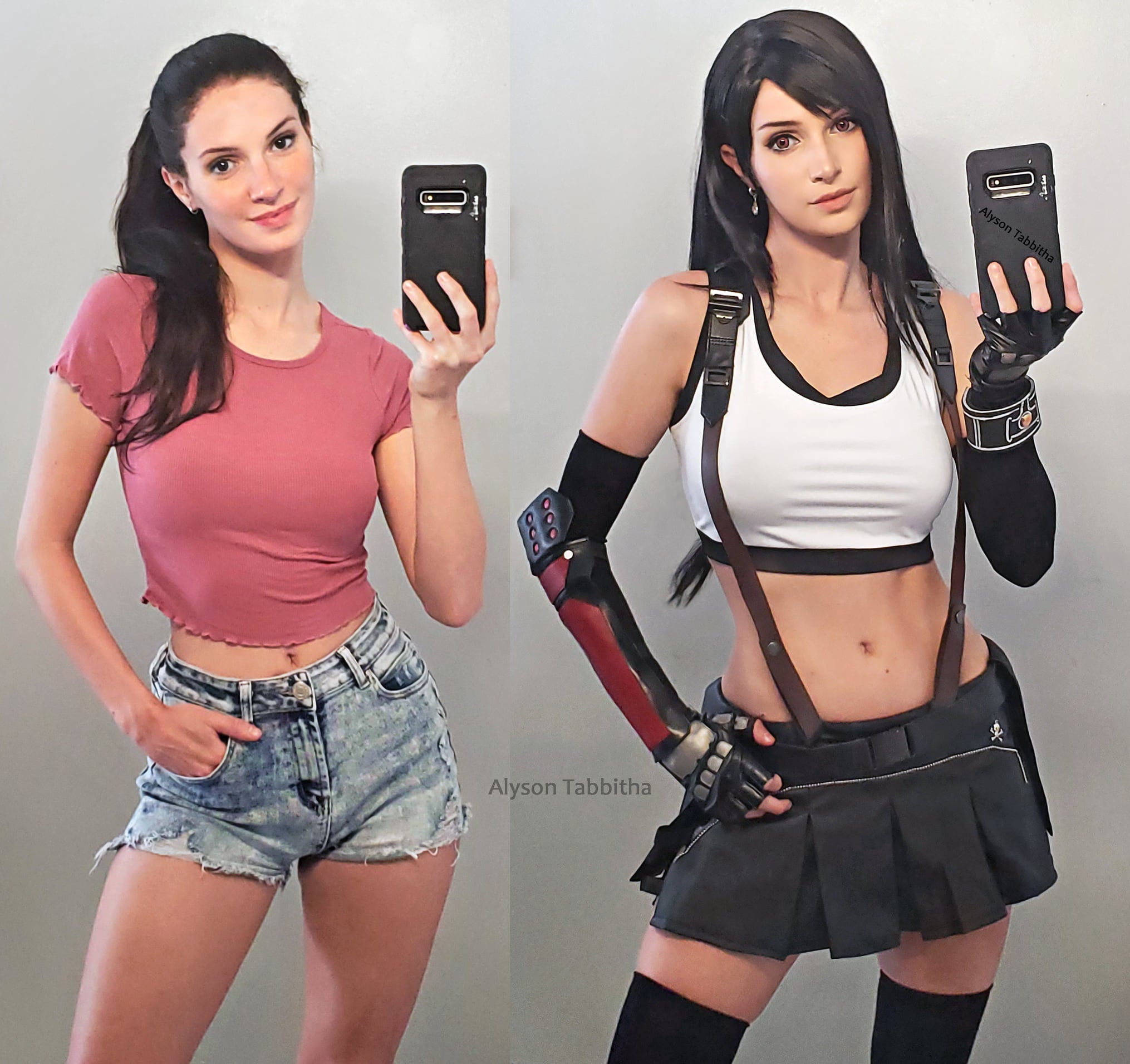 CC: Why do you think people repost without credit like this?
AT: I can't say for sure. I know sometimes people just make mistakes. I think it boils down to laziness or them just not caring. Which kinda is even worse because why post something you don't really even care much for. You would think they would be excited to know who did it and want to credit whoever it is they are sharing.
CC: What would you tell pages and users who want to repost your cosplays?
AT: This goes for anyone's cosplays: We put a lot of time, effort & money into making or buying the costumes, we can spend hours getting ready just to get photos. We invest a lot into what we do, and the least someone who wants to share out work can do is take a minute to properly tag and credit us, or just don't share it. It's so simple, and the right thing to do.
To see more on Alyson's cosplays, be sure to follow her Instagram, Facebook, YouTube, and TikTok. If you're looking to recreate some of her looks, you can also check out her full pattern/template shop.