Amazon's Lord Of The Rings Show Reveals First Look At Costumes
Character posters for Amazon's Lord of the Rings: The Rings of Power tease some awesome cosplay inspiration
Lord of the Rings is going to be making a huge comeback this year. 2022 marks not only the 20th anniversary of The Two Towers, but it'll also see the release of the upcoming Amazon Prime streaming series set during the Second Age of Middle Earth. Last month, Amazon revealed that the title of the series would be Lord of the Rings: The Rings of Power, and earlier today, the studio unveiled 22 mysterious character posters depicting the show's lead cast — at least, part of them.
February 3, 2022
Each of the poster focuses on the characters' hands, and doesn't show their faces. It's fitting, given that the Rings of Power are going to be at the center of this upcoming series, but it's also a little frustrating, given the posters don't actually reveal all that much about the characters themselves — except for one black-armored character that looks an awful lot like the Dark Lord Sauron.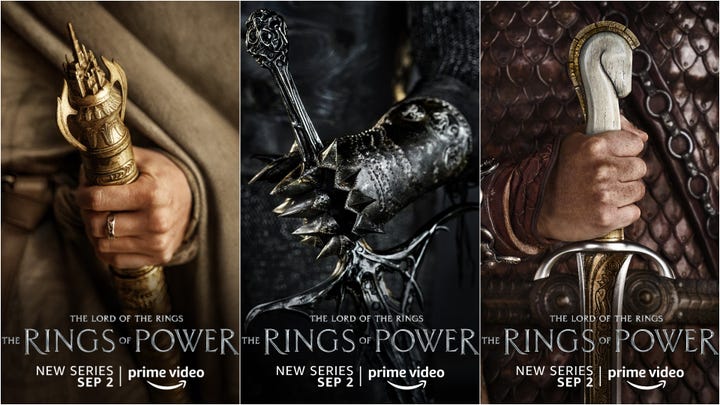 What caught my eye about each of the posters is that while each might not reveal a lot about the characters, it is giving fans a taste of what to expect for costumes, and based on each of those images alone, this series is going to be loaded with outstanding costumes, and the show is going to be a wellspring of inspiration for cosplayers.
Let's take a look at a couple of broad takeaways from these posters. (Helpfully, Amazon accompanies each poster on Twitter with not only the image, but descriptive text provides some additional detail.)
Clothes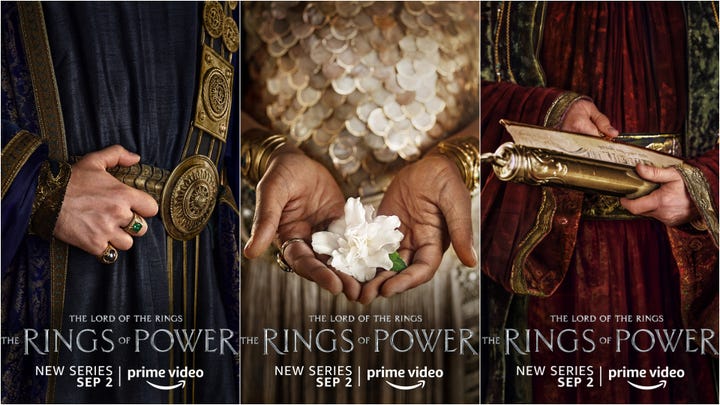 15 of these costumes look as though they're fabric-based. A bunch look as though they're homespun clothes, garments for farmers (one looks very much like it could be a hobbit) or townspeople. Those homespun clothes look nicely worn, made with rough stitching and fabrics, elegant in their simplicity.
A couple of others look as though they're made of leather, furs, or canvas hinting at some extreme environments or at least ones where they're not quite as temperate.
And finally, there are a handful that have the look of ceremonial garb, made up of beautiful fabrics and ornaments that looks like their wearers belong in a palace or other place of power.
Armor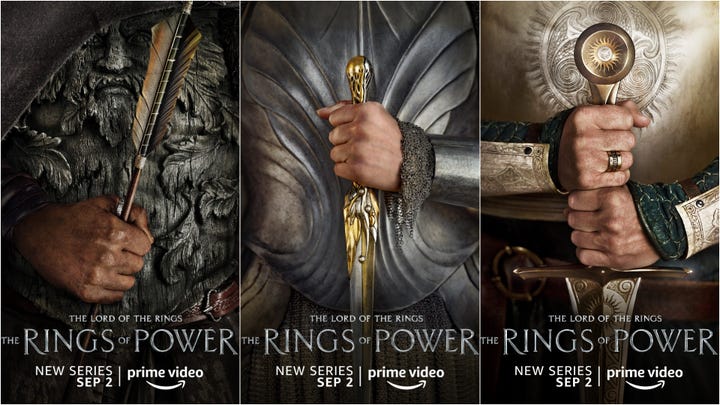 The remaining posters depict something we saw a lot of in Peter Jackson's Lord of the Rings and Hobbit trilogies: armor, and there are some outstanding outfits on display here. One has the look of carved wood, with faces and leaves decorating it. Others look as though they're scale mail (one, I'm guessing is from Rohan, while the other looks Elvish), another looks Dwarvish, two look as though they're plate mail (one looks as though it's Gondorian), and the last looks very much like the black armor that Sauron wore in the films.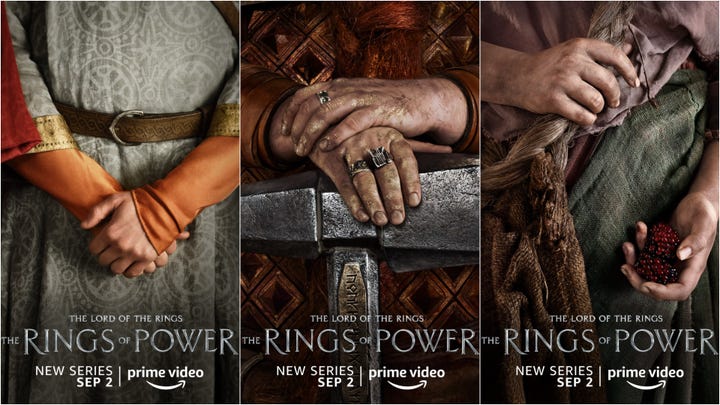 The costumer in me is looking at these in various ways: like their fabric-based counterparts, they're incredibly details, inlayed with designs, shaped in swooping curves, and made up of tiny individual parts. Cosplayers looking to replicate these are going to face some long build times once they start building.
Decorations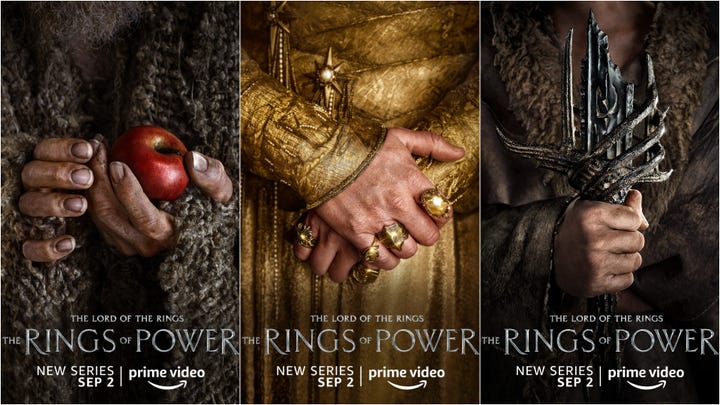 The actual clothing and armor that's on display here is just one part of the picture: each of these costumes come with any number of objects that make them stand out. A bunch feature fingers adorned with rings — ranging from simple bands of metal to more elaborate pieces of jewelry. Two come with gold and or beaded bracelets. There's also belts, strapping, and even what looks like a leather book.
Others wield weapons, and there's that range of simple and practical, like a sickle and dwarvish hammer and an arrow, to weapons that are quite a bit more detailed: swords with fantastical and detailed hilts, rods that feature tiny golden buildings, and one impressive-looking sword that's a mix of gold and silver.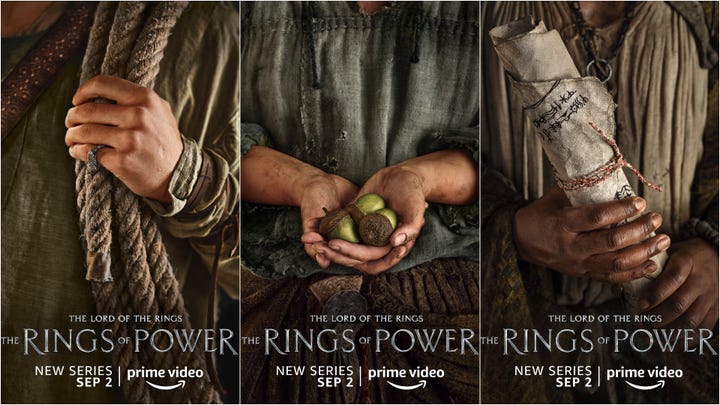 Until we see the full costumes of each character — with posters out, I'm betting that we'll get a teaser trailer before too much longer, which will hopefully show off some of these characters — there's not much to go on other than the first bread crumbs to start with our research into everything from the types of fabric that we've got on display here, to the first sketches for how we might prototype some of these items in EVA foam or with a 3D printer.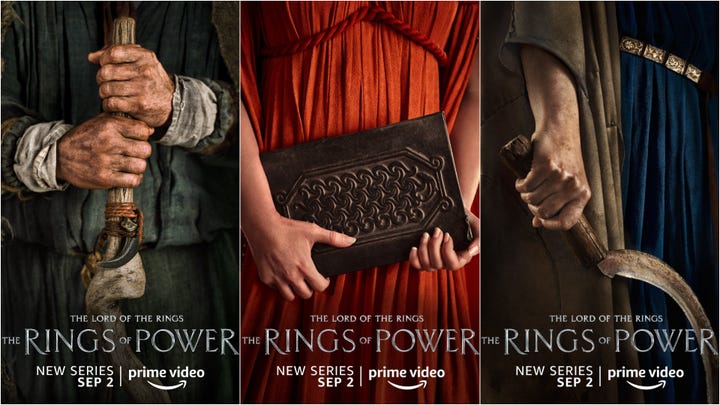 Peter Jackson's Lord of the Rings trilogy went all-in on Middle-earth when it debuted in 2001 with The Fellowship of the Ring. Designed by costume designer Ngila Dickson, the costumes in the trilogy brought a fidelity to the world that few films and TV shows had attempted up to that point, and it raised the bar for everything that followed. From the looks of things, Amazon's Rings of Power will take the same approach, utilizing detailed, realistic, and beautiful garments for their characters — all of which will provide plenty of inspiration for legions of cosplayers later this year and beyond.