Batman Cosplayer Breaks World Record For Most Functional Gadgets in a Cosplay
This might be one of the greatest Batman cosplays ever.
Batman is one of the most iconic characters in superhero history. From his first appearance in Detective Comics in 1939, to the hit 60s TV show, and the incredible Dark Knight trilogy by Christopher Nolan, Batman has risen to major superhero fame. It's no wonder why many people want to dress up as the Caped Crusader for Halloween, comic cons, and even charity events. But there is perhaps no greater fan of Batman than cosplayer Keith Dinsmore.
Keith (based out of Maine) has been a devout Batman cosplayer when he wore his first suit to a convention back in 2013. Since then, he has been upgrading his suit to become even bigger and better. And now this week, Keith broke the Guinness World Record for the "Most Functional Gadgets in a Cosplay Suit".
His suit includes 30 fully functional gadgets and worked hard to make them as "authentic and unique as possible," according to the Guinness World Records (GWR). Just check out the list of some of his incredible gadgets from the GWR:
Bolla
Bat throwing stars (batarangs)
Butane torch
Mini grappling hook
Binoculars
Bat signal
Compass
Finger print kit
Tracking device
Nylon rope
Road flare
Laser pointer
Flashbang
Hand cuffs
Pen cutting torch/ Acetylene torch
Extendable baton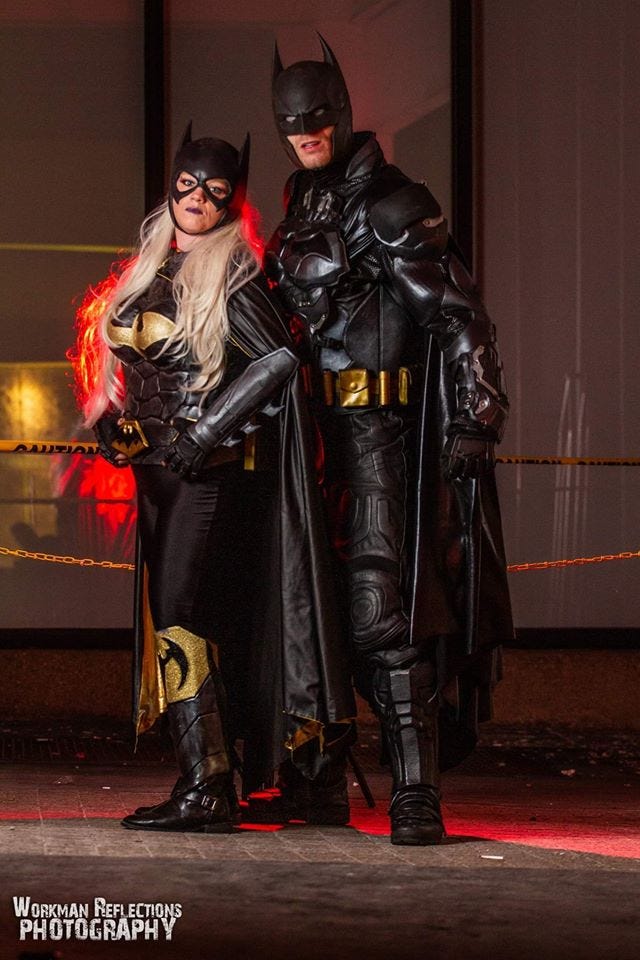 Many of the gadgets that he incorporated into the suit have been used in both the comics and movies/television series. Keith said that while he loves every gadget that he's made for the suit, the most useful has been his first aid kit. His GWR video also includes him showing gadgets like his laser pointer (perfect for catching anti-heroes like Catwoman!), batarangs, a bolla, a tracking device (for whenever Robin gets lost), and the signature Bat signal.
Keith and his wife Mollie have also embraced cosplay together, with Mollie cosplaying as Batgirl alongside his Batman. They have also been using their cosplays to help in charity work, by participating in organizations such as Make-A-Wish and the Special Olympics, as well as visiting children's hospitals and raising money for animal rescues.
Who knows what World Record a cosplayer might beat next!