Cosplayer Wins Big At Emerald City Comic Con As Queen Xenomorph
The Honest Cosplayer won the Crown Championships in this incredible Queen Xenomorph cosplay.
This weekend was the qualifier round for the Cosplay Central Crown Championships at Emerald City Comic Con. After almost two years, Emerald City Comic Con returned to Seattle with the Crown Championships.
Competitors came from all around the Pacific Northwest region, sharing their beautiful cosplays and strutting their stuff on the stage. Each contestant competed for a spot in the national competition for the Crown. The winner of this year's Crown at Emerald City Comic Con was The Honest Cosplayer for her incredible original design cosplay of Queen Xenomorph.
The Honest Cosplayer wondered: If Disney owns Fox is the Queen Xenomorph royalty? What would she wear? This cosplay answers that question.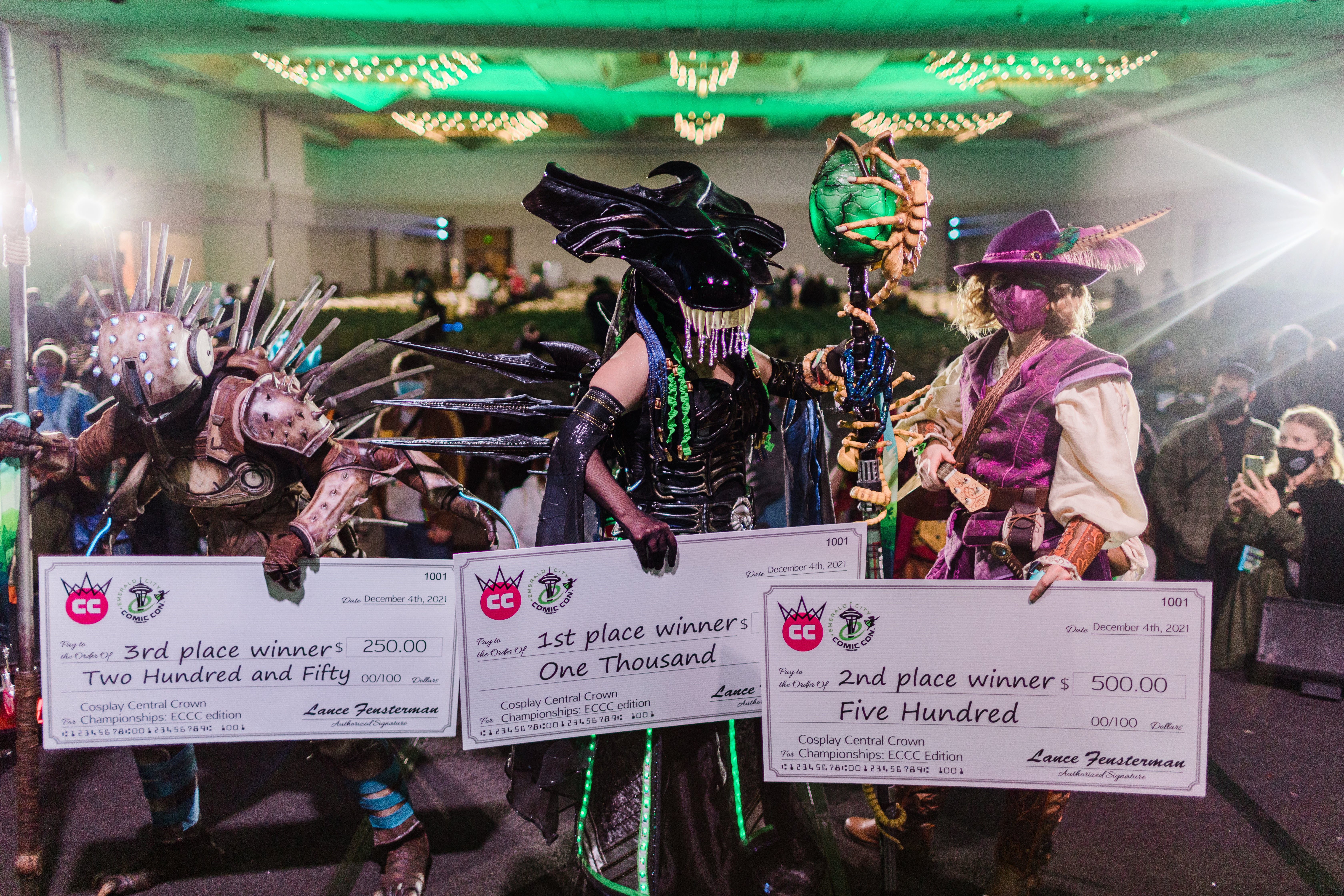 This costume is 100% patterned and made from scratch. It includes fabric, foam, LEDs, resin, filament, and everything in-between. There are six couture costume pieces made with lots of different sewing techniques: an underskirt, LED filled overskirt, boned corset, decorative veil, hanging sleeves and opera gloves.
Furthermore this cosplay includes five armor pieces made from foam: a mantle, breastplate, greaves, sabatons and belt. There are also two face huggers, an egg, a glowing staff, animatronic tail, 2 ft spikes and articulated fingers - all designed engineered handmade and stuffed with Easter eggs.
The cosplay earned her a spot in the national competition that will take place at C2E2 2022. From there, the national winner will head to London MCM where they will compete in the international competition from contestants around the world.
In a close second place was Ginger Armadillo Costumes as a Bard from Dungeons and Dragons. Ginger Armadillo spent over 450 hours crafting the costume, inspired by their first Dungeons and Dragons character - a half-elf bard named Alan.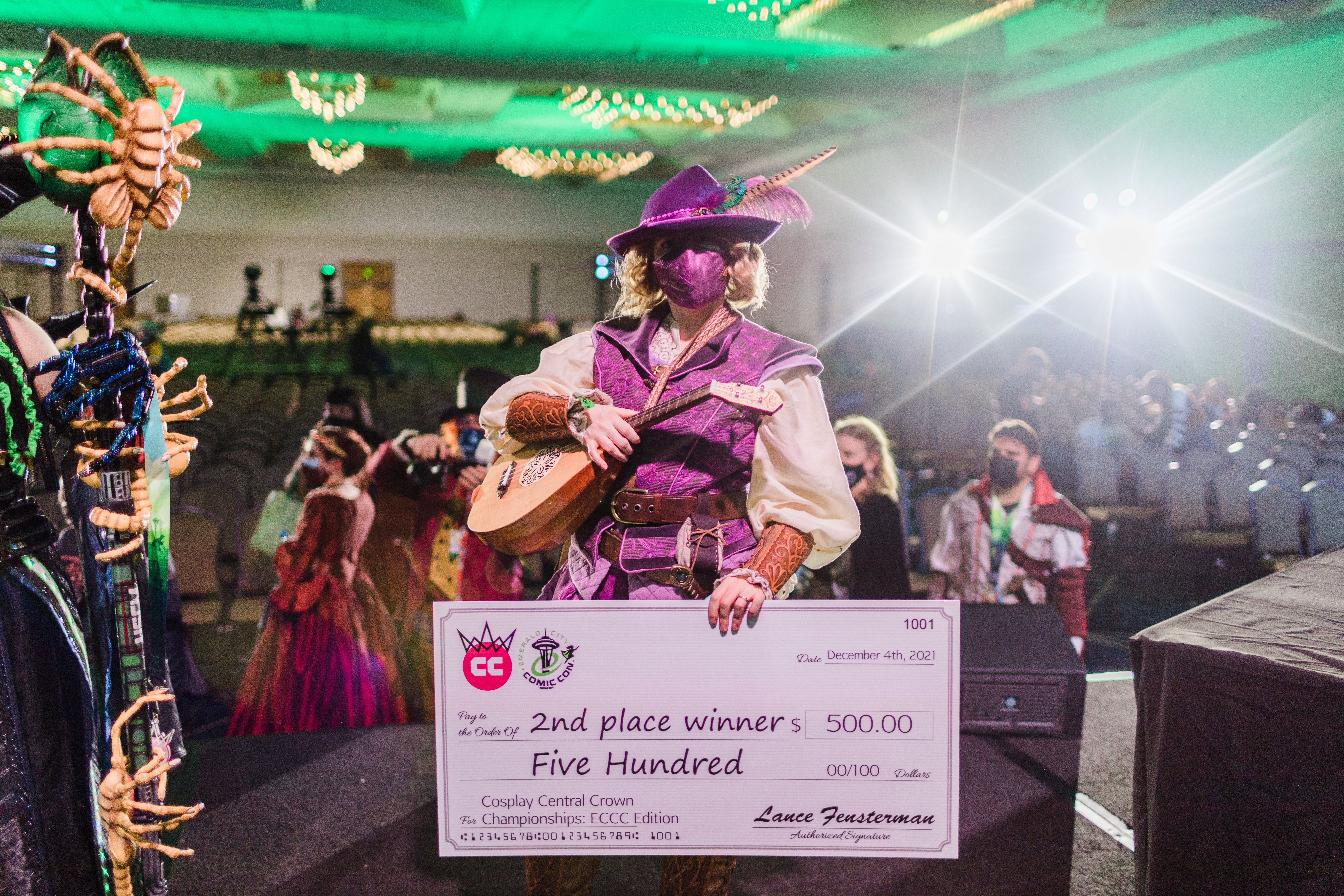 Almost all of the fabric, trim and even the embroidery thread was custom dyed for this costume and All patterns were either self-drafted or heavily modified commercial patterns.
The costume includes a fully-embroidered doublet, hand-smocked silk and velveteen breeches a precisely quilted gambeson and an embroidered linen shirt featuring 48 hand-sewn eyelets! Everything is fully-finished either with flat-felled seams or a lining.
For defense, Alan is equipped with tooled and dyed leather armor and a balsa wood and foam sword. Finally, because no bard is complete without his instrument, Ginger Armadillo built a fully-functional wooden prop lute complete with a woven strap created using traditional tablet weaving. Incredible!
In third place was Lily Bean Cosplay as Spider's Associate from Destiny 2: Forsaken. Over the course of 17 months, their costume was made with multiple mediums including worbla, craft foam, faux leather and foam clay. Lilian also learned how to wire and animate LED lights and how to airbrush to give the carapace more life.
Every pattern from the worbla exoskeleton to the foam armor was drafted from scratch. The secondary arms are poseable and while the spikes on the back look pointy they are actually rather flexible. A total of 583 hours were put into crafting every piece of armor proportionately down to the smallest details in order to make it as screen-accurate as possible.
Thank you again to everyone who entered the competition! The next Crown will take place at C2E2 in August 2022 for the midwest regional and national qualifiers. See you then!