Cosplayers Attend The Shang Chi World Premiere In Hollywood
Cosplayers take on the Shang-Chi red carpet by storm!
Los Angeles hosted the world premiere of Shang-Chi and the Legend of the Ten Rings on Monday, August 16th, with actors, producers, and cosplayers galore. While other Marvel fans must wait until September 3rd for the theatrical release or till October 18th for the Disney+ release, these lucky few got to see it first at the El Capitan theatre in Hollywood. So along with meeting several stars, hanging out with fellow cosplayers, and taking hundreds of selfies, some fortunate fans essentially had a night to remember for the rest of their lives!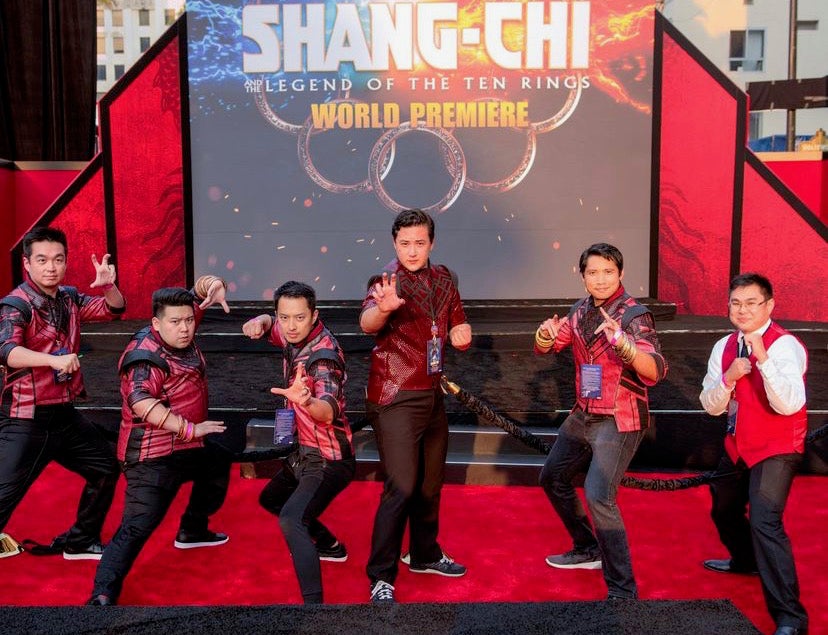 As well as playing an integral part in Marvel's phase four of heroes, this film is one you don't want to miss. Marvel's cinematic universe welcomes its new hero Shang-Chi played by Simu Liu, in a standout origin story like no other. In addition, the film offers distinct elements that open the door to a new world full of beautifully choreographed fight scenes, fantastic imagery, and heart. Plus a few things we don't want to spoil. Okay, we do have to say the ladies kicked major butt in this film, literally. Meng'er Zhang and Awkwafina are so badass!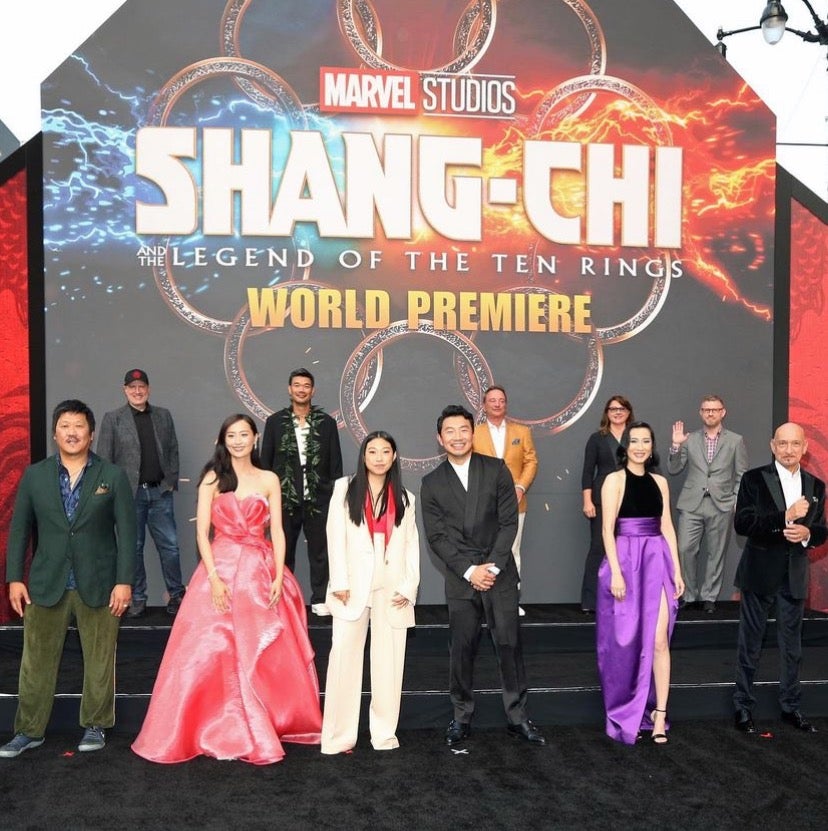 In terms of the theatre experience, the crowd's enthusiasm hasn't been met since Endgame premiered. It was so loud, viewers could barely hear the post-credit scene. But that's enough from us. We interviewed Shang-Chi and the Legend of the Ten Rings cosplayers on their experience on the red carpet and their thoughts on the film. So sit back, relax, and enjoy these spoiler-free reviews!
Bryan.S.Lee and Simu Liu
Bryan.s.lee: "Simu was just as spectacular as Shang-Chi, and it's so refreshing, especially for us in the AAPI community, to see that kind of representation in the American mainstream, not to mention headlining as a Marvel superhero! And it especially hit home to see this film not shy away from subtitled dialogue, even conveying the nuances between the Asian and Asian American diasporas, on top of just being a kickass action-packed Marvel movie anyone will enjoy.
And words can't convey how honored I was to be invited to the red carpet and how much I appreciated that Disney COVID-tested us all first to allow us to have a safe and worry-free experience mingling with all the stars. My head is still exploding from meeting Simu, Meng'er Zhang, Awkwafina, Benedict Wong, Ronny Chieng, Sir Ben Kingsley, Destin Daniel Cretton, Chloe Zhao, Kevin Feige, Daniel Dae Kim, Alan Kim, and so many more! Still have yet to process it all, haha."
Therealchinaman and Benedict Wong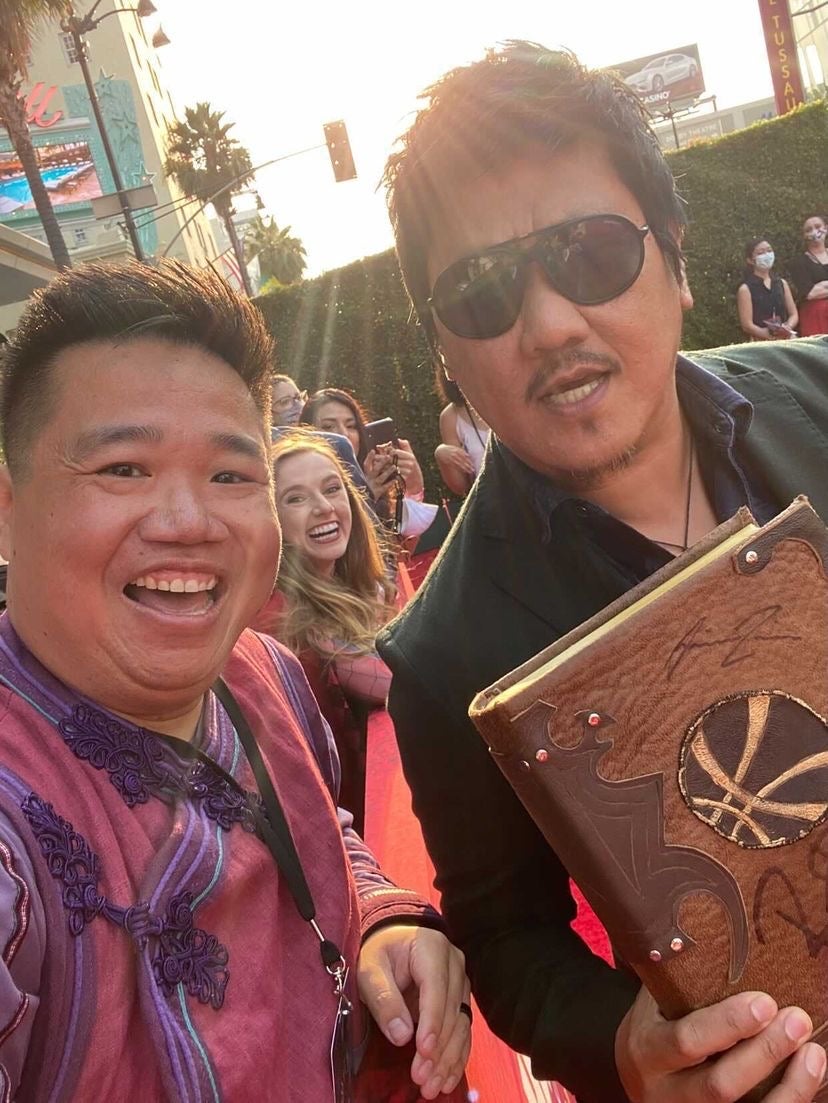 Therealchinaman: "Meeting the actors on the red carpet was a huge treat! They were all very excited to see the fans, and many spent their limited time asking about our costumes and chit-chatting with people. Simu was incredible and spent time with everyone, and of course, my boy Benedict is always a treasure. It was an incredible experience.
"The movie was fantastic! I went in with high expectations, and it really delivered for me. Great action, lovely story, and really got me a bit emotional, to be quite honest. Simu is amazing as Shang Chi and gives us a great hero to look forward to seeing on the big screen. Personally, I am so excited for traditional American audiences to finally see the Chinese acting royalty of Tony Leung. I have been watching him in Chinese films since I was a kid, and I'm so glad to see him on a big screen in American cinema. He really brought it all.
The book was signed by Benedict Wong previously at the Endgame premiere. From this red carpet experience, I got signatures from Kevin Feige, Simu Liu, and Ben Kingsley."
Cosplaycounselor and Meng'er Zhang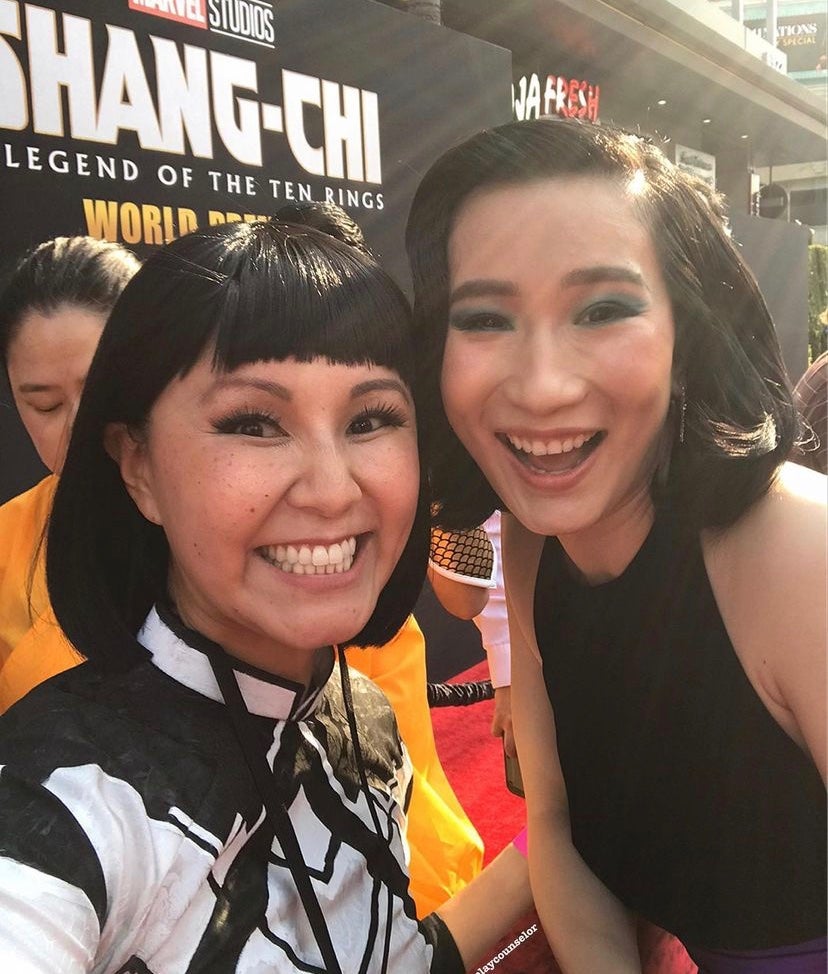 Cosplaycounselor: "My favorite part of the premiere definitely has to be when Meng'er Zhang, who plays Xialing (Shang Chi's sister), and her husband Yung spotted me in the audience as they entered the red carpet. She came straight for me, and we had a really lovely chat and took photos. I was dressed as her character, and the whole exchange was so sweet. Honestly, all the celebrities were so down to Earth! Everyone was so friendly!
The whole movie was done so beautifully, and my favorite scene was when Wenwo and "a mysterious woman" entered an epic fight scene. It was just so graceful and powerful at the same time. I loved it!"
Simu Liu and Jcw.cosplay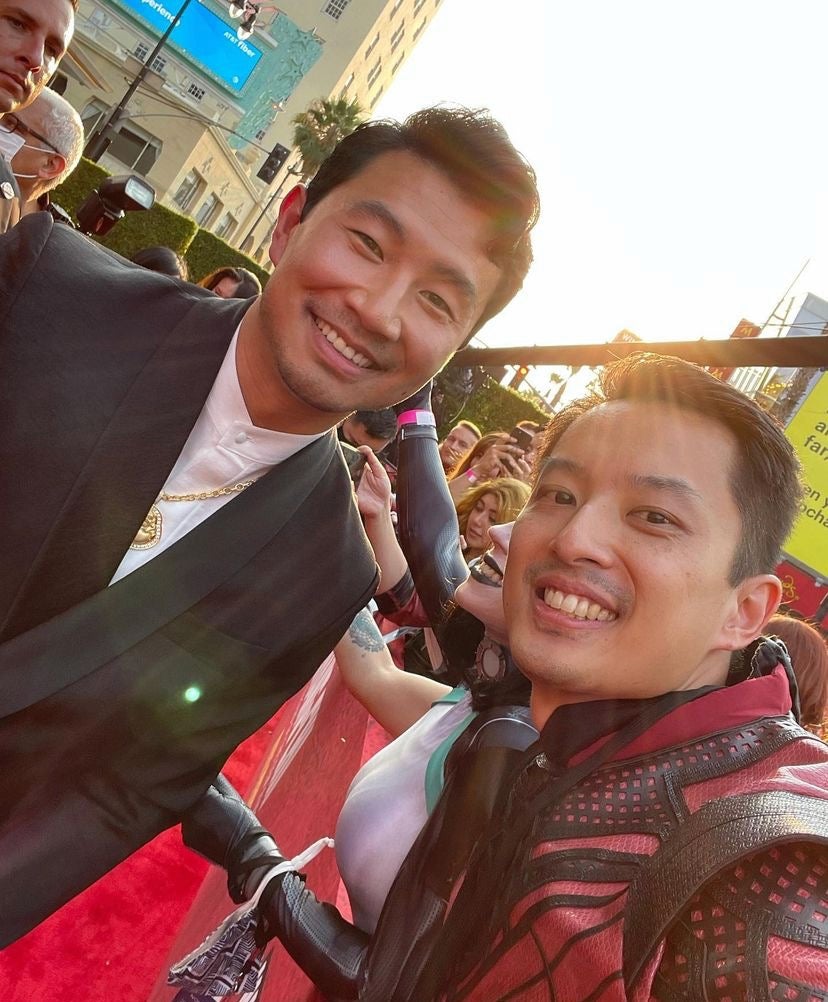 Jcw.cosplay: "It truly was an experience of a lifetime. I never thought I'd be able to attend a premiere, let alone a Marvel one where the leads are primarily Asian. I loved the film, its visuals, storylines, and feel all spoke to me. I can't wait for everyone to see it, and I'm super proud of everyone involved in it."
Jennifer Ho, Thebrothersyeecosplay, and Phil Gohata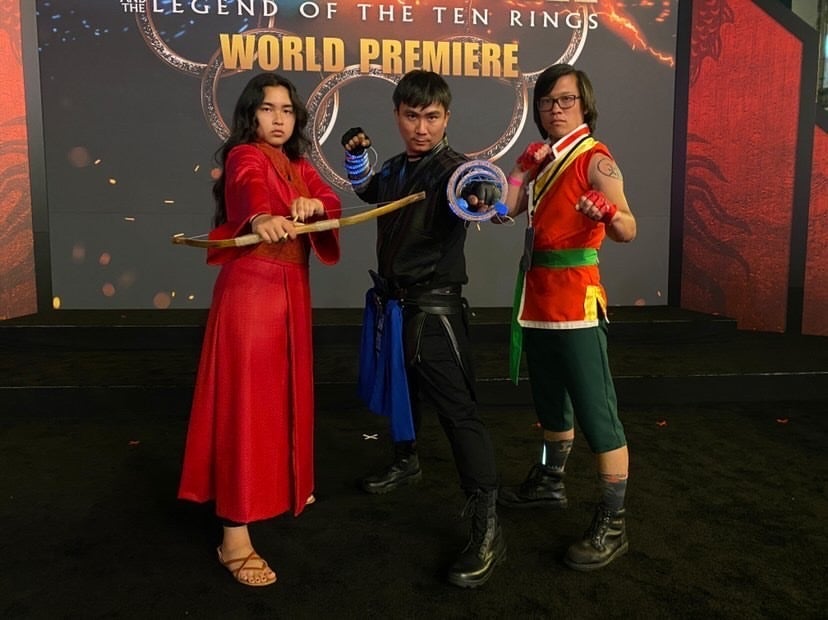 Jennifer Ho: "The premiere was amazing!!! This movie ended up meaning a lot more to me than I thought it would. I don't think a singular moment stood out to me but seeing the relationship between each character unfold. This could have quickly fallen into stereotypes of Asian culture, but instead, it wonderfully highlighted the truth about the relationships we have with people. People are messy; we carry pain and baggage with us into everything, so seeing some of those things tied to Asian culture executed with grace made even more of an impact for me.
I think my favorite character to watch on screen was Xialing. She wasn't just Shang-Chi's sister but was a character of her own, and she had her own development and growth moments. She was an equal without shoving feminism down your throat. Xialing was rightfully in her place as her own character and wasn't dependent on Shang-Chi to be valued or to be of worth to the film."
Thebrothersyeecosplay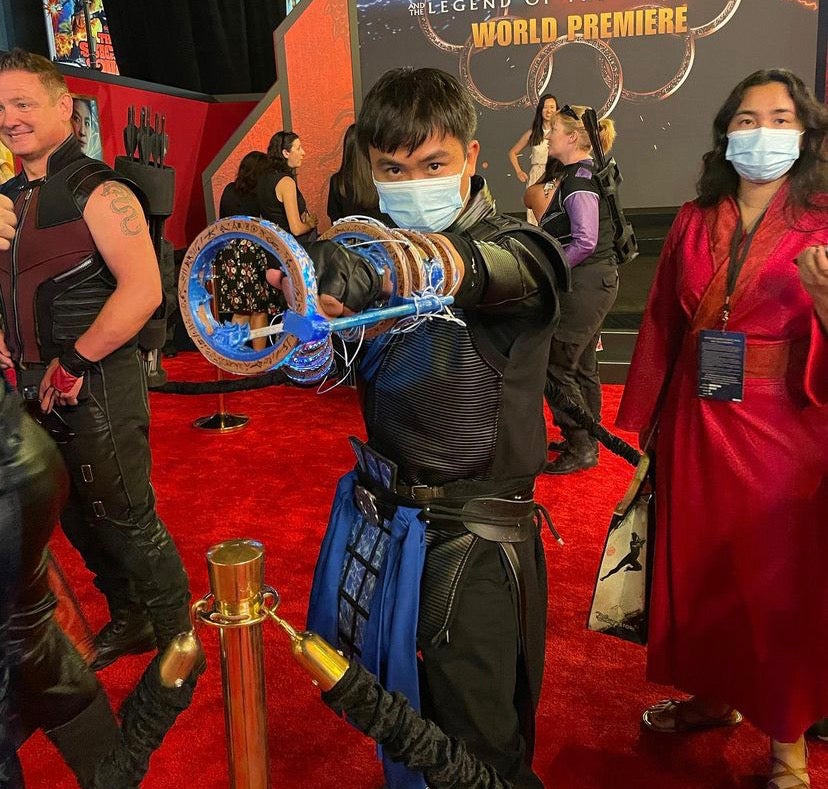 Thebrothersyeecosplay: "The red carpet experience is so much fun, it's hard to just pinpoint one thing. Getting to be around that atmosphere of the people's creativity that went into this is really joyful. Knowing that hours of time was spent thinking, planning, and executing, and watching them celebrate and sharing that space is really awesome. And then we, as cosplaying fans, get to show our appreciation with our work.
I thoroughly enjoyed the film. I was hoping it would be good, but it completely blew past good. It was a wonderful blend of marvel magic, character-driven arcs, emotional connection, and Chinese culture that had me gripped every moment. There was just a sense of artistry and wonder throughout."
Aydiostheo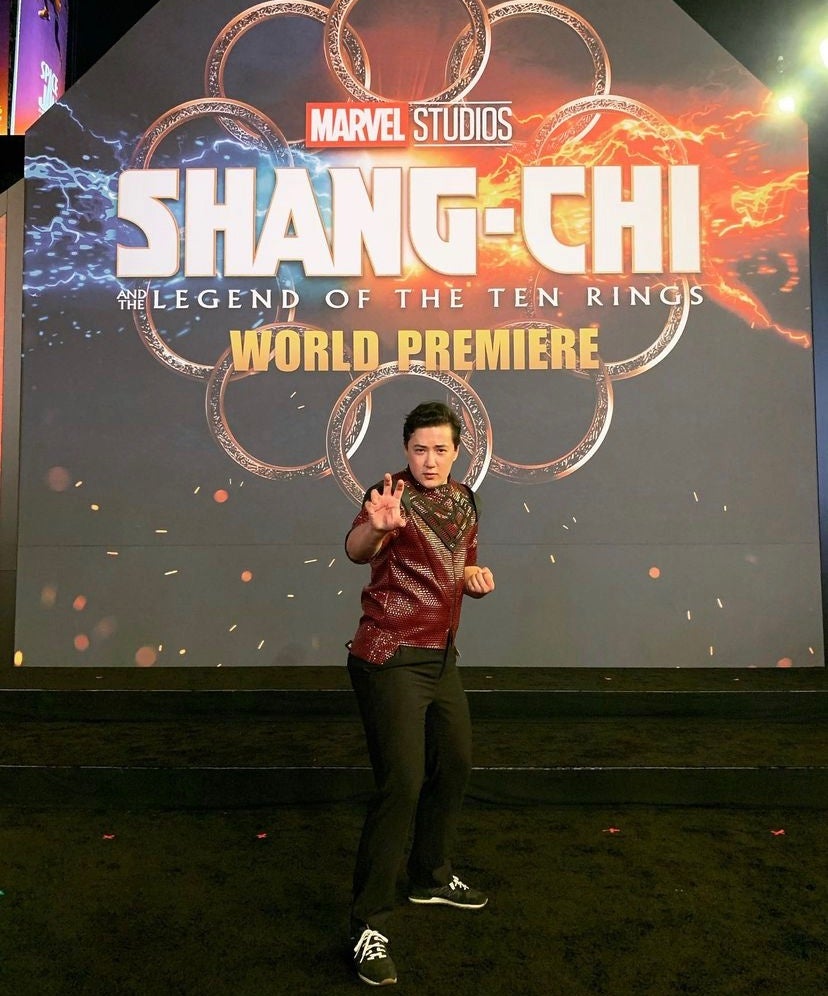 Aydiostheo: "The premiere was incredible! The cast members that I met were all very kind. Simu was an absolute gentleman. He was very interested in my cosplay, which was nice since I spent a lot of time trying to get it finished in time over the past week.
Seeing the film was pretty emotional for me. Almost exactly three years ago, I went to the Crazy Rich Asians premiere, and being able to go to the premiere of another Asian-led, Asian-made film was such an honor. Having a mainstream Asian superhero and seeing my culture shared on the big screen is huge. I didn't have any characters like that to look up to or relate to growing up, and even if progress maybe isn't happening as quickly as I'd like, it was a huge moment. It'll hopefully help to continue to open the door to more Asian representation in the MCU and otherwise. I really hope that everyone goes to see the film and loves it as much as I did."
Shang-Chi and the Legend of the Ten Rings premieres in theatres on September 3rd.